ART-A-WHIRL ME RIGHT ROUND, BABY, RIGHT ROUND
OMG it's Art-A-Whirl Weekend!!!
Welcome to the Art-A-Whirl edition of the What's What! Come explore the sprawling Northeast Minneapolis arts district during this epic 3-day arty party, with over 400 artists opening their studios to the public. Comfy shoes definitely encouraged, but stash some heels in the car for later -- after-hours parties will be Whirling, especially our little soiree on Saturday at The Q.arma Building.
And while you're at it, remember investing in local art will help sustain this creative community. You know the cool scene you're all about? Yep, that one. So skip the third I-Pod upgrade of the year and take home something that will last.
xo-l'étoile
ps-If you haven't snapped up a new l'etoile yet make sure to stop in to the Q.arma Building, Altered Esthetics, Rogue Buddha Gallery or Studio #264 at the Northrup King - mags will be on sale all weekend!
CLICK THE IMAGE FOR THE NEMAA SITE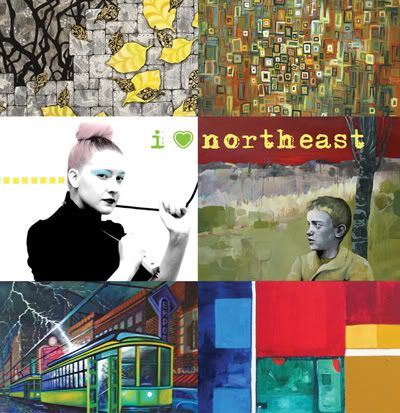 THURSDAY MAY 17TH
NEMAA Silent Auction Opening Party
@ Northrup King Building
3rd Floor Gallery
Minneapolis
6:30pm-9:30pm / Free / Auction Runs through Sunday
Stake out the fabulous items up for bid in NEMAA's annual silent auction, which is happening all weekend. Rub elbows with city council members, NEMAA artists, and other visiting dignitaries (including the mayor) while enjoying the party, sponsored by the delectable Nea's Pizza, Etica Fair Trade Wine, Metro Magazine, Minneapolis Mosaic, and more.
CLICK THE IMAGE FOR THE NEMAA SITE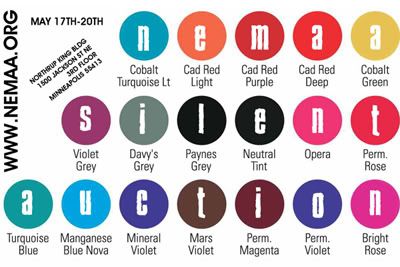 THURSDAY MAY 17TH
OX-OP Series Release Party
@ ROBOTlove
28th & Lyndale
Minneapolis
6-8pm / Free
After 2 previous successful series starting in early 2004, OX-OP announces it's brand new line of popular 2.5" Qees with 14 new designs by a number of talented artists.
This Thursday, ROBOTlove hosts the official release party & special signing with guests Aaron Horkey (of Burlesque of North Amerca fame), design super-team Michael Byzewski & Dan Ibarra of Aesthetic Apparatus, Haze-XXL, and Rob McBroom of OX-OP.
CLICK THE IMAGE FOR THE ROBOTLOVE SITE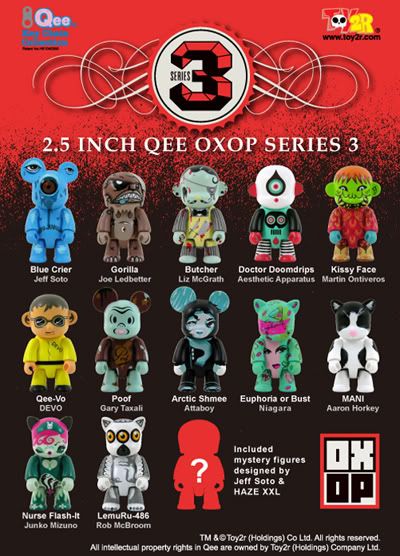 FRIDAY ART-A-WHIRL PICK: JUSTIN AUSTAD
Studio Location:
Northrup King Building
1500 Jackson St. NE
Studio 455
Our pick this week is Justin Austad, whose work evokes imaginary environments and urban flair. Mixing Terry Gilliam's stream-of-consciousness aesthetic with stencils and spray paint, Austad's work is both ethereal and gritty.
CLICK THE IMAGE FOR JUSTIN AUSTAD'S MNARTISTS PAGE
FRIDAY MAY 18TH
Fox Tax Art-A-Whirl Opening Party
@ Fox Tax/Felt Factory Arts Building
503 1st Ave NE
Minneapolis
5pm-12am / Free
Fox Tax Service, who miraculously and graciously bridge the gap between artists and personal finances year after year, is hosting a beautiful Art-A-Whirl Opening Gala. The FTS galleries will be stocked with brand new local art, live music, food and drink to kick off the weekend.
CLICK THE IMAGE FOR THE FOX TAX SITE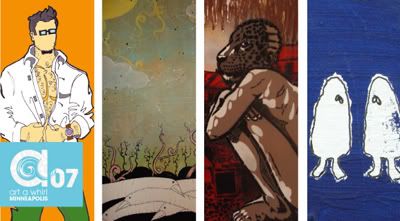 FRIDAY MAY 18TH
Spot-A-Whirl
@ Spot Art Gallery
1828 Marshall St. NE
7pm-11pm / Free
Take a stroll on the wild side at Spot-A-Whirl, where art, music and fire dancers collide! Local faves Crush Collision Trio, Lonesome Dan Kase, and the Night Watchmen provide flavor for the ears, while fire dancers delight the eyes. Henna tattoos and body art will remind you of the night for a long time to come.
CLICK THE IMAGE FOR THE SPOT ART SITE
art by Ryan Kelly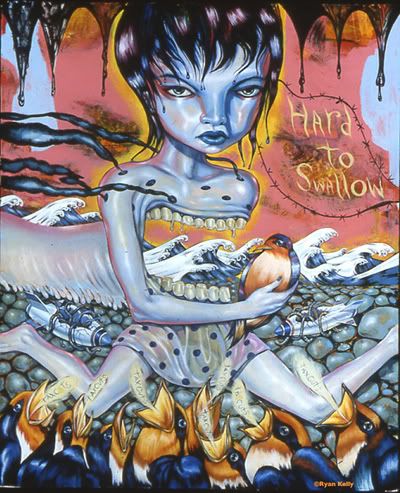 FRIDAY MAY 18TH
Vita.mn Opening Night Party
@ Casket Arts Building
1700 Madison St. NE
21+ / Free / 10pm-1am
Pop into the newly renovated Casket Arts Builiding for the Vita.mn Opening Night Art-A-Whirl Party. Live caribbean themed music from Marimba and vintage Brazilian records from DJ Christian Fritz.
CLICK THE IMAGE FOR THE VITA.MN SITE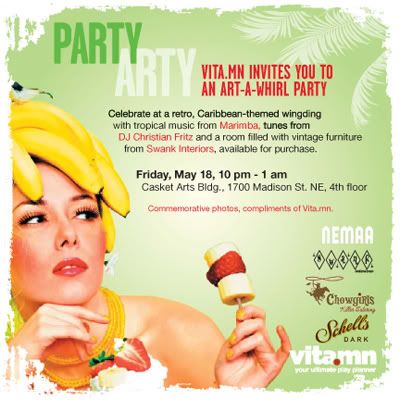 COOL LINK
Crafty Planet
@ 2318 Lowry Ave
Minneapolis
While in the neighborhood for Art-A-Whirl, swing by Crafty Planet and start making some art of your very own. The Planet is your one-stop-shopping for knitting, sewing, and craft supplies, beautiful fabrics, and super-friendly craft classes. Owners Trish and Matt will be your guides through this do-it-yourself universe.
Crafty Planet is having a special sale just for Art-A-Whirl - so stock up!
CLICK THE IMAGE FOR THE CRAFTY PLANET SITE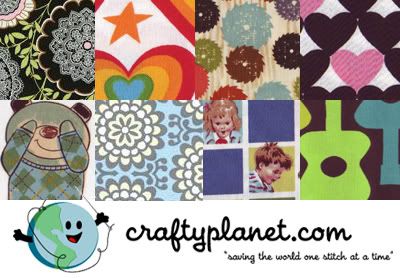 COOL LINK - BONUS!!!
Northeast Bike Map
Traffic and parking can be a real headache during Art-A-Whirl, so get your mitts on this FREE handy bike map so you can spend your time looking at the awesome art instead of looking for a parking space. Along with the best bike routes, it will show you the locations of participating galleries, artists, and studios.
For locations where you can pick up the map, or to download the map, visit the link below.
CLICK THE IMAGE FOR THE NE BIKE MAP SITE
art by Irene Kawalak & Mike Menasco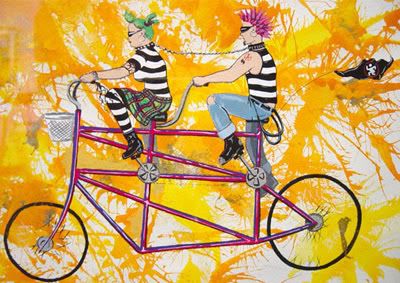 SATURDAY MAY 19TH: HOT PARTY ALERT!
Q.arma Building Art-A-Whirl Bash
hosted by l'étoile magazine
@ The Q.arma Building
1224 Quincy St. NE
(Just off Broadway)
21+ / Free / 8pm-Midnight
Join l'étoile magazine at the lovely Q.arma Building in Northeast Minneapolis for yet another epic Art-A-Whirl bash!
Once the sun goes down, enjoy grilling, a bonfire and outdoor movies all night OR party inside with the always dance-tastic DJ Bach! Proceeds go to benefit Altered Esthetics, a non-profit art gallery, located on the 1st floor of the Q.arma Building.
Sponsored by l'étoile magazine,
Finnegan's Irish Amber
and
Sacre Bleu Wine
(available at Lowry Hill Liqour in Uptown)
CLICK THE IMAGE FOR THE Q.ARMA BUILDING SITE
SATURDAY MAY 19TH
Grumpy's Rock n' Roll Revival
@ Grumpy's Northeast
2200 4th St. NE
Noon-Dusk / Free
Come repent at Grumpy's Rock 'n Roll Revival! To assist in your bliss will be heavenly local bands The Arrivals, Bastard Saint, Chooglin, Red Flags, and more! Be tempted by (and don't try to resist) food from The Devil's Barbecue. Local art on Display all weekend as well!
CLICK THE IMAGE FOR THE GRUMPY'S SITE
SATURDAY MAY 19TH
Benefit for Toby Rae & Gitzie
@ The Triple Rock
629 Cedar Ave.
Minneapolis
8pm / 21+ / $8
Come support our friend Toby Rae and her adorable daughter, Gitzie, whose apartment burned down in March. While they've got a new roof over their heads, they're still struggling to replace lost items and cover their moving costs. To help out, the Triple Rock is hosting a night of awesome bands: Revolver Modele, The Nightingales, Heavy Sleeper, The Deaths, The Idle Hands, and more! Join Triple Rock for a night of great music and good deeds.
CLICK GITZIE FOR THE TRIPLE ROCK SITE
SATURDAY MAY 19TH
Slideluck Potshow
@ The Casket Arts Building
1700 Madison St. NE
7pm / Bring Food + Drink to share
Bring a yummy dish and a bottle of wine to share to this classy/arty version of a Potluck! Mingle from 7-9, then settle in for a number of short presentations of work from photojournalists, fashion photographers, and painters. Featuring work by Alec Soth, Angela Strassheim, and Paul Shanbroom and many more!
FYI: You wont get away with bringing a can of Sparks and some Fritos to this event - check their site for recipe ideas in the "about" section!
CLICK THE IMAGE FOR THE SLIDELUCK POTSHOW SITE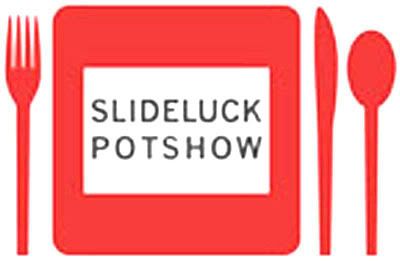 SATURDAY MAY 19TH
The ONION's Art Stein Competition
@ Stiasu's
2500 University
Minneapolis
8pm / 21+
To calm down your urges to create, our pals at The ONION will be hosting an Art Stein competition - They'll have the supplies ready for you to create a premium vessel from which to drink your Newcastle. Hilarity ensues!
CLICK THE IMAGE FOR THE ONION SITE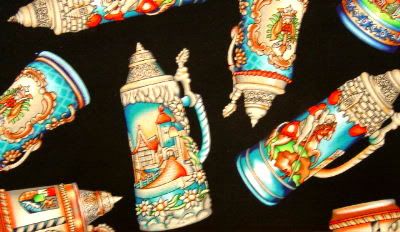 WEEKEND LONG ART-A-WHIRL EVENTSFRIDAY-SATURDAY
Burlesque Design Print Studio Open House
@ First Amendment Gallery
1101 Stinson Blvd.
Basement Studios A & B
Friday 7-10pm / Saturday 5-8pm / Free
First Amendment Gallery and Burlesque Design are opening their studios and presses for a weekend of DJs and art. You can even leave with your own Burlesque original: bring your own shirt and they'll screen print it for you! Don't forget to check out the delectable work of Chicago's Delicious Design League on display in the gallery while you're there!
CLICK THE IMAGE FOR THE FIRST AMENDMENT SITE
art by Delicious Design League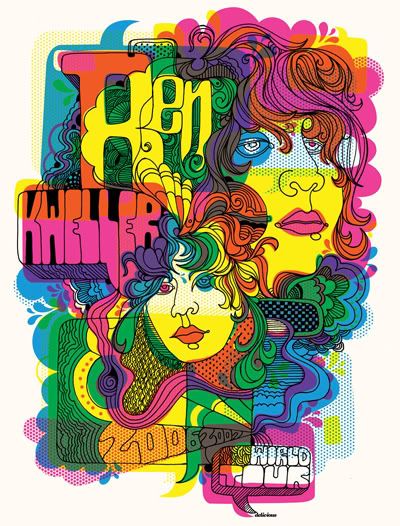 FRIDAY-SATURDAY-SUNDAY
Art-A-Whirl 2007 @ The Q.arma Building
@ The Q.arma
1224 Quincy St. NE
Traverse 3 floors jam-packed with some of the coolest art in the city this weekend! The Q.arma once again opens it's doors and goes all out for the Whirl, with live outdoor music, guest artists, dancers, and even hair extentions!
Stop in to Altered Esthetics Gallery for a Silent Art Auction and Raffle (a l'etoile prize package just being one of many cool items) and check out their current show - Art for the Other Senses!
And like we said earlier - HOT PARTY ALERT SATURDAY NIGHT!!! Hosted by l'etoile of course - see Saturday's posting above!
Art-A-Whirl @ The Q.arma Building is sponsored by l'etoile magazine
CLICK THE IMAGE FOR THE ALTERED ESTHETICS SITE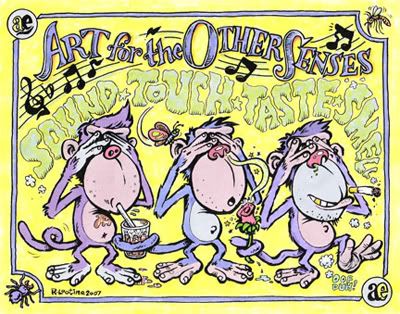 FRIDAY-SATURDAY-SUNDAY
Art-A-Whirl @ The 331 Club
@ University & 13th
Minneapolis
Friday- 8pm, Saturday- 1pm-1am, Sunday- 11am-1am / Free
331 Club hosts their 2nd annual Art-A-Whirl soiree. This indoor/outdoor event features unbeatable drink specials and outstanding music all weekend long, in true 331 style.
CLICK THE IMAGE FOR THE SET TIMES AND MORE INFO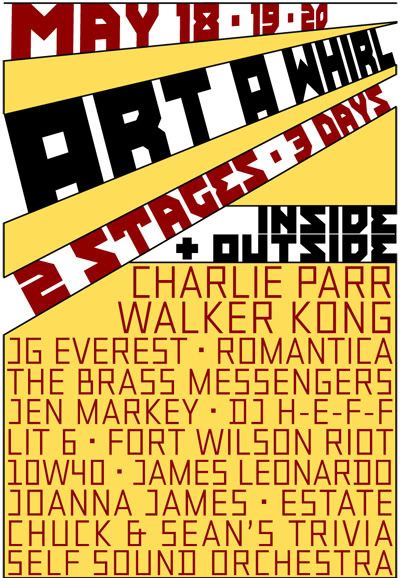 FRIDAY-SATURDAY-SUNDAY
DEMO-Whirl
@ Historic Thorp Building
1618 Central Ave NE
Minneapolis
Friday- 7pm-10pm, Saturday- 12pm-10pm / Free
The Diverse Emerging Music Organization (DEMO) is sponsoring a ginormous musical event for the weekend: DEMO-Whirl will feature 99 musicians on three stages! Come check out the fresh, local talent DEMO supports.
CLICK THE IMAGE FOR BANDS AND SET TIMES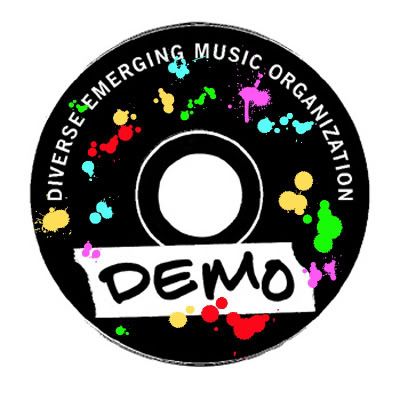 FRIDAY-SATURDAY-SUNDAY
Johnstock
@ 28th & Johnson
Friday - dusk, Saturday 10am-8pm, Sunday 11am-5pm / Free
The Johnson Street Merchants and Rift Magazine present Johnstock, a weekend-long event featuring over 50 local artists, movies, live music, kid's art and entertainment. You're not going to see these artists anywhere else, so be sure to swing by and check them out.
CLICK THE LINK FOR THE JOHNSTOCK SCHEDULE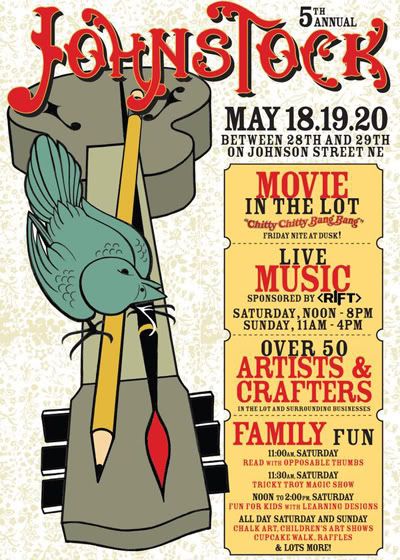 L'ETOILE STAFFERS AT ART-A-WHIRLKrista Stensrud
: Editorial Manager
Krista Mina Jewelry
@ Northrup King Building
1500 Jackson St. NE
Studio 264
Minneapolis
Krista Mina creates original, one-of-a-kind beads using borosilicate glass and then designs jewelry around the beads using gemstones, crystals and sterling silver. She will be showcasing a new collection of jewelry and glass beads during Art-A-Whirl Weekend and will also be doing live glass bead-making demonstrations at 2pm and 5pm on Saturday and 2pm on Sunday.
CLICK THE IMAGE FOR THE KRISTA MINA SITE
Kate Iverson
: Arts Editor
Photographer + Graphic Artist
@ Q.arma Building
1224 Quincy St. NE
Minneapolis
Kate Iverson's work will be on display at the Q.arma Building for Art-A-Whirl Weekend. Kate is an art photographer who dabbles in portraiture often enhanced with design. She also has a piece in both the Altered Esthetics Silent Auction and the NEMAA Silent Auction at the Northrup King Building, so go get your bid on!
CLICK THE IMAGE FOR KATE'S MYSPACE
Molly Roark
: Creative Director
Two Bit Bling
@ Altered Esthetics Gallery
1224 Quincy St. NE
Minneapolis
3 pairs of Molly's luxuriously laminated baubles (as seen in l'étoile magazine and on the lobes of those in the know) were donated to Altered Esthetics Gallery for a special raffle that runs through Art-A-Whirl Weekend. Pop into the Gallery, buy some raffle tickets, and win that bling!
CLICK THE IMAGE FOR THE TWO BIT BLING MYSPACE
SUNDAY MUSIC PICK: YELLE
We've been having bedroom dance marathons to Yelle's synth anthem "Je Veux Te Voir" for months, and we've been dying for more! Thankfully, Yelle drops her first album in September and has posted a bitchin' teaser on her myspace, next to some of her other bangin' tunes. Viva la hot Frenchies!
CLICK THE IMAGE FOR YELLE'S MYSPACE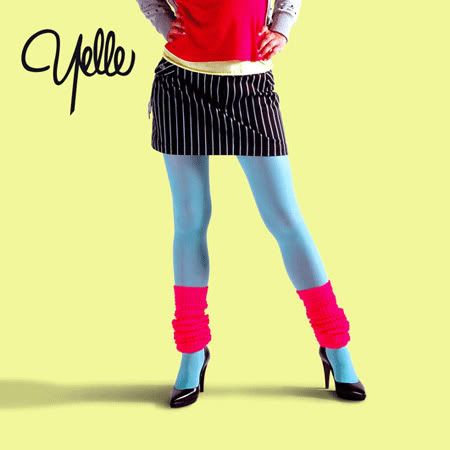 MONDAY MAY 21ST
Hot Roxx
@ The Hexagon Bar
2600 27th Ave. S
Minneapolis
Join DJs Marku$ and Jen as they spin the best and the worst of the 70's and beyond this Monday at the Hex. Stop in for a cold drink, groovin' tunes and some fantastic company!
CLICK THE IMAGE FOR THE HOT ROXX SITE