NO SLEEP TILL EASTER
With Easter just a bunny hop away, we're ecstatic about all of the things blooming and hatching around us. But we have to admit, our favorite new arrival has got to be the spring/summer issue of l'étoile! It's just barely beginning to emerge out of its illustrious egg, and will be in your gorgeous hands in just two shakes. We'll see you at our issue launch party April 13th!
xoxo,
l'étoile
THURSDAY APRIL 5TH
First Thursdays Easter Egg Hunt
@Northrup King Building
Studio 264 or 288
1500 Jackson St NE
Minneapolis
5-9pm / FREE
Remember hunting in the living room for bright plastic eggs full of jelly beans and chocolate? Local jewelry designers Krista Mina and Karin Jacobson sure do. They're hosting such a hunt at the Northrup King Building during this First Thursday Open Studio. While many will walk away with a sugary Easter treat, a few of the eggs our other favorite sweet surprise: jewelry! While you've got your eyes peeled for the golden eggs, scope out what your local artists and designers are up to.
CLICK THE IMAGE FOR THE SUPER KARIN SITE
VOLTAGE DESIGN PICK
Annie Larson
Annie's aim as a designer is to provide funked up, playful and understandable attire to the ladies out there who are longing for a party in their closet. Her belief is that nothing is over the top if you're on the top of your comfort in walking the wild side. Her work is a hybrid between iconic style (think Twiggy) and a slew of ideas constantly floating in her head.
Annie is a recent graduate in clothing design from the University of Minnesota Twin Cities and currently works as a juniors' assistant designer for Target Corporation. She designed DOUBLE DUTCH specifically for Voltage,and it aims to be the perfect depiction of the organized chaos of her design philosophy.
CLICK THE IMAGE FOR THE VOLTAGE SITE
FRIDAY APRIL 6TH
Fragment Nation
@ Rosalux
1011 Washington Ave S
Minneapolis
7-11pm / FREE
Some assembly required: sound artist Jonathan Nelson and photographer Robert Rosco tape, merge, and overlap bits and pieces of printed ephemera with random snippets of sound. The result is an artful and intriguing formation of new experience from existing chaos.
CLICK THE IMAGE FOR THE ROSALUX SITE
FRIDAY APRIL 6TH
Art Reincarnated
@Altered Aesthetics
1224 Quincy St NE
Minneapolis
7pm - 9pm / FREE
With Earth Day just around the corner, it's a poignant time for Art Reincarnated. Taking recycling to heart, Altered Esthetics presents this show of work made entirely of the found, discarded, and abandoned. From a gown made of candy wrappers to a found-note diary, this show will make you think twice about throwing away a potential masterpiece.
CLICK THE IMAGE FOR THE ALTERED ESTHETICS SITE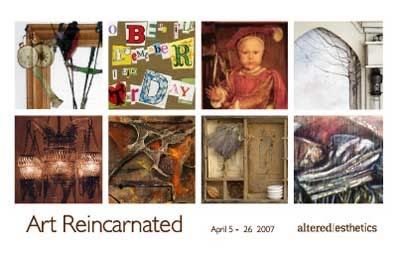 FRIDAY APRIL 6TH
Elvis Perkins in Dearland, Let's Go Sailing, Koerner & Glover
@400 Bar
Cedar & Riverside
Minneapolis
8pm / 18+ / $10
Join East Coast darlings Elvis Perkins in Dearland as they cozy up to the 400 Bar in promotion of their new album Ash Wednesday, which has become a l'Etoile staffer fave! We love how we could be at the supermarket or taking out the trash, and having Elvis on the headphones makes us feel like we're casually strolling around a calm lake. This show also presents the musical stylings of Let's Go Sailing and Koerner & Glover.
CLICK THE IMAGE FOR THE ELVIS PERKINS MYSPACE
COOL LINKS
Archie McPhee is one-stop shopping for all that is hip, strange, and bizarre. It's where Elvis playing cards meet Magic 8 Balls, and fez-wearing monkeys party down with smoking babies and devil duckies. The selection is constantly changing, and if you have that one person on your gift list who has everything, this is the store to peruse. We also heard a rumor that the "Surprise Packages" are worth their weight in gold.
CLICK THE LINK FOR THE MCPHEE SITE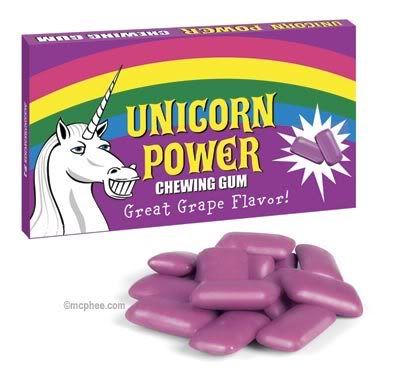 SATURDAY APRIL 7TH
Art 101: Silent Art Auction
@ Rogue Buddha Gallery
357 13th Ave NE
Minneapolis
6pm - Midnight (bidding closes at 10PM)
Come enjoy food and drink while bidding on over 40 pieces of original artwork from the likes of Twin Cities art darlings such as Jen Davis, Rob McBroom, Yuri Arajs and Michael Daly as well as rock & roll collectibles and more. Even better? The proceeds raised by this event go to benefit ADDvantage Learning Academy, a charter school assisting kids with different learning styles.
CLICK THE IMAGE FOR THE ADDVANTAGE SITE
SATURDAY APRIL 7TH
Aries Bash 007: Flosstradamus
@ Foundation
5th & Hennepin
Minneapolis
10pm / 21+ / $5 before midnight $8 after
Flosstradamus (Josh Young aka J2K & Curt Cameruci aka Autobot) are the young twentysomething duo out of Chicago who have been creating a big commotion in the Windy City. Hosting a monthly gig since last September the duo has sold out every monthly event and has even graced the cover of URB magazines next 100 list for 2006. With four turntables and records from the latest and greatest hip-hop cuts to old 90s dance tracks, Flosstradamus gets the crowd dancing with mash-ups, chopped-and-screwed raps that are somewhat sluggish end up being cut with double-time juke tracks.
CLICK THE IMAGE FOR THE FLOSSTRADAMUS MYSPACE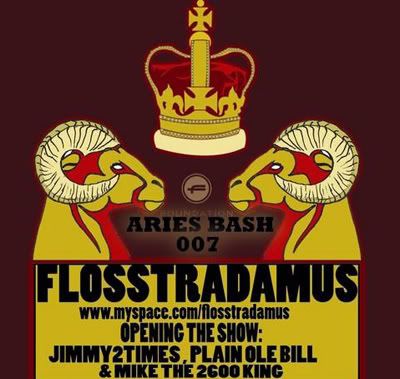 SATURDAY APRIL 7TH
Big Little Victories
@ Art of This Gallery
3222 Bloomington Ave
Minneapolis
8pm / Free
John Grider transforms the white walls of the gallery with an installation of stencil painting, creating a toxic landscape of post-apocalyptic imagery with only a razorblade and spray paint.
CLICK THE IMAGE FOR THE ART OF THIS SITE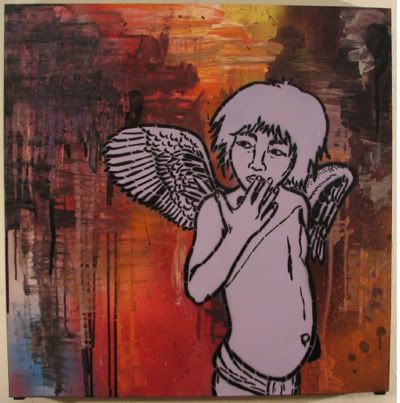 SATURDAY APRIL 7TH
Cultivate: 25 Under 25
@ Stevens Square Center for the Arts
1905 3rd Ave S
Minneapolis
6:00 pm to 11:00 pm / FREE
25 artists under the age of 25 are bringing their fresh talents to the Stevens Center. Built around the themes of cultivation, art, and community, this show is a snapshot of artists in bloom.
CLICK THE IMAGE FOR THE SSCA SITE
SUNDAY MUSIC PICK
The Bird and the Bee
This melodic duo reminds us of sleeveless dresses with oversized buttons, white patent leather, and big, beautiful bouffants. It's a little bit Dusty Springfield, a little bit Nico, but completely modern and definitely worthy of your musical attention.
CLICK THE IMAGE FOR THE BIRD AND THE BEE MYSPACE
SUNDAY APRIL 8TH
Easter Brunch
Want to add a bit of yummy/funny to your Easter Brunch? We suggest putting some kitsch in your dish - Marshmallow Peeps!
Peep Salad
20 chopped Peeps (yellow and/or pink)
6 just ripe bananas - diced
1 can mandarin oranges, drained
24 maraschino cherries, halved
1 cup shredded coconut
1 tablespoon fresh lemon juice
2 tablespoon orange-flavored liqueur
2 cups whipped cream
1/2 cup finely chopped macadamias, pecans or almonds
Mix all the ingredients, allow to sit for 2 hours, stirring occasionally. Save some extra Peeps for garnish - face them out in a clear bowl.
CLICK THE IMAGE FOR THE PEEPS WEBSITE
MONDAY APRIL 9TH
Connect (NOW ON MONDAYS!)
@ Foundation
5th & Hennepin
Minneapolis
10pm / 18+ $5 / 21+ FREE
Local favorite DJ Bach mixes a dance-a-licious musical blend of pop, rock, 80's, industrial, and house that is guaranteed to set Foundation's floor ablaze!
In addition to the hot tunes, connect with friends past and future, new artists, and l'étoile magazine! Along with Vita.mn, we'll be spicing the evening up with special giveaways, artist video projections, and, of course, our magical presence.
$3.00 Stoli drinks all night!
$3.00 Wells/Domestics 10-12
$4 Wells/Domestics 12-2
Sponsored by l'étoile magazine
CLICK THE IMAGE FOR THE CONNECT MYSPACE