SCHWING IN OUR STEP!
This is an official declaration from l'etoile! Mating season has settled upon our fair cites, so it is high time for mischief, mad-capping and most importantly: makeouts. This weekend we've happily provided a number of musical events in hopes certain songs just might wind up in steady rotation on your summer lovin' soundtrack.
A special thanks to the hundreds of best friends who helped celebrate the launch of our Spring/Summer issue last Friday - we simply adore you all!
xo-l'étoile
CLICK THE IMAGE FOR PHOTOS FROM OUR EVENT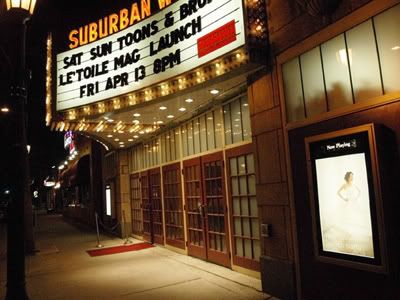 FRIDAY APRIL 20TH
Clubhouse Jager 101st Birthday Bash
@Clubhouse Jager
923 Washington Ave.
Minneapolis
Come get your old-timey on new-school style at the Clubhouse this Friday! Not many 101 year olds can party like Jager can - so belly up to the bar for drink specials galore as well as tasty bratwurst and music by Organism. Happy B-Day Clubhouse Jager!
CLICK THE IMAGE FOR THE JAGER MYSPACE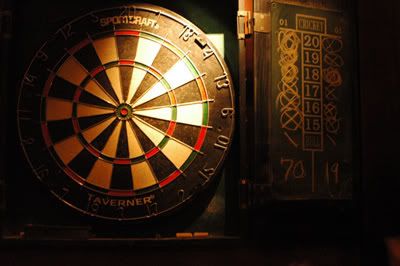 FRIDAY APRIL 20TH
Maps of Norway, Mr. Gnome, the Haves Have It and Flavor Crystals
@ The Turf Club
1601 University Ave
St Paul
9:30/ $4 / 21+
We're in love with the vocal stylings of Rebecca Leigh, the lead singer of Maps of Norway. Her classical crooning is perfectly matched with a hard-hitting powerpop/new wave accompaniment. Check them out Friday night at the Turf Club, along with Cleveland favorite Mr. Gnome, the Haves Have It and Flavor Crystals.
l'étoile model watch: The lovely Portia from the Have's Have It can be seen in our "Women of Shatner" glacti-torial in the new issue of l'étoile on sale
here
CLICK THE IMAGE FOR THE TURF CLUB SITE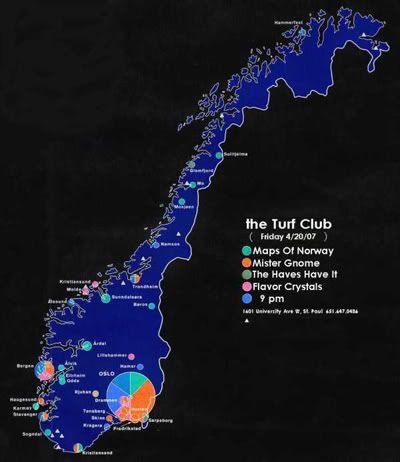 FRIDAY APRIL 20TH – SUNDAY APRIL 22ND
St. Paul Art Crawl
@ Various Locations
Friday: 6-10 pm
Saturday: 2-10 pm
Sunday: Noon-5pm
Free
The St. Paul Art Collective's Art Crawl is sprinting into its 16th year with a showcase of local studios. Browse and purchase works in all media and price ranges, while meeting other fabulous community artists. (And engage in a bit of workshop voyeurism as well: one of our favorite parts!)
CLICK THE IMAGE FOR THE ST.PAUL ART CRAWL SITE
art by Matt Kunes - Room 401/Tilsner Bldg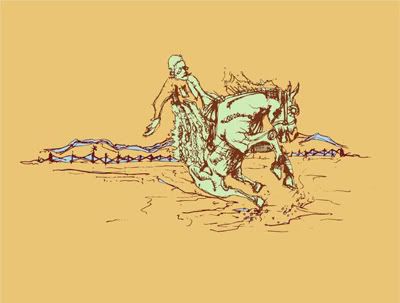 FRIDAY APRIL 20TH
Firefly
@ Minneapolis/St. Paul International Film Festival
Oak Street Cinema
309 Oak Street S.E.
Minneapolis, MN
11:30 pm / $11
The Minneapolis/St. Paul International Film Festival is lighting up screens around town from April 19-29. On Friday the 20th, you'll find us at the Minnesota premiere of Firefly. In this acclaimed thriller, three strangers find themselves subject to mysterious attacks on Halloween night. They enlist the help of a psychic stranger to sort out the cause of the attacks.
CLICK THE IMAGE FOR THE MSP FILM FEST SITE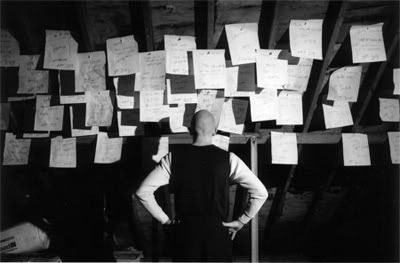 WE HEART TWIN CITIES FASHION!
Voltage: Fashion Amplified 2007
Congratulations to the Voltage team on a spectacular event! This year's show was a rousing success, showcasing some of the best fashion design and music in the Twin Cities. Click the link below for a recap as well as photos from the event.
CLICK THE IMAGE FOR EVENT PHOTOS FROM VOLTAGE 2007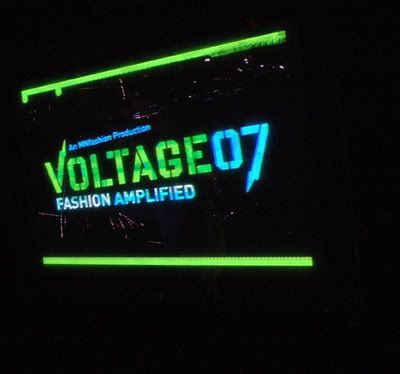 COOL LINK
BASE
In our wildest dreams, an adoring and anonymous fan of l'étoile's Weekend What's What would spontaneously send us a gift certificate to BASE. This highly select grouping (they actually have a curator for the store) of accessories, music, books and housewares has us drooling and staring in sadness at the lint in our wallets. p.s. #1 on our wish list is the Carlos Nite Lite. Adorable!
CLICK THE IMAGE FOR THE BASE SITE
SATURDAY APRIL 21ST
Design Feista
@ The Soap Factory
2nd St. and 5th Av. SE.
Minneapolis, MN
12 pm / Free
Get ready to do some serious treasure hunting at the Second Annual Design Fiesta, a sprawling marketplace of all things artsy: prints, photos, fashions, paintings, and much more. DJs Plain Ole' Bill, Paper Tiger, Sarah White and Jimmy2Times provide the musical motivation.
Be sure to stop by and say hi to Chuck U, who is featured in the new issue of l'etoile magazine. Buy a sweet art print and even pick up a copy of l'etoile, on sale at Chuck's Design Feista Booth!
CLICK THE IMAGE FOR THE VITA.MN SITE
SATURDAY APRIL 21ST
TRE DAY
@ Familia Skateshop
647 Snelling Ave. S
St.Paul
Skate or Die this Saturday with Familia Skateshop, Nike SB, The Island and Seth McCallum!
10am-3pm
The first 24 cool kids to purchase a pair of the new Loon Zoom Tre get a special pass to skate the The Island (Familia's private mini-ramp and street course)
4-6pm
Passholders skate The Island with Seth McCallum, Emeric Pratt, Steve Nesser, The Familia and special guests!
9pm-2am / 21+
End up at Nye's Polonaise Room in Northeast Minneapolis on Hennepin & Main, where DJ Medik and A+ will be holding down the 1's and the 2's all night long.
CLICK THE IMAGE FOR THE FAMILIA SITE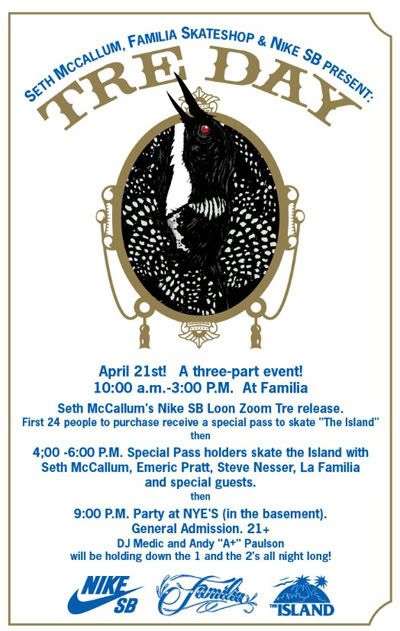 SATURDAY APRIL 21ST
Supernova with The F*ck Yeahs!
@ Grumpy's Bar Downtown
1111 Washington Ave. S.
Minneapolis, MN 55415
11 pm / 21+ / $8
After many, many moons of absence, the cosmonauts of Supernova (née Cynot 3) are finally blasting into Minneapolis to rock down Grumpy's Downtown. For an out of this world experience, Lost In Space-themed attire strongly encouraged.
CLICK THE IMAGE FOR THE GRUMPYS SITE
SATURDAY APRIL 21ST
Akai, the Autumn Leaves, the Umbrella Sequence and Cindy Ivy
@ Suburban World Theater
3022 Hennepin Avenue
Minneapolis, MN
7:30 pm / $8
Robbie and Hiromi Matsumoto of Akai artfully deliver charmingly moody melodies and poetic lyrics. Come celebrate their new CD release with Autumn Leaves, the Umbrella Sequence, and Cindy Ivy.
CLICK THE IMAGE FOR THE SWT SITE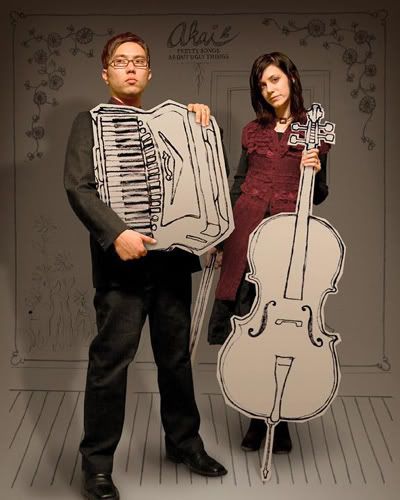 SATURDAY APRIL 21ST
RJD2
@ First Ave Main Room
701 First Avenue North
Minneapolis, MN
7:00 pm / 18 + / $13 advance/$15 door
If we had to pick one word, and one word only, to describe the sound of RJD2, we would pick "texture." We *heart* the thick, psychedelic synths layered over grainy strings and percussion. Busdriver and Happy Chichester are on hand to get the crowd goin'.
CLICK THE IMAGE FOR THE FIRST AVE SITE
ASK ANGELA
Love life getting you down? Our own Psy-chic partner, Angela can help! For an insightful earful e-mail your question to askangela@letoilemagazine.com
CLICK THE IMAGE FOR THIS WEEKS COLUMN
SUNDAY MUSIC PICK
Thyne Eyes
The doe-eyed gents of Thyne Eyes want to rock with you. All night. Their new wave beats mesmerize while the smooth vocals melt in your mouth, not in your hand. They also do double duty stepping out of the pop genre and tackling melancholic grooves that will make your eyes water. Definitely worth a listen!
CLICK THE IMAGE FOR THE THYNE EYES MYSPACE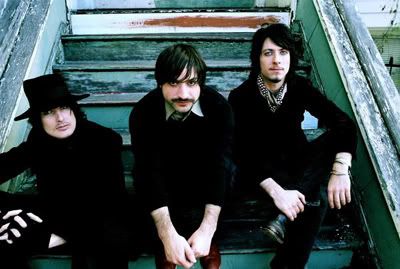 MONDAY APRIL 23RD
Connect
@ Foundation
5th & Hennepin
Minneapolis
10pm / 18+ $5 / 21+ FREE
Local favorite DJ Bach mixes a dance-a-licious musical blend of pop, rock, 80's, industrial, and house that is guaranteed to set Foundation's floor ablaze!
In addition to the hot tunes, connect with friends past and future, new artists, and l'étoile magazine! We'll be spicing the evening up with special giveaways and, of course, our magical presence.
Stoli Drink Specials All. Night. Long.
Sponsored by l'étoile magazine
CLICK THE IMAGE FOR THE CONNECT MYSPACE
TUESDAY APRIL 24TH
Sa-Ra Listening Party
@ Clubhouse Jager
923 Washington Ave.
Minneapolis
Cutting edge, artistic, sexy, and whimsical are just a few words to describe SA-RA sound. The Los Angeles/New York based group/production trio consists of three members, Taz Arnold, Safig Husayn, and Om'Mas Keith are stepping out from behind the boards to release the album, The Hollywood Recordings. The album features distinguished guests like Erykah Badu, Talib Kewli, Bilal, Kurupt, Capone-n-Noreaga, J. Dill, Pharaohe Monch, and many more. The Hollywood Recordings is set to release April 24th, 2007.
So join l'étoile magazine and Cornerstone Promotion with a very special listening party at Clubhouse Jager on April 24th, 2007 between 8-9PM. Come down and enjoy a drink, listen to some new and innovative music and maybe even walk away cool prize.
CLICK THE IMAGE FOR THE SA-RA MYSPACE