DO GOODER
Now that we're all defrosted and in a cheery mood, l'étoile would like to give you a gentle reminder (because we rule with the softest of gloves, you know) to share some of your spring fever delirium with everyone around you. Buy a friend flowers, or take a stressed-out coworker to lunch. (Or better yet, happy hour!) Even just smiling at strangers you pass on the street will get those spirits lifted. Take it from us: being kind is the best makeover money can't buy.
xo-l'étoile
p.s.- For those of you who have yet to snap up a copy of the new l'étoile do so now by clicking the link below or stop in to
ROBOTlove
,
Cliche
,
Altered Esthetics Gallery
,
Placement Gallery
,
UP6
, or
SOO Visual Arts Center
(more to come!).
CLICK THE IMAGE TO PURCHASE L'ETOILE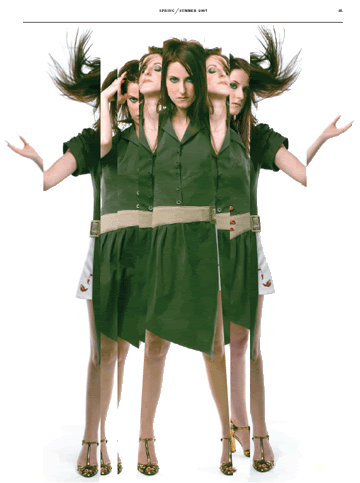 THURSDAY APRIL 26TH
RetroRama
@ MN History Center
345 W Kellogg Blvd
Saint Paul
7pm-11pm / $15
Take a trip back to the days of highballs and cardigans with the Minnesota History Center's RetroRama. Peruse and purchase vintage treasures, savor classic cocktails and 50's finger food, and take in the stereophonic sounds of The New Standards. A vintage-inspired fashion show and tours of the galleries and are also included in this hip lineup. Indulge in an evening of music, martinis and 50's inspired retro fashion by local designers.
CLICK THE IMAGE FOR THE MN HISTORY CENTER SITE
THURSDAY APRIL 26TH
I Want to Funk You Thursdays
@ Visage
400 3rd Ave N
Minneapolis
We know what you're thinking. We thought the same thing. But local bon vivant and free drink aficionado
Matt Schmidt
convinced us to take a look. No cover, open bar from 10-Midnight and dancing till 2:30? Definitely worth a little face time.
CLICK THE IMAGE FOR THE VISAGE SITE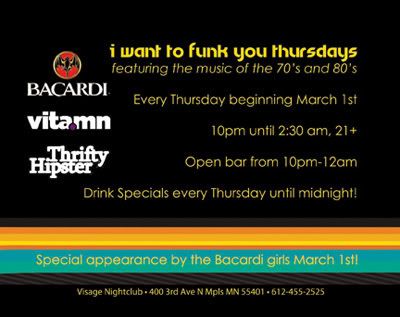 NEMAA FRIDAY ART PICK: RUBEN NUSZ
In celebration of Art-A-Whirl 2007 we will be highlighting local artists who's Northeast studios will be open during Art-A-Whirl weekend, May 18th-20th.
Ruben Nusz is interested in vision and truth. His latest photographic work includes documenting Polaroid cameras, which Nusz sees as "one of the last documents of photographic veracity in the age of digital cameras". We're also fans of his kaleidoscopic compositions, where broken eggs, cigarette butts, and fried chicken are multiplied to the point of ethereal beauty.
Visit this artist during AAW Weekend in Studio #284 at the Northrup King Building. For general info on Art-A-Whirl go to
www.nemaa.org
Art-A-Whirl 2007 is sponsored in part by l'étoile magazine
CLICK THE IMAGE FOR THE RUBEN NUSZ SITE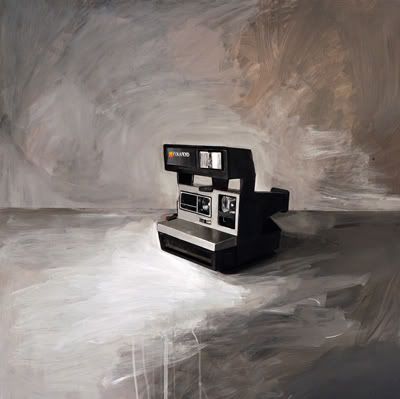 FRIDAY APRIL 27TH
Night Flight
@ 1st Ave VIP Room
701 First Avenue North
Minneapolis, MN
10pm-2:30am / 21 + / $6
Night Flight, a new electronic dance night, is about to take off! DJ Nyteowl and special guest Lenka Paris will make sure you have a pleasant flight as they take you through currents of electro beats and synth-raps on the way to full-on Martian disco. Don't miss this departure!
CLICK THE IMAGE FOR THE NYTEOWL MYSPACE
FRIDAY APRIL 27TH
Convergence
@ The Dinkytowner
412 1/2 14th Ave SE
Minneapolis
9pm-4am / 18+ $8 / 21+ $6
Convergence is going out with a bang, and they're bringing a team of expert DJs to see it out right. JamesPatrick, Centrific, Jon Hester, and Christian James lead up this all-nighter of deep, deep house and dancefloor burners. Drink specials 'til 12 to get you warmed up.
CLICK THE IMAGE FOR THE DINKYTOWNER SITE
FRIDAY APRIL 27TH-29TH
Top Shop Skateboard Competition
@ 3rd Lair Skatepark & Skateshop
850 Florida Ave S
Golden Valley
Friday 5pm / Saturday 10am / Sunday 10am
The Skateboard Mag and Element present the 5th Annual Top Shop Team Skateboard Competition & Tradeshow. $5000 cash and $1000 in Element schwag is up for grabs as tricksters, rampriders, and railsliders show off their best moves for the top prize.
CLICK THE IMAGE FOR THE 3RD LAIR SITE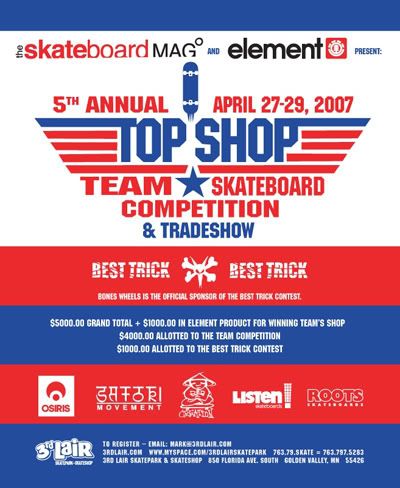 COOL LINK
What do you get when you cross the NSA with reality TV? You get overheardeverywhere.com. This eavesdropping clearinghouse features all of the surreal, vulgar, and hilarious conversations that you shouldn't want to listen to, but can't help but notice. Don't worry: the names have been changed to protect the innocent (and the guilty!).
CLICK THE IMAGE FOR THE OVERHEARDEVERYWHERE SITE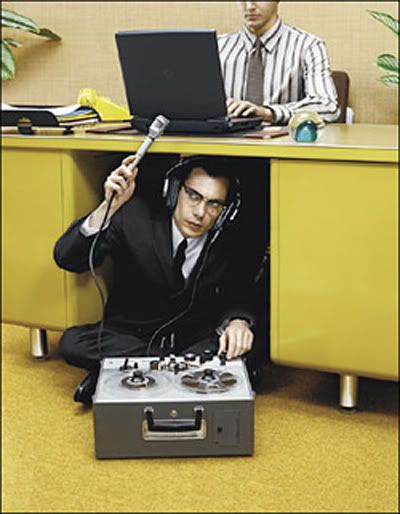 SATURDAY APRIL 28TH
Craftstravaganza
@ Fine Arts Building
State Fairgrounds
Saint Paul
9am-4pm / Free
Your mom called us to let you know that she would really, really love it if you skipped the barftastic carnation bouquet this Mother's Day and instead headed down to the Craftstravaganza to pick out something 1000 times cuter. She also told us that since you're there, you should definitely pick out something adorable for yourself. No thanks necessary: just head down to the Fairgrounds and get shopping, already.
CLICK THE IMAGE FOR THE CRAFTSTRAVAGANZA SITE
SATURDAY APRIL 28TH-29TH
April Fashion Bazaar
@ Spill The Wine Restaurant
1101 Washington Ave S
Minneapolis
12-5pm (Saturday) 12-3pm (Sunday) / Free
Spend your rent money, and then drink to forget you did at this spring bazaar hosted by the fabulous Rox Jewelry and friends! Rox and six other designers are selling their incredible jewelry, fashion, pottery, and cosmetics. Come shop, eat, and enjoy some beautiful wine!
CLICK THE IMAGE FOR THE ROX SITE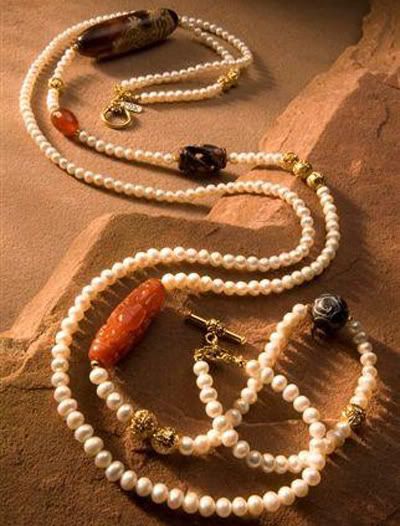 SATURDAY APRIL 28TH
Paintings in Place
@ Placement Gallery
509 1st Ave NE, 2nd Floor
Minnepolis
7-11 pm / Free
The inaugural exhibition at Placement Gallery is obsessed with, well, placement. Four artists' works illuminate places and environments, both physical and emotional. See work by local darlings Ben Olson, Amy Rice, Yuri Arjas, and Alex Alexander. Runs throught May 20th.
CLICK THE IMAGE FOR THE PLACEMENT GALLERY SITE
SATURDAY APRIL 28TH
Charmageddon
@ The Susan Hensel Gallery
3441 Cedar Ave S
Minneapolis
7pm-9pm / $5 (Proceeds to benefit Crysalis women's charity)
This performance-based fashion show explores what happens when seven different personalities (the sociopath, avoidant, schizoid, borderline, schizotypal, narcissistic, and the dependant) interact with one another. Laura Fulk's fashions are manically joined with graphic and video art, along with music by Alex Pederson. This is certainly going to be a different kind of fashion show!
CLICK THE IMAGE FOR THE CHARMAGEDDON MYSPACE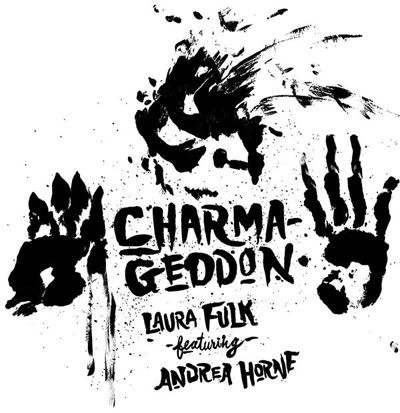 SATURDAY APRIL 28TH
This is not Art
@ First Amendment Gallery
1101 Stinson Blvd
Minneapolis
7pm til late / Free
Chicago print and illustration crew Delicious Design League stars in this show at the First Amendment Gallery. Their work is a thoughtful and expert interplay between pattern and line, with a twist of psychedelica thrown in for good measure. Rocking out the opening reception are Building Better Bombs, Teith, The Millionth Word, and DJ Mike the 2600 King.
CLICK THE IMAGE FOR THE FIRST AMENDMENT SITE
SATURDAY APRIL 28TH
This Mango is now an ipod
@ The Soap Factory
518 2nd St. SE
Minneapolis
7-11pm / Free
Drawing from artist's submissions, The Soap Factory presents "This Mango is Now an iPod." Surreal and irrational sculpture, found objects, bizarre transformations and fantasy landscapes provide a visual feast, while Ghost in the Water will show your ears a good time. Curated by Soap Factory Executive Director Ben Heywood.
CLICK THE IMAGE FOR THE SOAP FACTORY SITE
SATURDAY APRIL 28TH
Too Much Love w/ DJ Juan McLean
@ 1st Ave
7th & 1st
Minneapolis
18+ / $3 / 10pm
New York City's DJ Juan McLean (DFA!), smack dab in the middle of his US tour, pays a visit to our BFFs at Too Much Love this week. His brand of funky house is so deep, you can almost swim in it. Along with DJ Soviet Panda's addictive grooves, this night promises to be legendary!
CLICK THE IMAGE FOR THE TOO MUCH LOVE SITE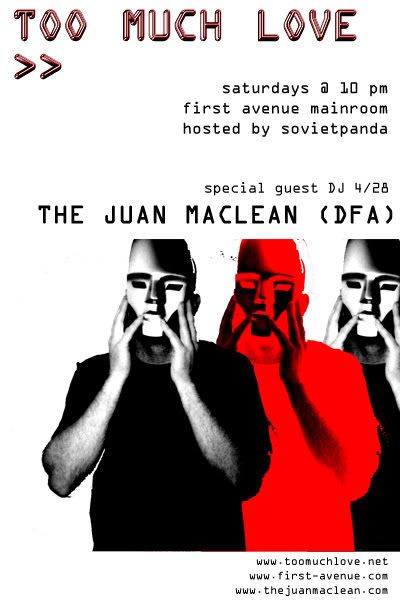 SATURDAY APRIL 28TH
Art of the Lost
@ A Warehouse
414 3rd Ave. North
Minneapolis
Late / ?
Keep this on the hush: KodeNation is bringing in some hot hot DJs, including Mick Wills of International Deejay Gigolos and Stuttgart, making his first US appearance, from Germany. Just enter through the back of the building, through the fire escape. SHHHH!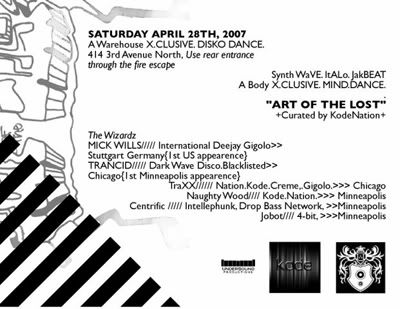 ASK ANGELA
Love life getting you down? Our own Psy-chic partner, Angela can help! For an insightful earful e-mail your question to askangela@letoilemagazine.com
CLICK THE IMAGE FOR THIS WEEKS ARTICLE
SUNDAY MUSIC PICK
mc chris
mc chris is what happens when a bratty junior high schooler possesses the body of a tough gangsta rapper. His new album "Dungeon Master of Ceremonies" is a brilliant clash of sassy rap and smart beats. Only the coolest of nerds are hip to mc chris - at his last show we saw a guy rocking a Nintendo Power Glove as a fashion accessory!
CLICK THE IMAGE FOR THE MC CHRIS MYSPACE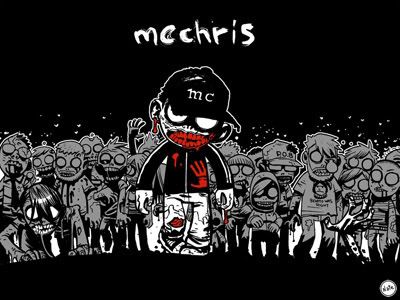 MONDAY APRIL 30TH
Connect
@ Foundation
5th & Hennepin
Minneapolis
10pm / 18+ $5 / 21+ FREE
Local favorite DJ Bach mixes a dance-a-licious musical blend of pop, rock, 80's, industrial, and house that is guaranteed to set Foundation's floor ablaze!
In addition to the hot tunes, connect with friends past and future, new artists, and l'étoile magazine! We'll be spicing the evening up with special giveaways and, of course, our magical presence.
Stoli Drink Specials. All. Night. Long.
Sponsored by l'étoile magazine
CLICK THE IMAGE FOR THE CONNECT MYSPACE