SWEET, SWEET FASHION
Hold on to your designer hats, kids,
Fall Fashion Weekend
is back and better than ever! It has been
so
thrilling to watch our local fashion scene thrive over the years, and we're incredibly impressed by the creative output that seems to grow and expand with each passing day. This weekend shows off the Twin Cities' best and brightest, and exudes a collaborative vibe that warms the cockles of our fashion-lovin' hearts. While this edition of the
What's What
will shamelessly, and obviously, plug our own party, SUGAR, at the Aloft Hotel numerous times, don't forget to check out the other amazing events on our list, which includes everything on the Fashion Weekend schedule, plus some!
xo-l'étoile

Photo by Digital Crush for SUGAR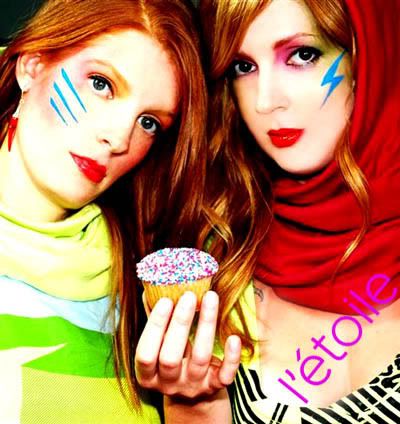 THURSDAY SEPTEMBER 18TH
SCENEaSOTA
@ 331 Club
331 13th Ave. NE
Minneapolis
9 PM/ +21/ $5 donation suggested
Fashion aficionados, scenesters, and anyone searching for that unique new fall look, join local trendsetting boutique Cliché for SCENEaSOTA. The Minnesota-grown fashion event showcases the talent and designs of the most promising up and coming designers: Anthem Heart, Jenny Carle Designs, Carmichael Claith, Ivan Idland, Renate Adjei and Maritza Ramirez. And with catwalk tunes courtesy of DJ Talk Radio the event should be too sexy for your shirt.
Bonus:
All designs will be available to purchase the next day at Cliché.
CLICK THE IMAGE FOR THE CLICHE SITE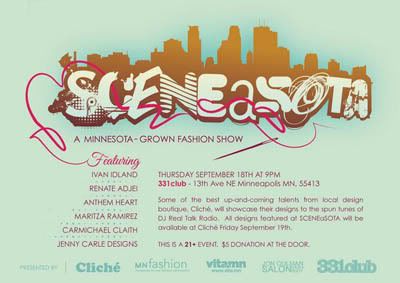 THURSDAY SEPTEMBER 18TH (THROUGH SUNDAY)
Foat Design Open Studio
@ Foat Design Studio
1828 Marshall St. NE #11
Minneapolis
Thursday: 10am-6pm
Friday: Noon-7pm
Sunday: 11am-1pm
Going green is a family affair. Created and run by twin sisters and trained yoga instructors, Kaja Foat and Zoë Foat-Naselaris, Foat Design is three eco-friendly collections: bridal, active wear, and street wear. The Foat Design sisters are true "apparel salvagers," protecting the earth by using recycled fabric and sweatshop free construction while keeping the comfort of active wear and causal appeal of street wear. Come see why these ladies are already getting national recognition in popular magazines such as
Yoga Journal
for their uniquely stylish, attractive and earth-friendly wear.
CLICK THE IMAGE FOR THE FOAT SITE

THURSDAY SEPTEMBER 18TH
EDP Textiles Open House
@ EDP Textiles
1400 Van Buren St. NE, Suite 170
Minneapolis
4pm-7pm / Free
We are living in a digital world and Willetta DeYoung is a digital girl.
Exclusive Digital Printed Textiles
, locally founded by DeYoung, opens its doors for an innovative look at digital textile printing. EDP is dedicated to combining custom textile designs with digital textile printing to create a truly distinctive product. Their prints are offered to design firms, clothing designers, and anyone with a creative textile vision. Take a tour through the extensive library of fabrics and watch as EDP Textiles demonstrates their progressive concept of personalized design.
CLICK THE IMAGE FOR THE EDP SITE
THURSDAY SEPTEMBER 18TH
Dinner with III Kings Sound System
@ BeastHouse
600 Washington Ave N
Minneapolis
7:30/ 18+/ Free
Take a dinner break from all your fashion-related shenanigans to re-fuel! DJs I-Roach, Pushie and Trichrome of III Kings Sound System have been spreading the good vibes of reggae to MPLS since 2003. Tonight experience the sensations for yourself while enjoying a free show and complimentary dinner. Gaining hype through word of mouth alone, Beasthouse is must-see venue. And if you have to enter through the back for an event, as in the case of BeastHouse's Brin Building, you know it must be a hot scene!
Bonus:
Catch the III Kings Sound System boys every Tuesday night at the Nomad.
CLICK THE IMAGE FOR THE III KINGS MYSPACE

FRIDAY DESIGN PICK: ANTHEM HEART
Unless you've been living under a rock all summer, you've probably noticed twin cities fashionables rocking the 80's thrift-store chic of Anthem Heart. Adored by club hopping hipsters, Anthem Hearts' designs are heavily influenced by local music scene culture and they never shy away from bold graphics, bright colors and large prints. Anthem Heart present their trend-forward collection merging fashion, art and music at Fall Fashion Weekend's hottest happening, SUGAR. (see our listing below!)
CLICK THE IMAGE FOR THE ANTHEM HEART SITE
Digital Crush for SUGAR / Clothing: Anthem Heart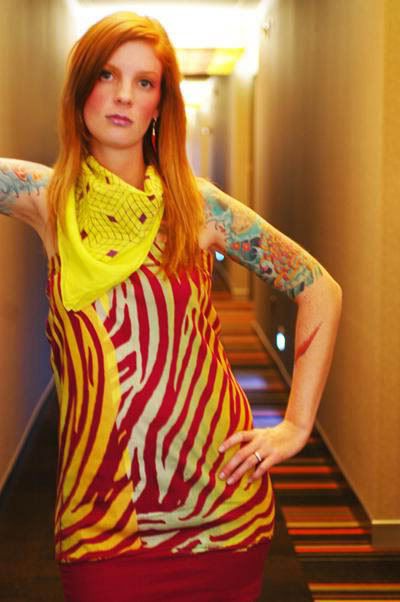 FRIDAY SEPTEMBER 19TH
SUGAR
@ The Aloft Hotel
900 Washington Ave.
Downtown Minneapolis
(Across from Open Book)
Indulge your sweet tooth with l'étoile magazine and METRO Magazine as we team up to host a FREE, candy-coated Fashion Weekend bash at the new Aloft Hotel in Downtown Minneapolis! Held in the swanky w xyz bar within the hotel, party-goers will enjoy a festive and contemporary environment sweetened by fresh new fashions by local graphic-inspired designers Anthem Heart and YouWorkForThem. The designers will present their work through styled models who will mingle with the crowd, serving up sugary treats and delectable fashion. See the world premiere of YouWorkForThem's latest motion graphics art project, thumb through complimentary copies of the latest issue of METRO, as well as collectible back-issues of l'étoile while you chill-out in the w xyz bar with the Twin Cities fashion elite, sip specialty cocktails made with home grown Prairie Organic Vodka, and dance to smokin' beats courtesy of buzzed-about red-hot sister DJ duo Tendercakes and DJ Jonathan Ackerman. Candy-colored fashion attire highly encouraged!
BONUS:
Don't miss the official SUGAR after party at Honeymoon in the First Ave VIP room (from Midnight - 2am) with resident DJs The Moongoons and special guests. Come to Sugar and get your wristband for VIP admission to the after party!
Co-Sponsored by l'étoile magazine & Metro Magazine
CLICK THE IMAGE FOR MORE INFO
Photo by Digital Crush for SUGAR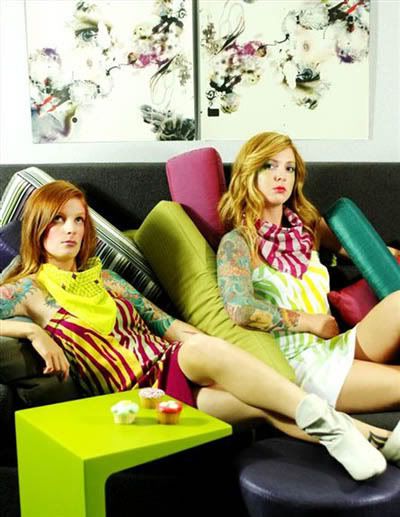 FRIDAY SEPTEMBER 19TH
SUGAR After Party/Honeymoon
@ 1st Ave VIP Room
701 1st Avenue. N
Downtown Minneapolis
Midnight-2am / $6 or wristband from SUGAR
The Moongoons are at it again! Tonight's edition of Honeymoon is special, because not ONLY is it the SUGAR after party, but our pal Josh Clancy of the Moongoons is celebrating his b-day! A kick-ass, nationally known graphic designer by day and a dance floor polishing DJ by night, Mr. Clancy certainly has reason to celebrate. So, after getting a sugar rush at Aloft with us, party train over to the VIP and give the birthday boy his spankings!
Co-sponsored by l'etoile magazine!
CLICK THE IMAGE FOR THE MOONGOONS SITE
FRIDAY SEPTEMBER 19TH
Goldstein Museum of Design: A Resource For Designers
@ Goldstein Museum of Design
1985 Buford Ave
St. Paul, MN
6–9pm / FREE
You don't have to be a student at the U to gather inspiration and ideas from their expansive collection of apparel items from around the world. As part of MN Fall Fashion Weekend, the Goldstein Museum of Design offers an introduction to its resources and the opportunity to explore the collection to enhance your designs. See the exhibition 'From Sportswear to Streetwear: American Innovation,' featuring apparel from the museums collections, and enjoy refreshments and the music of Parisota Hot Club.
Start your evening out at this fantastic and informative event before heading to SUGAR!
CLICK THE IMAGE FOR THE GOLDSTEIN SITE

FRIDAY SEPTEMBER 19TH
Project Santino
@ Beasthouse
Brin Building
600 Washington Ave North
North Loop
(enter around back)
8pm-11pm / Free
Our cooler than cool pals over at Beasthouse will be hosting one of the most talked-about events of the weekend (aside from SUGAR of course!) So, before heading up the street to Aloft, pop into Beasthouse to meet designer Santino Rice of Project Runway fame, check out his new collection (with styling assistance from the fabulous dames of Eclecticoiffeur), nosh on complimentary apps courtesy of Azia, and down a glass of champagne - all in the name of fashion!
CLICK THE IMAGE FOR THE SANTINO RICE SITE
FRIDAY SEPTEMBER 19TH (THROUGH SATURDAY)
Soap Factory's $99 Sale
@ The Soap Factory
519 2nd St. SE
Minneapolis
FRIDAY: 7-10pm Pre-Sale / $35
SATURDAY: 9am-Noon / Free
Its time again for what has become the hippest art 'round town, the $99 sale at The Soap Factory! In its third year, this annual sale will be the perfect opportunity to beautify your walls with your choice of over 200 unidentified pieces by local and national artists donating their work to benefit the gallery. Doors open at 7, but stake out your spot in line early, because things have been known to get crazy! All remaining works will be sold on Saturday, and admission that day is free.
CLICK FOR THIS ART EVENT AND MORE AT MPLSART.COM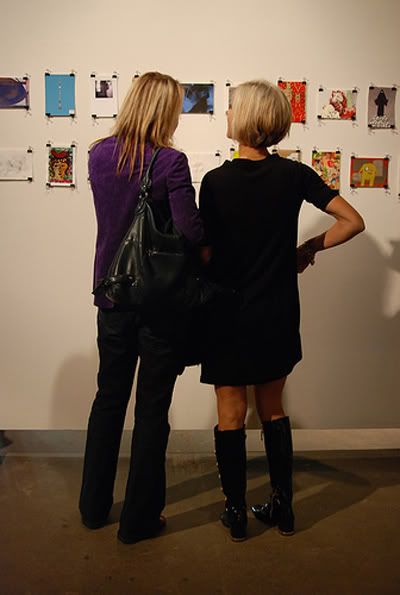 FRIDAY SEPTEMBER 19TH
Pather Yang Trunk Show
@ Cliché
2403 Lyndale Ave S
Minneapolis, MN
7-9pm / FREE
Fashion culture and awareness in Minneapolis is on the rise, and Cliché had a major hand in pioneering the movement as one of the most popular boutiques in town to carry clothing by local designers. Pather Yang is one of the most promising talents in town, with a style perfect for any young hipster looking for a classy dress with edgy, unexpected details. (aren't we all, ladies?) A trunk show at Cliché on Friday night will feature Pather's hot new collection and a chance to rub elbows with the designer herself!
CLICK THE IMAGE FOR THE CLICHE SITE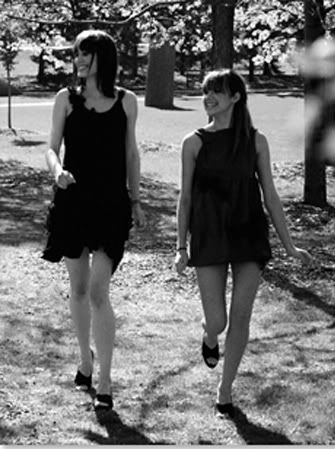 FRIDAY SEPTEMBER 19TH
Devon Driscoll Trunk Show
@ Design Collective
1311 W 26th St
Minneapolis, MN
6-8pm / FREE
Pop into Design Collective for a treasure-filled trunk show hosted for NYC-based jewelry designer Devon Driscoll. Devon will be showcasing her new work and past collections featuring raw and refined metals at her first-ever show in Minneapolis. Meet Devon and be among the first to check out this metal smith's one-of-a-kind jewelry. Wine and hors d'oeuvres will be served, and what better time to check out Design Collective's fall arrivals!
CLICK THE IMAGE FOR THE DEVON DRISCOLL SITE
FRIDAY SEPTEMBER 19TH
Envision: Fall 2008
@ Solera 3rd Floor Ballroom
900 Hennepin Ave
Minneapolis, MN
9pm-2am / $20, $30 VIP
Celebrate fall fashion weekend in style at Envision, featuring fall collections from the best emerging design talents and chicest boutiques in the Twin Cities. Spanish tapas and cocktails will be served, and DJs Timmay and A-Ray will be spinning a mix of house, rock & electro. A portion of the proceeds will benefit The Young Survival Coalition, a breast cancer research fund.
CLICK THE IMAGE FOR THE ENVISION MYSPACE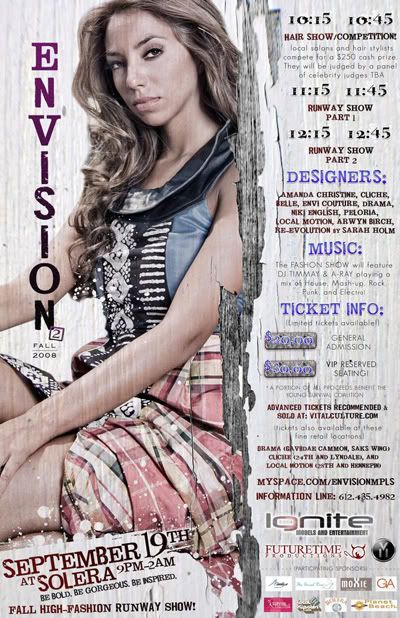 FRIDAY SEPTEMBER 19TH
Toys in the Attic
@ Hangit Gallery 122
122 8th Street SE
Minneapolis, Minnesota
7-10pm / FREE
Squad 19 presents "Toys in the Attic", a show examining the darkest fears from childhood—the stories, toys, and imagery that haunted their youth. The exhibition will feature paintings, illustrations, and custom toys by DC Ice, DWITT, Punchgut, Lon Unitus, Adam Turman, Steve Tenebrini and more. "Toys in the Attic" will run through October 31.
CLICK FOR THIS ART EVENT AND MORE AT MPLSART.COM

FRIDAY SEPTEMBER 19TH
She-Rock Festival of Sisters
@ Pi
2532 25th Avenue South
Minneapolis, MN
8pm / 21+ / $10
Grrrl power will be raging this weekend as the She Rocks Festival of the Sisters takes on Minneapolis. A celebration of twin cities women in music, this year's 2-day event will feature bands like The God Damn Doo Wop Band, Sirens of Titan, Desdamona, and the Menstrual Tramps among many others in genres ranging from punk to bluegrass to spoken word. Conservatives be warned: the event is sponsored by feminist sex toy store Smitten Kitten!
CLICK THE IMAGE FOR THE PI SITE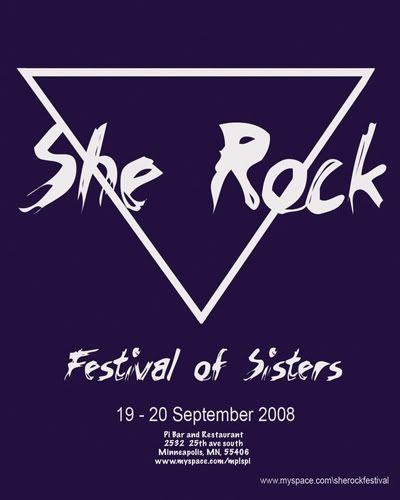 COOL LINK: YOUWORKFORTHEM
You probably know YouWorkForThem as an amazing graphic design group, but they're also graphic-inspired fashion designers! Your chance to see their latest and greatest is at our fashion weekend event, SUGAR, at the Aloft Hotel this Friday! Anyhoo, if you're into design books, bitchin' vector art, typography, art prints and more, then you absolutely MUST check out YWFT's online store, but don't forget to come to the party on Friday!
CLICK THE IMAGE FOR THE YWFT SITE
Photo by Digital Crush for SUGAR
Wall Art by YouWorkForThem
SATURDAY SEPTEMBER 20TH
Thunderball
@ The Annex
509 1st Ave NE (between City Salvage and Red Stag)
Northeast Minneapolis
8pm-3am/$10-$15
Bond is the new black! Go mod and channel your best Bond babe while sipping martinis and grooving to the beat of cool local bands such as Revolver, Mercurial Rage and Bella Koshka covering James Bond flick classics. Do it up and win the "best-dressed" contest, then get your pic snapped in the photo booth. Styling group Eclecticoiffeur will transform live models into Bond Girls in between band, set to the backdrop of video work by Digital Crush. This is THE place to be Saturday night, trust us!
Co-sponsored by l'etoile magazine
We recently caught up with Bella Koshka violinist and Thunderball producer Hilary Davis for a pre-fashion weekend chat....
How did you come up with the concept for ThunderBall? How did you choose the bands?
Everybody loves Bond! The response has been so enthusiastic, there are a lot of die-hard Bond fans out there! The bands represent a complimentary variety of musical styles to cover the different eras of Bond theme songs – Mercurial Rage will get the crowd dancing, Bella Koshka will create a lushly cinematic mood, and Revolver will bring a darker, sexy edge.

This party doubles as a fundraiser for the non-profit MNFashion - how important is an organization like this to the Twin Cities, in your opinion?
Immensely important! It is the hub of our local fashion community, bringing together creative individuals and providing them with opportunities to showcase and sell their work. No other city has an events like Voltage or unique runway shows at spaces like Solera.
What can people expect at the event that isn't the same old, same old?
A mod-dressed crowd (I've talked to several gentlemen who will be sporting tuxes, and some Bond villains), plenty of dancing to '60s spy-theme music from 3 amazing DJs, Bond movie clips projected around the space, live Bond girls (oh yes!), a set for people to have their photos taken with the Bond girls...and a raging after-party very nearby! This is going to be a classy affair with the theme carried through every aspect of the party.
Tell us a little bit about this awesome new party spot, The Annex?
We're really excited to host the first event in this space! It's located on 1st Avenue NE between the Red Stag Supper Club and City Salvage. Stained glass windows, wood rafters, an amazing art deco bar with neon lights (serving custom Bond cocktails), and a twinkly-lit patio will create the perfect ambiance for the evening.
What do the babes from EC have cooked up for Thunderball? Can you release any hints?
In a first-time-ever, multi-media collaboration, the EC babes have joined forces with Digital Crush to recreate and update some iconic Bond intros...and there will be plenty of mod surprises, people will have to come see for themselves!
What are you going to wear to the party?
My band Bella Koshka is picking up the black/red/gold asian theme from "You Only Live Twice" (our opening number.) For my personal ensemble, all i will say is...gold sequins + black patent leather!
CLICK THE IMAGE FOR MORE INFO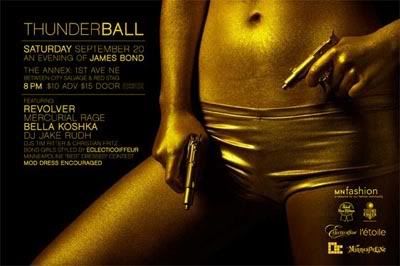 SATURDAY SEPTEMBER 20TH
Studio Jams
@ SISBRO/Swank Dollar Studio
501 Cedar Ave S.
2nd level of Nomad World Pub
West Bank of Minneapolis
1pm-6pm/free
You know what will be jammin' here? Try...new jewels and porcelain prisms by SISBRO, black lacy things and skorts by Swank Dollar, "Don't Smoke Drugs", an illustration book and Knifeworld LP collaboration, and...womb suits by Aaron Ridgeway. See the hallowed ground where these hip makers have been toiling away for your fashion demands, and go forth with cash in hand.
CLICK THE IMAGE FOR MORE INFO
SATURDAY SEPTEMBER 20TH
Fall Flair
@ La Bodega Tapas Bar
3005 Lyndale Ave S
Minneapolis
Doors 6pm, runway at 7pm / $5
First of all, Jonathan Ackerman is DJing a runway event. What more do you need? Ok, how about drinking wine and eating tapas while taking in fall collections that include ostrich, crocodile and cowhide, plastic 80's colored jewelry, and Scandinavian style laser cut acrylic and wood jewelry designs? This might be the most diverse show out there, and it's only $5, so really, do you need more excuses?
CLICK THE IMAGE FOR THE MNFASHION SITE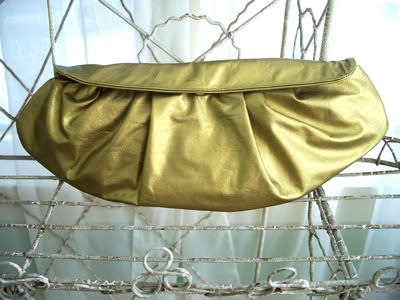 SATURDAY SEPTEMBER 20TH
Reevolution
@ Via's Vintage
2408 Hennepin Ave
Minneapolis
7pm-9pm
Everyone knows Via's has top end vintage, but did you know they are also the exclusive carrier of local label Reevolution? This is your chance to meet and greet Sarah Holm, extraordinaire behind the line, get 20% off everything in the store, plus past seasons of Reevolution will be marked down to 50% off. Since you'll be lusting over that fall line that was introduced Friday at Solera, why not talk to the designer herself tonight?
CLICK THE IMAGE FOR THE VIA'S SITE
Photo by Eric Eul for l'etoile agency
SATURDAY SEPTEMBER 20TH
Grayline Clothing Release Party + Bike Ride
@ Design Collective
1311 W 26th St.
Minneapolis
3pm-7pm, bike ride at 7:30 pm, cocktail hour at 8pm/free
Grayline's so good it needs two release parties. Start at Design Collective and see Birk Stefan Grudem's first collection of men's and women's hand-screenprinted scarves, bags, dresses, tights and more. At 7:30 get on your ten-speed and ride to Red Stag just in time for cocktail hour (isn't it always time?) and more celebrating for Grayline.
CLICK THE IMAGE FOR THE DESIGN COLLECTIVE SITE
SATURDAY SEPTEMBER 20TH
Il Travatore
@ The Ordway Center
345 Washington St.
St. Paul
8pm / $20-$150
Killer Spanish gypsies singing opera in St. Paul? Oh, yes. That Verdi knew how to write a drama, and this one includes ghosts, revenge, duels, abductions, religion and poisoning. Looks like nothing changes. There are only five shows, so hurry, add some operatic excitement to your life - and don't forget your opera goggles!
CLICK THE IMAGE FOR THE MN OPERA SITE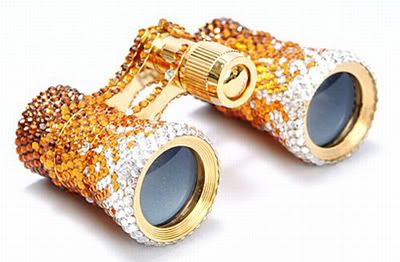 SATURDAY SEPTEMBER 20TH
Rock to Party
@ Soundbar
414 3rd Ave N
Minneapolis
11pm / 21+
Modernsextrash is a great name. It's also a hot new local band that is launching their website - an answer to the changing music industry. Instead of full albums, they'll be releasing scheduled digital audio free on their site. Rock to Party will be the hybrid of a rock show and club night full of video, hot people and wild partying.
Click
HERE
for the Modernsextrash site!
CHECK OUT A TEASER VID BELOW

SUNDAY MUSIC PICK: TENDERCAKES
No offense boys, but what MPLS is really missing is sexy ladies in headphones. At the console, dropping those tracks, tweaking those synthesizers, pounding that bassline. Oh, it's really just time for the ladies to step up and rock their stuff. Enter DJ duo Tendercakes. These girls have been blowing up the scene and stealing the show all summer giving MPLS a touch of electro mash-up. If you haven't yet seen this flashy pair, head down to fashion elite l'étoile party Sugar at the Aloft Hotel this Friday where they'll be teaming up with DJ Jonathan Ackerman. And grab your wristband to double the fun for free admission to Sugar's official after party, Honeymoon, where Tendercakes party again in the First Ave VIP area from Midnight – 2 AM.
And YES, we are done shamelessly plugging our Friday Fashion Weekend party! See you there!
CLICK THE IMAGE FOR THE TENDERCAKES MYSPACE
Photo by Digital Crush for SUGAR
SUNDAY SEPTEMBER 21ST
A Deep Root Romance: Keepsakes for a Modern Day
@ Design Collective
1311 W. 26th St.
Minneapolis
Noon-4 PM
The Deep South, gumbo, grits, down home hospitality, Scarlett O'hara and fashion. Wait, fashion? Well, these girls know what we're talking about. Kristina Bell, 2008 Voltage Runway Designer of Standard Issue Clothing, and Ivey Brassil, 2008 Voltage Accessories Designer of Bombalurina showcase their Southern inspired Fall collections. And if handmade pieces, clothing and jewelry aren't enough to romance you, they also offer a goodies bar. As god is your witness, you will attend this event.
CLICK THE IMAGE FOR THE DESIGN COLLECTIVE SITE
SUNDAY SEPTEMBER 21ST
Ruby3 Fashion Bike Ride
@ Robot Love Parking Lot
2648 Lyndale Ave S.
Minneapolis
1pm-4pm / Free
There is nothing more liberating that hopping on your bicycle. Now throw in the line "dressed head to toe in the trendiest fashions" and we're close to a style revolution. This is fashion police on bikes. And what could be better than getting a little exercise while showing off your look. Join Anna Lee and her fashionistas as they tour de Minneapolis. The cycling hop starts in the Robot Love parking lot (run inside and get a locally designed t-shirt or hoodie if you're feeling a bit under dressed) and trail through the city. Some of Ruby3's last riders were featured in
Vita.mn's fashion side
; so remember, dress for success and wear a helmet; safety is sexy!
Route can be found at the link below!
CLICK THE IMAGE FOR THE RUBY3 SITE
SUNDAY SEPTEMBER 21ST
Minnesota Historical Society Collections Treasures Tour
@ Minnesota History Center
345 Kellog Blvd. W.
St. Paul
2 PM-3 PM/ free
Register early to reserve a spot for this prestigious event. Linda McShannock, textile curator for MN Historical Society, leads a tour of archive fashion collections from 19th - 21st century. Elaborating on techniques, color combination and contemporary designers, McShannock also shows off some of her favorite garments and gives a first hand look at some newly attained pieces. This tour is a must for designers looking for a reminder of fashion's recent history. But since this is a behind the scenes exclusive, it's limited to just 15 people. Contact event director Aleah Vinick via email with your name and the number of people in your group. aleah.vinick@mnhs.org.
CLICK THE IMAGE FOR THE MN FASHION SITE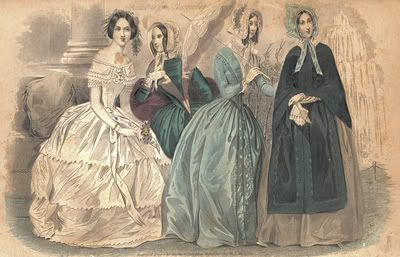 TUESDAY SEPTEMBER 23RD
Silver + Gold
@ Clubhouse Jager
923 Washington Ave.
North Loop
Every Tuesday / 21+ / 10pm / Free
Join DJ Jonathan Ackerman and l'étoile magazine for an evening of sly winks and sideways glances every Tuesday at Clubhouse Jager. Create some mystery, sip 2-4-1 cocktails with pretty people, and dance the night away to electro, pop, and so much more.
BONUS:
Flirt up a storm then visit letoilemagazine.com on Wednesdays for "missed connections" from the night before!
Sponsored by l'étoile magazine & Alphasuede
CLICK THE IMAGE FOR L'ETOILE TEXT CONNECTIONS
What's What Editor: Kate Iverson
Contributing Writers: Lacey Prpic Hedtke, Robyn Lewis, Juleana Enright
ALL CONTENT © L'ETOILE MAGAZINE 2008