Check back this week for recaps from our writers and more pictures by Digital Crush!
THUNDERBALL
@ The Annex 9/20
Sprouting in northeast Minneapolis between the Red Stag Supper Club and City Salvage, the Annex is a semi-finished, semi-vacant space with a huge, metal and glass chandelier, a backlit Art Deco bar, a cement floor and an exposed wood ceiling. It's vintage flavor made it a perfect place for "Thunderball: An Evening of James Bond," the flagship party for
MNfashion's Fall Fashion Weekend 2008
and a celebration of all things Bond through fashion, music and film.
Local bands Revolver, Bella Koshka, and Mercurial Rage performed new interpretations of iconic Bond tunes. Local fashion-forward collective,
Eclecticoiffeur
, styled models after Bond girls to match the Bond songs chosen by the bands.
Rounding out the artistic triumvirate, Digital Crush helped hand-craft 3 short films just for the event (shown at the link below). Each was inspired by a different Bond film intro sequence and was shot in August at
Seventhsin Studios
in Minneapolis. Check out page 4 at the link below for stills from the video shoot.
But bar close wasn't the end of the evening - the mod masses made more mayhem, marching up the nearby stairs to Tucker's swank pad. There, they had all the ingredients needed for a great time at 4 am: dudes with skateboards on a half-pipe, floods of red lighting, Tendercakes DJ's, buckets of cheap booze, and Robocop playing on a big screen.
-Stephen Stephens

Event photos by Stephen Stephens and Robyn Lewis. Video production stills by Kate Iverson.
CLICK THE IMAGE FOR THUNDERBALL PICS AND VIDEO!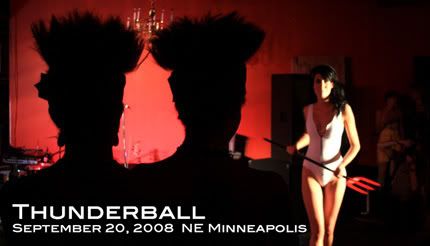 SUGAR
@ The Aloft Hotel
Thanks to all who came out last weekend for our Fashion weekend party (co-hosted by our bffs at Metro Mag!) We've been swamped this week, so check back tomorrow night for a full recap plus more pics and writeups from the Beasthouse event with Santino from Project Runway, The Ruby3 Fashion Ride, and The Goldstein Museum of Design!
In the meantime, check out the awesome pics by Digital Crush from SUGAR by clicking below!
CLICK THE IMAGE FOR PICS FROM SUGAR!