PARTYING IS SUCH SWEET SORROW
As quickly as they appeared, the sweet summer months seem to be bidding adieu before we had a chance to really get to know them. But don't cry too hard, the icy months are still aways off, and the lovely autumn season will be sweeping in with all its gorgeously colored glory soon - and that means fabulous fall fashion! Wool, cashmere, suede and all those decadent textiles that go so well with a harvest moon will soon be moved to the front of your closet. This weekend, however, will probably be your last chance to rock those short shorts - so live it up!
xo-l'étoile
BONUS:
Peep our Fall Fashion Weekend recaps in the post below this one! More to come...
Photo by Amy Pierce/Art Direction Molly Roark
for l'étoile magazine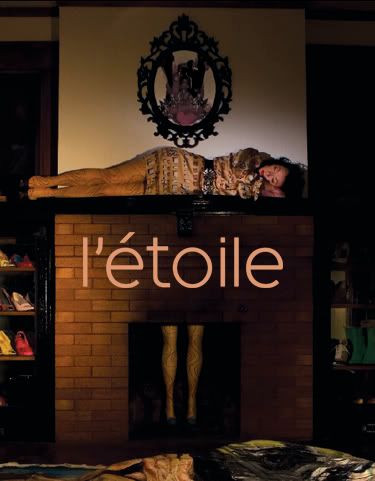 THURSDAY SEPTEMBER 25TH
Dinner with Estate
@ Beasthouse
Brin Building
600 Washington
(Enter through the back)
Minneapolis
7:30pm-10:30pm / Free
It's becoming a trend! Thursday evenings at the Beasthouse are stellar with not only a free live performance from a kick ass local band (this week it's Estate) but also free dinner! Yes, you heard us right. Enjoy a deliciously catered din-din of spicy Thai food while you lounge comfortably in Beasthouse's swanky loft, making flirt-eyes at that swarthy stranger across the room. Why not? Isn't that what Thursdays are for?
CLICK THE IMAGE FOR THE ESTATE SITE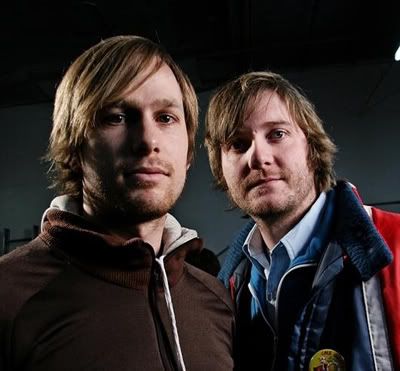 THURSDAY SEPTEMBER 25TH
Jeremy Messersmith CD Release
@ Varsity Theater
14th & 4th St. SE
Dinkytown
7:30 / 18+ / $10 in advance, $12 at the door
Local phenom Jeremy Messersmith celebrates the release of
The Silver City
, his new album comprised of songs inspired by the Twin Cities. Melodic and heartfelt without being saccharine, Messersmith's album is already one of the most buzzed about local releases of the year. Be sure to wear your sensitive hipster face and your heart on your sleeve. You'll blend right into the crowd.
CLICK THE IMAGE FOR THE JEREMY MESSERSMITH MYSPACE
THURSDAY SEPTEMBER 25th
Dildo Bingo
@ Pi Bar
2532 25th Ave S
Minneapolis
7pm / suggested donation
You know you want to play, don't lie! As always, this special form of bingo - or "dingo" as they call it, has high stakes. And as always, it's a fundraiser for worthy area organizations. Smitten Kitten sponsors, so you know the prizes are mint quality, and your host Gogopimp Tif hilariously struts around screaming about the sex-ay prizes. Get there early, grab a table, order some food (mini-burgers, hello) and win big! (No pun intended)
CLICK THE IMAGE FOR THE PI MYSPACE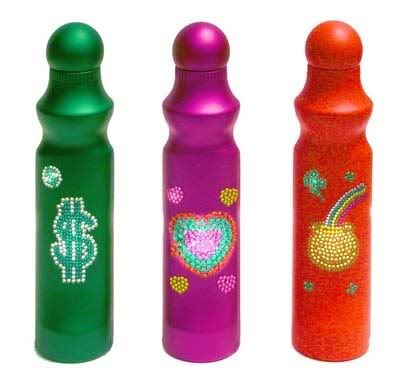 FRIDAY ART PICK: IVO GRETENER
Once in a blue moon an artist comes along that makes us scream for joy. Ivo is it. His foam sculptures of safes and photos of everyday objects turned magical and digital-looking paintings from security tapes and the like are too, too good. Check out his comics, making fun of typical art blather, and his plaster sculptures. Is there anything this Swiss man doesn't excel at?
CLICK THE IMAGE FOR THE IVO GRETENER SITE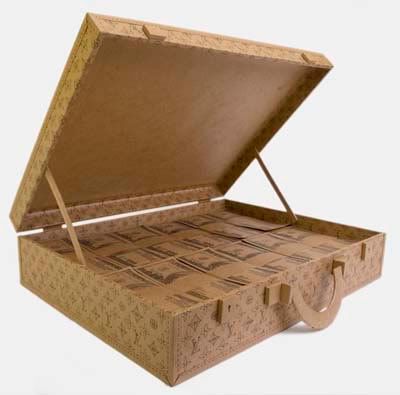 FRIDAY SEPTEMBER 26TH (THROUGH OCTOBER 5TH)
Oktoberfest
@ Black Forest Inn
1 East 26th St.
Minneapolis
6:30pm/free
It is very important that you attend the first day of Oktoberfest, appropriately ongoing at the Black Forest through October 5th. Alphorns will set the tone (you know, those long horns that lay on the ground?), and the ceremonial kegtapping will take place at 7:30 by Sven Sundgaard (ooh-la-la), marking the solemn beginning of this beer free-for-all. It's "Hacker-Pschorr night" which means samplers accompanied by even more horns and an accordion, Deutsch-tastic!
CLICK THE IMAGE FOR THE BLACK FOREST SITE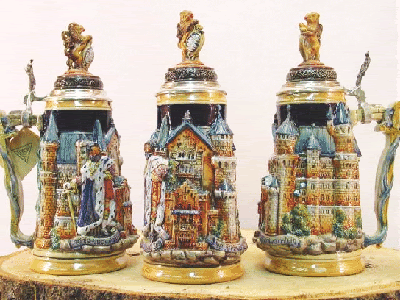 FRIDAY SEPTEMBER 26TH
Themes
@ 7th Street Entry
701 1st Avenue
Downtown Minneapolis
8pm / 18+ / $6
This local star-studded ensemble features former and current members of Vox Vermillion, Claire de Lune, End Transmission, and A Whisper In The Noise. Known for their lush folk melodies and haunting instrumentals, Themes is emerging as one of the Twin Cities band to watch. Former l'étoile model Kelsey Crawford and her bandmates will remind you just how painful it is to encounter people with beauty, brains, and talent.
CLICK THE IMAGE FOR THE THEMES MYSPACE
Photo by Kris Drake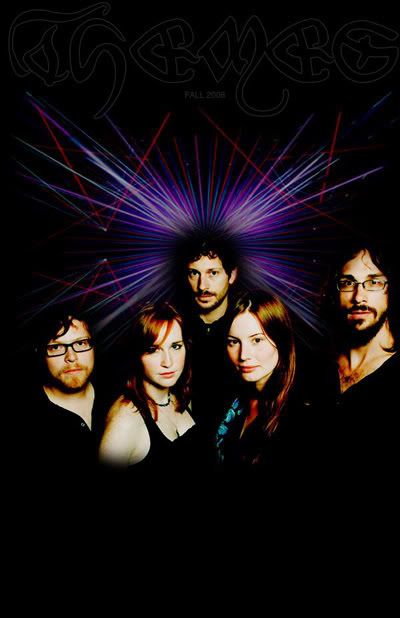 FRIDAY SEPTEMBER 26TH
Shelter & So Electric
@ Barfly/The Loft Above Barfly
711 Hennepin Avenue
Downtown Minneapolis
10pm-2am / 18+
Shelter: $5
So Electric: $3 w/
RSVP
, $5 without
Make it a danceable double header this evening with two-times the fun at Barfly, with
Shelter
upstairs in the Loft and
So Electric
downstairs. Legendary local DJ E-Tones entertains at Shelter with a 4-hour set of signature beats, while So Electric gets, well, electric, with some of the best dance party starters in town such as DJ Bach, the Moongoons, Tendercakes, Alex Hegewald, DJ Silver Wolf, and Gigamesh. You're guaranteed to find the dance party you've been fantasizing about all week - tonight at Barfly!
CLICK THE E-TONES FOR THE BARFLY SITE
FRIDAY SEPTEMBER 26TH
Cirque Du Soleil: Saltimbanco
@ Target Center
600 1st Ave N
Minneapolis
3:30pm and 7:30pm/ $42-97
Saltimbanco is this oldest touring show of Cirque's repertoire - an exploration of the urban experience. Acrobatics, juggling, an "artistic bicycle" act, bungees and the Russian Swing are a few of the death-defying feats these well-costumed contortionists have in store. Through September 28th.
CLICK THE IMAGE FOR THE CIRQUE SITE
SATURDAY SEPTEMBER 27th
COOL LINK: MN FASHION SURVEY
After this past fashion-fueled weekend, you probably have some constructive criticism of what was amazing, and what could have been even better. Now is your chance to contribute your opinion to MNFashion! Take this survey, let them know what it's important to you, what you wish the local fashion scene had more of, and get involved! Plus, isn't filling out forms when you're supposed to be working fun?
CLICK THE IMAGE FOR THE SURVEY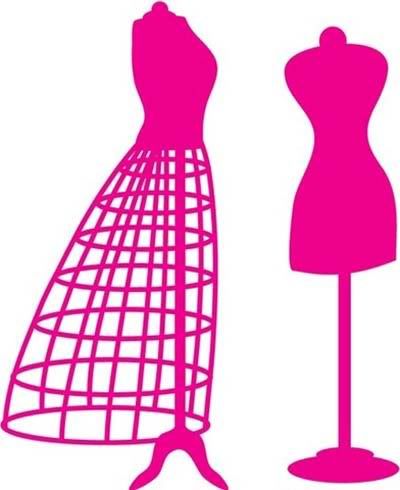 SATURDAY SEPTEMBER 27TH
Seward Redesign Open House
@ Seward Redesign
2619 E. Franklin Ave
Minneapolis
2pm-5pm / Free
Before heading to Jagerfest for what may be your last chance to sit on a patio this season, come support your community! Seward Redesign, the non-profit community renovation corporation behind the new Franklin Ave revamp project, invites you to visit their space and meet the businesses (new and old alike) in the Franklin/27th Ave. area. Fast and Furless and Animal Right Coalition moved their "Vegan Emporium" to the neighborhood last spring and will be holding a trunk show featuring vegan shoes, totes and accessories. ArtiCulture, an organization offering art classes for kids and adults, hosts their Grand Opening which will include family art activities, music and a clothes-line affordable art sale. While your in the area, check out the expansion of neighborhood cuisine favorite, True Thai. Enjoy food, refreshments, and activities throughout the afternoon and be a part of the planning for a better neighborhood.
CLICK THE IMAGE FOR MORE INFO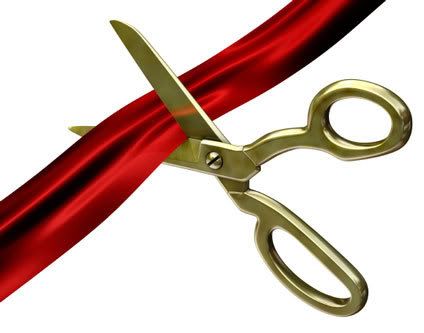 SATURDAY SEPTEMBER 27TH
Jagerfest
@ Clubhouse Jager
923 Washington Avenue N
North Loop
5 pm / 21+ / $5 (Free Summit beer with admission)
Ring in autumn with local bands and fresh beats at Clubhouse Jager! Join Beatrix Jar, Bella Koshka, First Communion Afterparty, and Solid Gold on the outdoor stage, followed by pure hotness that is Attitude City inside from 10pm to close. The Fox Tax Grill will be providing yummy treats from 5 to 9, and the $5 cover includes a complimentary Summit Octoberfest. Celebrate the end of Summer on Jager's awesome outdoor patio, and make sure to keep your pretty peepers peeled for l'étoile/Digital Crush-ites Kate, Robyn (aka The Bachelor) and Stephen, who will be snappin' pix of all ya'll the entire night to commemorate the occasion!
Co-sponsored by l'étoile magazine
CLICK THE IMAGE FOR THE JAGERFEST SITE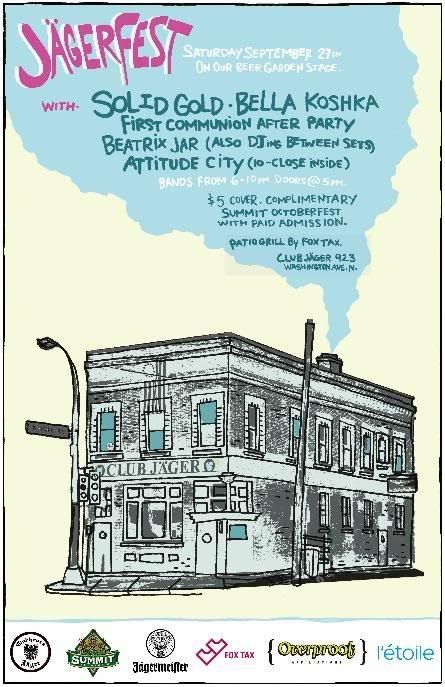 SATURDAY SEPTEMBER 27TH
un/dead
@
Umber Studios
3109 E 42nd St.
Minneapolis
8pm / Free
At Umber Studios, the word "undead" gets stretched to its limit, with melancholy portraits of (found) dead birds, as an homage and documentation, while Zombie pub crawls round out the definition in question. These two alternate views are played out in a photo show featuring the work of Paul Armstrong and Jesse Mullan. Perfect timing really, since it's getting colder and more fall-like, and those zombies are stirring in their lairs. Through October 15th.
CLICK FOR THIS ART EVENT AND MORE AT MPLSART.COM
SATURDAY SEPTEMBER 27TH
No Easy Explanation
@
First Amendment
1101 Stinson Blvd
Basement Studio A
Minneapolis
7pm-10pm/free
Gig poster extroidinaire, comic book maven and illustration master, Dwitt has been at it for years. Next time you rock out to
Guitar Hero II
, thank Dwitt for the bitchin' graphics. Yep, this is the caliber of artist that call Minneapolis home. Martin Devaney provides music to admire art to and First Amendment provides the cool basement gallery and the beer. Now get down there and bask in Dwitt's awesomeness! Through October 26th.
CLICK FOR THIS ART EVENT AND MORE AT MPLSART.COM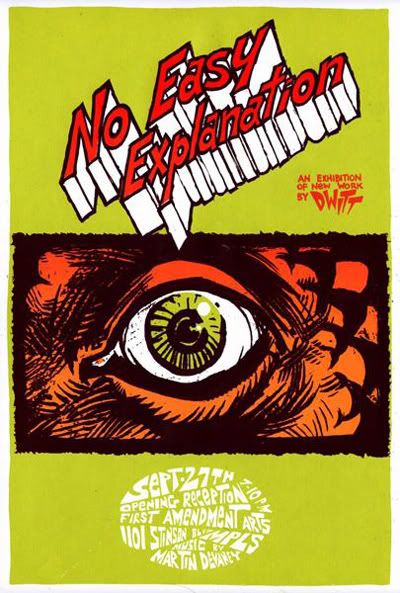 SATURDAY SEPTEMBER 27TH
Mason Hall presents Film and Video
@
Art of This
3506 Nicollet Ave
Minneapolis
7pm / $5 suggested donation
Films and videos from far-off lands like Chicago and Los Angeles are coming to Art of This to show us what they're made of. From the trailers, we're already pretty impressed. Handmade puppets act out a Russian airplane crash in Know Your Enemy, by Märon Studios, a look at enemies during the Cold War. Mason Hall curates this stellar evening of entertainment for AOT's One Nighter series.
Click
HERE
for this art event and more at mplsart.com
SATURDAY SEPTEMBER 27TH
Muja Messiah
@ Triple Rock
628 Cedar Avenue
West Bank
10pm / 21+ / $7
Local hip hop artist, and l'etoile fave, Muja Messiah brings his brings his lyrical stylings to the Triple Rock once again. Featured as one of the City Pages "Picked to Click" artists, Mr. Messiah has begun to receive plenty of much deserved attention. His latest album, featuring Slug, Black Thought, and Samahra of Black Blondie, will be re-released nationally later this year. Take advantage of the opportunity to see him live before all that fame and success drive up the ticket prices.
CLICK THE IMAGE FOR THE MUJA MESSIAH SITE
Art by Chuck U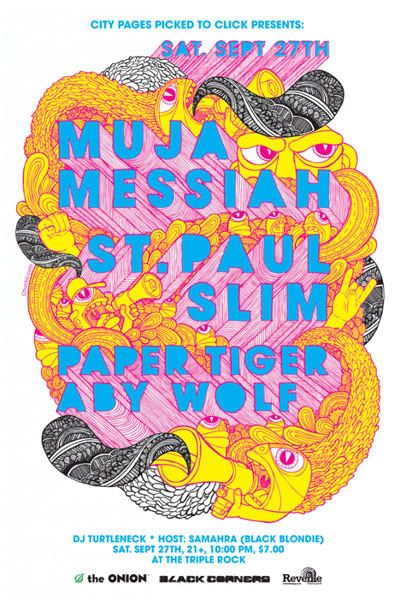 SUNDAY MUSIC PICK: ANNIE
If you've worn out your copy of Swedish pop star Robyn's self-titled album, consider getting your dance pop fix from fjord country. Norwegian sensation Annie has just released "I Know UR Girlfriend Hates Me," the first single off of her upcoming album
Don't Stop
. If you plan on taking dancing inspiration from her video girls, be sure to rent
Paris Is Burning
to practice your Vogueing. Annie made waves in the United States with 2004's
Anniemal
, featuring "Hearbeat," which several
Pitchfork Media
writers named song of the year. Her follow up appears to be just as packed with danceable power pop hits.
Click
HERE
for the Annie website!

SUNDAY SEPTEMBER 28th
Drinking with Ian
@ First Avenue
701 1st Ave N
Minneapolis
8pm/ $6/21+
Watching Ian film
Drinking with Ian
live at First Ave is better than watching this public-access show home, alone, drunk in a recliner. Sip along with this variety show filled with interviews, drinking tips, music and a bartender that invents surly shots and hands them out during the show. Featuring Grant Hart, Comedian Mary Mack, Beatrix Jar, Rockford Mules, and Baby Guts. Only in Minnesota could a program focused on drinking gain so much steam. Ok, well, maybe in Wisco.
CLICK THE IMAGE FOR THE DRINKING WITH IAN SITE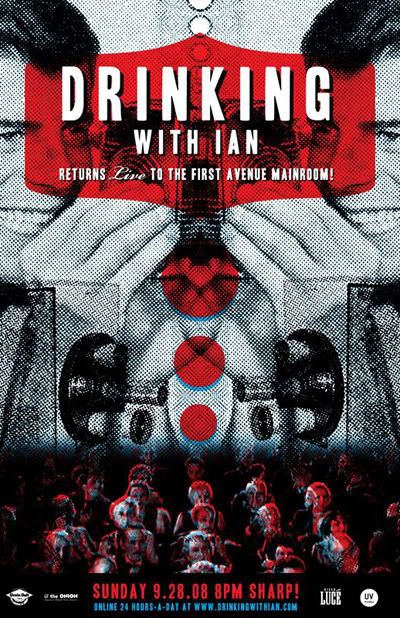 MONDAY SEPTEMBER 29th
Jeff Horwich and The Smarts with Bla Bla Blacksheep
@ Acadia Café
329 Cedar Ave S
Minneapolis
8pm / $5
Ever wonder what MPR show hosts do when they're not doing radio news and commentary? They're in quirky bands. Two of MPR's In The Loop hosts battle bands at the new Acadia Café on the West Bank. Our favorite Cute-core band, Bla Bla Blacksheep, open for Jeff Horwich and The Smarts (In The Loops' house band). Prepare for your mind to be blown as more instruments are played by two bands than you thought physically possible.
CLICK THE IMAGE FOR THE ACADIA CAFE SITE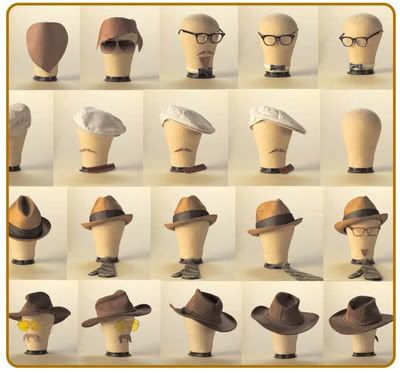 TUESDAY SEPTEMBER 30th
Silver + Gold
@ Clubhouse Jager
923 Washington Ave.
North Loop
Every Tuesday / 21+ / 10pm / Free
Join DJ Jonathan Ackerman and l'étoile magazine for an evening of sly winks and sideways glances every Tuesday at Clubhouse Jager. Create some mystery, sip 2-4-1 cocktails with pretty people, and dance the night away to electro, pop, and so much more.
BONUS:
Flirt up a storm then visit letoilemagazine.com on Wednesdays for "missed connections" from the night before!
Sponsored by l'étoile magazine & Alphasuede
CLICK THE IMAGE FOR L'ETOILE TEXT CONNECTIONS
WEDNESDAY OCTOBER 1st
Dreamland Faces
@ The Bedlam Theatre
1501 S 6th St.
West Bank of Minneapolis
9pm / free
Here are your plans from every Wednesday from now on: around 9pm you'll ride your bike or take the light rail to the Bedlam. You'll walk in, pay no cover charge, and get a tall boy of PBR from the long gorgeous bar. You'll cozy up in the Fireplace Lounge and listen to the accordion, musical saw, vocals and special guests of the Dreamland Faces. old-timey tunes of love and climactic monster movie themes will be played, and if all goes well, you'll score one of their 7" records.
CLICK THE IMAGE FOR THE DREAMLAND FACES SITE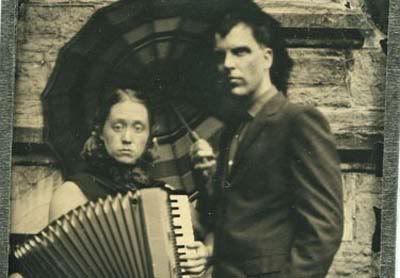 COOL OPPORTUNITIES
Call for Artists: The Gallery @ Fox Tax
Submission deadline September 30th
The Gallery @ Fox Tax and guest curator Emma Berg of mplsart.com invite artists to submit works to their exhibition entitled, ART FORM 1040: US IDEALISM RETURNS. The top 10 entries will not only be on display, but will also have 10 limited edition high quality prints made and sold for $40 each (thus the 10-40 part). The show will run from January through April 2009.
Downloadable instructions and Fillable .pdf Application Form are available online by clicking the image below.
Please email completed submissions to:
info@foxtaxservice.com
CLICK THE IMAGE FOR THE SUBMISSION FORM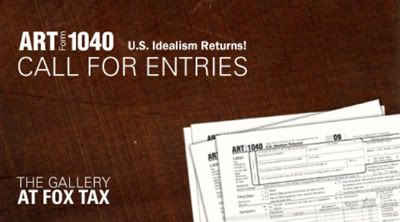 What's What Editor: Kate Iverson
Contributing Writers: Lacey Prpic Hedtke, Beth Hammarlund, Robyn Lewis, Juleana Enright
ALL CONTENT © L'ETOILE MAGAZINE 2008