COLD SNAPPIN'
This weekend the Twin Cities tries to cram in as much fun as it possibly can before the weather turns against us. The past week's little cold-snap hasn't done much to alleviate our dread concerning the upcoming chilly season (though we do love us some stylish winter-wear). Make the most of the receding warmth with any number of rockin' outdoor events, or jump on your bike and gallery hop to your hearts content. Or, as per usual, you can always keep it simp by choosing to dance the night away - we've certainly no shortage of opportunities to do just that!
xo-l'étoile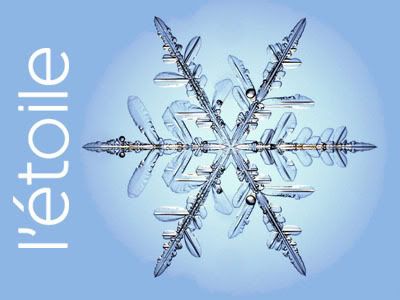 THURSDAY SEPTEMBER 4TH
Total Coverage
@ Bev's Wine Bar Loading Dock
Washington & 3rd Ave. N
Warehouse District
4pm-8pm / Free
Our techno buddies are taking it out of the warehouse and onto the loading dock for this new Thursday evening soiree. Join local party rockers Daniel Paul aka Ghetto and James Patrick for this kick-ass outdoor happy hour each week that includes drink specials and good tunes as far as the ear can hear. Enjoy the fresh air while you can!
CLICK THE IMAGE FOR MORE INFO
THURSDAY SEPTEMBER 4TH
Translating Politics
@ 3rd floor gallery
Northrup King Building
1500 Jackson St. NE #332
Mpls
1pm-9pm/ free
If you haven't gotten a chance to catch the Northeast Minneapolis Arts Association sponsored show
Translating Politics
, tonight is your last chance! This exhibition of art work features photography, mixed media, painting, digital video and more from 13 artists, juried by former curator and Croatian multimedia artist, Branko Gulin. Each piece delivers the artists' perspective on global politics and its affect on social justice. Participating artists will be on hand, as well as a few local and nationally elected officials, so a lively exchange of ideas is definitely possible!
BONUS:
After NKB, head to The Gallery at Fox Tax for a last peek at the Eric Inkala show before it closes for good, then make a cameo next door at the Red Stag for a free show by electro-gloom hotties Bella Koshka at 10pm!
CLICK THE IMAGE FOR THE NEMAA SITE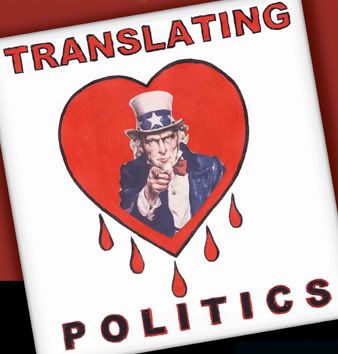 THURSDAY SEPTEMBER 4TH
Reel Jazz Film Series
@ Bryant Lake Bowl Theater
810 W. Lake St.
Mpls
6:30pm / $10
The BLB and Jazz88 FM launch into the fall season with Wild Man Blues, the first in a series of independent jazz film screenings. Love or hate him, you're probably aware of Woody Allen's existence as a filmmaker. But what you might not be aware of is Allen's insatiable love for jazz music. This documentary from Oscar-winning director, Barbara Kopple, follows the eccentric Allen and his New Orleans Jazz Band on a 1996 tour through Europe and also touches on his "unconventional" relationship with wife Soon-Yi. The screenings take place the first Thursday of the month through November and open with a live jazz set from the Isaac Zuckerman Quartet. Come early because BLB offers an amazing happy hour from 3pm - 6pm with drink specials and appetizer deals and because theater seating is limited to 80.
CLICK THE IMAGE FOR THE BLB SITE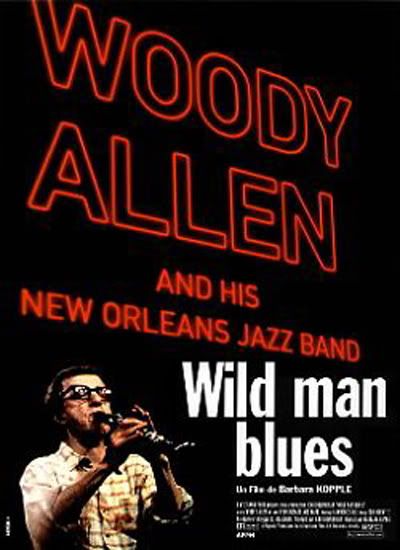 FRIDAY SEPTEMBER 5TH (THROUGH THE 7TH)
Concrete & Grass: Lowertown Music Festival
@ Mears Park
6th & Sibley
Lowertown, St. Paul
All Ages / Free
Friday Sept. 5th 5-10pm
Saturday Sept. 6th 12–10pm
September Sept. 7th 12-8pm
This weekend, St. Paul's Mears Park will host a huge, three-day explosion of bands for every listening taste from one of the best music scenes in the country. And it's free! Beginning Friday with a happy-hour concert with acts performing into the evening, and continuing Saturday and Sunday packed with back-to-back music from folk to rock, classical to rap, bluegrass to international. Some of the entertainment will include Dosh, Roma Di Luna, M.anifest, Little Man, Chris Koza, Haley Bonar, Romantica, Mystery Palace, Lucy Michelle and the Velvet Lapelles and a slew of others. Bring your lawn chair.
CLICK DOSH FOR THE CONCRETE AND GRASS SITE
FRIDAY SEPTEMBER 5TH
Minneatures/Paper Tiger
@
Soo Visual Arts Center
2640 Lyndale Ave S
Minneapolis
6pm-9pm / free
In his first show in Minneapolis, Plasticgod's Lego-inspired "Heads" paintings are perfectly timed. Featuring politicians and celebrities, his show in the Toomer Gallery draws images from over 700 of Plasticgod's Minneatures. John Vogt also focuses on pop culture's images and icons in a darker fashion, using images of greed, excess and self-destruction in his drawings, sculpture and mixed media. SooVAC is happy to host his first solo show. Both ends of the spectrum are represented at the SooVAC, with a whole lot of head-nodding in between. Through October 26th.
CLICK FOR THIS ART EVENT AND MORE AT MPLSART.COM
FRIDAY SEPTEMBER 5TH
Animal Art 2: Critical Habitat
@
Altered Esthetics
1224 Quincy St. NE
Minneapolis
7pm-10pm / free
Oh little animals! We're sorry our plastic bags get stuck around your heads. Altered Esthetics' show looks at the effect of humans on animals and their natural habitats. The sequel to the Animal Art show, this one includes woodcuts (gorgeous), letterpress, bronze and photography, mediums as diverse as the species affected by global warming. Through September 27th.
CLICK FOR THIS ART EVENT AND MORE AT MPLSART.COM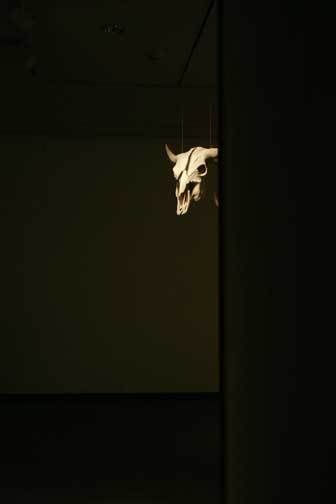 FRIDAY SEPTEMBER 5TH
Solid Gold w/ Mystery Palace
@ Uptown Bar
3018 Hennepin Ave S
Uptown, Minneapolis
9pm / 21+ / $7
It's obvious that the buzz surrounding Solid Gold has become an established fact. Assaulting the stage with their throbbing electronic beats and smooth psychedelic melodies, these guys just keep getting better; paired perfectly tonight with synth-pop trio Mystery Palace, who make a fine blend of indie rock and experimental, circuit-bent electronics.
CLICK THE IMAGE FOR THE SOLID GOLD SITE
FRIDAY SEPTEMBER 5TH
Screamin Cyn Cyn and the Pons
@ Hexagon Bar
2600 27th Ave S
Minneapolis
9pm / free
If only to see their amazing outfits, you've got to see Screamin Cyn Cyn at least once. Friday nights are made for dancing to loud screamy-dance punk, ending with the singer laying on the stage but not giving up. You know? They come from the far-away land of Wisconsin, so they're close enough to be considered local, but far enough away not to miss them when they're here. With Chokecherry, The Plastic Chord and The Hasbeen
CLICK THE IMAGE FOR THE SCREAMIN' CYN'S MYSPACE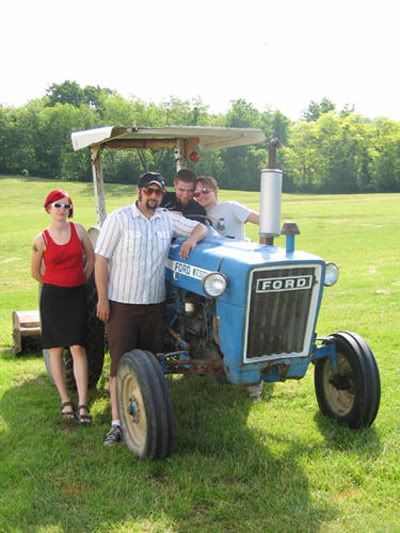 FRIDAY SEPTEMBER 5TH
Hotel
@ Kitty Kat Club
315 14th Ave. SE
Dinkytown Mpls
10pm-2am / 21+/ free
Join DJ Jonathan Ackerman for the monthly dance engagement, Hotel. This month's no-cover night features special guests So Gold and is a bon voyage party for our fave party girl Sarah Ditty, as she leaves us for ye old London! And at a venue with a decor like the Kitty Kat Club, the party promises to be classy and eclectic fun.
CLICK THE DITTY FOR MORE INFO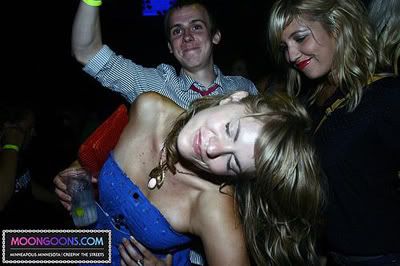 FRIDAY SEPTEMBER 5TH
Get Cryphy!
@ 1st Ave VIP Room
701 1st Ave N.
Downtown Mpls
10om-4am / 18+/ $3
What is "cryphy" you ask? Well, luckily we just happen to have a copy of urban dictionary handy "a term coined from a mixture of the two styles of hip-hop: crunk music from the south, and hyphy music from the west." But let's pretend you didn't ask, because the kids from Cryphy are a tad elite, and with the music they dish out, they have a right to be. After all it is the VIP room. Fifth Element and Push present, Jimmy 2 Times, Plain Ole Bill and Bitch Ass Darius spin, and The Time Squid provides non-drug induced trippy visuals. Since the last party's flyer specifically prohibited "douchebags," you can bet your ghetto booty that this one follows suit. Thank God!
BONUS:
The bar (with booze and everything) is open until 4am! Yay for debaucherous republicans!
CLICK THE IMAGE FOR THE GET CRYPHY MYSPACE
COOL LINK: SWITCHBLADECOMB.COM
We all know that switchblade combs-those combs that if you're a greaser you keep in your back pocket, whipping them out with a flick to make people THINK you're going to knife them, but really you just want to make sure your pompadour is in order. Anyway, this website is sort of like that. A Minneapolis-based report on the indie film, comedy and music scene, with a lot of videos. They run the MN shows list too, so you can fill up your dance card for the week with ease.
CLICK THE IMAGE FOR THE SWITCHBLADE COMB SITE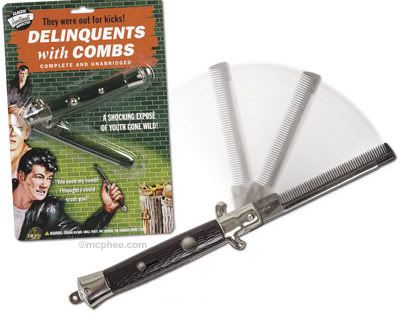 SATURDAY SEPTEMBER 6TH
Empty: Marshmallows, Popcorn and Cigarettes
@
Umber Studios
3109 E 42nd St.
Minneapolis
7pm-11pm / free
In another first solo show (what's in the Twin Cities' water?), Ruben Nusz's mixed media, paintings and sculpture slap the collective hand in the cookie jar. Addressing America's empty eating habits, like marshmallows, which have no nutritional value but are so, so good. Nusz casts and carves resin replicas of popcorn and cigarettes to illustrate the empty calories and lies fed to us by the capitalist system and corporations. Eat a tasty treat at this show (maybe the same ones he's making art about?) and stick it to the man. Through September 24th.
CLICK FOR THIS ART EVENT AND MORE AT MPLSART.COM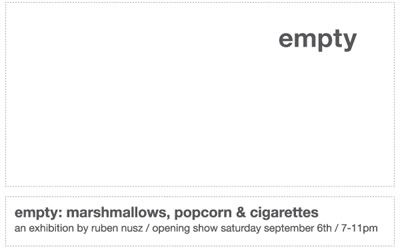 SATURDAY SEPTEMBER 6TH
Party Party in a Tweety Land
@
Form and Content Gallery
210 N 2nd St.
Minneapolis
7pm-9pm / free
Co-curators Colleen Sheehy (of the Weisman) and Camille J. Gage wonder: how do celebrities like Britney co-exist in a world with hard living? Focusing on our obsessions, our idols and the American psyche, and bringing together eight Minnesota artists; consumer culture gets a licking. Through October 4th.
CLICK FOR THIS ART EVENT AND MORE AT MPLSART.COM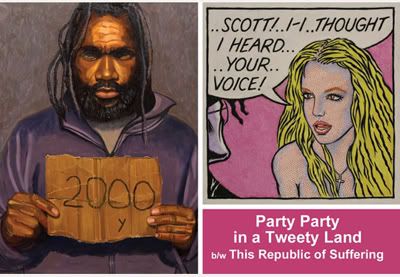 SATURDAY SEPTEMBER 6TH (THROUGH THE 7TH)
The Cooking Show Con Mero Cocinero Karimi
@ The Bedlam Theatre
1501 S 6th St.
West Bank, Minneapolis
8pm / $20
A cooking performance of Iranian-Guatemalan-Filipino food! Chef Mero creates revolutionary recipes on stage, tells funny stories, and as to be expected at the Bedlam, political discussion. But what you really want is…free samples, and oh yes, you will get yours. In response to the RNC, Mero has cooked up a menu for "protestors and politicians, foodies and fundraisers, carneys and conventioneers." Yum! Come early for an extra taste and bring your own bowl. Through September 7th.
CLICK THE IMAGE FOR THE BEDLAM SITE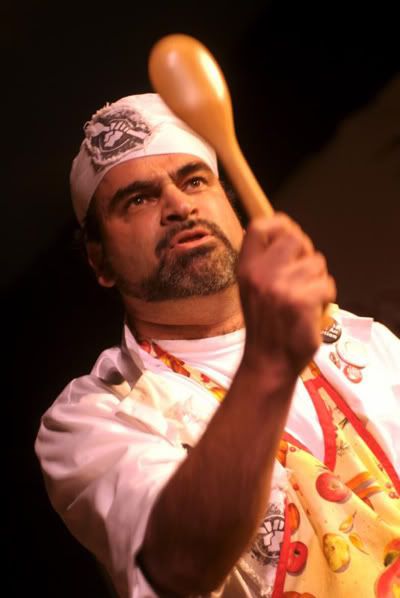 SATURDAY SEPTEMBER 6TH
Jenny Dalton CD Release Show
@ The Ritz Theater
345 13th Ave NE
Northeast, Minneapolis
7pm / All Ages / $10
It will no doubt be a night of artistic celebration at the Ritz Theater this Saturday evening as striking songbird Jenny Dalton releases her new album accompanied by her first book, "Daughters of the Dead Sea", which includes over 100 pages of journal entries, poems, notes and lyrics, which she will be co-performing with Lamb Lays with Lion Theater Company. Also on the bill are Fort Wilson Riot, Massgraves, and Kill the Vultures.
CLICK THE IMAGE FOR THE JENNY DALTON SITE
SATURDAY SEPTEMBER 6TH
Revolver CD Release Show
@ Beasthouse
Brin Building (entrance in back)
600 Washington Ave N
Minneapolis
9pm / Free / 21+
Its true, Revolver (formerly Revolver Modele) sound like a sexed up Joy Division. Fronted by the inexhaustible Ehsan, whose stage presence equals that of someone that is meant for big stages and a massive audience, Revolver's menacing guitar riffs over industrial-strength bass lines and apocalyptic rhythms inspire a surge of dancing mayhem that's easy to get lost in. If you haven't yet experienced the energy of one of the most thrilling live acts in the Twin Cities, now's your chance, as they will be debuting songs from their hot new album, The Illiterati.
BONUS 1:
Head down to Club Jager following the show for the afterparty!
BONUS 2:
Get a free, limited edition T-shirt designed and printed by local fashion icons Anthem Heart.
CLICK THE IMAGE FOR THE REVOLVER SITE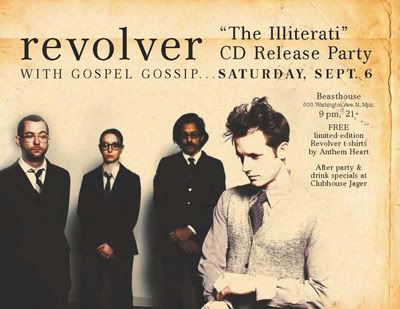 SATURDAY SEPTEMBER 6TH
The Juan MacLean
@ 7th St. Entry
701 1st Ave S.
Mpls
8pm / 18+/ $14
Don't miss the electronic stylings of The Juan MacLean! Making another appearance at First Ave, The Juan MacLean brings the hottest live electro for your auditory pleasure. The room may be smaller (last time in town he was a guest DJ at TML) but the sound is anything but. Combining flashes of 70's experimental with electro and euro-disco, The Juan MacLean borrows sound from almost every phase in dance history. If you haven't heard this DFA artist yet, you should get yr butt down to the Entry, pronto! Special guests and local post-punkers Maps of Norway open the show.
BONUS:
See a bonus performance from the Juan MacLean alongside Soviet Panda at TML tonight!
CLICK THE IMAGE FOR THE JUAN MACLEAN MYSPACE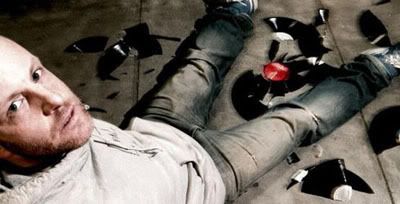 SUNDAY MUSIC PICK: THE TING TINGS
Irresistible British garage-pop duo the Ting Tings are riding high on the Next-big-Thing wave, with the catchy "shut up and let me go" iPod commercial being a major factor in the band's stateside success. Creating irreverent, danceable new-wave loops and scrappy indie pep with no lack of 80's cheese, the Ting Tings produce strong addictive beats that result in a new and fresh sound that you'll find yourself playing over and over again.
CLICK THE IMAGE FOR THE TING TINGS MYSPACE
TUESDAY SEPTEMBER 2NDTH
Silver + Gold
@ Clubhouse Jager
923 Washington Ave.
North Loop
Every Tuesday / 21+ / 10pm / Free
Join DJ Jonathan Ackerman and l'étoile magazine for an evening of sly winks and sideways glances every Tuesday at Clubhouse Jager. Create some mystery, sip 2-4-1 cocktails with pretty people, and dance the night away to electro, pop, and so much more.
BONUS:
Flirt up a storm then visit letoilemagazine.com on Wednesdays for "missed connections" from the night before!
Sponsored by l'étoile magazine & Alphasuede
CLICK THE IMAGE FOR L'ETOILE TEXT CONNECTIONS
What's What Editor: Kate Iverson
Contributing Writers: Lacey Prpic Hedtke, Robyn Lewis, Juleana Enright
ALL CONTENT © L'ETOILE MAGAZINE 2008