KEEPIN' IT SURREAL
This weekend Minneapolis shows off its brilliance, humor, and ingenuity with a number of events inspired by original concepts. From the huge birthday bash for Dr. Dre that began five years ago with a random comment, to the talented artists of the Wolf Pack, who keep it real with a DIY exhibit in an empty uptown apartment, we'll be surprised if you don't find something to inspire creativity, or at least an unforgettable evening.
xo-l'étoile
Photo credit Amy Pierce for l'étoile
THURSDAY FEBRUARY 21ST
Dunny Trading Party + Series Release
@ ROBOTlove
2648 Lyndale Ave.
Uptown
6-9pm / Free
For their latest curated Dunny series, Kidrobot hooked up with some of the hottest artists in France. Lucky for you, ROBOTlove is an official Kidrobot trading party site, and cases upon cases of these hot, brand spankin' new French designer toys will be available for purchase. Trade with other Dunny-lovers to complete your collection while enjoying complimentary wine and cheese. Special giveaways and prizes abound!
CLICK THE IMAGE FOR THE ROBOTLOVE SITE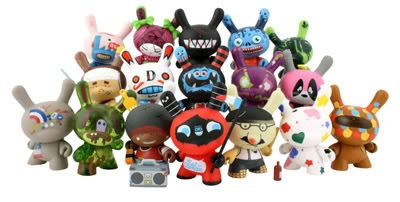 THURSDAY FEBRUARY 21ST (THROUGH FRIDAY)
Urban Junket Sample Sale
@ Savoie Building
126 North 3rd St.
Suite 450
Minneapolis
11:30am-7pm Thursday
11:30am-5pm Friday
Minneapolis-based handbag designers Tracy Dyer and Tracy Arnold aka Urban Junket, hold their semi-annual sample sale at the Savoie Building. These gorgeous Italian leather bags will be discounted 40%-75% for Thursday and Friday only. Urban Junket bags are not only stylish, but functional - especially for those on-the-go l'etoileites who bring their office with them.
CLICK THE IMAGE FOR THE URBAN JUNKET SITE
THURSDAY FEBRUARY 21ST
Club Diva VIP Pre-Party
@ Epic
110 N. 5th St.
Downtown Mpls
7-10pm / $50
Another hot pre-event for DIVA MN's 17th Annual gala fundraiser for HIV/AIDS programs on March 8th. Tonight's festivities will feature the work of 10 local student fashion designers, celebrity judges Jack Mackenroth from Project Runway and THE makeover guy Christopher Hopkins. Browse luxury silent auction items while sipping Level Vodka cocktails for a good cause.
CLICK THE IMAGE FOR THE DIVA MN SITE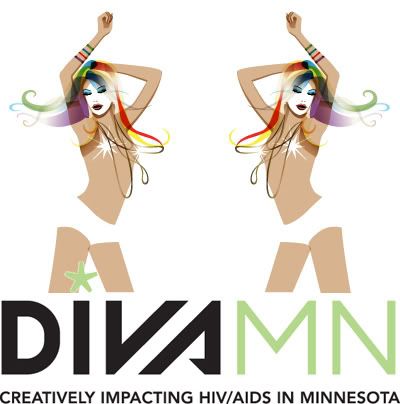 FRIDAY ART PICK: NIK AINLEY
UK based graphic designer and illustrator Nik Ainley is a master of digital media. A self-taught photoshop expert with a degree in Physics, Ainley was named one of the "Top 10 Up and Coming Creative Talents of 2006" by Computer Arts Magazine. Obsessed with mastering new tools and techniques and creating and deconstructing design styles, it's no wonder his client base includes such luminaries as Adobe, National Geographic, Digital Arts and more.
CLICK THE IMAGE FOR THE NIK AINLEY SITE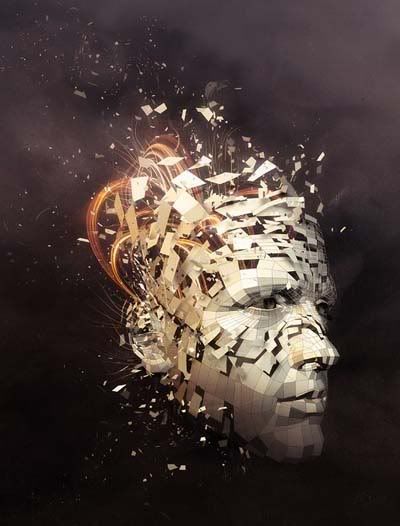 FRIDAY FEBRUARY 22ND
Dre Day 2008
@ 1st Ave
701 1st Ave. N
Downtown Mpls
8pm / 21+ / $8 Adv-$10 door
Each year Minneapolis hip-hop heads celebrate a national holiday: Dr. Dre's Birthday. The music biz icon turns 43 this week, and his loyal fans are there to make sure its memorable. Crack a 40 in the name of Dre and make your way down to the Ave tonight for entertainment by Original N.W.A. member Arabian Prince, Sims & Mictlan of Doomtree with Paper Tiger, and DJs Plain Ole Bill and Jimmy 2 Times.
l'étoile sat down for a chat with Dre Day co-organizer Mike Davis...
How did the concept of Dre Day come up?
It started five years ago when someone in the
Life Sucks Die
office just randomly blurted out the words "Dre Day" and then everyone looked at each other like "We... should... have... an actual Dre Day." Seeing as Dr. Dre is one of the most prolific, versatile, and influential figures in the history of hip hop, we had to throw him a
hell of a birthday party.
How has Dre Day evolved since the first party?
At the debut event, February 18 2003, Atmosphere and Dillinger Four performed at the 7th Street Entry, and the LSD crew hosted the inaugural $20 Sack Pyramid. In 2004
we moved it to the Triple Rock Social Club, had Heiruspecs perform a series of Dre classics. In 2005, Slug, I Self Devine, Brother Ali, and Eyedea took over the stage to rhyme over Heiruspecs' Drestrumentals. Dre Day has sold out Triple Rock each and every year, so in 2008 we decided to move it to First Avenue to accomodate a larger crowd and make a larger spectacle out of the event.
Who will be performing this year?
We're proud to bring Arabian Prince, one of the founding members of N.W.A and legend of West Coast bass and electro, to town to perform. We're also proud to bring Doomtree's Sims & Mictlan to the stage with DJ Paper Tiger, Jimmy 2 Times and Plain Ole Bill with a very special 4 turntable set of hits spanning Dr. Dre's 20+ year career. And what would Dre Day be without the $20 Sack Pyramid? Local Dre-enthusiasts take it to the stage to test their knowledge of rap and pop culture.
This year, Dre Day hit NYC for the first time, how did it go?
Over the years, word has gotten out all over the country that we've been throwing a party for Dr. Dre in Minneapolis of all places and everyone wants in on the fun. This year, we passed the torch to our friends in New York, who blew the roof off of Club 205 this week in Manhattan at the first officially-sanctioned Dre Day event outside of Minneapolis. DJs Egg Foo Young, Nick Hook, and Minneapolis native Project Matt did it up properly and had hundreds of people goin' nuts at what many said was the best party they'd been to in years.
CLICK THE IMAGE FOR THE DRE DAY MYSPACE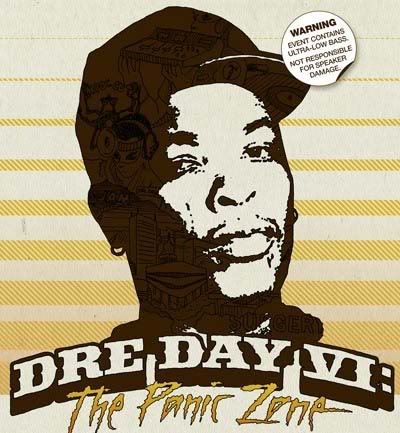 FRIDAY FEBRUARY 22ND
New Works by Jacob Gossel
@
Cliche
2403 Lyndale Ave. S.
Uptown
7-9pm / Free
Transformers. The Third Eye. Naked ladies. These are the making of today's pop culture, already represented as artifacts with Jacob Gossel's grafitt/stencil touch. Cliché specializes in one-of-a-kind, and the art is no exception. A Gossel painting is this year's hot new accessory.
CLICK FOR THIS ART EVENT AND MORE AT MPLSART.COM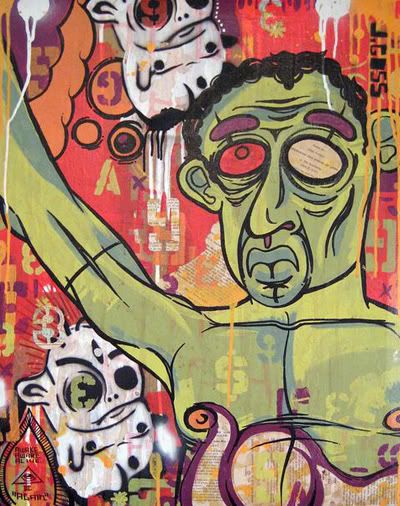 FRIDAY FEBRUARY 22ND
MCAD @ The Fallout
@
The Fallout
2609 Stevens Ave. S
Minneapolis
7pm / Free
Make your Friday an MCAD explosion. The Fallout Urban Arts Center hosts work from MCAD students in its community-driven artspace. Check out the latest creations from the up and coming artists of tomorrow.
BONUS:
The 60s and 70s invade the on-campus
MCAD gallery
when the college shows off its collection of visiting artists and professors that shaped MCAD's attitude and output.
CLICK FOR THIS ART EVENT AND MORE AT MPLSART.COM
FRIDAY FEBRUARY 22ND
Solid Gold
@ The Kitty Cat Klub
14th & University
Dinkytown
10pm / 21+ / $5
Before local heartbreakers Solid Gold head to SXSW, get your fix at this EP release party at the Kitty Cat Klub. Rock out with three bands, two DJs and we're hoping, more than one use of a Bedazzler.
CLICK THE IMAGE FOR THE SOLID GOLD MYSPACE
FRIDAY FEBRUARY 22ND
Revolution presents a Night of Musical Anarchy
@ The Bedlam Theatre
1501 S. 6th St.
West Bank
9pm / 21+ / $3
Not only 6 vicious bands and a DJ, but a magazine release party! l'étoile is thrilled to see another arts mag take shape in the Twin Cities. Revolution creates a space where local artists from every genre, medium, community, and walk of life can showcase their work. Featuring Cognitive Dissonance, Gay Witch Abortion, OBCT and more. Un grande deal at a mere tres pesos.
CLICK THE IMAGE FOR THE BEDLAM SITE
COOL LINK: CARBON CACHE
l'étoile loves local artist and graphic designer Drew Peterson not only for his amazing talents and good looks, but also for his mind! This arty-pants definitely knows his stuff when it comes to creative context. With his new blog, Carbon Cache, Peterson fills you in on some of the coolest art out there, complete with imagery a-plenty.
Drew answered a few of our burning questions this week...
What inspired your new blog, Carbon Cache?
The blog is a personal project. It is a way to explore my own aesthetic sensibilities while developing a discourse that goes beyond just viewing the art. It's a collection of work that I will never be able to afford but would like to maintain a relationship with.
Who are your favorite artists?
It's an evolving list, currently Sarah Sze, Santiago Cucullu, Paul Pfeiffer, Julie Mehretu, Arturo Herrera, The Mission School, and Neo Rausch. This is an abbreviated list. I always like to see new stuff.
You are an artist yourself, how do other artists influence your work?
It's research. By looking and reading about the artist and the content of the work, it begins to inform my work directly or indirectly. I'm interested in how things are made, the process, the materials, gaining that sort of knowledge allows me to consider it my own art practice.
What do you think of the Minneapolis art scene?
Minneapolis is the perfect place for an artist to mature. There is an overwhelming amount of support for artists from both the community and other artists. It can feel
like a small city sometimes, therefore it's important to keep things fresh and challenge each other to keep working and keep getting better. I have had the opportunity to work closely with a number of people in this city, this is something I'm truly grateful for, and would like to continue doing in the future.
What do you hope to achieve with Carbon Cache?
I want to keep collecting and writing. At some point it would be ideal to turn the project into an actual curated website. I would love for people to be interested and to contribute, or to start similar projects of their own.
CLICK THE IMAGE FOR THE CARBON CACHE SITE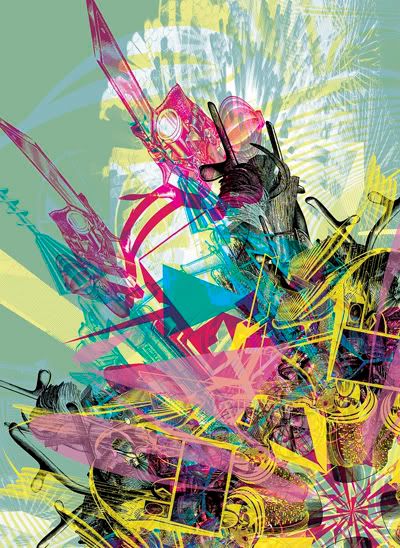 SATURDAY FEBRUARY 23RD
HARDLAND/HEARTLAND15: LOOOPS
@ Seltzer Art Space
2315 Colfax Ave. S.
Apt #32
Minneapolis
7-10pm / Free
Join
Wolf Pack
artists Aaron Anderson, Eric Carlson and Crystal Quinn for an exhibit of drawings created with varied technique and curious themes while "mad with summer sweat until it was frozen cold".
CLICK FOR THIS ART EVENT AND MORE AT MPLSART.COM
SATURDAY FEBRUARY 23RD
Attitude City w/ Jobot
@ Clubhouse Jager
923 Washington Ave.
North Loop
10pm / 21+ / Free
Put on your best dancin' suit and strut down to Clubhouse Jager for a sexy disco dream-sequence courtesy of the hot, hot, Attitude City boys and special guest Jobot. We don't know how a Saturday night could get any better.
BONUS:
Scroll down for our new section "Mixtape Monday" for a smokin' Attitude City mix that you can download for free!
CLICK THE IMAGE FOR THE ATTITUDE CITY SITE
SATURDAY FEBRUARY 23RD
Patterns Of Behavior: New Works By Terrence Payne
@
Umber Studios
3109 E. 42nd St.
Minneapolis
7:30pm / Free
It's easy to fall into the mundane motions of everyday life and not even realize it. Terrance Payne will knock you back into wide-eyed appreciation of the banal with his prints in Patterns of Behavior. We expect nothing less than amazing with this meeting of the founder of Rosalux and the artist-run Umber Studios.
CLICK THE IMAGE FOR THE UMBER STUDIOS SITE
SATURDAY FEBRUARY 23RD
Girls Rock Your Boys Showcase
@ Stasiu's
Lowry & University
Northeast Mpls
10pm / 21+ / $8
Watch a stellar lineup of bands make a ruckus tonight at Stasiu's! This Midwestern riot includes a number of girl-infused acts from Chicago, Madison, Milwaukee, and Minneapolis such as Screamin' Cyn Cyn and the Pons, Bang!Bang!, The Dials, Kill to Kill, Baby Guts, Unicorn Basement, Ouija Radio, Awesome Snakes, and more.
CLICK THE IMAGE FOR THE STASIU'S MYSPACE
SATURDAY FEBRUARY 23RD
Soul on Ice
@
The Soap Factory
518 2nd Ave. SE
Minneapolis
7-11pm / Free
Honoring Black History Month the Soap Factory presents the largest group exhibition on Black Culture by Minnesota artists of color, over 60 of them to be exact! Brave the cold and come down to the Soap for an amazing array of work of all mediums featuring artists Angela Davis, Ernest Bryant, Rabi Sanfo, and many, many, many more.
CLICK FOR THIS ART EVENT AND MORE AT MPLSART.COM
"Soul Eater" by Rabi Sanfo
SATURDAY FEBRUARY 23RD
To Kill a Petty Bourgeoisie
@ The Turf
University & Snelling
St.Paul
$5-$10 Donation
Join a bevy of bad-ass bands for this killer benefit show tonight at the Turf. They're asking a donation of $5-$10, but we think this line up is worth its weight in gold. To Kill a Petty Bourgeoisie, Skoal Kodiac and Building Better Bombs will be there rocking the money out of your pockets for a good cause.
CLICK THE IMAGE FOR THE TURF CLUB SITE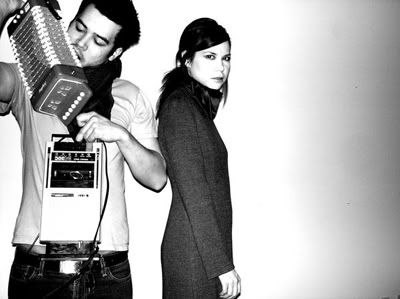 SATURDAY FEBRUARY 23RD
Satisfied
@ Secret Location
Minneapolis
9pm-6am /
$10 pre-sale
- $15 door
The Uncensored Us crew teams up with just about everyone to bring you an out of control all night dance extravaganza with multiple stages and 40 DJs. Yes, we said 40 DJs! Check the website below day-of for directions to the spot, and, as always, be respectful of the location and the area.
CLICK THE IMAGE FOR THE UNCENSORED US SITE
SUNDAY MUSIC PICK: LADYHAWKE
Not to be confused with the synthspirational soundtrack to the 80s flick "Ladyhawk" starring Matthew Broderick, New Zealand electro-rock darling Ladyhawke brings us some majorly smokin' dance tracks. Infused with a touch of disco, a dash of classic rock, a hint of Siouxsie Sioux, and healthy helping of hotness, Ladyhawke gets our vote for your next favorite thing.
CLICK THE IMAGE FOR THE LADYHAWKE MYSPACE
SUNDAY FEBRUARY 24TH
New York Dolls
@ The Fine Line
318 1st Ave. N
Downtown Mpls
8pm / 21+ / $20 adv - $25 door
Gender-bending glam-punk legends The New York Dolls hit the Fine Line tonight for an epic, not-to-be-missed show. With a tragic rock n' roll history, only two original members of the group remain, singer David Johansen and guitarist Sylvain Sylvain. But not to fear, the new Dolls have enough musical street-cred to smack down the most pretentious of skeptics. So, "doll" yourself up and go glam tonight - the New York Dolls are a hot slice of music history that you may never have the chance to see again.
CLICK THE IMAGE FOR THE NEW YORK DOLLS MYSPACE
MIX TAPE MONDAY: BETWEEN THE SHEETS
In the spirit of love and lovers, Attitude City's Jeff Dubois and Benny Lojack bring you a freak-worthy deep house mix that definitely won't disappoint. Make it a belated V-Day party with this smooth soundtrack - which is fresh and free to download.
CLICK THE IMAGE TO DOWNLOAD THE MIX