A ROLL IN THE HASTE
Cold is in the air, no, love is fool! If all isn't coming up roses, we've done it again with our last minute guide to making a lasting impression this Valentine's weekend. Whether you're single, coupled or "its complicated", as always we're not here to judge, we're here to help. We've hinted at, in the most adorably blatant way possible, the importance of making a plan and sticking to it. We don't care if it takes a lot of guts, cash or connections to make your most grandiose of gestures. We say make it happen, whatever it takes. l'étoile researchers have discovered beyond a shadow of a doubt, this weekend is filled with memory making possibilities that are yours for the taking - or the missing, if that's the way you want to be about it.
xoxoxoxo-l'étoile
illustration by
Molly Butterfoss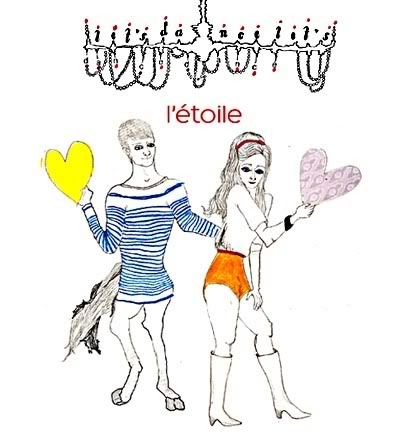 SHOP TIL YOU POP (THE CHAMPAGNE)
We know, we know, in the hustle and bustle of your fabulous life it's easy to wait until the last minute. Lucky for you we've got you covered. Check out our list of easy to procure items you'll be able to snap up before anyone's the wiser!
Chérie Boutique Francaise
There's no need to cry over spilled travel plans. Just because you can't go to Paris for Valentine's Day doesn't mean you can't smell like the city of love. Go buy your
way into a little euro-decadence and let that semester of French you took shine!
Chérie
in Wayzata swells with more foo-foo water than you shake a baguette at! Located at 750 East Lake Street in Wayzata.
Letterbox
Buy your valentine's valentine at
Letterbox
, the scene of a real-life love story turned stationer. Husband and wife team
Kimberly Yurkiewicz and Zach Barocas
set the sentiment standard with a cultured array of everything necessary to introduce heart to paper. Located at 2741 Hennepin in Uptown.
Some-Ecards
If you're not sure you care to send your very best quite yet, why not send a message that better captures your current romantic reality? We haven't laughed this much over free ecards in a long time. It's possible
Some-ecards
hit some of us a little too close to home…in a good way!
Lou Lou Loves You
And l'étoile loves
Lou Lou
. Cutest under-things ever. A present for both parties, these
fresh British knickers will definitely give your evening a kick. A little late to order, but online gift certificates are available for those who celebrate Valentine's Day every day.
Smitten Kitten
Need we say more? For surefire results from a sexy gesture, visit Minneapolis' reigning sex-perts at
Smitten Kitten
for a hit list of all you need to pack some heat. Located at 3010 Lyndale Ave. South in Uptown.
Lush Play Your Cards Right Massage Bar
Lush
has landed at the MOA! The newest addition to Lush's famous line of massage bars is a steal at under $10. Scented with their ever-popular Sex Bomb fragrance, this little indulgence is the deal for staying in on a cold, winter night. If you know what we mean! Available at Macy's in the Mall of America.
Philosophy Candy Hearts Lip Shine Trio
Available exclusively at Sephora, these lip-smacking glosses are much more mouth-watering than the conversation heart candies that inspire them. If you can't bring
yourself to say the words, these moisturizing treats will let her lips do all the talking.
The Philosophy Candy Hearts Lip Shine Trio
is available at Sephora in the Mall of America.
Legacy Chocolate
Sex and chocolate have been close compadres since the days of Montezuma. Legend has it the king sipped cups of "xoco latl" to put him in the mood before visiting his harem. I know we just got all historical on you, but if l'étoile were a harem (and some say as much!) we'd definitely go for the sultry confections from
Legacy Chocolate
. In addition to their famed spicy sipping chocolate, try Potion No. 9. Thick, sinful and tasty; you'll find countless uses, and ahem, places, for this decadent sauce. Located at 2042 Marshall Ave in St.Paul.
Where Have All the Flowers Gone?
We don't know about all the flowers, but the cool ones still reside at
Roger Beck
. Florist. While many shops
have jumped on the hipper-than-thou floral-arranging bandwagon, the designers at Roger Beck are still blazing the trail. Located at 1100 East Franklin Ave in Minneapolis.
We've Got a Crush on You!
Good l'étoile friend and cohort Brian Chan whipped up an adorable Valentine's Day mix that's almost as crushworthy as you!
Tracklist:
01. Aztec Camera - Oblivious
02. Shout Out Louds - Impossible (Possible Remake by Studio)
03. Jens Lekman - Sipping on the Sweet Nectar
04. Orchestral Manoeuvres In The Dark - So In Love
05. The Associates - Waiting For The Love Boat
06. Sebastien Tellier - Divine
07. Pleasure - Out of Love
08. The Knife - Heartbeats
09. Neon Neon - Raquel
10. Lykke Li - Little Bit
11. Guillemots - Annie, Let's Not Wait
12. Dexys Midnight Runners - This Is What She's Like
CLICK THE IMAGE TO DOWNLOAD THE FREE MIX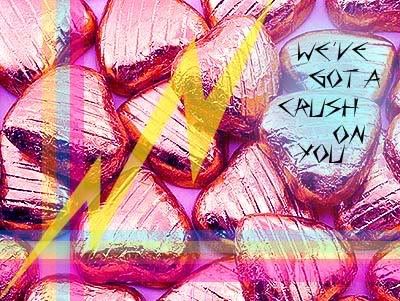 HEART YOUR SLEEVE
Is the perfect outfit playing the elusive lover this Valentine's?
Check out the shops below for guaranteed textile satisfaction.
Lava Lounge
– That little something extra
3037 Lyndale Avenue South
Minneapolis
612-824-5631
Cliché
– Like-minded, local designs
2403 Lyndale Avenue South
Minneapolis
612-870-0420
Global Village
- beads, baubles and scarves galore!
406 Cedar Ave. S.
West Bank
612-673-0366
Covered
– Slick wardrobage
402 14th Street S.E.
Dinkytown, Minneapolis
612-378-4776
Lula
– Vintage glam, one-stop
1587 Selby Ave
St Paul, MN 55104
(651) 644-4110
Rewind
– Last minute duds for guys and dolls
2829 Johnson St Ne
Minneapolis, MN 55418
CLICK THE IMAGE FOR MORE FASHION INSPIRATION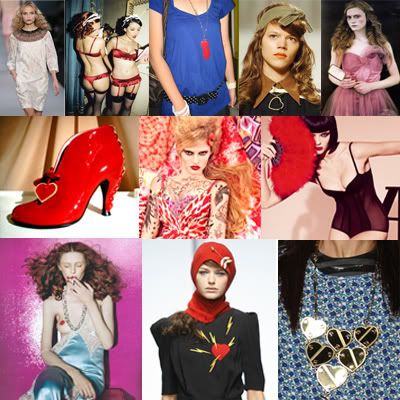 HOT DAMN!
You've got a date. Now what? l'étoile's at-home beauty boosts will make your dermis divine. And hey, if all goes well, the cash you'll save will help to continue the celebration all weekend!
Bestest Body Buffer
This recipe was handed down by one of the most notoriously sexy, on-the-go gals we know. We expect it will be published someday in her racy memoir, but here it is just in time for you. Right before you shower, mix 3 parts organic sesame oil, 1 part sea salt and 7-10 drops tea tree oil in a small bowl. Dampen skin (leave shower running for steam), and work scrub into skin one limb and part at a time. Shower off, but don't rinse away all the oil – that's where the magic is! Seal the deal with a spritz of your favorite scent.
Lip Scrub
For a kissable pout, mix equal parts honey and baking soda to create a paste. Add a pinch of brown sugar for additional texture. Smooth onto lips, exfoliating gently, and let sit for two minutes. Rinse with warm water and follow with your favorite lip balm (we like Bonne Bell Lip Smackers in Dr. Pepper).
Brightening Mask
To fab up winter skin, try out this classic. Crush five uncoated aspirin (the back of a spoon works best) and gradually add warm water to make a paste of medium consistency (not too watery!). Add a dollop of mild facial cleanser (we use Cetaphil) and apply mask to face, lightly rubbing the mixture onto skin for maximum exfoliation. Let sit for five-ten minutes and rinse with warm water. The salicylic acid in aspirin will tighten pores, minimize oiliness, and brighten your complexion. Hint! This mask works on other troubled cheeks as well.
CLICK THE IMAGE FOR MORE HOMEMADE BEAUTY PRODUCTS
HEART? STOMACH!
All dressed up, but nowhere yet to go? Lucky for you, we've l'étoile-tested a few gems that, as of press time, still had a few openings for procrastinators like you. So whether you want to go out or stay in, you'll be set with a table to remember.
Spill the Wine
– Contemporary and savory menu
5 Course Wine Dinner - 7 pm, $120 per couple
3 Course prix-fix Dinner, $49 per person with wine

Wine and Dessert - 7-10, $35 per person, online
Sapor
– Seasonal, locally focused cuisine
4-Course Dinner, $60 per person
Wine Pairing, $30 per person
Reservations 5:00pm-10:00pm
Giorgio
– Intimate, frescoed trattoria
2451 Hennepin Ave
Minneapolis, MN 55405
(612) 374-5131
Hand selected, hand-made menu, ala carte options.
Duplex
– Fine food for fine people
5-course tasting menu, open late. Full menu and wine & dessert menu also available. Reservations advised but bar is first come, first served seating.
Wilde Roast & La Boheme
– Dinner AND a Movie
In conjunction with The Heights Theater, Wilde Roast offers a prix-fix menu and movie for two. Package is $99 per couple, check the websites for details.
Coastal Seafoods Valentine's week sale
Twenty percent discounts on crabcakes, soups and kobe beef.
2330 Minnehaha Av. S., Minneapolis, 612-724-7425; St. Paul, Wayzata.
Surdyks
– Snap up a party-pack of aphrodisiacs with Surdyks Deli's take-away gourmet - don't forget the champagne! 303 East Hennepin Ave. Northeast Mpls, 612-379-3232
SUGAR COOKIES, L'ETOILE STYLE
Bet you didn't think we could bake? Well, you're wrong, we can. However we won't lie and say we made the cookies in the picture below. l'etoile friend
Andi Hillestad
whipped up these adorable art-hearts for us to nibble and was kind enough to share the recipe. Click below for the full recipe.
CLICK THE IMAGE FOR THE RECIPE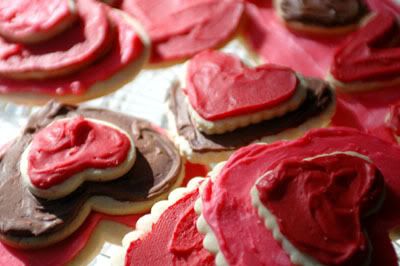 PINK LEMON KISSES
UV Vodka wants to inspire a magical Valentine's Day with this tasty sweet and sour sparkling cocktail recipe. Well, to be honest, UV just wants to get you drunk and take you home. What happens after that is between you and the vodka, baby.
UV Secret Crush
1 Part UV Pink Lemonade Vodka
3 parts lemon-lime soda
serve on the rocks in a lowball glass
CLICK THE IMAGE FOR THE UV SITE