WHAT TIME IS IT?
Since daylight savings hit, we're still not sure! But we do know there's no TIME like the present! So you best be on TIME to present yourself at the jumble below. TIME is money, and since your TIME is so expensive, we've set up your schedule to let the good-TIMES roll.
xo-l'étoile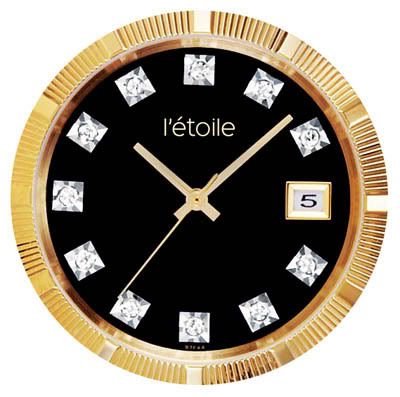 THURSDAY NOVEMBER 8TH
Rome is Burning/The New School
@ Foster Gallery Haas Fine Arts Center
UW-Eau Claire
121 Water Street
Eau Claire, WI 54703
6-8pm / Free
Attention Wisconsin readers and Minneapolis art adventurers! OX-OP, contrary to popular belief, is still kicking and hosting an amazing collaborative show of major players including Dalek, 27, Shepard Fairey, Shag, and so many more.
CLICK THE IMAGE FOR THE FOSTER GALLERY SITE
THURSDAY NOVEMBER 8TH
10,000 Arts Party
@ Bakken Museum
3537 Zenith Ave. S.
Minneapolis
6-9:30pm / Free
Join
The Rake
and
mnartists.org
as they celebrate their fantastic alliance, the 10,000 Arts Quarterly. The beautiful Bakken Museum of Electricity plays host to the exhibition which also features music by Bela Koshka, dance performances, media, artwork and more - including video projections from last week's very well received
Festival of Appropriation
.
wink
CLICK THE IMAGE FOR THE 10,000 ARTS SITE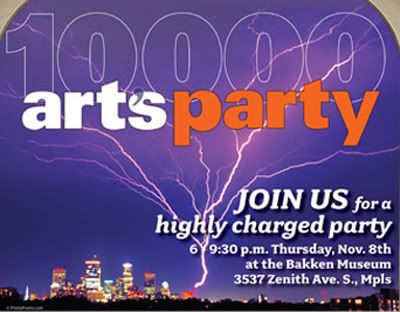 THURSDAY NOVEMBER 8TH
RetroRama: Dive into 50s Pulp
@ The MN History Center
345 Kellogg Blvd W.
St.Paul
7-11pm / $15
Indulge in an evening-noir of music, dancing, fashion and cabaret entertainment at the Minnesota History Center's RetroRama. Featuring performances by the Electric Arc Radio writers, Al's Rockabilly Quartet, the Pop-up Pulp Dancers and the Velvet Lounge Band and a vintage boutique courtesy of Up Six , Succotash, and more. With 5 fully-stocked bars offering your favorite 50's-inspired cocktails and an o-so-beautiful setting, its sure to be a night out you won't soon forget.
WINNER'S BONUS:
Win a pair of tickets to Retrorama! e-mail kate@letoilemagazine.com with your full name and phone number and we will draw a winner at random at 3pm Thursday.
CLICK THE IMAGE FOR THE HISTORY CENTER SITE
FRIDAY ART PICK: CHAMBLISS GIOBBI
Chambliss Giobbi's collage work is a study of mutation born of intimacy. Giobbi photographs his subjects endlessly, and creates a final product that exposes the distortion of the relationship between artist and muse.
New York based Giobbi took a moment to chat with us about his work...
What influences and inspires your work?
Psychology, persona and the idea that time can be compressed into one cathartic moment.
Can you describe your process in creating collage work?
I photograph the model, scan the film, print the images and tear them to assemble the collage on aluminum panels. There is no digital manipulation. Thousands of fragments make up the picture. My recent work involves collage over sculpted forms which give the image a three-dimensional character.
You were a classical music composer for 15 years - what made you turn to visual art?
When I was a composer, I made small collages in the Dada style of Ernst, Hannah Hoch, etc. Although I did well as a composer, I knew that when writing a score I was only writing directions for playing music, not making music in of itself. In my visual art, I fully realize the work and am solely responsible for it. Also, while I liked my music, I knew that I wasn't doing something new: I wasn't opening any new doors. With my artwork, I know that I am doing something new. In the end, one has to have something unique to offer.
CLICK THE IMAGE FOR THE CHAMBLISS GIOBBI SITE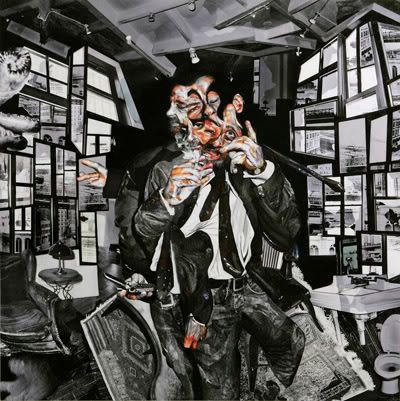 FRIDAY NOVEMBER 9TH (THROUGH THE 11TH)
NEMAA Fall Fine Arts Show
@ The Grainbelt Bottling House
79 NE 13th Ave.
Northeast Mpls
Opening Party: Friday 6-10pm
Saturday Noon-5pm
Sunday Noon-3pm
Free / All Ages
The Northeast Minneapolis Arts Association presents their 8th Annual Fall Fine Arts show, featuring the works of more than 150 member artists and judged by arts advocate, Robyne Robinson. Get there early to vote for your favorite in the "People's Choice" competition and sign up for the fantastic raffle organized by the Northeast Chamber of Commerce.
CLICK THE IMAGE FOR THE NEMAA SITE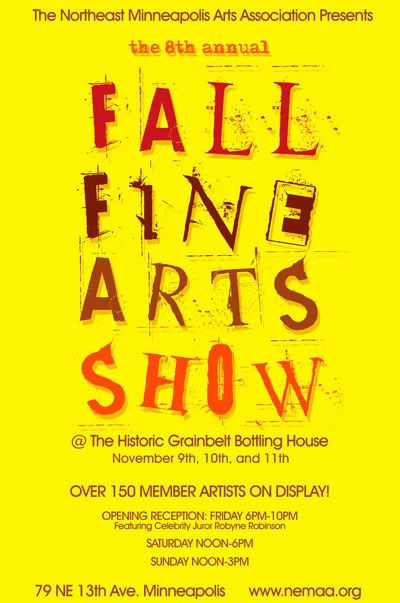 FRIDAY NOVEMBER 9TH
Elsie Blue's Mushroom Cloud Series
@ Shoebox Gallery
2948 Chicago Ave.
Minneapolis
6-8pm / Donations Encouraged
A clear thought never goes unnoticed. Elise Blue's mushroom cloud series is a meticulously crafted study on one famous shape taking the lives of others, and perhaps you with it. Don't miss a special performance by Japanese Flamenco dancer, Sachiko.
TIP:
Dress for the weather - this opening and performance will take place on the sidewalk!
CLICK THE IMAGE FOR THE SHOEBOX SITE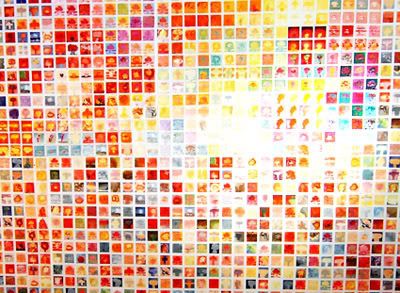 FRIDAY NOVEMBER 9TH (THROUGH SATURDAY)
Clapperclaw Music and Art Festival
@ Sound Gallery (Friday)
414 3rd Ave. N
Downtown Mpls
7pm-2am / 21+ / $12 or $20 for 2 day pass
@ Bedlam Theatre (Saturday)
1501 S. 6th St.
West Bank
Noon-Midnight / 18+ / $12 or $20 for 2 day Pass
This "art circus" spotlights local and national kindred spirits in visual art, music, theater, fashion and more for a collective shebang that is as cool as it is sonic. A double header, with a party at the Sound Gallery on Friday and a rock out at the Bedlam on Saturday, we expect you'll find something to awe home about.
CLICK THE IMAGE FOR THE CLAPPERCLAW SITE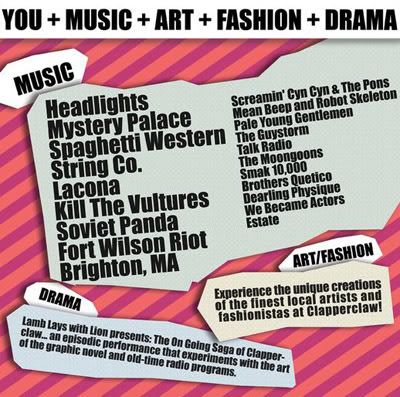 FRIDAY NOVEMBER 9TH (THROUGH THE 18TH)
Mu Daiko
@ The Ritz
University & 13th NE
Northeast Mpls
8pm / $22 *times, dates and cost vary
Mu Daiko teams with TAIKOPROJECT, blending traditional Taiko drums with music, dance and video with heart-pounding intensity.
CLICK THE IMAGE FOR THE RITZ SITE
FRIDAY NOVEMBER 9TH (THROUGH SATURDAY)
Atmosphere
@ First Avenue
701 1st Ave.
Downtown Mpls
8pm / 18+ / $16
Sluggo and crew bring it home to the M-P-L-S with shows at the Ave both Friday and Saturday nights.
CLICK THE IMAGE FOR THE RHYMESAYERS SITE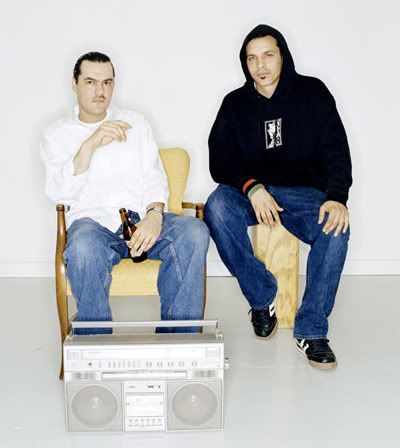 FRIDAY NOVEMBER 9TH
Dog Days, Bagota
@ Weinstein Gallery
908 W. 46th St.
Minneapolis
6-8:30pm / Free
When internationally acclaimed photographer Alex Soth and his wife traveled to Cambodia to adopt their daughter, "Dog Days, Bagota" was born. Photographing his surroundings during their two-month stay, Soth captures a touching view of Cambodia's people and their country.
CLICK THE IMAGE FOR THE WEINSTEIN SITE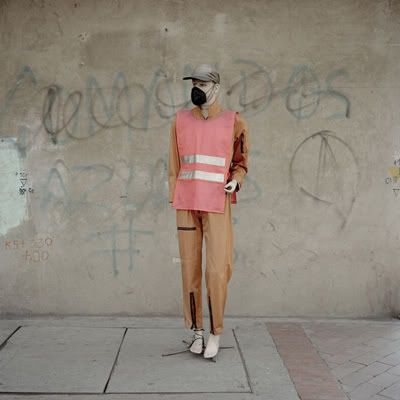 FRIDAY NOVEMBER 9TH
Twilight
@ Kitty Cat Klub
14th & University
Dinkytown
9pm / 21+ / $7
The Kitty Cat Klub plays host to Twilight, the monthly ladies-only mingler with like-minded lasses.
CLICK THE IMAGE FOR THE TWILIGHT SITE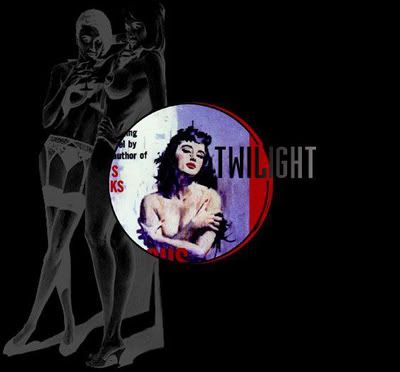 COOL LINK: NICK AND EDDIE
1612 Harmon Place
Loring Park
Visit Website for Hours
Restaurant rock star Doug Anderson's latest (re)creation, Nick and Eddie's, is a new favorite. Anderson, famous locally for opening Bakery on Grand with his wife, former Lucia's pastry chef, Jessica Anderson, returns to his high-flying NYC days by re-incarnating this "Big Apple" namesake. The posh spot definitely adds a Minnesota
edge with recognizably cool bartenders such as Lori Barbero (Babes in Toyland / Koalas), Steve Trainer (Shellac), and art scene staple David Foley as well as equally rockin' background noise from T-Rex, MC5, and The Fall.
Executive Chef Steven Vranian serves up a to-die-for menu that has patrons raving. "The Delmonico Steak is like eating Jesus" quips
Sean Smuda
, artist and a Nick and Eddie's Regular. "Nick and Eddie's is where the gutter meets the stars" he adds, referring to the eclectic patrons, ranging from old punk rockers, to New French Cafe transplants - and the mayor of Minneapolis.
Nick and Eddie's, located in the other half of the famed old Loring space, is a hip spot for a date, a drink with friends, or a night out on your own - you're guaranteed to make a memory you'll want to savor.
TIP:
Ask Bartender David Foley for a "surprise" drink - he'll make you something amazing, if not strange.
CLICK THE IMAGE FOR THE NICK AND EDDIE SITE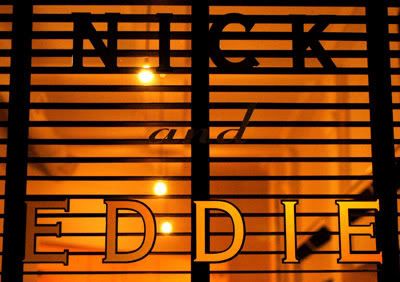 SATURDAY NOVEMBER 10TH
Seward Arts Festival
@ Various Locations
Seward Neighborhood
11am-7pm Open Studios
7pm-2am Party @ The Hex
The Seward neighborhood celebrates its artistic grass-roots during the 8th Annual Seward Arts Festival. Local artists open their studios for the day along with music, readings, wine tastings and more at various locations. Maps and programs are available at local businesses or at the web link below.
LATER:
After the festival, head to the Hexagon Bar for a performance by All the Pretty Horses and an interesting array of other entertainments.
CLICK THE IMAGE FOR THE SEWARD ARTS SITE
art by holly vrieze murray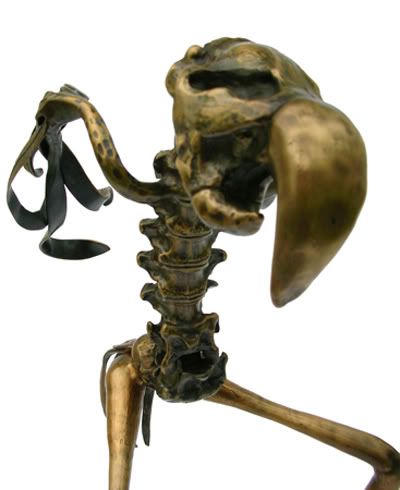 SATURDAY NOVEMBER 10TH
Cover
@ Art of This Gallery
3506 Nicollet Ave S.
Minneapolis
7-11pm / Free
Duluth artist Kristina Estell commands Art of This Gallery with her sculptural installation art - an exploration of landscape and vision.
CLICK THE IMAGE FOR THE ART OF THIS SITE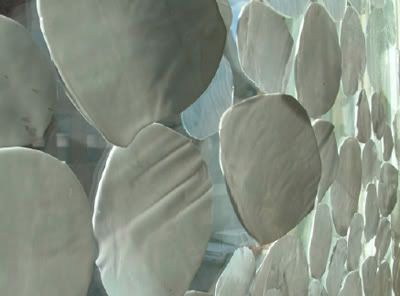 SATURDAY NOVEMBER 10TH
Zibra Zibra
@ The Uptown
Lake & Hennepin
Uptown
9pm / 21+ / $5
Zany electropunkers Zibra Zibra headline this night of over the top entertainment at the Uptown. Mercurial Rage, Maps of Norway, and Austin Scarlet kick off the festivities.
CLICK THE IMAGE FOR THE ZIBRA ZIBRA MYSPACE
SATURDAY NOVEMBER 10TH
Boombox
@ The Cabooze
917 Cedar Ave. S
Minneapolis
8:30pm / 18+ / $10
Alabama disco-smoothies, Boombox, hit the Cabooze tonight with their electronically hypnotic and jazzy grooves.
CLICK THE IMAGE FOR THE BOOMBOX MYSPACE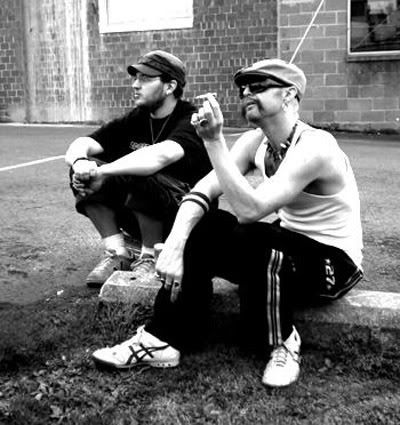 SATURDAY NOVEMBER 10TH
"PARTY"
@ 117 Washington Ave. N
Downtown Mpls
10pm / 21+ / $5
Our pal Allan "Quietly the Most Popular Person in Minneapolis" Kleckner and his equally cool roomies invite you to party at their new warehouse pad tonight. Let's hope their first party isn't their last! DJ
Danger Havok
on decks.
CLICK THE IMAGE FOR MAPQUEST DIRECTIONS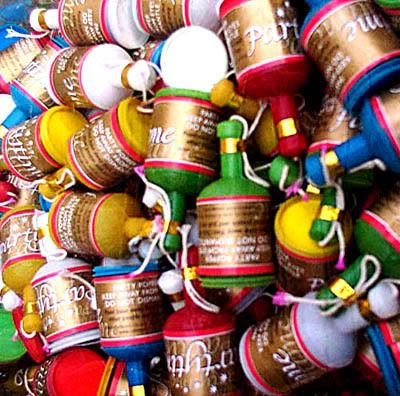 SATURDAY NOVEMBER 10TH
That Show
@ NEW Secret Location
Minneapolis
Call 612-298-5143 Day of for Directions
9pm-5am / $10
Party like its 2099 tonight at a NEW secret location! Hard-edged turntable masters DJ Venom and General Malice will tear your ear a new drum tonight along with a supporting cast of over 20 of the hottest Midwestern techno-heads.
CLICK THE IMAGE FOR THE SIXONE2 MYSPACE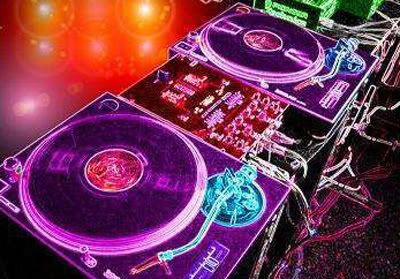 SATURDAY NOVEMBER 10TH
New Work
@ Rosalux Gallery
1011 Washington Ave.
Downtown Mpls
7-11pm / Free
Artists John Diebel and James Wrayge partner up for a show at Rosalux Gallery tonight. Diebel's architecturally minded collage work compliments Wrayge's intense, abstract oil paintings. As always, this Rosalux show is a can't miss.
CLICK THE IMAGE FOR THE ROSALUX SITE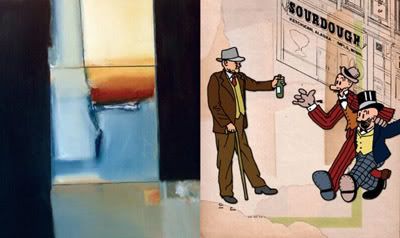 SUNDAY MUSIC PICK: SUGAR AND GOLD
This band's name alone is enough to inspire a serious Joan Collins moment. The absolutely hip and juicy disco beats are the perfect get-up-and-go!
CLICK THE IMAGE FOR THE SUGAR AND GOLD MYSPACE
SUNDAY NOVEMBER 11TH
The Deception
@ Jeune Lune
105 1st St. N
Minneapolis
7pm/ $20
"The Deception" is getting raves. The story, from "The False Servant" by Pierre Marivau, is a major adaptation from the original, rather detached French take on the consequences of romantic betrayal, cross-dressing entrapment and greed. Epps, and director Serrand, heat things up with their interpretation, and the cast shines in this beautifully acted and produced play.
To help the young theatre-going community, Jeune Lune is offering a special under-25 price of $9 for all shows this season, and special group rates are available for groups of 6 or more no matter your age. Deception only runs through November 25th, so put it immediately on the list.
CLICK THE IMAGE FOR THE JEUNE LUNE SITE
SUNDAY NOVEMBER 11TH
The Nutcracker
@ Macys Downtown
700 Nicollet Mall
Downtown Mpls
Noon-6pm (regular store hours all other days)
Who doesn't have lovely childhood memories of the annual holiday installation at Dayton's...er...Marshall Field's...wait, we mean Macys! Whatever the name, they still bring the magic with this yearly extravagance. Tour the 8th floor installation with your closest compadres and get into the holiday spirit!
BONUS:
l'étoile contributor Allen Brewer lent a creative hand to this festive project!
CLICK THE IMAGE FOR THE MACYS SITE