BABY, YOU'RE AN ART STAR
They don't call us the Minni-Apple for nothin'! Minneapolis artists have been making their mark for years – from longtime art scene staples to budding art students, the consistancy of creativity in our fair cities spans generations. This weekend is no exception with openings featuring work by some of our most-talked abouts as well as our soon-to-be-most-talked abouts! From the tax accountant who throws gorgeous art parties to the high-end salon who gives solo shows to up and coming artists - Minneapolis is making art history every day that goes by.
xo-l'étoile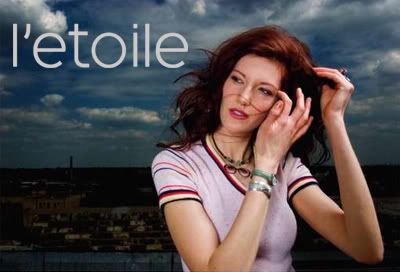 THURSDAY NOVEMBER 15TH
When the Sidewalk Ends Film Screening
@ The Riverview Theater
3800 42nd Ave. S
Minneapolis
9:30pm / $5
When the Sidewalk Ends is a hypnotic tale of a road trip to revenge; and how lonely and tiresome that journey can be.
CLICK THE IMAGE FOR MORE INFO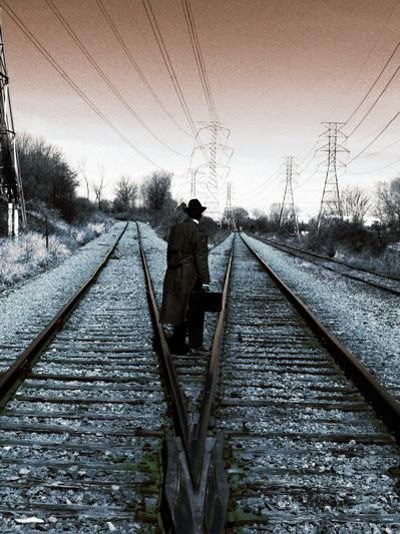 FRIDAY ART PICK: ADAM STENNETT
New York based artist Adam Stennett's realistic works are so detailed that telling them from actual photographs is a challenge. A master of oil and acrylic, and an accomplished video artist, Stennett's art is global. A fine eye for capturing the fine points, his paintings communicate textures and light so genuine, you might not be able to resist copping a feel.
CLICK THE IMAGE FOR THE ADAM STENNETT SITE
FRIDAY NOVEMBER 17TH
ICON: Paintings by Nicholas Harper
@ Rogue Buddha
357 13th Ave NE
Northeast Mpls
7-11pm / Free
Nicholas Harper's latest works combines classical portraiture with dream-like elements, rich colors and textural ambiance. One of Minneapolis' most reputable artists, Harper was recently named one of the top 10 artists to watch by CNN, and his gallery highlighted as a Minneapolis art hotspot by GQ Magazine.
CLICK THE IMAGE FOR THE ROGUE BUDDHA SITE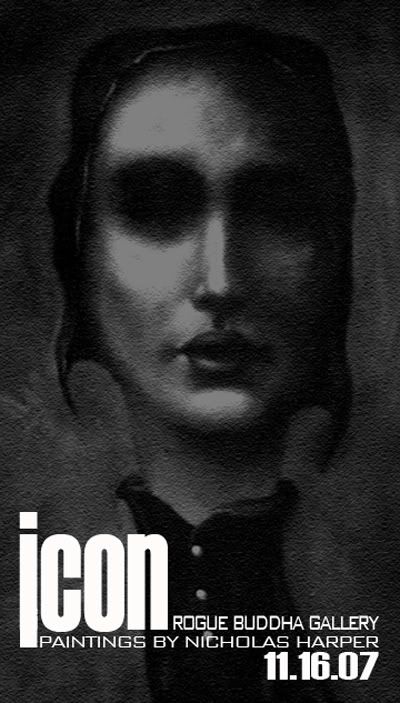 FRIDAY NOVEMBER 16TH
Honeymoon feat. The Glamour (Diamonds)
@ 1st Ave. VIP Room
701 1st Ave. N.
Downtown Mpls
10pm / 18+ / $3 ($10 t-shirt admission)
The Moongoons move their wildly popular monthly dance extravaganza to the VIP Room effective immediately. Bust out that Notre Dame sweatshirt because this month's dress code is Frat Party!
BONUS 1:
Asher Diamonds from
The GLAMOUR
pops in as guest DJ.
BONUS 2:
For a $10 admission fee pick up a limited edition Moongoons t-shirt!
Sponsored by l'étoile magazine and Beautiful/Decay
CLICK THE IMAGE FOR THE MOONGOONS MYSPACE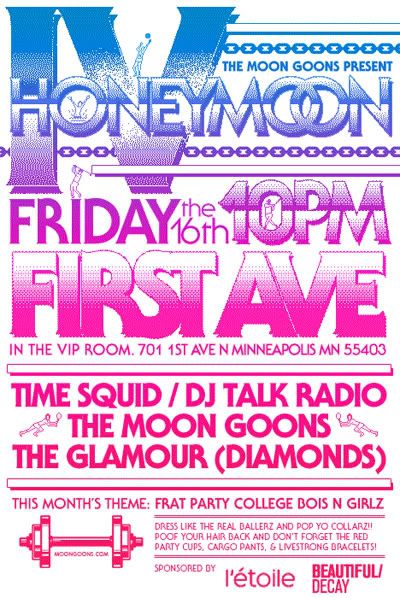 FRIDAY NOVEMBER 16TH
Unknown Order
@ Varsity Theater
14th & 4th
Dinkytown
8pm / 18+ / $8
Sacre Bleu Wine
throws a red hot party tonight at the Varsity featuring an impressive list of local rock stars. The catch? The lineup order will be drawn at random, so get there early to make sure you catch your faves. Featuring The Alarmists, Ari Herstand, This Worlds Fair, and White Light Riot.
CLICK THE IMAGE FOR THE SACRE BLEU MYSPACE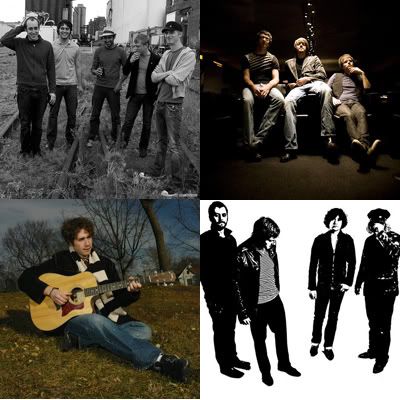 FRIDAY NOVEMBER 16TH
John Grider
@ Cliche
24th & Lyndale
Uptown
7-9pm / Free
Another of our rising local stars is
John Grider
. Whether it be a huge outdoor mural or a small canvas, a Grider piece in/on your domicile is a coup. His latest body of work is on display at Cliché, opening tonight!
CLICK THE IMAGE FOR THE CLICHÉ SITE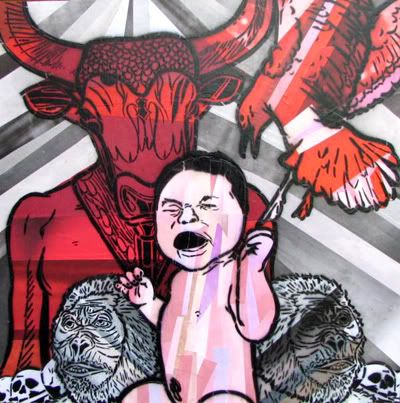 SATURDAY, NOVEMBER 17
These Elves Went To Art School
@ Fox Tax
503 1st Ave NE
Minneapolis
6-11pm / Free
Twin Cities creatives were challenged to create work no larger than 4"x 4" for this one of a kind show. Look for your favorite local artist (there are 35 of them in the show!) and perhaps a few fancy stocking stuffers. Not only that, but a Fox party is
never
a dull affair.
CLICK THE IMAGE FOR THE FOX TAX SITE
SATURDAY NOVEMBER 17th
Millions Billions
@ The Kitty Cat Klub
14th & University
Dinkytown
10pm / 21+
Ned "Millions Billions" Lampert will flip hot wax for your listening (and dancing) pleasure tonight in the stylin' ambiance that is the Kitty Cat Klub.
BONUS:
Visit
Ned's blog
for updates, shows, and downloadable party mixes!
CLICK THE IMAGE FOR THE MILLIONS BILLIONS MYSPACE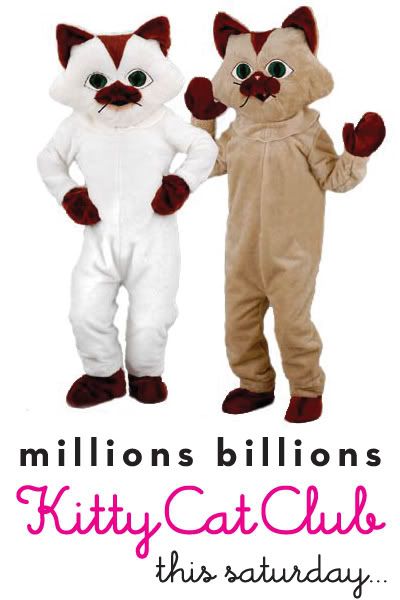 SATURDAY NOVEMBER 17TH
Three Gorges: Artist Panel and Opening Reception
@ Minnesota Center for Photography
165 13th Ave NE
Minneapolis
Presentations: 4:30pm
Opening Reception: 7-9pm
The Three Gorges Dam is the world's largest hydroelectric barrier, spanning the Yangtze River in Hubei Province, China. The photographs in this exhibit explore the universal and controversial issue of water control and its effects on the environment, and people. Twenty-two artists (Chinese and otherwise) contributed work to this exhibit, creating a unique portrait of a project so large that it's been said to affect the Earth's rotation.
CLICK THE IMAGE FOR THE MNCP SITE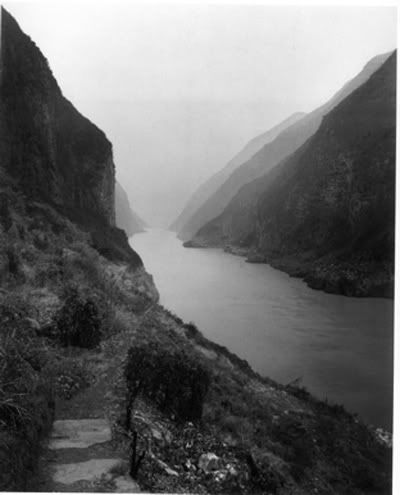 SATURDAY NOVEMBER 17th
Ultimate Landscape
@ Gallery 13
302 13th Ave NE
Minneapolis
7-10pm / Free
Over 40 artists contribute to what will be an extreme visual overload! We were lucky enough to get a tiny sneak peek at some of the amazing work - which ranges from sound collage to sculpture and everything in between.
CLICK THE IMAGE FOR THE GALLERY 13 SITE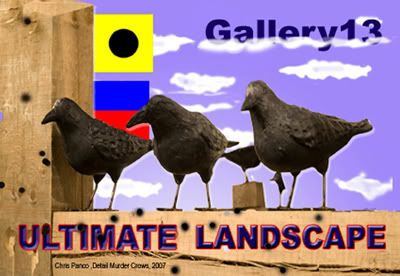 SATURDAY NOVEMBER 17th
Constriction Zone
@ Franklin Art Works
1021 East Franklin Ave
Minneapolis
6-8pm / Free
New York-based artist Nicola Lopez brings her fascination with technological and architectural growth to Minneapolis with a site-specific installation for Franklin Art Works.
CLICK THE IMAGE FOR MORE INFO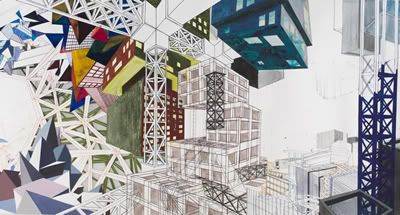 SUNDAY MUSIC PICK: THINGS KINGS DO
This is one of the most charming mixes we have EVER heard! Minneapolis party-rockin' cool kids
King Otto
and
Mike the 2600 King
team up to bring you a mixed and mashed up masterpiece of golden oldies that will blow your dance party's mind.
Listen to the sampler, order the cd, and pick up some Burlesque Design swag while you're at it - it's almost that time of year again and nothing says "thoughful" like local art and music!
CLICK THE IMAGE FOR THE BURLESQUE SITE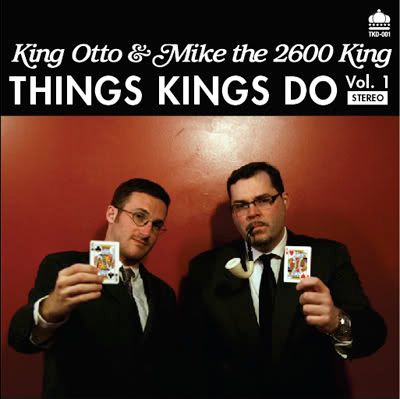 SUNDAY NOVEMBER 18TH
Bridget Ritzinger
@ Olive Salon
1506 Nicollet Ave.
Minneapolis
7:30-10pm / Free
Local artist Bridget Ritzinger brings her eerie and skeletal sculpture work into the limelight for a month-long run at Olive Salon, opening tonight.
CLICK THE IMAGE FOR THE OLIVE SALON SITE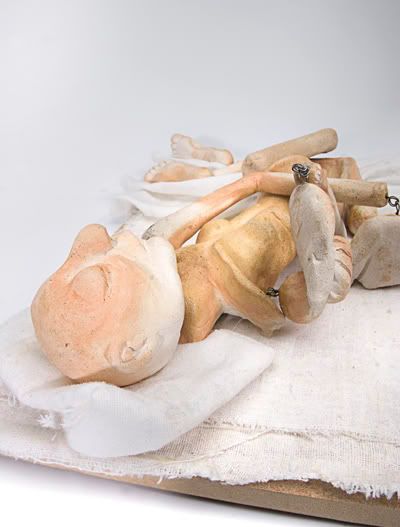 MONDAY NOVEMBER 19TH
Hot Roxx Birthday Bash
@ The Hexagon
2600 27th Ave. S.
Minneapolis
10pm / 21+ / Free
Clip a koala on your best cowl neck and comb out your corduroys. DJs Macku$ and Jen (l'etoile's senior beauty editor!) dazzle with the best local talent, covering tunes from arguably the best decade for music – the 70's. Help blow out the candle on their first anniversary at the Hex tonight and bring Monday nights into the weekend! This early week, l'etoile – endorsed party is NOT to be missed. Featuring Vampire Hands/Thunder in the Valley, Nightinghales, and Show Me Anatomy.
CLICK THE IMAGE FOR THE HEXAGON SITE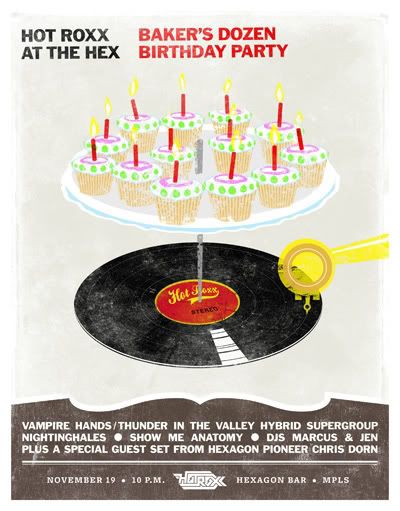 TUESDAY NOVEMBER 20TH
M.I.A. After Party Feat. Low B
@ Foundation
10 S. 5th St.
Downtown Mpls
11pm / 18+ / $10 ($5 w/ 1st Ave wristband)
Sorry kids, the M.I.A. show at 1st Avenue is SOLD OUT! But, you can still get your party fix at Foundation tonight.
Low B
(of Hollertronix and long time M.I.A. tourmate) hops between venues to keep the party going into the wee hours. Local DJ crew, The Moongoons kick things off, along with a special appearance by Baltimore's Rye Rye. Who knows who else might make a late night appearance?
Presented by Louder than Bombs and Co-sponsored by l'étoile magazine!
CLICK THE IMAGE FOR THE FOUNDATION SITE