Halloween is definitely our favorite holiday! Tricks, treats, elaborate costumes, horror movies, eerie ambiance -- it's the stuff (scary) dreams are made of. With so much to do and only one night to do it, we've compiled a terrifyingly terrific guide to fill you in on what to wear and where to get it, tasty treats and sinful spirits, spooky stories, music, movies and of course, the hottest Halloween parties going on this Saturday! You'll even be privy to a long-lost Halloween-inspired l'étoile photo shoot! Have a ghoulishly grand Halloween, and remember, do not take candy from strangers...unless they are very good looking! Check back on Thursday for our regular weekend edition, which will feature even more great events leading up to the big night.
xo-l'étoile
p.s.- Don't forget to stop into
l'étoile-o-ween at Clubhouse Jager
this Saturday!
SCARECROW: ALONE ON THE PRAIRIE
Somewhere between our last print issue and before we decided to go exclusively online, the l'étoile team produced an Autumn editorial spread that's thus far been hidden away in our archives. And in honor of Halloween we've finally decided to share it. Shot by legendary l'étoile photog, Amy Pierce, and art directed by former l'étoile (print edition) creative director Molly Roark during the Fall of 2007, the piece focuses on the secret lives of scarecrows.
As children, we can clearly remember the terrifying feeling of being lost in a cornfield. You go in wanting to hide, to revel in the act of losing yourself, only to be struck with a slowly growing sense of dread as you become increasingly disoriented and lose your way. It's a quintessentially Midwestern experience. And what would a cornfield be without its scarecrow? Though traditionally associated with Halloween, scarecrows are actually summer creatures that lose their usefulness
once the leaves start falling. By the time autumn arrives and the elements have had their way, the lonely scarecrow has become a sort of mutilated monster, its straw sticking out every which way, its hide bleached by the unforgiving sun.
The experience of the scarecrow must be similar to that shared by us hearty Midwesterners as autumn gives way to frigid cold - and along with it, a period of isolation, introspection, creativity, resourcefulness, and sometimes loneliness. During All Hallows' Eve, the night when the real and magical worlds collide, we annually mark this transformation with costumes both scary and absurd. The following images reflect this transitional period in our very own farmlands, including the historic Gibbs Farm. The fashions reflect the very Minnesotan way of pairing vintage with modern pieces, while incorporating hardy fabrics such as plaids and leathers built for the Midwest and recently seen on the Fall 2009 runways of Comme des Garçons and Marc by Marc Jacobs. Perhaps the rest of the world is taking a cue from plucky Midwesterners, picking itself up by its bootstraps and preparing itself for the hard, cold winter ahead.
-Jahna Peloquin
Note:
This fall, the current l'étoile team will be producing new photo shoots; in fact, we'll be working on one over the next couple weeks, so keep your eyes peeled!
CLICK THE IMAGE FOR THE PDF SPREAD FOR SCARECROW
(please be patient while the PDF loads)

THE DEAD HATE THE LIVING: A HORROR MOVIE MASHUP
"The Dead Hate The Living: A Horror Movie Mashup" was created by Clement Shimizu as a video art installation piece for a 2008 Minneapolis Halloween event. The video is now free and available online in multiple formats for use in Halloween shenanigans such as parties, special events, haunted houses, or just simply for getting you in the holiday "spirit." The Mashup appropriates the best of the best horror movie scenes from classics such as "The Birds," "Nosferatu," and "The Seventh Seal" to more contemporary films as "The Others," plus foreign films like "Suspira" and cult classics including George Romero's "Night of the Living Dead." This masterfully curated 47 minute-long loopable video is sure to terrify and/or delight even the most pretentious of horror movie connoisseurs. Additionally, the included soundtrack is comprised exclusively of electronically-sequenced music tracks from one of the most underground genres out there -- The Keygen music scene.
CLICK THE IMAGE TO WATCH OR DOWNLOAD THE MASHUP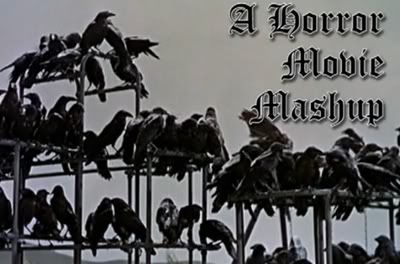 NIGHTMARE FUEL PODCAST
Nightmare Fuel is a Halloween Spoken Word Spectacular with stories by Rob Callahan, MontiLee Stormer, Allegra Lingo, Jerrod Balzer, S. D. Hintz, Rich Ristow, Wonder Dave and Mark McLaughlin. Put together by our own Rob Callahan, this collection contains a plethora of spooky tales, dark poems, and a heaping helping of irreverent humor courtesy of some of the best storytellers in town. The perfect late night listen when the wind is whistling on a dark Autumn night, if you ask us. Pair with a cup of hot apple cider (feel free to spike it) and cozy up on the couch for some seriously stellar storytelling a la Rob Callahan and friends. Click the image below to download the podcast (in the top, left-hand corner) and read bios on all its contributors.
CLICK THE IMAGE FOR THE NIGHTMARE FUEL PODCAST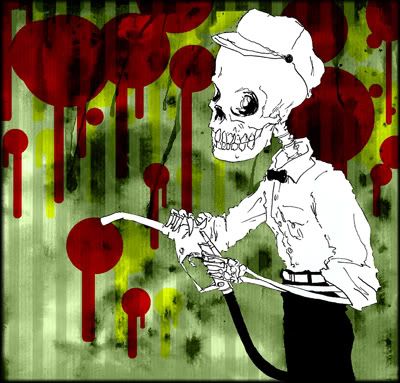 THE GHOST TOWN: 31 DAYS OF PURE SONIC EVIL
The Ghost Town blog cleverly compiles 31 days of Halloween-themed tunes for your listening enjoyment. From October 1st to October 31st these local sonic purveyors set out to post one song per day, from rock n' roll to television themes, hip hop to dance jams. Check out their blog asap to download your favorites and create your own spooktacular playlist just in time for Halloween!
CLICK THE IMAGE FOR THE GHOST TOWN BLOG

TREATS (NOT TRICKS)
Homemade Vegan Candy Corn
Candy Corn: the quintessential Halloween candy. Apparently, candy corn is not only delicious, but it's relatively easy to make. Whether you're vegan or carnivore,
we're sure this tasty recipe will be right up your alley (a dark, haunted alley, of course).
In a large sacucepan, bring 1 cup sugar 2/3 cup corn syrup, 5 Tbsp. vegan margarine (Earth Balance works great), and 1 tsp. vanilla to a boil. Reduce the heat to medium and boil for 5 minutes, stirring occasionally. Remove from heat. In a bowl, sift together 2 ½ cups powdered sugar, 1/3 cup powdered soy milk, and a pinch of salt, then add this to the sugar mixture and stir until combined. Let the dough-like mixture stand until slightly warm to the touch – about 15 minutes – and divide into 3 equal pieces. Add several drops of yellow food coloring to 1 piece of dough; knead until smooth and the color is even. Make another piece of dough orange by adding a couple of drops each of yellow and red food coloring. Repeat kneading. Knead the remaining piece of dough until smooth. Roll each piece into ropes of equal length (no thinner than ¼'' or they will break), lay the ropes next to each other and push together to form one tricolor slab. Using a sharp knife, make diagonal cuts across the slab, alternating their angle to make triangles from top and bottom. Round the corners of the triangles to make candy corn shapes; they'll be a bit larger than the store-bough kind. The recipe should yield at least 100 pieces and they'll stay fresh for quite a while. Store on parchment paper in an airtight container and indulge your sweet tooth frequently!
Popcorn Balls
Never underestimate the power of these spheric babies at Halloween parties. Everyone loves them! Switch up the food coloring to create custom colors! We like pink.
Place popcorn in a roasting pan; keep warm in a 200 degree oven. In a large saucepan, combine 2 cups sugar, 1 ½ cups water, ½ cup light corn syrup, 1 tsp. white vinegar, and ½ tsp. salt. Cook over medium heat until a candy thermometer reads 250 degrees (hard-ball stage). Remove from heat. Stir in 1 tsp. vanilla extract and yellow and red food coloring (about 1 tsp. yellow and 9 drops red) until blended. Immediately pour over popcorn and stir until coated. When mixture is cool enough to handle (about 30 minutes later), quickly shape into 3-1/2 inch balls, dipping hands in cold water to prevent sticking. Yields about 8 servings.
(rī)1 Whiskey Cool Hand Cooler
We had this tasty seasonal cocktail at
Bradstreet
recently and coaxed the recipe out
of them for your personal enjoyment. Of course, if you're too lazy to make it yourself, you can always hit up the downtown hotspot to have someone make it for you (our method of choice). Made with
(rī)1 Whiskey
, a new, 92-proof premium whiskey (with a sleek, sexy bottle design that we really dig), this drink is surprising and impeccable in its flavor combinations. We love!
1½ parts (rī)1 Whiskey
½ tsp. Absinthe
¾ part Freshly Squeezed Lemon Juice
¾ part Simple Syrup
2 parts Bottled Ginger Beer
In a mixing tin add spirits, juice and syrup. Fill tin with ice and shake vigorously for at least 6 seconds. Strain into a Collins glass over fresh ice and top with ginger beer and club soda. Garnish with a lemon wheel and mint sprig.
Hot Buttered Cider
A Halloweeny version of Hot Buttered Rum, this hot sip will warm you up in more ways
than one. Perfect for any Autumn party, not just Halloween, a spicy seasonal treat like Hot Buttered Cider will leave your guests impressed with your creativity in the mixology department. This tasty recipe below will serve 10, but feel free to double or triple to make a party-centric vat (that's what we'd do).
7 cups Apple cider (get the real stuff!)
1/3 cup Brown sugar, packed
4 sticks cinnamon
1 teaspoon Whole allspice
1 teaspoon Whole cloves
1 Lemon peel, cut into strips
1 1/2 cups Rum
Butter and thin apple slices for garnish
Combine apple cider and brown sugar in a large saucepan. For spice bag, tie cinnamon, allspice, cloves, and lemon peel in a 7 inch square of 100 percent cotton cheesecloth. Add spice bag to cider mixture. Bring cider mixture to boiling. Reduce heat and simmer, covered, for 15 minutes. Remove and discard spice bag. Stir in rum. Pour cider mixture into mugs. Float about 1/2 tsp butter or margarine on each. Top each serving with one or two thin apple slices. Makes about 10 (6-oz) servings.
HALLOWEEN COSTUMING DONE RIGHT
If you're not already aware, l'étoile fashion Editor Jahna Peloquin also moonlights as a writer for Vita.mn. Check out her costume guide on their site (and in print this week), filled with tips on selecting the right Halloween costume and how and where to find it. Plenty of insight and creative spins on tired ideas abound here, along with a solid list of local retailers where you'll surely have good luck, from vintage shops to costume rental resources.
CLICK THE IMAGE FOR JAHNA'S GUIDE ON VITA.MN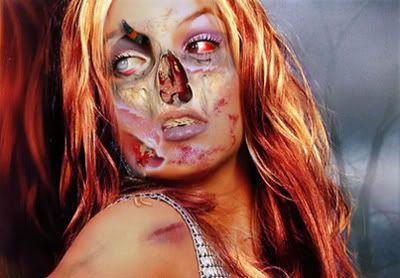 D.I.Y HALLOWEEN COSTUMES
Why bother with store-bought costumes when you can fashion your Halloween costume out of fuzzy fabric bought at the thrift store and some re-purposed accessories? Not sure what to do with your pile of seemingly random stuff? Need some inspiration?
l'étoile has scouted out some of the most unconventional ideas on the web and brought them to you for your customizing pleasure:
Instructables is a great place to find step-by-step instructions and pictures on how to make just about anything. Check out their Halloween guide
HERE
.
Who knows what some of these people were thinking, but
Make Magazine
highlights costumes through the years in all their geeky glory
HERE
. They've also archived all their Halloweenie-related blogs
HERE
.
If your costume is missing the final touches, like a bandleader's jacket or a cape
with attached bunny ears, the crafty ghouls over at Etsy will help you out. You might have to pay extra for rush shipping, but we're sure it's worth it
HERE
.
Someone had to invent a Balloon Boy costume, and Neatorama's it,
HERE
. For extra giggles, type "halloween costume" into Neatorama's search box and some ridiculous things come up.
Got plenty of time and yarn, and can only envision yourself wearing a knitted balaclava with squid tendrils? The weirdos at Threadbanger take the cake for craftiest and strangest costume attire
HERE
and
HERE
.
If still don't know what you want to go as, you could always lift a "Do" or, maybe more hilariously, a "Don't" from Vice Magazine's classic tear-em-to-pieces column
HERE
.
And, if all else fails, you can always cover yourself in fake blood:
Fake Blood Recipe
2/3 c. Corn Syrup
1/3 c. Warm Water
5 Tbsp Corn Starch
4 tsp red food coloring
1 Tbsp Powdered Cocoa
2 drops of green or yellow food coloring
Mix the corn starch with the water in a large mixing bowl. Stir in the corn syrup. Add the food coloring slowly, checking for color.
SPOOKY LITS & FLICKS
A cult-lovers guide to getting in the Halloween mood! While these picks aren't all specifically designed to horrify, they allude just the right amount of spook-tastic vibe – perfect late-night entertainment.
SCARY SCRIBES
The Fledgling by Octavia Butler
The queen of science-fiction, Butler's nouvella's are always hauntingly emotive and
intricately composed. Her take on a darkly erotic vampire story is creepy, subtle and thrilling. Think HBO's "True Blood." Click
HERE
to purchase
The Fledgling
.
The Road by Cormac McCarthy
If a post-apocalyptic, cataclysm destroyed world where your father is your only companion isn't scary, we don't know what is. McCarthy's bleak novel is full roving cannibals and casual horrors – babies roasting on spitfires. Click
HERE
to purchase
The Road
.
Under the Skin by Michel Faber
A disturbingly plausible, terrifying and just plain weird novel, Faber's tale evokes the horrors in
Soylent Green
and the twisted plots of early
Twilight Zone
episodes. Click
HERE
to purchase
Under the Skin
.
The Country Doctor by Franz Kafka
Kafka's enigmatic and dark short story proves that even the briefest of tales can pack a nightmarish punch. Click
HERE
to purchase the Country Doctor.
FRIGHTFUL FILMS
Sleepaway Camp
This b-horror flick might not scare the bejezzus outta ya, but it's definitely one
of our cult faves. With plenty of campy gore, innuendo-infested one-liners and a disturbingly memorable twist ending. Click
HERE
for more info.
Les Yeux Sans Visage (Eyes Without a Face)
A kudos to classic science-fiction horror narratives (i.e. Frankenstein) the French pulp movie is fascinated with disfigurement and plastic surgery whose characters include a mad scientist obsessed with heterografting, a Phantom of the Opera-esque masked young girl, and sexually deranged assistant. Not to be confused with the Billy Idol ballad. Click
HERE
for more info.
Suspira
Directed by the master of Italian horror, Dario Argento, this supernatural scarefest features Argento's famously flamboyant love of gore and disturbia and was rated #24 on Bravo's "100 Scariest Movie Moments." Three words of advice: never. watch. Alone. Click
HERE
for more info.
Jekyll
The BBC miniseries modernist make-over of the classic horror tale, Dr. Jekyll and Mr. Hyde, is a provocative and creepy psychological thriller that's both dark and entertaining. Click
HERE
for more info.
HOT HALLOWEEN EVENTS FOR OCTOBER 31ST
l'étoile-o-ween
@ Clubhouse Jager
923 Washington Avenue N.
North Loop Minneapolis
10pm / 21+ / $5
Join l'étoile magazine and Clubhouse Jager for an evening of dark debauchery, liberal drinking and wild dancing this Halloween! Featuring devilishly sexy visuals on 4 projectors via the creative brilliance of Clement Shimizu and Demiétoile; a costume contest with prizes for most stylish (hello, it's l'étoile!), most scary, and most original; a photo booth by Digital Crush Photography within which to get your hottness commemorated; Ouija boards for drunken, otherworldly communications; and plenty of spooky drink specials and candy to sink your fangs into! Also featuring darkwave, electro, and synthtastic sounds from Demiétoile and Deus ex Machina (aka l'étoile's own Juleana Enright). We'll be there, will you?
CLICK THE IMAGE FOR THE FACEBOOK EVENT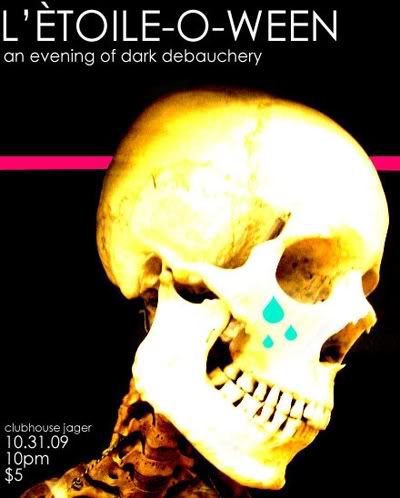 First Ave's Halloween Party / The Monster Mash 3
@ First Avenue/Entry
701 1st Ave. N.
Minneapolis
Mainroom: 8 pm/ 18+/ $5 advance, $10 w/costume, $15 w/o
Entry: 9 pm/ 18+/ $6
Known strictly as "the best Halloween Party in town," this year First Ave's ghoulish dance/costume party features veteran emcee, Ian Rans (Drinking with Ian), First Ave resident DJs and inventive costumes galore. Why is it the best party? We're thinking it has something to do with the costume contest, which offers over $1,000 in cash prizes! And while you're on First Ave premises, don't forget to hand jive over to the Entry for a Monster Mash sop-hop. Back for a 3rd frightful installment, this dance party features smash hits from the 50's and 60's with special funked out and scratch-toned remixes from Mike the 2600 King and guest DJ King Otto.
CLICK THE IMAGE FOR THE 1ST AVE SITE
Hot Roxx Halloween Hextravaganza
@ Hexagon Bar
2600 27th Ave. S.
Minneapolis
10pm / 21+ / Free
Join rockin' dance night afficiandos, Hot Roxx and the Hexagon for a Hextravaganza Halloween celebration. Tonight's trick or treat concert features local acts including psych rockers Invisible Boy (w/ T.V.B.C. drummer, Freddy Votel); sound manipulation pioneers, To Kill a Petty Bourgeoisie; Mystery Supergroups and Hot Roxx DJs Nick and Jen. And since it's the Hex, expect strong drinks and plenty of friendly folks in masks. Costumes encouraged!
CLICK THE IMAGE FOR THE FACEBOOK EVENT
Trylon Microcinema presents The Fly
@
Trylon Microcinema
3258 Minnehaha Ave. S.
Minneapolis
7 & 9 pm both Friday & Saturday / $8
Unlike it's cheesier counterpart – the original 50's Vincent Prince version – Cronenberg's big budget remake follows a much more psychological and dark plot line. Starring Jeff Goldblum and Geena Davis and known for its excessive gore and grotesque body disfigurement special effects, The Fly a perfect film to screen during Halloween. Take-Up Production's microcinema boasts one of the comfiest places to see a flick (horror, or otherwise) in town with its 20-foot screen, two 35mm projectors and intimate pint-sized 50 seat theater. The Fly screens both Friday and Saturday. Tickets are going fast so grab yours online now.
The Rocky Horror Picture Show Midnight Showing
@
Uptown Theater
2906 Hennepin Ave.
Minneapolis
Midnight on Friday & Saturday / $9
Would it really be Halloween without a sweet transvestite? In honor of the longest running midnight film of all time, Uptown Theater screens the Tim Curry, Susan Sarandon and Barry Bostwick guilty pleasure at midnight both Friday and Saturday. A sex-crazed musical, it's part Hollywood horror, part Old Dark House melodramas, and the first interactive movie experience to grace the big screen – not to mention the one with the largest and most interestingly dressed cult following! Feel free to sing-a-long and shout at the screen with die-hard
Rocky Horror
apostles and local group, Transvestite Soup -- and don't forget your fish nets and feather boa!
Pink Hobo Halloween Party
@ Pink Hobo
507 East Hennepin Ave
Minneapolis
7pm / Free
Brush up on your monster knowledge before heading over to Pink Hobo's Halloween Party and Monster Print and Poster Show. Whether you wear a costume or not, be prepared to get into the Halloween spirit with ghoulish pieces from local artists including Jennifer Davis, Evan Palmer, Brittney Sabo, King Mini, Amy Jo, Tooth, Mike Davis and over 20 more. Refreshments will be provided, along with party music from DJ Kenny Kingston.
CLICK THE IMAGE FOR THE PINK HOBO SITE
Ground Zero Halloween Masquerade
@ Ground Zero
15 4th Street. NE
Northeast Minneapolis
9pm / 21+ / cost TBD
Grab your whip and polish your nipple clamps, because legendary Minneapolis S&M bar Ground Zero is hosting a Halloween Masquerade. Whether you're into a little light spanking or will be dressed in full dominatrix gear, Ground Zero promises a Halloween party full of debauchery you won't forget. And even if you could, your nipples wouldn't. Be sure to arrive in time to catch the stage show at midnight. Check your coat and inhibitions at the door.
CLICK THE IMAGE FOR THE GROUNDZERO MYSPACE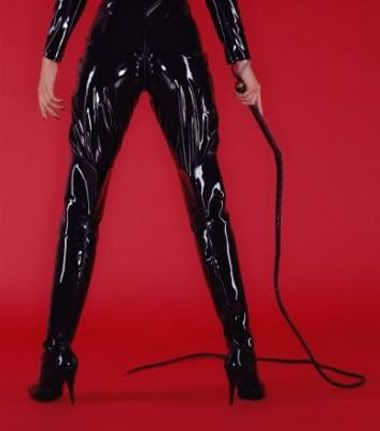 Dead Poets' & Writers' Halloween
@ Kierans Irish Pub
300 2nd Ave. S.
Minneapolis
8 pm / $10 suggested donation
Looking for more than just a crowd full of predictably naughty nurses? Well, put on your slutty Shakespeare costume or your sexy Oscar Wilde getup and make your way over to Kieran's Irish Pub. Tonight's an open mic night will invite attendees to read from their favorite dark poetry, short stories and plays. But even though this event may be a little more intellectual than the usual Halloween fare, guests will still be encouraged to participate in the evening's costume contest. Proceeds from the evening will benefit the Loft Literary Center, so in addition to your costume, it's like you're also a philanthropist for Halloween!
CLICK THE IMAGE FOR THE KIERAN'S SITE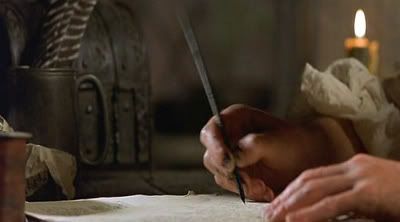 Barebones Halloween Night After-Show Party
@ Bedlam Theatre
1501 S. 6th St.
West Bank, Minneapolis
10 pm / 21+ / $10 ($7 in costume)
Werewolves prowl. Ghosts haunt. Vampires lurk. But perhaps the scariest creatures of all hang lifelessly from string, until their masters bring them to life. That's right. We mean puppets, huge, artist-created puppets that is. Take in one of the
BareBones puppetry and performance art spectaculars
at Hidden Falls Park in St. Paul, then head over to the Bedlam Theater on the West Bank for the after party where you'll celebrate All Hallows' Eve with the spookiest artists in town. If the performances by Brass Messengers and Danceband don't get your feet moving, the creepy puppet masters will.
CLICK THE IMAGE FOR THE BEDLAM SITE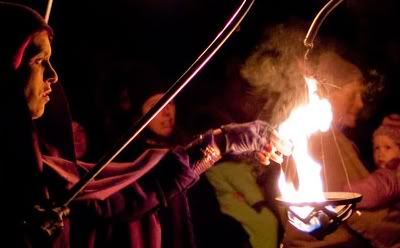 OM Halloween Party
OM Restaurant and Bar
401 First Ave N
Minneapolis
9pm / Free
Still shaking from The Haunted Basement? Terrified after sitting through Paranormal Activity for the fourth time? Head over to OM to find some inner peace, or at least a couple calming Monsoon martinis. This annual Halloween Party includes cocktail samplings, all-night drink specials, and of course, delicious appetizers. Come in costume so that you can have your picture taken by awesome photog Vanessa Meade. Prizes will be awarded to the best "Ripped from the headlines" inspired costume including $150 and $100 gift certificates for OM and a magnum of Veuve Clicqout.
CLICK THE IMAGE FOR THE OM SITE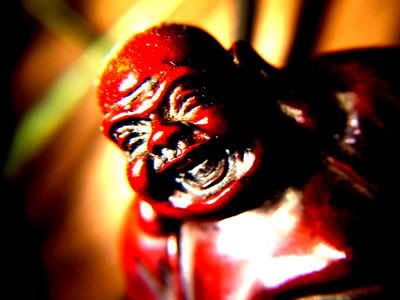 Thriller Halloween Party
@ Nami Sushi
251 1st Avenue N.
Minneapolis
10pm / 21+
Someone was bound to do it! The Familia peeps team up with Nami Sushi for a Michael Jackson themed Halloween bash, complete with super cheap drink specials for those dressed up as MJ himself. Win big in the costume contest, nosh on delicious sushi, and get down to the hot, hot beats of one Millions Billions and special guests, The Velvet Whips. If there ever was a legitimate use for that sequined glove you've got tucked under your mattress, this is it!
CLICK THE IMAGE FOR THE FACEBOOK EVENT
Carnivale of the Bizarre
@ Hell's Kitchen
80 S. 9th Street
Minneapolis
9pm / Free
With a name like Hell's Kitchen, you'll be "damned" to find a more creeptastic venue for your Halloween folly. The deliciously dungeon-esque underground lair pulls out all the stops for your terrification with Dr. Tinkerpaw and the Pandamonium Monster & Freak Show, video projections, DJs Sharin Biz and Loveless Aphrodite, Recovery performing mutated 80s anthems, a costume contest and more. Not to mention, a ghouls gotta eat -- whether it be brains or an order of barbecued pork nachos.
CLICK THE IMAGE FOR THE HELLS KITCHEN SITE
Tri-Polar
@ Secret Location
30 mins outside the TC
9pm to ? / $12 pre-sale, $15 door, $18 no costume
Let's just say if you dressed up as a raver this Halloween, you'll probably be paying the $18 door charge. If you're looking to keep your Halloween raging until dawn, however, you've definitely come to the right after party. A crazy lineup of over 20 DJs in multiple rooms of this secret venue will keep you dancing into the wee hours, and if we know the cats at UnCensoredUs, we know it will be one hell of a party. Click the link below for all the deetz, minus, of course, the location, which will be divulged day-of.
CLICK THE IMAGE FOR MORE INFO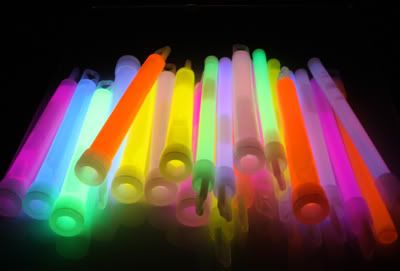 ADDITIONAL MUSIC EVENTS ON HALLOWEEN
Lursurfer, Zebulon Pike, Buildings @
The Uptown Bar
Luther the Devil, Gay Witch Abortion @
331 Club
Mystery Palace, The Blind Shake, Brutal Becomings @
501
Sims, Kristoff Krane, Mel Gibson & The Pants @
Sauce
Book of Right On, Red Pens, Lady Hard-On @
Turf Club
Detrioration, Gutstump, Meth Tooth @
Big V's
Zombie Season, The Funeral & The Twilight @
Kitty Cat
Cocaine @
The 400 Bar
E.L.nO., Night in the Box, DJ Mary Lucia @
Lee's
Son of a Gun, Stellar Vector, She's in Film @
Terminal
Kent Burnside, Fuck Knights, Sleaze @
Palmer's
80s rock cover bands @
Triple Rock
HAUNTED HOUSES & TOURS
Real Haunted Tours of Mounds Theater
Not a manufactured haunted house event,
Mounds Theater
takes you on a tour their historical grounds at night fall for a bit of ghosthunting and possible apparition encounters.
6-10 pm, $20, 1029 Hudson Road, St. Paul
Soap Factory's Haunted Basement
Not for the faint at heart (there's both a waiver and a safe word involved!), the
Soap Factory's
artist-designed haunted basement experience is the Twin Cities' most well-known annual scare site. This year's "disorientation" theme features a chilling subterranean maze of assaulting odors, frightening apparatuses, ghoulish EVP records, and a blood curdling soundtrack.
Through Nov. 1st. 6-midnight, Mon.-Thurs. $15, Fri.-Sun. $20, 18+, 518 2nd St. SE, Minneapolis

Haunted Cave Tours
Presented by Luna Rossa and The Duck Soup Players, visit the candle lit maze of the
Joseph Wolf Brewery Caves
for ghostly tales from the spirits themselves.
Oct. 24th-31st. Fri.-Sun. 7:30-10:30, $13, 402 Main St. S., Stillwater, MN

Nightmare at Pinehaven
Pinehaven Farm's extravagant
Hallow-Scream Park
features a mile-long haunted hayride, a skull castle and talking ghost, fortune telling, concession stands, ghost storytelling
around bonfires, Site 66's haunted cornfield and a special appearance from the "Hills Have Eyes" star Michael Berryman.
Sun.-Thurs. 7-9 pm, Fri.-Sat. 7-11 pm, Adults $16.34 + tax, 10 & under $15.41 + tax, 28186 Kettle River Blvd, Wyoming, MN
Trail of Terror
More than 25 horrifying rooms,
Twin Cities' largest
heated indoor maze, 3D circus, Vampire Chamber, Phobia Frights, The Butcher House & Mindbender, haunted hayrides, bonfires, a comedic hypnotist, Club Scream dance party, a mechanical bull, karaoke and much more!
Adult $17.95, Child $12.95, 3525 145th St. W., Shakopee, MN
Screamtown
Featuring the
attractions
Rabid Alley, Klown House, Twin Cities' largerst corn maze, Terror in the Corn, the Hillbilly Motel, and Oak Blood's haunted Forest.
Oct. 23-24th & 29th-31st. 7-10 pm, $15, 7410 Highwy 212
Valleyscare
The spendiest of the haunted attractions, but perhaps the most elaborate,
Valleyscare
features Carnage at Crimson Isle and Hellside Farm outdoor mazes, Bloodcreek Cemetery scarezones, trick or treak trail for the kids, plus monsters, ghouls and other maniacal freaks on the loose
for that extra fright value all while enjoying the rides.
Fri. 7-midnight, Sat. noon-midnight, Sun. 6-midnight, Regular $38.99, Junior/Senior $17.99, Starlight admission $27.95
Zywiec's Berryland Farms' Haunting Experience
Featuring a 3D
haunted house experience
, haunted hayrides, a live performance from a half demon doll, a motion-simulated ride to the grave in a wooden casket, dance party with DJ Mr. Freaky, live music from The Retro Rockers, "low-scare" matinées for the kids.
Sun.-Thurs. Dusk to 10 pm, Fri.& Sat. Dusk to 11 pm, $18, 10900 Pt. Douglas Rd, Cottage Grove, MN
Wabasha Street Caves' Ghost and Graves Tour
A deluxe
motorcoach tour
through the caves featuring mad nurse, fortune teller and vampire tour guides, plus tales of historic murders, haunted sites and the history of a local St. Paul cemetery. F
ri. & Sat. 5:30, 8 and 10 pm. $22, 215 Wabasha St. S., St. Paul
Frightmares at Buck Hill
Featuring The Orchard Manor Dead and Breakfast, The Fright Factory, The Bellharm-Lovejoy Asylum, and Haunted Hollow
attractions
, plus live music sets, hayrides, a haunted house and bonfire action.
Through Oct. Wed.,Thurs. & Sun. 7-10 pm, Fri. & Sat. 7-Midnight,$15-20, 15400 Buck Hill Rd, Burnsville, MN
If you still need more information on Halloween, try Googling it, why dontcha?
l'etoile Halloween Guide contributing writers: Editor: Kate Iverson / Staff Writers: Juleana Enright, Lacey Pripc-Hedtke, Jahna Peloquin, Beth Hammarlund