ROCKIN' AUTUMN
Despite the freakish cold-snap we've been experiencing as of late, we here at l'étoile are still holding out hope for a bit more Fall color. Don your sweaters and capes and party like Winter is still months away -- we're in denial mode ourselves -- because this weekend is jam-packed with plenty of heat. From rockin' CD release shows to fashionable festivities and haunted art-basements, we see no reason why the denial cannot continue for a little while longer!
xo-l'étoile

THURSDAY OCTOBER 15TH
Third Thursday: Romantic Rendezvous
@ MIA
2400 Third Avenue South
Minneapolis
6-9 pm/ free admission
The MIA's Third Thursday's are a fabulously entertaining way to enjoy a diverse collection of art while sipping on cocktails, engaging in art-related activities and listening to hip local bands. This month's theme is "Romantic Rendezvous," and features a unique mingle-with-the-singles speed-dating affair. So, gussy up in your most dashing Fall attire, grab a specialty French kiss martini at the bar and get ready to be charming because there's no better time to find yourself a sexy cuddle partner for the winter months. Browse through beautiful jewelry creations by from designers Mod Margarette, Helen Wang and Laura Wolovitch, peep French art flicks from directors Man Ray, Duchamp and Leger, and impress the Alliance Francaise volunteers with your impeccable français -- all while enjoying the musical stylings of local Americana band, Romantica. Drinks are for sale; admission is free. Woo!
CLICK THE IMAGE FOR THE MIA SITE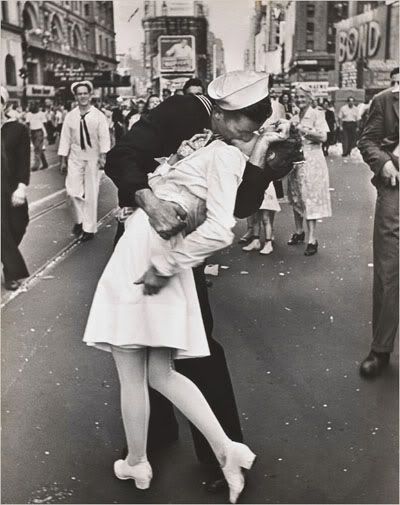 THURSDAY OCTOBER 15TH
Homodomestic/Conduit Gallery Opening
@
Conduit Gallery
1300 Quincy St. NE Suite 100
Minneapolis
6:30-9 pm/ free
Northeast's newest art spot, the Conduit Gallery, kicks off its season with a photographic series from recent RISD grad, Chad Houle. Through photographs and text, Houle's exhibit,
Homodomestic
, explores a topic that has been overlooked in mainstream media: the domestic gay couple. Using the most intimate of settings – the home – Houle presents the concept of "homo-domesticity," depicting the committed gay couple as a family unit. Join the artist for an opening reception tonight and take a spin through this brand spankin' new gallery! Exciting!
CLICK FOR THIS ART EVENT AND MORE AT MPLSART.COM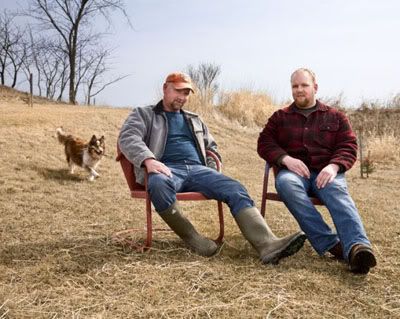 THURSDAY OCTOBER 15TH
Coming Out Day Mixer
@ Smitten Kitten
3010 Lyndale Ave S
Minneapolis
8pm-10pm / $5
In honor of Coming Out day, Smitten Kitten hosts an old-fashioned pansexual mixer, complete with coded nametags to signal who you're into. DJ Dr. Sleep spins, so grab a snack and turn this into a dance party. Shake those shelves full of dildos!
CLICK THE IMAGE FOR THE SMITTEN KITTEN SITE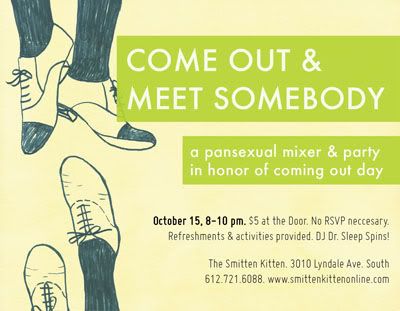 THURSDAY OCTOBER 15TH
Uptown Boutique Crawl
@ various locations
Minneapolis
6-9pm / Free
Take a stylish stroll through Uptown and swing by five of Uptown's hippest boutiques during this first-ever Uptown Boutique Crawl. Snag a complimentary cocktail and check out Atmosfere (1426 W. Lake St.), Covered (1201 Lagoon Ave.), Drama (1203 Lagoon Ave.), Ivy (1440 W. Lake St.) and VState (3001 Hennepin Ave. S.) for designer meet-and-greets, trunk shows, and a 15 percent off discount at the participating stores. Those who visit all five stores get a swag bag, while supplies last.
CLICK THE IMAGE FOR THE FACEBOOK INVITE
Image from Drama Boutique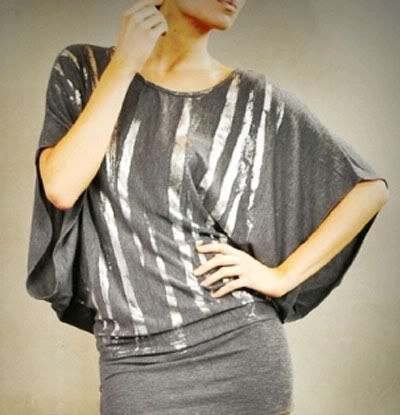 THURSDAY OCTOBER 15TH
Project Runway Weekly Screenings
@ Hell's Kitchen
80 S. 9th Street
Downtown Minneapolis
8-9pm Fashion Trivia with l'étoile
9-10pm Project Runway
10-11pm Models of the Runway
Come cheer on our hometown boy Christopher every Thursday at Hell's Kitchen -- Ra'mon has been auf'ed but we've got high hopes for Straub! Put on something snazzy and join us for weekly screenings of Project Runway, sponsored by l'étoile and Metro Mag! Show up early from 6-8pm for live music, drink specials and the full dinner menu, then play fashion trivia with Kate and Beth from l'étoile, who will be giving away sweet prizes including a $50 bar tab every week. From 9-11pm settle in and watch back to back eps of
Project Runway
and spin off show,
Models of the Runway
, live on Hell's big screen. Enjoy drink specials, fashionable revelry, and damn good food at Hell's Kitchen every Thursday with us! Parking: $5 parking in adjacent lot, or metered street parking.
Bonus:
Christopher and/or Ra'mon will be joining us from time to time!
CLICK THE IMAGE FOR THE FACEBOOK EVENT
FRIDAY ART PICK: IRVING PENN
Irving Penn may not be the newest of news, but his death on October 7th makes us realize how good the fashion and art world had it with a photographer like this behind the lens. In his ninety-plus years, Penn photographed the most esteemed artists and writers of his era. His relationship with
Vogue
lasted through a mélange of styles and trends, and his simplicity and elegance was always present in each image. Penn's career is a legacy, one we're lucky to have lasting, classic images as a result of.
CLICK THE IMAGE TO READ THE NY TIMES OBIT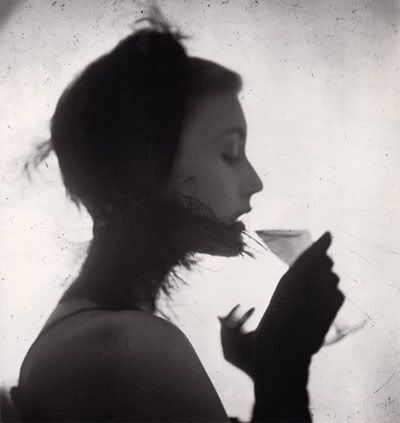 FRIDAY OCTOBER 16TH
Scary Shorts Film Festival
@ Rogue Buddha Gallery
357 13th Ave NE
Minneapolis
8pm / Free
If you want to see a scary movie, but can't decide on one, why not see a whole bunch of shorts? If one doesn't frighten you, the next one will. All films are under 20 minutes and are Minnesota-made. Pair this night of fun with Ivan Fortushniak's odd, moody paintings and you've got spookiness in several forms. The scariest part? The flier design below!
CLICK THE IMAGE FOR THE ROGUE BUDDHA SITE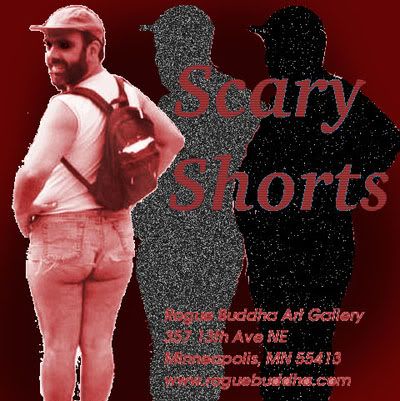 FRIDAY OCTOBER 16TH
Sister Spit
@ Bedlam Theatre
1501 S 6th St.
Minneapolis
6pm / $10
Haven't been getting your queer/trans/feminist fill of performances, art, and literary readings lately? Let The next generation of zinesters, slam poets and novelists show you how it's done. Inspired by the Sister Spit Ramblin' Roadshow of the '90s, these ladies packed into a van and are traveling the country to bring you loads of wild entertainment. Sister Spit co-founder Michelle Tea, novelist Rhiannon Argo, and comic artist Ariel Schrag are a few of the undiscovered gems this tour has in store.
CLICK THE IMAGE FOR THE BEDLAM SITE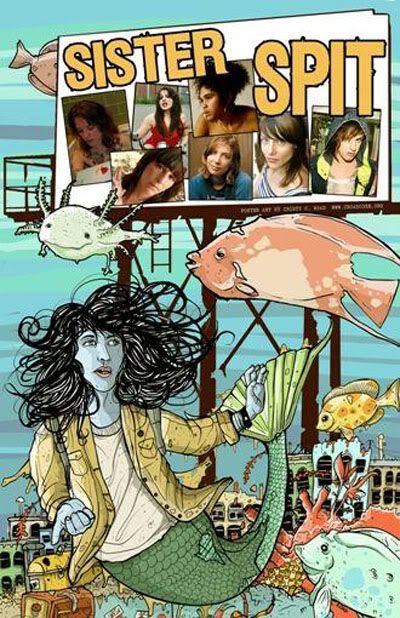 FRIDAY OCTOBER 16TH
Rock & Roll Circus
@ Music Box Theater
1411 Nicollet Ave.
Minneapolis
7 pm-12 am/ 21+/ $10
Attention Barnum & Bailey: prepare to resign your ringleader tuxes, because tonight "the greatest show on earth" goes rock 'n' roll, with plenty of mature entertainment à la mode. Hosted by circus Ringleader Ian Rans (Drinking with Ian) and sponsored by Vita.mn and Summit, the bash features L.A.'s theatrical experimental indie rockers, Saint Motel, the darkly baroque, Bella Koshka, and local pysch-shoegazers, First Communion Afterparty, plus, the dancing ladies of local cabaret troupe, Lili's Burlesque. A rockin' dance party will ensue with help from DJ Dig Dug, along with performances by Ned the Magnificent, hula hoopers, a real live marching band and flying stuntmen! Don your best carnival attire because Ellen Dahl and the Minneapoline will be snapping your stylish mugs in the Vita.mn photobooth all night long. Long live the rock 'n roll/Circus hybrid!
CLICK THE IMAGE FOR THE FACEBOOK EVENT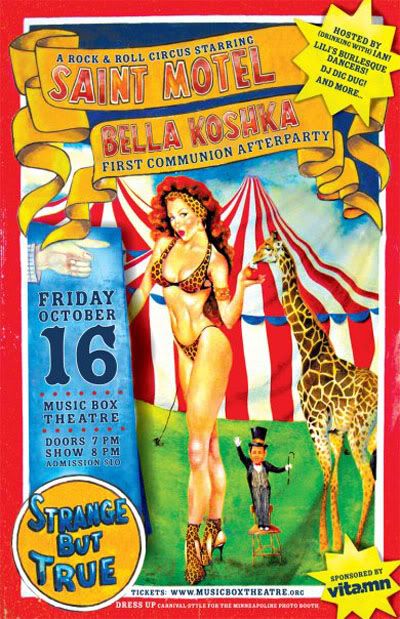 FRIDAY OCTOBER 16TH (THROUGH NOVEMBER 1ST)
The Soap Factory's Haunted Basement
@ Soap Factory
518 2nd Street SE
Minneapolis
6pm-Midnight / 18+ / Mon-Thurs $15, Fri-Sun $20
We're 100% sure this is the coolest/scariest haunted what-have-you in the history of all haunted what-have-yous. Now in its third year, the Soap Factory's Haunted Basement is officially our favorite thing about the month of October. An artist-created labyrinth of terror awaits you in one of the downright spookiest old warehouses in Minneapolis! The famed art gallery's dank, pitch-black basement -- which is scary even during the HB off-season -- will definitely have you screaming, laughing, and saying "WTF" more than once. We don't want to divulge the many terrifying secrets that the basement holds, but we will say this: it's definitely not for the faint of heart. Reports of people freaking out and having to be escorted to the surface AND two accounts of pants-peeing have already been documented as of Wednesday's preview. The creativity and originality of this event is unparalleled; from visuals to sounds to smells (yes, there are scientifically manufactured smells) to extremely disturbing and surprising characters, the Haunted Basement is one part art installation and one part horrific funhouse. Tickets are available online and are going fast, if not sold out already
HERE
. Limited tix will be available at the door each night, but you'll need to show up well before 6pm to jump in line -- each year hundreds are turned away -- so make sure you're not one of them! You'll be required to sign a waiver at the door as well (like we said, not for the faint of heart). Our professional advice? Wear a diaper.
Co-sponsored by l'étoile magazine!
CLICK THE IMAGE FOR TICKETS AND MORE INFO
FRIDAY OCTOBER 16TH
D.E.M.O. Benefit
@ St. Paul Eagles Club
287 Maria Ave
St. Paul
7pm / 18+ / Free ($5 Donation encouraged)
The Diverse Emerging Music Organization (DEMO) is sponsoring a ginormous musical event at the St. Paul Eagles Club on Friday night to raise money to continue their support of cutting edge, diverse artists -- and bringing you, the music lover, music that falls outside the mainstream. The benefit will feature musicians Philip Westfall & the Peaceful Warriors, Patches & Gretchen, The Middle States, The Red Flags, and Cuddlefish Squid, as well as game tournaments and buck-fifty hot dogs! Come check out the fresh, local talent DEMO supports tonight!
CLICK THE IMAGE FOR THE DEMO SITE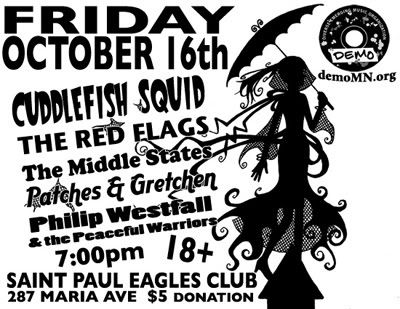 FRIDAY OCTOBER 16TH
Hometown Heros feat. SHOCK
@ Vs. Social Standard
1221 W. Lake Street #102
Minneapolis
7pm-10pm / Free
Vs. has come up with a pretty cool concept! The "Hometown Heros" series is a monthly, rotating installation by local artists in partnership with the hip Uptown shop. Each event features a mini-gallery showing as well as a small, limited run of t-shirts designed by the artist and available only at Vs. while supplies last. Poster prints will also be on-hand. The kick off of this series is a doozy too; locally-based, nationally renowned graf artist, Shock, will be the first artist to show. Free dranks and tunes from DJs Espada and So Gold round things out.
BONUS:
After party at Wants Vs. Needs at Clubhouse Jager!
CLICK THE IMAGE FOR THE FACEBOOK EVENT
FRIDAY OCTOBER 16TH

Feelin' Minnesota Premiere
@ Uptown Theatre
2906 Hennepin Ave
Uptown Mpls
9:30 pm/ all ages / free
Not to be confused with the Keanu Reeves/ Cameron Diaz love-gone-wrong flick of a similar name, this skate film from directors Benjii Meyer and Darin Limvere showcases the DIY, underground skateboarding community in Minnesota. With reels of stunning footwork and gorgeously composed frames of skateboarders at their best, the film is a must-see for the die-hard, MN representing skater and has even drew attention from such skating zines as Thrasher and The Skateboard Mag. After the film, head over to the Suburban World Theatre for a 21+ afterparty, sponsored by Red Bull!
Red Bull "Feelin' MN" from benjimeyer on Vimeo.
COOL LINK: VIDEO LOOKBOOKS
With the tech-savviness of today, the way creative work is presented has evolved into a much more dynamic beast. Be it fashion, art, music or what-have-you, the power of the internet and plug 'n play technology has helped artists put their work out there in some very cool, innovative ways. One that we especially love: fashion lookbook videos. Designers showing their collections in stylized video format not only helps capture the mood of the collection in question, but it's just downright inspiring to see. Check out this Vimeo channel for a number of great video lookbooks. Sounds like a fun project for local designers to work on over the winter for their spring collections, no?

Click HERE for the Fashion Lookbook channel on vimeo.
COMPLEXGEOMETRIES aw09 from JASON LAST on Vimeo.
SATURDAY OCTOBER 17TH
FiveTwoSix Benefit Fashion Show
@FiveTwoSix Salon Spa Gallery
526 Selby Avenue
St. Paul
6:30pm doors, fashion show at 7pm / $35
We say there's nothing more stylish than giving back - especially when local fashion is involved! Happening salon spa and gallery FiveTwoSix hosts this swanky soiree to benefit the Children's Hospital Association. Take in a fashion show featuring the latest from Karma, Picky Girl, Kjurek Couture, Lucky Lola, MHD Couture, and HeartStrands jewelry (styled by FiveTwoSix salon stylists, of course) and a silent auction while satisfying your taste buds with wine, hors d'oeuvres and sweets. (RSVP required at 763-434-4467.)
CLICK THE IMAGE FOR THE 526 SITE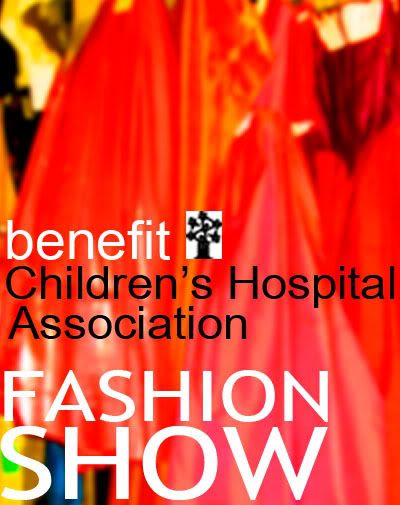 SATURDAY OCTOBER 17TH
Menergy
@ Clubhouse Jager
923 Washington Ave N
Minneapolis
Everybody needs to dance, and tonight is the night to meet your monthly quota. Menergy promises an extra blast of testosterone in honor of DJ Bankie Phones, who is leaving town. He'll commemorate the event by spinning one last time on Club Jager's holy ground. As usual, this is bound to be an epic evening full of chest hair, muscles and machismo, so get down there and watch the magic unfold, preferably in a loin cloth.
SATURDAY OCTOBER 17TH
Task Party
@ West Bank Social Center
501 Cedar Ave
Minneapolis
8pm-12am / free
Tonight's "Task Party" is as literal as they come. You'll be acting out other people's requests, written down on little pieces of paper, plucked from a pile of creative tasks. Who knows what mayhem will ensue when the city's collective imagination descends on this action-packed participatory evening? The regular socializing, sipping, and sassy good times you've come to know and love at the WBSC will also be in full effect! RSVP on Facebook via the link below.
CLICK THE IMAGE FOR THE FACEBOOK EVENT
SATURDAY OCTOBER 17TH
Mercurial Rage CD Release Party
@ Sauce
3005 Lyndale Ave. S.
Minneapolis
9pm / 21+ / $5
Epic Minneapolis indie popsters, Mercurial Rage, release yet another hot, hot album tonight with a little help from their friends at Susstones. Mercurial's new album,
Cascade
, is a feisty disc full of snappy anthems about girls and good times, and who can argue with that? Certainly not us. With charismatic swagger, bold stage presence and shitloads of attitude, Mercurial Rage guarantees enough ass-shaking goodness to get you through the weekend. We highly recommend scooting down to Sauce Soundbar tonight, as Merc Rage boys and some of our other locals faves including Blue Sky Blackout, StrangeLights, The Mood Swings, and Two Harbors round out a magnificent bill of good old fashioned rock and/or roll.
CLICK THE IMAGE FOR THE MERCURIAL RAGE MYSPACE
Image by Emily Utne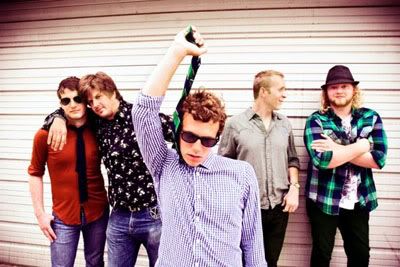 SUNDAY MUSIC PICK: KAREN O AND THE KIDS
As if Spike Jonez's sentimental screen adaption of children's book
Where the Wild Things Are
wasn't affecting enough – we tear up every time we see a trailer – the soundtrack proves to be equally as emotive. The cinematic masterpiece premieres this Friday (Thursday at midnight to be exact) and features a score put together by some of the most talented indie rockstars in the music biz. Including a heavy helping hand from Yeah Yeah Yeahs' front-woman, Karen O who wrote, produced and recorded the soundtrack, the compilation also borrows vocals from Karen's fellow Yeah Yeah Yeahs members, Deerhunter's Bradford Cox, The Dead Weather members, Jack Lawrence and Dean Fertita, Aaron Hemphill of the Liars, and an untrained children's choir. Chosen for her childlike nature, Karen O's own wild thing demeanor is the perfect face to put to a soundtrack that "sonically captures the film, be it during a tender moment or a wild rumpus." If you don't choke up to Karen O and the Kid's "All is Love," we're not sure we want to know you, heartless bastard.
SUNDAY OCTOBER 18TH
Riot Act Reading Series
@ Turf Club
1601 University Ave. W.
Saint Paul
7-9pm / 18+/ Free
St. Paul's unruly reading series, Riot Act, is back for another unconventional journey into the bowels of modern literature. Grab a drink and embrace your inner anarchistic bookworm with local writers Ruth Kohtz, Ryan Pfeiffer (aka Captain Yonder), Paul D. Dickinson (the O.G. Punk Poet of Mpls), and Laura Brandenburg.
CLICK THE IMAGE FOR THE FACEBOOK EVENT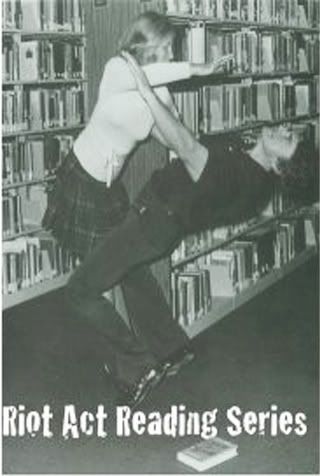 TUESDAY OCTOBER 20TH
JagerCon: Sci-Fi Tuesdays
@ Clubhouse Jager
923 Washington Avenue N.
Minneapolis
Every Tuesday
10 p.m. / 21+ / Free
Join hosts Kate Iverson (l'étoile magazine, Secrets of the City) and Beth Hammarlund (l'étoile magazine, A Tiny Machine) every Tuesday Night for JagerCon! JagerCon is a weekly sci-fi party featuring screenings of classic nerdy movies and television shows -- topped off with 2-4-1 cocktails all night served by Star Captain Paul!
Mingle with like-minded sci-fi geeks, discuss D&D strategies, and use that Captain Picard impression you've been perfecting to pick up chicks at the bar. Snort-laugh the night away while bragging about your MMORPG addiction and enjoy a cozy, nerd-friendly environment.
Upcoming Events:
NEW SCHEDULE ANNOUNCED!
Oct 20th: Communion
Oct 27th: Jason X: Jason in Outerspace
Nov 3rd: Westworld
Nov 10th: Cocoon
Nov 17th: Class of Nuke Em' High
Nov 24th: Legend
This week's flick is COMMUNION
GUEST BLOGGER: A TINY MACHINE
Beth Hammarlund (death) rattles off (with a somewhat obsessive/compulsive intensity) a bevy of her favorite zombie flicks (and one book recommendation).
CLICK THE IMAGE TO READ THE ARTICLE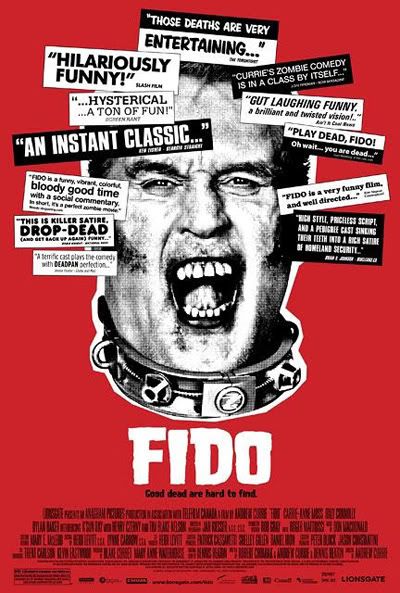 GUEST BLOGGER: LE PETIT CONNAISSEUR
Jahna Peloquin alerts us to a new local designer: Tendercuts by Emily Bryngelson!
CLICK THE IMAGE TO READ THE ARTICLE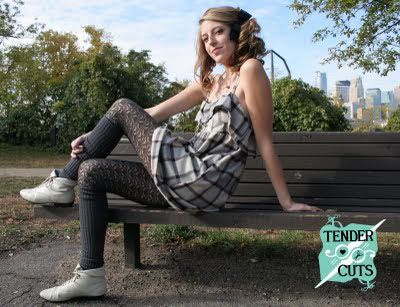 L'ETOILE NEWSWIRE
Save the Date: L'ETOILE-O-WEEN
Join us on Saturday, October 31st for ghoulish treats and tricks at this year's
Halloween Bash at Clubhouse Jager: L'ETOILE-O-WEEN! Featuring sexy/spooky projected visuals on four projectors from Clement Shimizu and Demietoile, intoxicating potions, a costume contest, hot tunes from Deux ex Machina and Demietoile, and much more! 10pm, Halloween Night, 21+, $5 at the door.
Click HERE for the Facebook event!
Editor in Chief: Kate Iverson
Contributing Writers: Lacey Prpic Hedtke, Robyn Lewis, Juleana Enright, Rob Callahan, Kate Iverson, Beth Hammarlund, Jahna Peloquin