KISSING SEASON
Happy kissing season, gentle readers! We here at l'étoile hope your hearts are happy and your minds are dirty, because this weekend is shaping up to be one big hedonistic love fest. The Twin Cities goes above and beyond the standard flowers/candy/dinner concept with a number of outrageous events sure to tantalize both lovers and lonely hearts. Get frisky with sugar coated secret parties, rock shows, and art exhibits -- all designed with amoré in mind. Happy smooching!
xoxoxo-l'étoile
THURSDAY FEBRUARY 12TH
Open Sky
@
Skyscape Condos
929 Portland Ave. S
Minneapolis
6-8pm / Free
Anyone who's ever spent any amount of time debating where to hang a piece of art understands the role space occupies in relation to said art, whether it be symbolic or ironic, void or vast. Tonight's art exhibit hosted by realtor David Abele, is a celebration of this combination of art and space with a expansive display of art work laid out in the penthouse level of Skyscape condos. Curated by Emma Berg, Sean Smuda, Terrence Payne and John Alspach, the event features the artwork of 24 unique local artists including l'etoile faves such as Rudy Fig, Scott Seekins and Issac Arvold, plus a performance by Otto Ramsted and Olive Bierenga of the Body/Cartography Project. Join the artists, experience diversified work and enjoy a beautiful view of the city.
CLICK FOR THIS ART EVENT AND MORE AT MPLSART.COM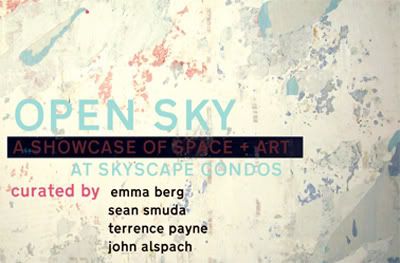 THURSDAY FEBRUARY 12TH
Life: A Journey Through Time
@ Bell Museum of Natural History
10 Church St. SE
Minneapolis
7pm-9pm / $10
Happy birthday Charles Darwin! Thanks for that crazy evolution idea! It's too bad he didn't figure out how to evolve into a time-traveler, because this birthday party would blow his mind. Tonight U of M biologists will give quickie presentations using Frans Lantings' acclaimed photographs as a basis. Get smart in no time! Tonight's special event kicks off the exhibit,
Life: A Journey Through Time
, which features a collection of 62 awe-inspiring color photos paired with specimens from the Bell Museum's collection. Exhibit runs through April 10th.
CLICK THE IMAGE FOR THE BELL SITE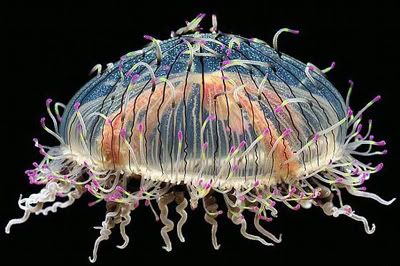 FRIDAY FEBRUARY 13TH
DemiEtoile, Dearling Physique, & Ghostband
@ Club Jager
923 Washington Ave N.
Minneapolis
9pm / 21+/ Free
If one of the artists at tonight's show looks familiar to regular Jager goers, it's because he's most commonly known behind the bar, slinging drinks and entertaining the masses. The music of live laptop-rock extraordinaire, Paul Teravskis a.k.a. DemiEtoile, is a nod to the experimental dark wave bands before him (think early Human League). His sound is poetically composed, creating a unique brand of noisecore with emotive undertones. Tonight's event also includes performances by talented locals Dearling Physique and Ghostband.
CLICK THE IMAGE FOR THE JAGER MYSPACE
FRIDAY FEBRUARY 13TH
Live Forever: Elizabeth Peyton
@
Walker Art Center
1750 Hennepin Ave
Minneapolis
9pm–Midnight/ $35 ($25 Walker Members)
It is a common fantasy of famous creative types to be forever young, immortalized by a lifestyle based in the theory of "live fast, die young, leave a beautiful corpse." Tonight's Walker After Party premieres the exhibit
Live Forever: Elizabeth Peyton
, and offers a glimpse into pop culture history, beginning with Peyton's earlier works capturing such tragic heroes as Sid Vicious and Kurt Cobain, as well as numerous other well-known contemporary artists, historical figures, personal friends and more. In a style inspired by David Hockney and Andy Warhol, Peyton's portraits take an in-depth and intimate look into the lives of modern day icons. Tonight, enjoy complimentary appetizers, a cash bar, karaoke, music by DJ Jake Rudh, and a screening of the film
Kurt Cobain: About a Son
. And as always, capture the elements of your fabulous evening via the Party People Picture booth. It might not be playing at the actual event, but we guarantee that Alphaville's "Forever Young" will be stuck in the heads of at least half of those in attendance.
CLICK FOR THIS ART EVENT AND MORE AT MPLSART.COM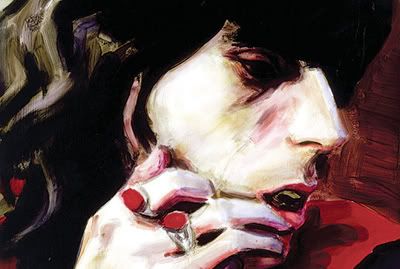 FRIDAY FEBRUARY 13TH
My Bloody Valentine Party
@ Stasius Place
2600 University Ave NE
Minneapolis
9pm / 21+ / $5
Ah, here it is again, Valentine's Day (well, technically V-Day Eve). The time of year dreaded by most and anticipated by few. The time when pink, red and heart shaped objects attack you from every possible direction. Instead of sitting at home and self-mutilating, join the rest of the dispossessed, depressed, and unrequited lonely hearts at Stasiu's for the My Bloody Valentine party. The music is better suited for blissed-out nodding than sexed-up dancing, but if you're looking for an anti-Valentine's Day soundtrack, this is certainly it. With Strangelights, Luke's Angels, Grey Skies, Basement Apartment, and DJ Christian Fritz & Sara Jean. The possibility of My Blood Valentine covers and mid-nineties nostalgia abound.
CLICK THE IMAGE FOR THE STASIU'S SITE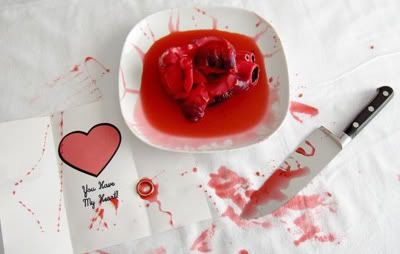 FRIDAY FEBRUARY 13TH
13 Bands Benefit
@ Hexagon Bar
2600 27th Ave. S
Minneapolis
9pm / 21+ / Free
On Friday the 13th the Hex will be rocking 13 bands on two stages, each doing 13 minute sets to raise bucks for a much needed new sound system. Featuring the musical stylings of (deep breath) Speeds the Name, Power of Two, Plastic Chord, Marvelle, Economy Team, Zyclon B Cool, The Nina and the Pinta, Nightinghales, Young Brides, Falcon Arrow, Kill To Kill, The Has been, Military Special, and a special guest. Whew! P.S. - We know who it is, we just can't tell you!
CLICK THE IMAGE FOR THE HEX SITE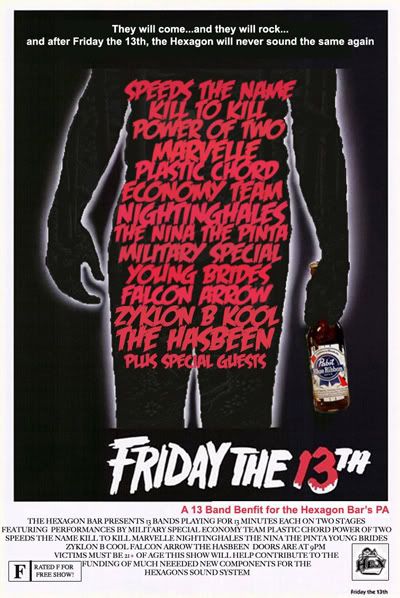 FRIDAY THE 13TH
Street Sounds V: Sea Sounds
@ First Ave VIP Room
701 1st Ave N
Minneapolis
10pm / $5 / 18+
If you're going to call your event "the most romantic Valentine disco dance party ever," you need to be able to back it up. Luckily, those sweet Burlesque Design boys know how to get our hopes up -- and actually deliver. Tonight's dance party promises all vinyl, all night! Featuring Attitude City, Mike the 2600 King and Winship: Four boys we totally wish were our valentines!
Sponsored by l'étoile magazine of course!
CLICK THE IMAGE FOR THE BURLESQUE SITE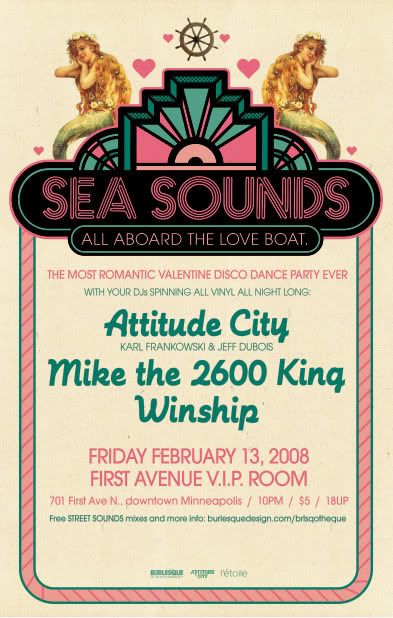 COOL LINK: SECRETS OF THE SWEETHEARTS
Ok, so we totally didn't have time to do our annual Valentine's Day "Guide to Getting Lucky" this time around. We've been busy bees! You can, however, still get a lil' dose of what you've come to expect out of us from our kissing cousins over at
Secrets of the City
. l'etoile editor Kate Iverson (who also happens to be The Rake/Secrets of the City's a+e editor) has whipped together a signature guide full of ideas on traditional and non-traditional gift-giving, romancing, crafting, cooking, and more.
CLICK THE IMAGE FOR THE SECRETS GUIDE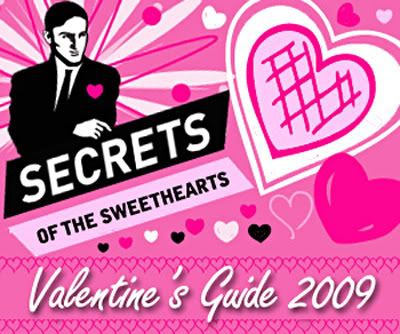 SATURDAY FEBRUARY 14TH
Fingers Crossed
@
Umber Studios
3109 East 42nd Street
Minneapolis
8pm / Free
Last year around this time, Umber Studios exhibited work by a couple of lovelorn local boys that
stirred up quite a controversy
. As if to flip the bird to the male persuasion in 2009, four feisty romantics put their sparkly, girlish spin on art with heart, adding a devilish dose of "evil, love, hate, curiosity, hunger, insanity, wounds, brilliance, quirks, whys, becauses, thoughts and middle fingers." The exhibit includes work by local lovelies DC Ice, Rebecca Sullivan, Jessica Helvey, and Torey Bonar -- four arty gals with snazz and pizzazz. Nibble chocolates, sip red wine, and cross your fingers -- the night is young, the art is good and cupid is loose!
CLICK FOR THIS ART EVENT AND MORE AT MPLSART.COM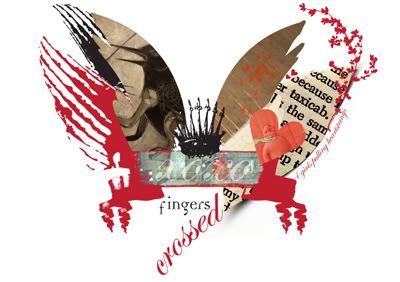 SATURDAY FEBRUARY 14TH
Rejected Valentine's Party
@ Altered Esthetics
1224 Quincy Street NE
Northeast Minneapolis
7pm-9pm / Free
In conjunction with their Rejected Art exhibit, on display now, Altered Esthetics sticks out its tongue at the happy lovers of the world. Head to this Northeast art gallery for an artists' discussion on the current exhibit, then stick around to tear up photographs, curse names, and maybe even flirt it up with other rejects of love. Indulging in a bit of wine and angst is just the thing to lift your spirits, say we!
CLICK THE IMAGE FOR THE ALTERED ESTHETICS SITE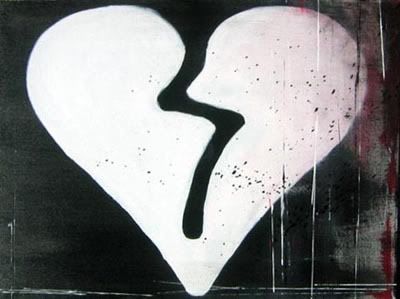 SATURDAY FEBRUARY 14TH
VD09
@ Northrup King Building
1500 Jackson Street NE
Northeast Minneapolis
7pm-Midnight / Free
Lame Valentine's Days getting you down? Are you tired of V-Day parties cheesier than a Lifetime movie? Well, we can't promise that tonight's bash won't be cheesy, but at least it will be the kind of cheesy lovefest that all the cool people are at. Blending together multimedia art and a V-Day theme with an unconventional twist, tonight's TwoBetties hosted soiree is the ultimate heart-day art party. DJ Danny Sigelman plays the musical love doctor with hits from Barry White and other musicians sure to lull you into that loving feeling. Indulge your date with chocolates and wine while experiencing awesome visual art and video madness. Don't forget to sign up for the raffle for your chance to win lovable prizes provided by screen-print sweeties Squad 19. Dress sexy, get down, throw caution to the wind and let VD09 take the guess work out of seducing that someone special.
CLICK THE IMAGE FOR THE VD09 SITE
Photo by Mircea Grelus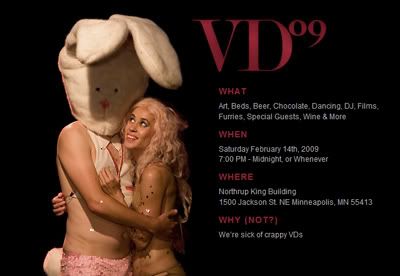 SATURDAY FEBRUARY 14TH
Dre Day VII: Minnesota Love
@ Varsity Theater
1308 4th St SE
Minneapolis
9pm / 18+ / $10
Yeah, hell yeah. Know what I'm sayin? It's Dre Day, and everybody's celebrating! The sassy kids of Burlesque are back with the seventh installment of the biggest and best hip-hop bash of the year -- a birthday party for one of the most prolific, versatile, and influential figures in the rap game, Dr. Dre. Gather yo bitches and hoes, crack a 40 in the name of Dre, and get down with the likes of Muja Messiah, Trama, DJ Jimmy 2 Times, and DJ Espada. Cause Minnesota knows how to party.
SATURDAY FEBRUARY 14TH
Rifted Heart
@ MindriftMN
Secret Location
St. Peazy
8pm-5am / $16
There's nothing like 4 stages of unabashed electronic musical gems to warm the chambers of your heart this Valentine's Day. For one night only The Rift - a collaboration between Bakpak and UncensoredUS - host an epic dance night jam packed with variety and spice, all the ingredients for a memorable V-Day. If you don't have a Valentine, not to worry. Let the dance floor be your lover and shower it with all the attention it deserves. Tonight's all night bash features a massive, energetic line-up from the best in drum n' bass, dark psy, techno, breakcore and more. No drugs, no trouble, just fun and all the love you can muster.
CLICK BELOW FOR DIRECTIONS TO THE LOCATION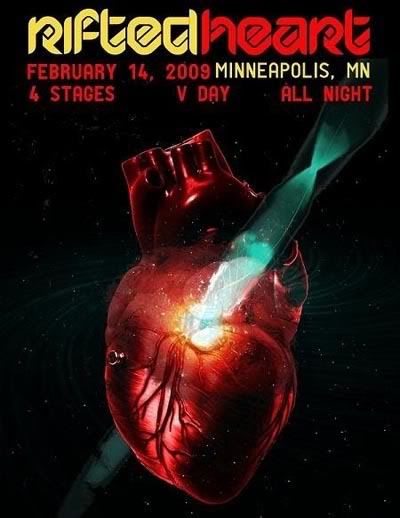 SATURDAY FEBRUARY 14TH
F*ck You I Love Me
@ Sound Gallery
414 3rd Ave N
Minneapolis
8pm / 21+ / $5-$12
Come one, come all to a V-Day carnival, with The Battle Royale, Koo Koo Kanga Roo (best. name. ever.) and DJ Loveless Aphrodite. Most importantly, there will be a kissing booth where you can suck face with hot strangers in exchange for cash. Fish for condoms, in case your night goes right, and search for romance while watching bad movies. It's a benefit for Lamb Lays With Lion, an experimental theater company, which is as good a reason as any to fork over some cash to smooch a random.
CLICK THE IMAGE FOR MORE INFO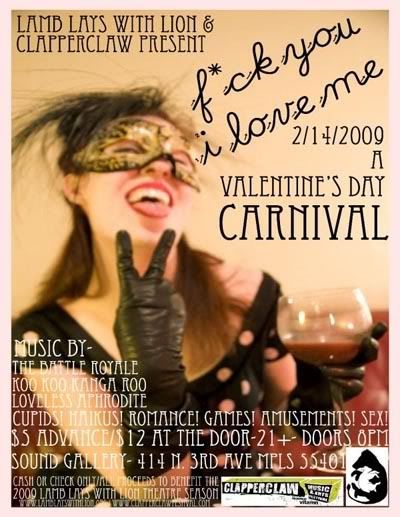 SATURDAY FEBRUARY 14TH
Hotpants Valentine's Souled Out Show
@ Clubhouse Jager
923 N. Washington
Minneapolis
10pm / Free
Thank you Mama for making me hot pants! Ok, face it: there is absolutely nothing more danceable than soul and funk music. Nothing. God made it that way. Do the Boogaloo through the room to thank DJ Nick Soule for coming all the way from the Windy City Soul Club to spin for us. These expert 45 spinners have quite the evening planned for you, so go attack that dance floor!
CLICK THE IMAGE FOR THE FACEBOOK EVENT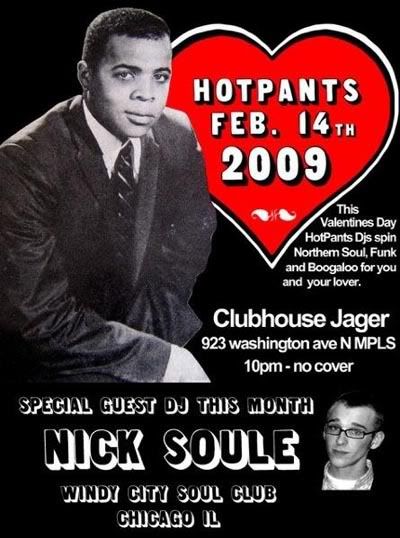 SATURDAY FEBRUARY 14TH
Bleeding Hearts Romp
@ Bedlam Theatre
1501 S 6th St.
Minneapolis
10pm / $7
The scorned and loveless will come out in droves to make out in the unisex bathrooms tonight at the Bedlam. Actually, we think the Bedlam is one of the more romantic spaces in the Cites, so maybe love will be found in between cabaret performances.
CLICK THE IMAGE FOR THE BEDLAM SITE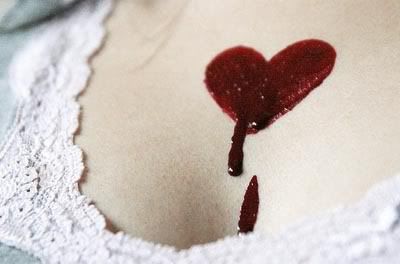 SATURDAY FEBRUARY 14TH
Antony and the Johnsons
@ Pantages Theatre
710 Hennepin Ave
Minneapolis
8pm / $31
How can there possibly be tickets still available? Hurry! Get yours! Bringing your sweetheart to this show WILL make them fall in love with you. How can one man's voice be so beautiful? The most hopeful songs sung by the most beautiful of Brits. Antony leaves us speechless. We love, love, love this magical musician.
CLICK THE IMAGE FOR THE ANTONY & THE JOHNSONS SITE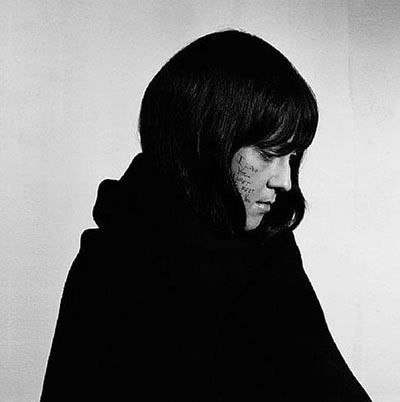 SATURDAY FEBRUARY 14TH
MK3 Valentine's Dinner
@ Seward Café
2129 E Franklin Ave
Minneapolis
6:30pm / $5-15 suggested donation
Nothing is more romantic than dining in honor of accused felons. More reverberations from the RNC are at least prompting fun events -- this time it's folks from Milwaukee that need some cash for legal costs. A delicious dinner will be served while that upright piano that lurks about will finally have a use. A Paper Cup Band plays in the parlor. (There's not really a parlor, but it's going to feel that fancy tonight.)
CLICK THE IMAGE FOR THE FACEBOOK EVENT
SATURDAY FEBRUARY 14TH
Boyz in the Hood
@ Uptown Theater
2906 Hennepin Ave
Minneapolis
Midnight / $9
Oh, the early '90s. Cutting school, doing drugs, riding in stolen cars...maybe it was the same all over for everyone. This film's a classic, starring Ice Cube, a young Cuba Gooding Jr. and Angela Bassett. It made director John Singleton the first African-American to be nominated for an Academy Award. A story of three South Central friends and the cycle they're stuck in. We would quote from the movie here, but there are too many cuss words, and this is a classy blog.
WIN BIG:
E-mail kate@letoilemagazine.com with "UPTOWN" in the subject line, along with your full name to be entered to win a pair of tickets to this screening! Winners will be notified by e-mail by Friday, and names will be on a list at the box office for Saturday's midnight screening.
CLICK THE IMAGE FOR THE UPTOWN SITE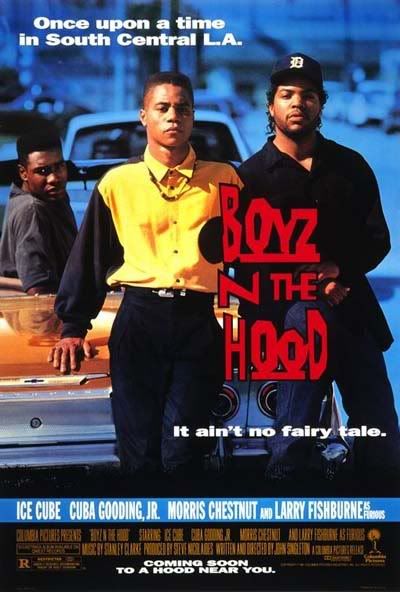 SUNDAY MUSIC PICK: ASOBI SEKSU
What's a Valentine's Day weekend without a few impromptu hook ups? With a name roughly translated in Japanese to "casual sex," is it any wonder why the indie band, Asobi Seksu, is gaining popularity. Although they may look and sound cute and innocent, these New York bred shoegazing pop darlings are probably more seeing more action than any of us can even imagine. Singer Yuki Chikudate's high-pitched, songbird vocals and Japanese/English mixed lyrics are often reminiscent of the beautifully indecipherable phonetics of Cocteau Twins' Elizabeth Fraser. Although their first album debuted back in 2004, the dreamy, J-pop incorporated sound of Asobi Seksu was recently featured on television series The
L Word's
season 5 soundtrack, proving their style is still relevant and seamlessly catchy.
Bonus:
Be hypnotized by the poppy mayhem as Asobi Seksu plays live at the 7th St. Entry March 7th.
CLICK THE IMAGE FOR THE ASOBI SEKSU MYSPACE
SUNDAY FEBRUARY 15TH
Gastro Non Grata
@ Triple Rock Social Club
629 Cedar Ave
Minneapolis
6pm / Free
Let's cover all the food groups tonight: rock and roll, cupcakes, meat, and beer. Yep, that's it! We love this idea! Snack on treats from the Modern Café, listen to the likes of Gospel Gossip, suck on a Duvel beer, and reward yourself when you win the meat raffle with one (or two) of Miel y Leche's much-lusted-after cupcakes. Plus, it's free. FREE! Bring your Valentine's day hanger-ons with you and make it a two-day date!
CLICK THE IMAGE FOR THE TRIPLE ROCK SITE
MONDAY FEBRUARY 16TH
Snowball War!!!
@ Powderhorn Park
Minneapolis
Noon-4pm / $5 donation
If there's still any snow by Monday, prepare your arm for a killer snowball war/Capture the Flag game. It's not all just for giggles though, this is serious biznass. Not only is it a fundraiser surrounding RNC arrests (What cool thing isn't these days?), but you can win prizes from Tatters, Arise Bookstore, and the Black Dog Cafe, whilst traipsing through the park, snatching their flags and defeating the other team. Game on!
CLICK THE IMAGE FOR MORE INFO
TUESDAY FEBRUARY 17TH
JagerCon: V The Miniseries
@ Clubhouse Jager
923 Washington Avenue N.
North Loop
10pm / 21+ / Free
Join hosts Kate Iverson (l'etoile magazine, Secrets of the City) and Beth Hammarlund (l'etoile magazine, A Tiny Machine) every Tuesday Night for JagerCon! JagerCon is a weekly sci-fi party at
Clubhouse Jager
featuring screenings of classic nerdy movies and television shows such as Buffy, Firefly, V, Star Trek, Blade Runner, Forbidden Planet and more -- topped off with 2-4-1 cocktails all night served by Star Captain Paul! Tonight watch as much V: The Miniseries as you can possibly handle!
Who knows, you might meet a new valentine:
Me:
Black trench coat with Star Fleet emblem embroidered on the breast, sullenly sipping a Mike's Hard Lemonade and muttering about samurai swords in the corner.
You:
Giving off a sexy medieval wench vibe, animatedly debating your friend about which Doctor Who is the hottest.
I thought I felt our psychic ESP matrixes click, was I dreaming? I couldn't help but notice the sideways look you gave me when they were playing the deleted scenes from "Serenity." I wasn't sure if you had something in your eye, or if my Darth Vader heavy-breathing impression was creeping you out. Either way, I've got enough limited edition Batman comic books to line our marriage bed ten times over.
I'll be at the V screening next week, if you're nasty.
GUEST BLOGGER: A TINY MACHINE
Our fave sci-fi/beauty blogger talks Shakespeare!
An Evening at the Theatuh
I was a theater major in college, which means three things: I am extremely critical of acting and lighting design, I have a great passion for Henrik Ibsen, Jean-Paul Sartre, John Webster, and Christopher Marlowe, and I love me some William Shakespeare. Though he's not my favorite playwright, he is certainly one of the most talented and prolific. And I'm amazed at how relevant his stories remain today. Whether it's super serious (my college's production of
Measure for Measure
set in apartheid South Africa) or super light (
10 Things I Hate About You
), I'm a sucker for pretty much any re-imagining of Shakespearean stories. Enter the Guthrie with their production of the classic romantic comedy
The Two Gentlemen of Verona
, set in a 1950s retro television show.
The Two Gentlemen of Verona
runs through March 29 on the Wurtele Thrust Stage. To take advantage of a slick discount, attend a Sunday, Tuesday or Wednesday show. Just call the Guthrie Box Office at 612-377-2224 and use code "
A74
." Instead of the usual $29-$55 price tag, you'll be able to attend the show for a meager
$20
. This offer isn't valid online, on Area 1 seating, or on previously purchased tickets. But it's a fantastic deal. And in these depressing economic times, I think we could all use a little of the bard's romantic whimsy.
Keep in mind that Edward Albee's classic
A Delicate Balance
is running through March 1, and
A Raisin in the Sun
will open on March 12. It's the revolutionary play's 50th anniversary, so it's definitely a production not to be missed.
CLICK THE IMAGE FOR MORE FROM TINY MACHINE BLOG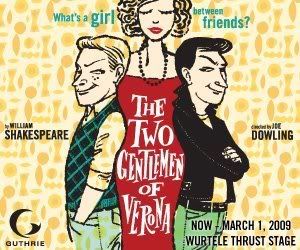 GUEST BLOGGER: LE PETIT CONNAISSEUR
Fashion blogger extraordinaire Le Petit Connaisseur updates us on local fashion!

Local Fashion Preview: New Land of Milk & Honey
One of my favorite local clothing designers Annie Larson of
Swank Dollar
and equally-excellent jewelry line
SisBro
are joining forces in late spring for a fashion event/performance, and they've just released a preview of the line on which they're collaborating,
New Land of Milk and Honey
.
Annie tells me there will be "ten-ish looks all together, with a good portion of it being sweater knit pieces on the knitting machine I just bought with Erin Smith (of SisBro)." I, for one, am excited for these knit pieces, and the designs depicted in the sketches make it clear that Annie is one of the few Twin Cities designers really pushing fresh, new design concepts. While it's clearly not for everyone, I can see at least a few pieces that I can see myself wearing.
What else we can expect: "The premise for the performance is that it is an expose on a peaceful commune of people that resides in Wisconsin, and in anticipation of the future they construct their lives around the use of Segways (you know, those little gyrscope scooter things)." There will actually be Segways in the performance, showcased on a futuristic landscape designed and constructed by Brett and Erin Smith of SisBro. The show, location and date to be confirmed, will also include a variety of other visual artists, musicians, and projection artists.
CLICK THE IMAGE FOR THE LE PETIT BLOG
What's What Editor: Kate Iverson
Contributing Writers: Lacey Prpic Hedtke, Robyn Lewis, Juleana Enright, Kate Iverson Contributing Bloggers: Beth Hammarlund, Jahna Peloquin

CONTENT © L'ETOILE MAGAZINE 2009