SPARK IT UP
This weekend is a sizzlin' electronic hotbed! Not only do we have some of the world's coolest new media artists in town for the Spark Festival, but we've also got a bevy of buzzworthy electro DJ nights and even a Techno Karneval! Channel your inner robot by wearing something that beeps, blinks, or glows! Or, just bust out those silver American Apparel leggings that we know at least 75% of you have in your closets. Speaking of robots, which ultimately remind of us of nerds -- be sure to hit up our new Sci-Fi night, JagerCon, every Tuesday at Clubhouse Jager! See our listing at the bottom of this week's blog to find out more.
xo-l'etoile

Photo by Kate Iverson /Styling by Eclecticoiffeur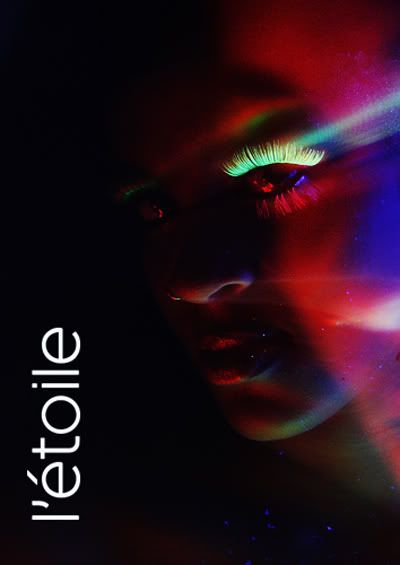 THURSDAY FEBRUARY 19TH
Slap!
@ The Kitty Cat Klub
14th & 4th
Dinkytown
10 p.m. / 21+ / Free
Originally this night was to be dubbed "Bitch Slap," and much to our personal dismay it was changed to simply "Slap," which we know is a bit more media-friendly, though definitely less catchy. The tunes, however, never cease their catchiness, and the DJs who run the night never cease being hott (yes, hott with a dubs T, you heard us). Hit up the Kitty Cat this evening for a pre-weekend throw down a la Millions Billions, Tendercakes, and DJ Last Word. Slap! is the only dance party in town that promises consensual physical violence, we're quite sure.

Sponsored by l'etoile magazine, foo!

BONUS:
Click
HERE
to download their latest mix, "Moms & Dad"
CLICK THE IMAGE FOR THE FACEBOOK EVENT
photo by Erin Nicole Johnson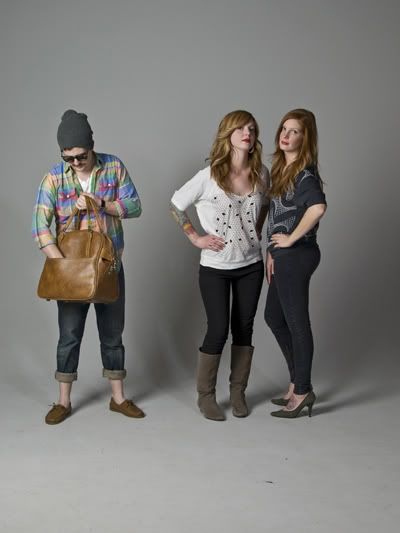 THURSDAY FEBRUARY 19TH
Gallery Grooves & iQuit Music Series
@
Rogue Buddha Gallery
357 13th Avenue NE
Northeast Mpls
7pm / Free
Join our pals from
Secrets of the City
, Jazz88, Prairie Vodka, UV Vodka, and the Rogue Buddha Gallery as they band together to throw a totally awesome Thursday night art party! Each month, Secrets of the City and Jazz88 put on an art, jazz, and wine soiree at a different gallery in the Twin Cities. What makes this edition particularly hip, you ask? Well, throw in fruity vodka drinks, wild art, and live music from the James Buckley Trio and Stew Frog and we need say no more. Enjoy apps and cocktails with the artists from 7 to 9 p.m., then stick around for the iQuit Music Series kicking off at 9 p.m.
CLICK THE IMAGE FOR THE GALLERY GROOVES PAGE
Art by Roxanne Jackson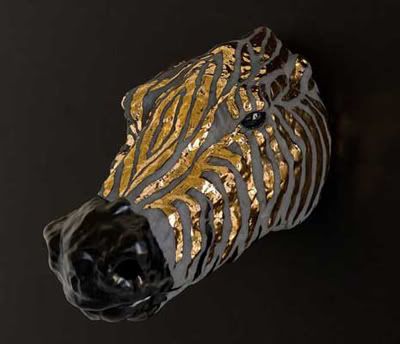 THURSDAY FEBRUARY 19TH
Merlove
@
The Ritz Theater
345 13th Avenue NE
Northeast Mpls
6pm / 21+ / Free
If you're in the mood for something a bit more factual and less abstract, you can opt for film over art (see next door neighbor listing above). Tonight's event at the Ritz will appeal to your inner pretentious alcoholic! Featuring a wine tasting of the world's best Merlot from Sacre Bleu Wines and Haskell's from 6 p.m. to 8 p.m., followed by a screening of the wine documentary Merlove and a special q&a with the director, who will be on hand for tonight's local premiere.
THURSDAY FEBRUARY 19TH (THROUGH SUNDAY)
The Spark Festival
@ Various Location
Twin Cities
Times vary, check website
There is often a competition in the world of electronic music, each sub-genre with a battling statement, proud of the specific musical roots they gain inspiration from. But this week, all that stands aside and a common integrity is found in musicians and aficionados with beats on their brains. The annual Spark Festival, put on by the University of Minnesota and a group of experimental electronic music fanatics and experts, is a week-long convention showcasing the eclectic/electric talents of new media artists from around the world. We could go on and on about the who's, the what's, and the where's, so we'll just say this: The Spark Festival is pretty epic and you need to be there. Peruse the extensive schedule for something that suits your fancy!
CLICK THE IMAGE FOR THE SPARK SCHEDULE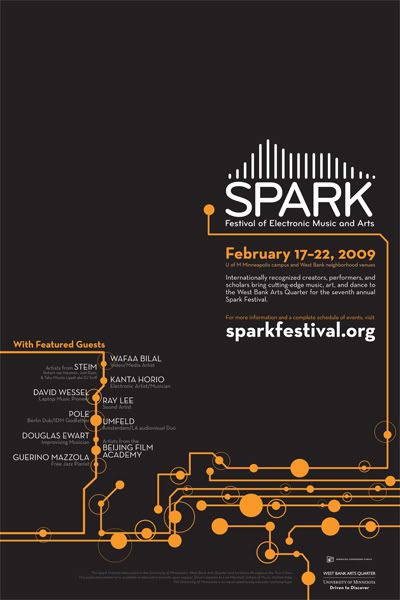 FRIDAY ART PICK: GREG "CRAOLA" SIMKINS
It is both comforting and a tad bit frightening to know that any and every childhood experience can be warped into a dazzling array of artistic expression. Painter and illustrator, Greg "Craola" Simkins may have embraced his demons (or monsters under the bed) and in doing so, he's created a world that is dark but enticing, mysterious yet familiar. Starting off as a graffiti artist in California, Simkins' creative evolution and eclecticism can be seen through the long list of impressive clients and collaborators he's worked with, including
Juxtapoz
magazine, Dark Horse comics, Mattel toys, Vans, and the hip-hop group Gym Class Heroes. Simkins' sites everything from comic books and cartoons; the storytelling style of C.S. Lewis and Norton Juster (The Phantom Tollbooth); nightmares, and a plethora of childhood pets as his inspirations. The creatures in his artwork are skillfully weaved in elements of pop culture, classic fairytale and a hint of carnival flair, making each piece a sideshow of surrealist imagery. If you find yourself lost in the dreamworld of Greg Simkins, there's no need to be scared; just be sure you have a proper escape route.
CLICK THE IMAGE FOR THE GREG SIMKINS SITE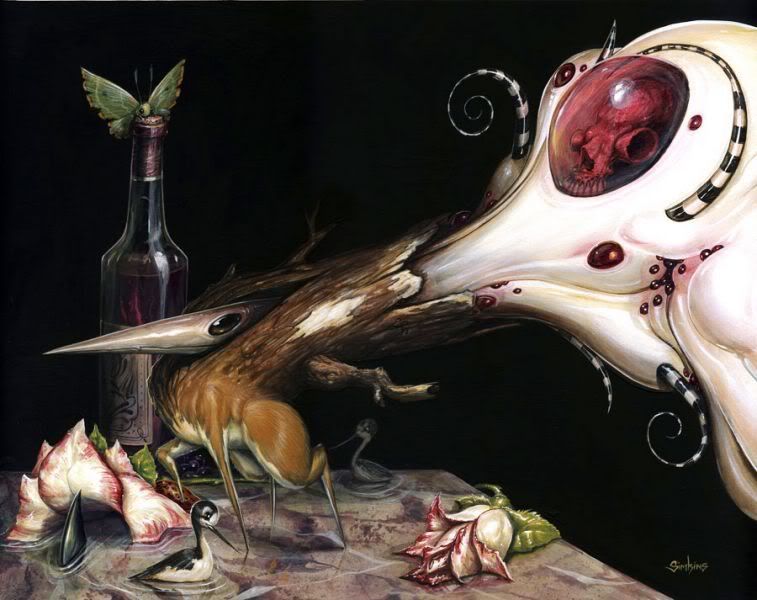 FRIDAY FEBRUARY 20TH
Rift Magazine Fundraiser
@ Stasiu's Place
2500 University Ave.
Northeast Mpls
9pm / 21+ / $5
Help our pals at rockin' music and art rag Rift Magazine put out another print issue! Featuring the tuneage of SuperCollider (formerly Zibra Zibra), Zoo Animal, Guante, and Bill Mike (solo). One day, we hope to have a million billion dollars to dole out to all the wonderful independent art and music endeavourers in this world (including ourselves), but unfortunately we haven't saved quite that much yet. In the meantime, however, you can do your part...by partying with Rift!
CLICK THE IMAGE FOR THE RIFT SITE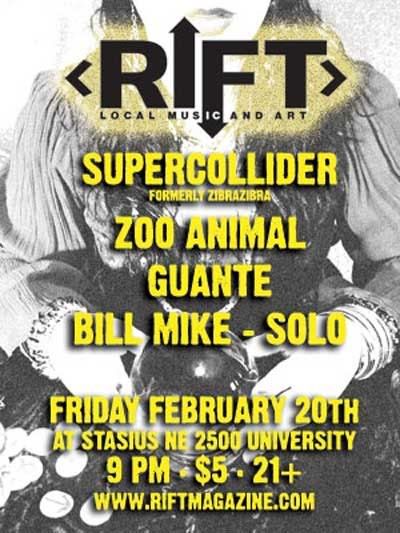 FRIDAY FEBRUARY 20TH
Honeymoon
@ VIP Room
701 1st Avenue N
Minneapolis
10pm / 18+ / $3 w/ RSVP
Bust out the bling and polish your grill because tonight the Moongoons will indulge your thug life fantasy! Roll up to the VIP with your bitches in tow and flash ice at this "Rap Video" themed edition of Honeymoon. Unfortunately Pitbulls are not allowed at The Ave, and you probably don't have the cheese to rent a tricked out Bentley, but we know you gots mad 'tude! We also know you can booty dance with the best of them. Featuring The Moongoons, Nadastrom, and DJ Bach.
Co-Sponsored by l'etoile magazine!
CLICK THE IMAGE TO RSVP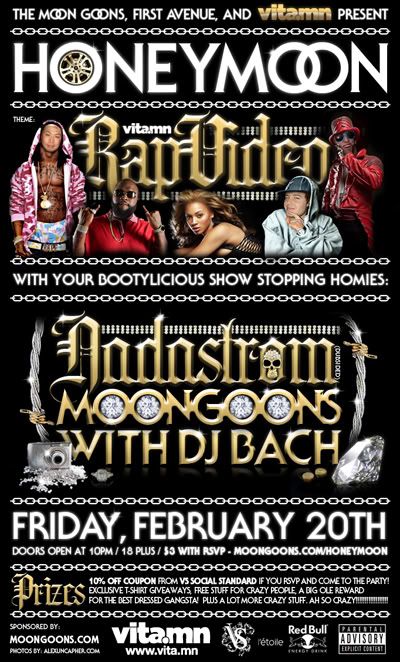 FRIDAY FEBRUARY 20TH
The Dollhouse
@ The View
Calhoun Beach Club
2730 W Lake St
Minneapolis
9pm / 21+ / $8
It's ladies night at The View! Titillate your senses with the stylings of Lil' Miss Sweetooth & The Daisy Dukes, Burlesque, a kissing booth, the Jagermeister Girls, and our favorite flame-haired hotties and yours, Tendercakes. The Dollhouse brings back the culture of the pinup girl era with a modern twist, so feel free to Bettie Page it up -- with a Valentine's Day twist of course!
CLICK THE IMAGE FOR THE FACEBOOK EVENT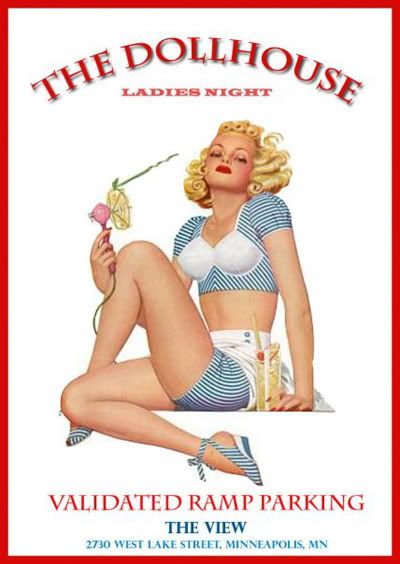 FRIDAY FEBRUARY 20TH
Digital Underground
@ The Cabooze
917 Cedar Avenue
West Bank Minneapolis
9pm / 18+ / $17
All right!
Stop whatcha doin'
'cause I'm about to ruin
the image and the style that ya used to.
I look funny
but yo, I'm makin' money see
so yo world I hope you're ready for me.
Now gather round
I'm the new fool in town
and my sound's laid down by the Underground.
I drink up all the Hennessey ya got on ya shelf
so just let me introduce myself
My name is Humpty, pronounced with a Umpty.
Yo ladies, oh how I like to hump thee.
And all the rappers in the top ten--please allow me to bump thee...
You know the rest. And that's all we really need to say, isn't it?
CLICK THE IMAGE FOR THE CABOOZE SITE
COOL LINK: SOME E-CARDS
If you're too lazy to make a crazy card for your knocked up friend, or to break up with long-time boyfriend, Someecards.com has taken care of all your irreverent, free e-card needs. Pairing vintage-looking images with sassy sayings, they cover the gamut from music to flirting, cry for help to confession. Whoever you send these to won't be bored, but maybe a little offended -- and that's the point!
CLICK THE IMAGE FOR THE SOME E-CARDS SITE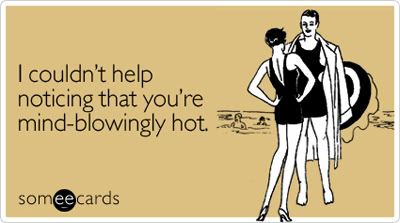 SATURDAY FEBRUARY 21ST
Multiples Mall: A Bookish Fair
@ Walker Art Center
1750 Hennepin Ave.
Minneapolis
11am-4pm / free
The zine and artist book scene is alive and well in Minnesota. Today, a fair showcasing and selling chapbooks, multiples of any relation to books, and other self-published reading material compliments their
Text/Messages
show. Meet the artists, hear a lecture on the history of chapbooks, and take home some recession-proof pieces of art.
CLICK THE IMAGE FOR THE WAC SITE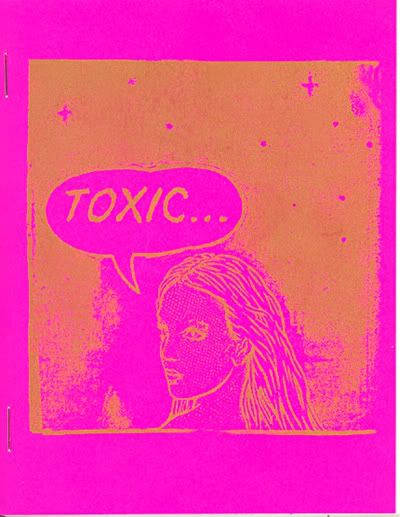 SATURDAY FEBRUARY 21ST
Review=Reflect=Recycle Big Art Giveaway!
@ Susan Hensel Gallery
3441 Cedar Ave S.
Minneapolis
1pm-4pm / Free or donation
For the past month, the Susan Hensel Gallery has been covered from floor to ceiling with colorful collage influenced by calligraphy, Japanese culture, and texture from the mind of artist James Michael Lawrence. Today, all that work will be up for grabs, for FREE no less! JML's work spans 15 years, so his old could be your new piece of art! All work that is not taken will be "recycled" to the dumpster at the end of the day, so don't let this wonderful work go to waste. Any donations are accepted of course, but even if you can't afford to donate, the least you can do is save this art from certain death!
CLICK THE IMAGE FOR MORE INFO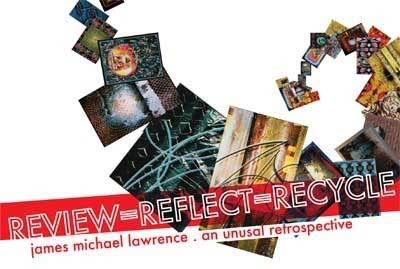 SATURDAY FEBRUARY 21ST
Almost Nothing
@
The Soap Factory
518 2nd Street SE
Minneapolis
7-11pm / Free
We here at l'etoile love us some weird, large scale, avant garde art, and New York-based installation artist Clive Murphy does not disappoint us. Extending throughout the entire 12,000 square feet of the Soap Factory, his inflatable sculptures will reconstruct the space, playing off the architecture and creating a strange geometric labyrinth. Made up entirely of black trash bags, this over-sized minimalist playground is one of those installations that could only be pulled off at the Soap Factory. Murphy is the artist ever to bravely tackle the entire, sprawling gallery space on his own, we expect nothing short of overwhelming!
Click
HERE
for this art event and more at mplsart.com
Check this video interview from the Soap Factory's Gallery 4 with Clive Murphy in 2006.
SATURDAY FEBRUARY 21ST
The Obama Commemorative Paper Plate Show
@ Pink Hobo Gallery
507 E. Hennepin Avenue
Northeast Mpls
7pm-10pm / Free
If you've driven up Central Avenue in the recent months, you may have noticed the hot pink store front for Pink Hobo. We usually claim to be in-the-know about such things, but we'll admit, this pink enigma has remained somewhat of a mystery to us. We did, however, manage to catch wind of this weekend's arty party featuring numerous artists from the Twin Cities interpreting the message of hope and change a la Obama...in the form of commemorative paper plates! Pink Hobo promises to "live up to the high standards of excellence usually reserved for The Franklin Mint curiosities," and with enough beer on hand, we're sure they will.
BONUS:
Make it a Northeast Night! After Pink Hobo, continue up Central to the
Accumulated Objects Gallery
in the basement of the Thorpe Building to see the work of assemblage artist Aaron Hinkle. Then hit up the Northrup King Building for the
Bird x Bird
exhibit, just around the corner!
CLICK THE IMAGE FOR THE PINK HOBO SITE
SATURDAY FEBRUARY 21ST
Hat Bash
@ Blacklist Vintage
2 e. 27th Street
Uptown Minneapolis
7-10pm / Free
Head to Uptown boutique Blacklist Vintage tonight for a festively fashionable get-together! Sponsored by your pals at l'etoile and featuring photography by Digital Crush, you'll be laden with sweet treats and champagne upon your arrival. Mingle and shop to your hearts content and take 10% off everything in the store while you're at it. Blacklist Vintage is known for its awesome selection of vintage hats, so come down with your friends and have your photo snapped in a pretty cap! The best photos will be framed and displayed in the shop. This fun champagne swillin' soiree is the perfect precursor to a night of impending debauchery -- You may even find the perfect accessory to pair with your already stunning ensemb!
CLICK THE IMAGE FOR THE BLACKLIST SITE
Photo by France Barbeau
SATURDAY FEBRUARY 21ST
Techno Karneval
@ Germanic-American Institute
301 Summit Avenue
St. Paul
9pm-2am / 18+ / $5
How often do you get to celebrate Karneval (the German version of what we Americanos commonly refer to as Mardi Gras) in a totally sweet mansion on Summit Avenue? Get creative and costume up, it's what Karneval is all about! Think feathers, elaborate masks, and lots of shiny objects! The entire "haus" will be open for you to strut around in, and DJ TK1 will rock the ballroom with electronic euro-jams all night long. Two bars and assorted Karneval "treats" will enhance your enjoyment of this stellar social occasion. Tip: zexy Europeans will surely abound!
CLICK THE IMAGE FOR THE GAI SITE
Photo by Stephen Stephens
SATURDAY FEBRUARY 21ST
Menergy
@ Clubhouse Jager
923 Washington Ave. N
North Loop
10pm / 21+ / Free
The testosterone flows as freely as the beats at this man-centric monthly dance party! Feel the Menergy tonight as your hosts Grandmother Grant aka The Nightstalker and video-king Time Squid rock the clubhouse all night long. Ladies are welcome too of course, as a boys night out would be lame without the girls, and "consensual Cancun sandwiches" wouldn't be quite as sexy on the dance floor. Tonight's edition features special guest wax-flippers DJ Real Talk Radio and Millions Billions, with new visuals by Lindsey Borgerson of Solid Gold. Still curious about the men behind Menergy? Check out
this great article
by Jon Hester on City Pages site.
CLICK THE IMAGE FOR THE JAGER MYSPACE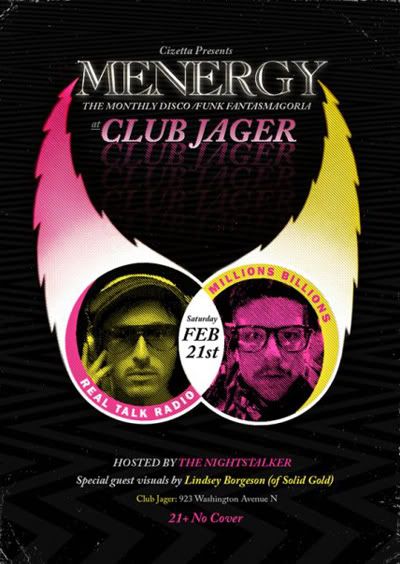 SATURDAY FEBRUARY 21ST
Spark Festival After Party
@ The Slam Factory
Secret Location
Minneapolis
e-mail
jp@secrettechno.com
for info
2am / Cost tbd
This is one event that is not on the official Spark schedule. Probably because it's one of those hush-hush secret soirees that we here at l'etoile are always filling you in on. You're welcome, bt-dubz. Tonight's electronic showdown will have your ears burning and feet moving, so wear your dance pants (MC Hammer or neon Zubaz will do) and head to the Slam Factory! As always, respect the venue and enter like black ops...and e-mail jp@secrettechno.com if you don't know the spot!
CLICK THE IMAGE FOR THE SPARK FESTIVAL SITE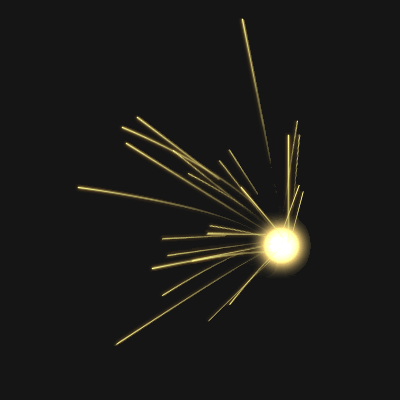 SUNDAY MUSIC PICK: THE BLACK LIPS
If you enjoy loud, unapologetic rock and roll, the kind that acknowledges it's own outrageousness and celebrates accordingly, then check out the ragtag fuzz and hiss of ruffian foursome The Black Lips. They've built quite a reputation on batshit crazy onstage antics and overt debauchery - things like making out with each other, playing in the nude, and pissing into their own mouths. I mean, we can't make this stuff up folks, we've seen it in action. But on top of the sideshow freakishness, the Lips crank out catchy, interestingly textured flower punk songs inspired by 60's lo-fi and early 2000's garage. Their new album, 200 Million Thousand drops next Tuesday (resourceful peeps can already find it floating around the internets...) and they're sure to assault the Twin Cities at their Turf Club show next month. We advise you swoop up tickets now, before they vanish.
CLICK THE IMAGE FOR THE BLACK LIPS MYSPACE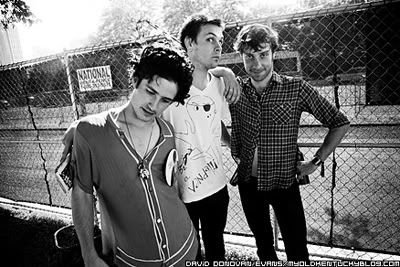 SUNDAY FEBRUARY 22ND
Vinyl Roulette
@ King and I
1346 LaSalle Avenue
Minneapolis
10pm / 21+ / Free
Cap off your weekend with some fantastic food and chilled out sounds courtesy of the King and I and special guest DJs Sara Jean and Winship! This all-vinyl party is the perfect Sunday night respite if you ask us, and it certainly doesn't hurt when the talent is so good looking. Kick back with a Mai Tai, order some mock duck rolls, and accept the fact that the weekend is almost over...and enjoy it while it lasts! Vinyl roulette is a series of Sunday nights at the King & I pairing two different vinyl junkies together that may not normally spin together.
CLICK THE IMAGE FOR THE KING AND I SITE
Photo of Sara Jean's feet by Kate Iverson!
TUESDAY FEBRUARY 24TH
JagerCon: Sci-Fi Tuesdays
@
Clubhouse Jager
923 Washington Avenue N.
Minneapolis
Every Tuesday
10 p.m. / 21+ / Free
Join hosts Kate Iverson (l'etoile magazine, Secrets of the City) and Beth Hammarlund (l'etoile magazine, A Tiny Machine) every Tuesday Night for
JagerCon
! JagerCon is a weekly sci-fi party featuring screenings of classic nerdy movies and television shows such as Buffy, Firefly, V, Star Trek, Blade Runner, Forbidden Planet and more -- topped off with 2-4-1 cocktails all night served by Star Captain Paul!
Mingle with like-minded sci-fi geeks, discuss D&D strategies, and use that Captain Picard impression you've been perfecting to pick up chicks at the bar. Snort-laugh the night away while bragging about your MMORPG addiction and enjoy a cozy, nerd-friendly environment.
Kate and Beth are life-long sci-fi fans who also dabble in art and fashion. They appreciate Joss Whedon, Karl Lagerfeld, and Matthew Barney on the same level. They can also party like Sci-Fi Conventioneers. Kate and Beth strive to unite the segmented nerd culture of the Twin Cities the only way they know how: with alcohol and awesome Sci-Fi entertainment.
Upcoming Events:
Tuesday, Feb 24th: Mirror Mask
Tuesday, Mar 3rd: Blade Runner (Director's Cut)
Tuesday, Mar 10th: Forbidden Planet/Angry Red Planet
Tuesday, Mar 17th: Labyrinth
Thanks to Marc Iwanin for the sweet promo design!
CLICK THE IMAGE FOR THE JAGERCON BLOG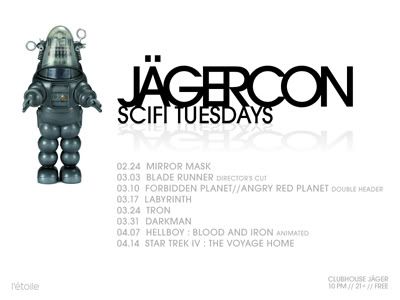 GUEST BLOGGER: A TINY MACHINE

Another post from sci-fi/beauty blogger, A Tiny Machine. We love the new Love Magazine too!

Even More Love
Beth Ditto's Love cover! I adore the Ditto, not only because she's talented, clever, silly, and inspiring, but also because I didn't like my first name until she came along. Now I kind of love it. Beths of the world, unite!
For more posts from A Tiny Machine, click below.
CLICK HERE FOR THE TINY MACHINE BLOG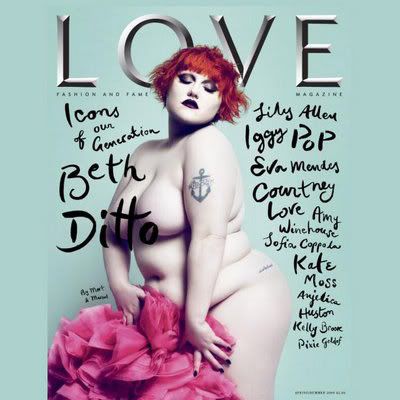 GUEST BLOGGER: LE PETIT CONNAISSEUR
Another post from fashion blogger, Le Petit Connaisseur. Also peep her article about Love Magazine (see related post above) at the link below.
Kanye West - The NeW Marc Jacobs?
It's only fitting that Kanye West, who's oft-professed his love for Louis Vuitton, would design his own men's sneaker line for the design house. The line includes five styles, but so far only one - a red, monochromatic midtop with a quilted flap in the back - has been made public. It was revealed in the Louis Vuitton Fall 2009 Men's Collection runway show in late January, apparently because it's easy to tuck pants into. "The inspiration came from a jacket with a huge collar in the movie 'Dune,'" West told the New York Times blog The Moment on his design. "Most sneakers focus on the tongue, so I wanted to do something different." The shoe line will be available beginning in June at Louis Vuitton stores.
For more posts from Le Petit Connaisseur, click below
CLICK THE IMAGE FOR THE LE PETIT BLOG
What's What Editor: Kate Iverson
Contributing Writers: Lacey Prpic Hedtke, Robyn Lewis, Juleana Enright, Kate Iverson Contributing Bloggers: Beth Hammarlund, Jahna Peloquin

CONTENT © L'ETOILE MAGAZINE 2009