DANCING IN THE STREET
Just because it's chilly out doesn't mean you can't take to the streets like nature intended, right? This weekend you'll have plenty of reasons to pound the pavement with not only the new l'étoile sponsored dance night, Street Sounds, in the VIP Room this Friday, but also the St. Paul Art Crawl, the Mobilize the Youth event and so many more that will have you strollin' on the party (or arty) side of the street!
xo-l'étoile
Click below or visit our blog at www.letoilemagazine.com
CLICK THE IMAGE FOR THE WHAT'S WHAT!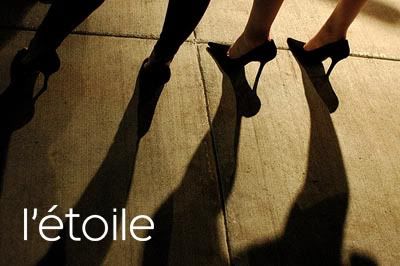 SPECIAL EVENT
Odegard Sale
THURSDAY OCTOBER 9th
Burlesque Scratch + Dent Mystery Tube ONLINE Sale
@
www.burlsequedesign.com
Tubes go on sale at 2pm / $40
Consider this the mystery lunch of Burlesque of North America purchases. For a flat fee, the legendary screen printers will send you not one, but two posters designed by Burlesque, one poster they've printed designed by someone else, one mystery CD and one mystery t-shirt and a bunch of stickers. The posters are slightly scratched, dented, or misprinted, but oh well…after the wild party you'll throw to show off your new Burlesque posters, they'd be scratched anyway.
Tubes go on sale
promptly at 2pm
at the link below, and will certainly go fast, so get going!
CLICK THE IMAGE FOR THE BURLESQUE SITE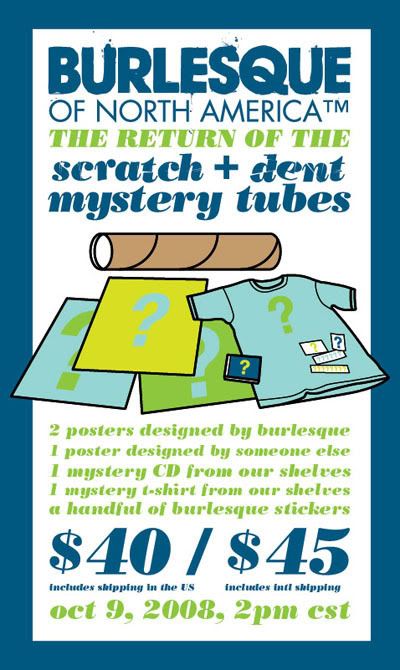 THURSDAY OCTOBER 9TH
Creative Context
@ Guthrie Theater
Target Lounge
818 2nd Avenue S.
Downtown Minneapolis
10pm-Midnight / Free
Our monthly party at the Guthrie is back again, and if you haven't checked it out yet, tonight is the perfect opportunity! Not only will lovely lady Barbara Knox, Editorial Director of Tiger Oak Publications be our special guest host, but the gals of METRO Magazine and Tiger Oak will be co-hosting along with her! Come down, tip back a zesty Little House specialty cocktail (we recommend the "Nasty Nellie") and rub elbows with talented and influential ladies in art and media while soaking up the sexy sounds of Jonathan Ackerman and DJ Bach! Not to mention, we'll be there too!
BONUS:
You're not obligated to see a play before the free party, but it couldn't hurt! l'étoile readers can enjoy 2 for 1 tickets to A View from a Bridge on Thursday, October 9 @ 7.30pm. Call the Guthrie Box Office and quote code 'H15' to receive this discount! Excludes Area 1 seating. Offer not valid online or with other offers.
CLICK THE IMAGE FOR THE CREATIVE CONTEXT SITE
THURSDAY OCTOBER 9TH
Miyagi Salon Opening
@ Miyagi
411 E. Hennepin Ave
Minneapolis
4:30 PM- 9 PM/ Free
Let's face it, everything begins with a good haircut. It's an essential part of any makeover show and the basis to build on when acquiring that "wow" factor. Miyagi Salon understands. Miyagi, the new "no tipping" Aveda salon, invites you to a grand opening reception to show off their chic new space. Meet the stylists, treat yourself to a complimentary consultation and enjoy drinks, appetizers and music. Drawings to win swanky Aveda prizes will be held and for each service you book during the event, you'll receive a free service. It pays to be beautiful!
CLICK THE IMAGE FOR THE MIYAGI SITE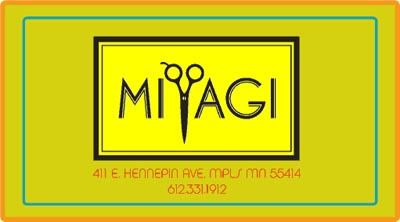 THURSDAY OCTOBER 9TH
Nyteowl
@ Big V's
1567 University Ave
St Paul
9pm / $5 / 21+
Nyteowl brings his signature French-influenced synth pop sound to Big V's for a second-ever live show, introducing a full band, featuring an all-star cast of players, including Peter Lansky (commonly known as Sovietpanda) joined by Aaron and the Sea, Paint Me A Sky, and Lothario.
Click
HERE
to check out Nyteowl's official Crystal Castles remix!
CLICK THE IMAGE FOR THE NYTEOWL MYSPACE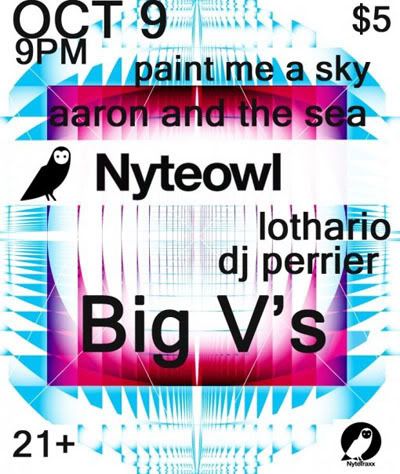 FRIDAY ART PICK: FAESTHETIC
Faesthetic #9 is out...of this world, in its UFO art themed issue! With 80 pages of UFO artist's otherworldly experiences, this collectible ad-free magazine is upping the ante for campfire stories. The black and fluorescent green (of course) publication brings art and oddities from around the world straight to your door for only $10, much less than a trip on an alien aircraft.
CLICK THE IMAGE FOR THE FAESTHETIC SITE

FRIDAY OCTOBER 10TH (THROUGH SUNDAY)
St. Paul Art Crawl
@ Various art studios
Downtown St. Paul
6pm-10pm/free
Through Sunday, October 12th.
What goes on in that far-away land called St. Paul? The RNC, MPR broadcasts and lots of impressive art. Cross the border (of Minneapolis) this weekend to check out the Lowertown urchins and their studios in old warehouses and co-ops. A free bus will take you everywhere you need to go on the crawl, and you'll have the chance to nose around the studios of St. Paul's finest.
CLICK THE IMAGE FOR THE ART CRAWL SITE
Art by Diane Hansen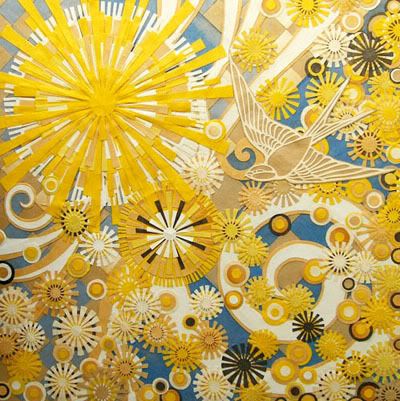 FRIDAY OCTOBER 10TH
Art for Choice
@ Graves 601 Hotel
601 1st Ave N
Minneapolis
6:30pm-9:30pm / $35 suggested contribution
Put your money where your ideals are at Pro Choice Resource's silent auction. Local art stars and DJ sweetheart Lori Barbero set the stage for an auction raising money for reproductive and sexual health education. Alec Soth, Jennifer Davis, Nick Howard, Tara Costello and Amy Rice are just a few of the artists that donated to this fifth annual fundraiser. If you can't make it, you can still donate, and everyone is encouraged to attend regardless of ability to contribute financially.
CLICK THE IMAGE FOR THE PROCHOICE RESOURCES SITE
Art by Jennifer Davis
FRIDAY OCTOBER 10TH
Mobilize the Youth
@ VS Social Standard
1221 Lake St. W
Minneapolis
7pm-11pm / Free
VS is back with another party, but don't expect any brawls this time. Tonight it's all for a special cause, encouraging youth voting. Mobilize the Youth volunteers will be helping those not registered to do so. And with the election in less than a month, this party is a perfect opportunity to get educated on the candidates while chilling in the hip interior of VS. And did I mention some of the hottest MPLS DJs will be spinning (Grandmother Grant, Tendercakes and Moongoons, just to name a few)? So come down, get political and rock your vote.
BONUS:
While you're there, pick up some cool Obama '08 limited edition spoke cards brought to you by Anthem Heart & The Moon Goons!
CLICK THE IMAGE FOR THE VS. SITE
FRIDAY OCTOBER 10TH
Street Sounds Swirlin' Through My Mind
@ First Ave VIP Lounge
701 First Avenue North
Minneapolis
10pm / $3 / 18+
Swing by the VIP room at First Avenue this Friday for the debut of STREET SOUNDS - a new dance party dedicated to classic sounds of disco, house, boogie, post-punk, and other timeless dance music from the late '70s and '80's. On the decks will be Minneapolis DJs and l'étoile faves Attitude City, Mike the 2600 King, and Winship from Burlesque of North America.
Sponsored by yours truly, l'étoile!
BONUS:
Click here to download the brand new Street Sounds mix
from Mike the 2600 King: 50 minutes of some of the great music you'll be privy to each second Friday at First Avenue!
CLICK THE IMAGE FOR MORE INFO
FRIDAY OCTOBER 10TH (THROUGH SATURDAY)
Blue Worm Records 10th Anniversary
@ Triple Rock Social Club
629 Cedar Ave S
Minneapolis
9pm / $6 / 21+
Be apart of local music history this Friday night at the 3 Rock as Blue Worm Records celebrates 10 years of releasing independent rock records. Casanatra, Redoverlunar, Sunday Flood, and Kingfield rock the stage in the second of this two-night stint recognizing Blue Worm's accomplishments of putting out over 30 records in the last decade.
CLICK THE IMAGE FOR THE BLUE WORM SITE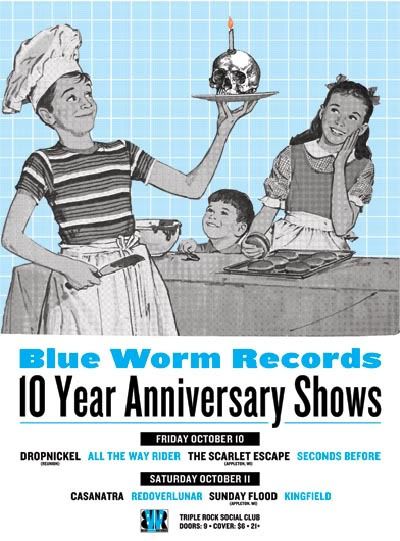 FRIDAY OCTOBER 10TH
The Return to the Lock Inn
@ The Lock Inn
email jp@secrettechno.com for location
Downtown Minneapolis
2am / Cost TBD
Sequels are hit or miss, but returns are always promising. Return of the Jedi. Return to OZ. And now Return to the Lock Inn. Summer is over (yes, we said it), but nothing goes better with a crisp Fall breeze and polychromatic foliage than deep sessions of house and minimal techno. Celebrate the birthdays of techno-squaders Ash Hane, Jesse Jakob, Dustin Dorris, Jeff Wong and Daniel Cortez. Get there before 2 AM through the rear fire escape. You want INN! Because techno can go all night without losing it's favor.
CLICK THE IMAGE FOR THE SECRET TECHNO SITE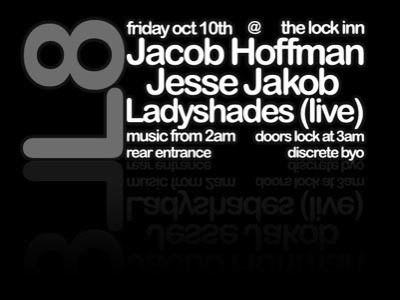 COOL LINK: DECLARE YOURSELF
Jessica Alba in a Hannibal Lecter style muzzle, Andre 3000 in tears gagged by his own bow-tie? Did you fall asleep again reading In-Style and the Marquis De Sade? Maybe, or perhaps you've just stumbled across one of the more visually arresting voter registry campaigns of this election season. Striking celebrities across the media spectrum are participating in Declare Yourself, a youth directed campaign committed to voter registration and the importance of making your voice heard in the upcoming election. Shot by noted fashion photographer, David LaChapelle, the Declare Yourself campaign features the aforementioned bondage-flavored images with the tag line "only you can silence yourself". LaChapelle's saturated, surrealist style makes the shocking images resonate and ultimately stick in your brain. Judge for yourself if the photos are sexy fun or just empty shock value and get useful info on the election and voter registration.
CLICK THE IMAGE FOR THE DECLARE YOURSELF SITE
SATURDAY OCTOBER 11TH
Equilibrium: Spoken Word
@ Open Book
1011 Washington Ave S
Suite 200
Minneapolis
8pm / $5, $3 for students and Loft members
Those who claim that words have no power have yet to attend the Loft's Equilibrium Spoken Word series. Feisty and dynamic, Spoken Word has all the depth of poetry intensified with hypnotic rhythm. This week's diverse line-up features San Francisco-based, Leticia Hernandez (Executive Director of GirlSource) Kay Barrett (Gwendolyn Brooks Open-Mic finalist) and Minnesota premiere Spoken Word artist Shá Cage. Enjoy coffee and beverages and the grooves of DJ Trinidad. The artists' passion to engage the audience's emotions is what makes EQ's performances so ground-breaking and energetic. Come see what all the hype's about!
CLICK THE IMAGE FOR THE LOFT SITE
SATURDAY OCTOBER 11TH
hearSIGHTED
@ The Weisman Art Museum
333 East River Road
Minneapolis
8 PM-12 AM/ Free
Test all your senses, politically and literally, at the Weisman's celebration of R. Luke DuBois' Hindsight is Always 20/20 exhibit. The Rake's Gallery Grooves and 45th Parallel co-sponsor this sensory evening filled with lively entertainment. Hear the electronic stylings of U of M students while viewing the politically-charged exhibit. Witness a special performance by the artist/musician, R. Luke DuBois at 9:30. After the performance, groove to a set spun by DJ Etones while tantalizing your taste buds with complimentary food, cocktails and wine. Email joinwam@umn.edu or call 612-625-4460 to reserve your place in advance since space is limited.
CLICK THE IMAGE FOR THE WEISMAN SITE

SATURDAY OCTOBER 11TH
Pilot Arts
@ 801 Gallery
801 Washington Ave N
Minneapolis
6pm-9pm / Free
What is the "Midwestern sensibility" when it comes to art? The Pilot Arts Group knows, and it has made it their mission to bring national attention to emerging and mid-career artists in the Midwest. Promising great conversations, the mixings of Beatrix Jar, drinks and hors d'oeuvres, the Pilot Arts collective artists wow the world. Through February 7th.
CLICK FOR THIS ART EVENT AND MORE AT MPLSART.COM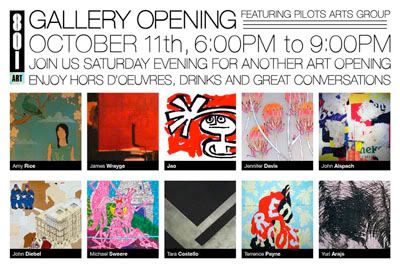 SATURDAY OCTOBER 11TH
Bright Blue Earth Studio Party
@ 1620 Central Ave NE
suite 155
Northeast Minneapolis
(Enter via 18th Avenue Loading Dock)
2pm-2am / free
Head Northeast today! Jim Grafsgaard is debuting new artwork, and Mayan crafts gathered from a six-month stint in southern Mexico, and P.J. Tracy shows off the renovated sound studio. After 8pm, Twin Cities creatives gather for food, beverages, music and good times into the wee hours. And where there are artists, there is bound to be wine and interesting conversation, and, we can only hope, a bit o' debauchery. Bring something to share!
CLICK THE IMAGE FOR THE BRIGHT BLUE EARTH SITE
Art by Jim Grafsgaard
SATURDAY OCTOBER 11TH
Twin Cities Book Festival
@ Minneapolis Community and Technical College
1501 Hennepin Ave S
Downtown Minneapolis
10am-5pm / free
Helllooo comic book fans. Really big deal this weekend! Love and Rockets legend Jaime Hernandez will be interviewed by local superstar cartoonist Zak Sally at 1pm. Rain Taxi also brings in Allen Ginsberg's biographer, NPR's "Voice of Books" Alan Cheuse, and poets, local authors, signings, and launches of about a billion new works. Plus, it's free!
CLICK THE IMAGE FOR THE RAINTAXI SITE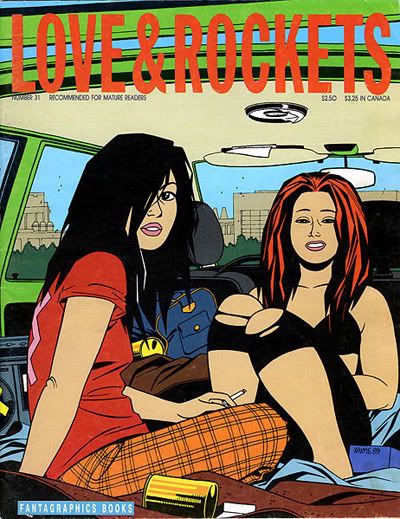 SATURDAY OCTOBER 11TH
West 7th Iron Pour
@ The old Schmidt brewery
on West 7th St.
(between Jefferson and Randolph Aves.)
St. Paul
5pm / free
A lot has been happening in the West End of St. Paul lately! The first iron pour is a product of the prolific West End Arts group, giving us a chance to enjoy the grounds of the Schmidt Brewery, much like the Wonka Chocolate Factory. On Friday, sand molds will be made by the public, on Saturday, music and refreshments accompany the big pour, and on Sunday a show and tell of finished products. If you've never seen molten iron poured by macho sculptors, the towering Schmidt brewery is the perfect place for your first time.
CLICK THE IMAGE FOR MORE INFO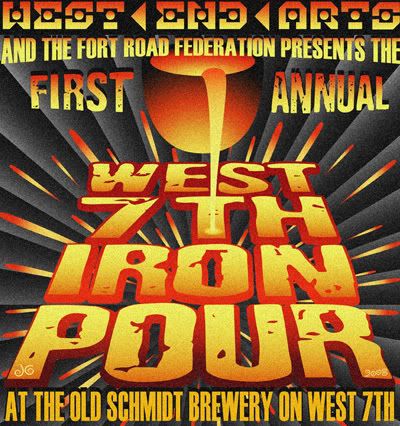 SATURDAY OCTOBER 11TH
Bella Koshka
@ Kitty Cat Klub
315 14th Ave SE
Minneapolis
9pm / $5 / 21+
Bella Koshka is one of those genre-busting bands that fuse intoxicatingly lush, romantic electronic textures with organic string arrangements- they manage to keep themselves rooted in rock, pop, and classical music, but still sound like they live in a big old ruined Victorian house with some friendly ghosts and a lot of great stories. Join them at the Kitty Cat Klub this Saturday with an eclectic array of local talent. Oh, and while you're there, pick up a copy of their aptly named debut, "Slow Dancing on the Ocean Floor", one of the best and most unique local albums to drop all year.
CLICK THE IMAGE FOR THE BELLA KOSHKA SITE
Photo by Digital Crush
SATURDAY OCTOBER 11TH
Menergy!
@ Clubhouse Jager
923 Washington Ave
Minneapolis
10pm / 21+ / Free
What the hell is Menergy, you ask? Guess you'll have to come down to the Clubhouse Jager to find out, as Grandmother Grant spins the man-tastic tracks to bro down to, and Time Squid helps you create an animated gif of yourself in the Menergy Mini-Studio. You know you want one for your myspace, don't lie!
CLICK THE IMAGE FOR THE JAGER MYSPACE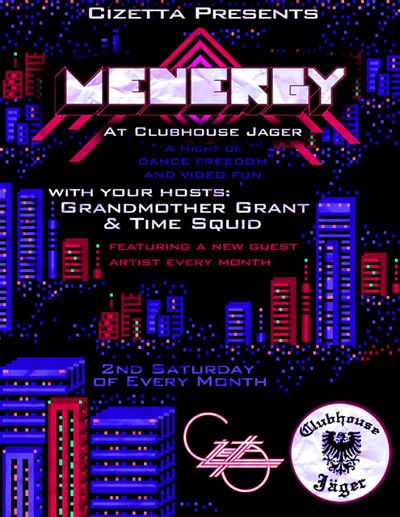 SUNDAY MUSIC PICK: FARE SOLDI
Pushing the boundaries of disco house and Italo is something that comes naturally to Fare Soldi. Taking the dance floor by storm, Fare Soldi's bouncy, poppy beats take us back to the classic days of Italo, but this is definitely not your dad's disco. Unfortunately, unless you live in Europe, you wont get the chance to see Fare Soldi any time soon. But that shouldn't stop you from heading over to their Myspace page and checking out a few tunes!
CLICK THE IMAGE FOR THE FARE SOLDI MYSPACE
SUNDAY OCTOBER 12TH
St. Paul City Ballet
@ Landmark Center
F.K. Weyerhaeuser Auditorium
75 W 5th St.
St. Paul
1pm-3pm / free
How often do you get to see a ballet for free in an old courthouse and talk to the dancers afterwards? Almost never. The St. Paul City Ballet present "Autumn Reveries", with a preview of their holiday premiere, "A Sugar Plum Dream". Stick around and attend their open house, and explore the building's exhibits on the gangsters of St. Paul.
CLICK THE IMAGE FOR THE SPC BALLET SITE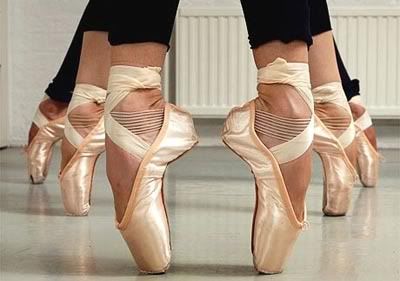 SUNDAY OCTOBER 12TH
Handmaiden Mpls Indie Craft Spooktacular
@ James Ballantine VFW
Post 246
2916 Lyndale Ave S
Uptown
10am-5pm / free
Ok, drink specials plus handmade goodies equals...another awesome craft show by the Handmaidens! Drink your way through 50 vendor's art, purses, stationary, baby stuff, toys, and anything else these hip crafters have churned out lately.
CLICK THE IMAGE FOR MORE INFO
A TINY MACHINE MONDAY: FOR THE GEEK & THE CHIC
We've been sitting on this one for awhile! l'étoile magazine Editor in Chief Beth Hammarlund has tried her hand at blogging, about not
only
fashion and beauty, but also SCI-FI (yes, we have a few nerds on the staff, it's true) and we have to admit, we love it as much as the l'étoile blog itself! Each Monday, we'll be featuring a post from Beth's blog,
A Tiny Machine
, and we encourage you to check out even more of her witty banter by clicking the image below - trust us, you'll be addicted in no time!
From A Tiny Machine...
Master of fashion technology Hussein Chalayan presented another hit show at Paris Fashion Week complete with wind machines and a glass-smashing crash ending. The collection wasn't as gadget-laden as his previous work, but the aerodynamic auto-inspired clothes retained his theatrical aesthetic. This dress in particular was quite a show-stopper.
CLICK THE IMAGE FOR MORE AT A TINY MACHINE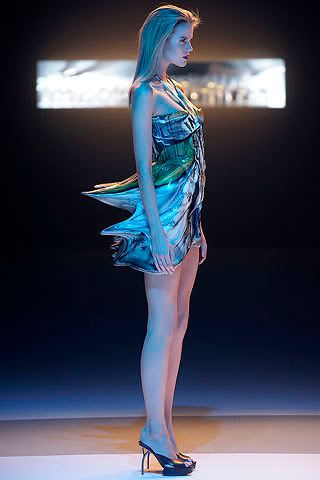 TUESDAY OCTOBER 14TH
Silver + Gold
@ Clubhouse Jager
923 Washington Ave.
North Loop
Every Tuesday / 21+ / 10pm / Free
Join DJ Jonathan Ackerman and l'étoile magazine for an evening of sly winks and sideways glances every Tuesday at Clubhouse Jager. Create some mystery, sip 2-4-1 cocktails with pretty people, and dance the night away to electro, pop, and so much more.
BONUS:
Flirt up a storm then visit letoilemagazine.com on Wednesdays for "missed connections" from the night before!
Sponsored by l'étoile magazine & Alphasuede
CLICK THE IMAGE FOR L'ETOILE TEXT CONNECTIONS
WEDNESDAY OCTOBER 15TH
Pretty Boy Thorson and the Falling Angels
@ Stasiu's Place
2500 University Ave NE
Minneapolis
9pm / $5
It's country. It's punk. It's fast country-punk. Music to dance your sorrows away to. They're going on tour soon, and you won't have a chance to see them until November, so get going! Drink some whiskey, break a sweat, and try to figure out why Minnesotans love punk/country so much. With Amen and the Hell Yeahs, The Gateway District and Chokecherry
CLICK THE IMAGE FOR THE PRETTY BOY THORSON SITE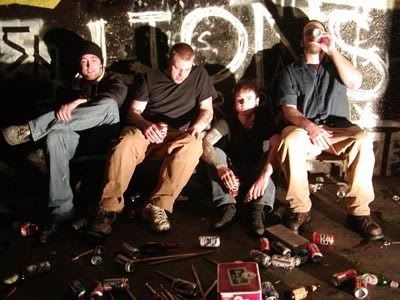 SAVE THE DATE: OCTOBER 31ST
The Dead Hate the Living
Be sure to mark your calendars for the hottest Halloween party of the season: The Dead Hate The Living! It's concepted by some of the hottest party throwers in town (remember the Fashion Weekend Bash THUNDERBALL? How could you forget!) Not to mention, your pals at l'étoile are co-sponsoring yet again! This time around we'll be styling the Digital Crush photo booth, so dress to impress and get your pic snapped ala l'étoile!
Want to know more? Peep this commercial for the event whipped up by l'étoile BFF
Clement Shimizu
and get all the deetz!
What's What Editor: Kate Iverson
Contributing Writers: Lacey Prpic Hedtke, Beth Hammarlund, Robyn Lewis, Juleana Enright
ALL CONTENT © L'ETOILE MAGAZINE 2008