ZOMBIE LOVE
The spooky season is fast descending upon us! With Halloween just a couple weeks away, we're sure you've been noticing the abundance of creepy events (and mini-Snickers bars) taking over the land. You still have plenty of time to come up with a fantastic get-up for the big night, so use this weekend to get inspired by putting on your best un-dead face at the Zombie Pub Crawl or checking out the Soap Factory's Haunted Basement - or even going the anonymous route at Honeymoon's mask party - who knows what could happen!
xo-l'étoile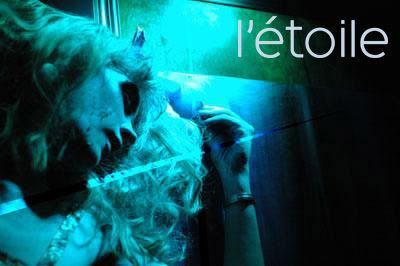 THURSDAY OCTOBER 16TH
Third Thursday Polka Party
@ Minneapolis Institute of Arts
2400 Third Ave S
Minneapolis
6pm-9pm/free
It's polka time! In honor of German Expressionist artwork, the MIA is dancing the polka. Tubby Esquire's accordion band will have you twirling and swirling. When you're dizzy and need a break, grab a beer at the cash bar and watch the 1919 classic
The Cabinet of Dr. Caligari
. A little creepy, a lot of fun and more than enough polka to go around.
CLICK THE IMAGE FOR THE MIA SITE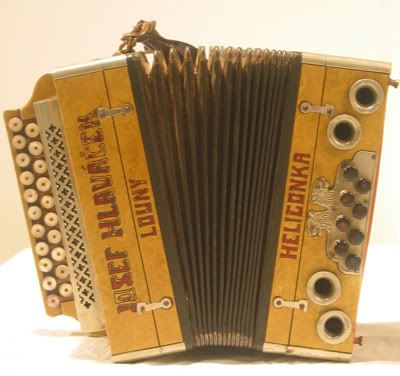 THURSDAY OCTOBER 16TH
RNC '08 Arrestees Benefit Concert
@ The Black Dog Coffee and Wine Bar
308 Prince St.
St. Paul
7pm/donations encouraged/All ages
A lot of money is needed to pay for the legal proceedings of all the journalists, protesters, street medics and legal observers. Bands that played during the RNC - Junkyard Empire and Pocket of Resistance are lined up, and a special message from Submedia.tv's The Stimulator is promised. All proceeds go to the righteous Coldsnap Legal Collective, and Food Not Bombs.
CLICK THE IMAGE FOR THE BLACK DOG SITE
Photo by Kate Iverson/Digital Crush RNC '08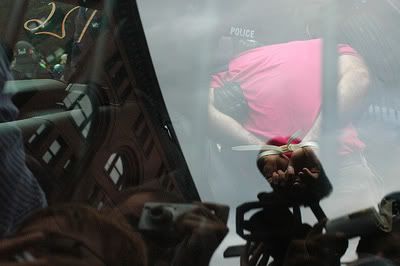 THURSDAY OCTOBER 16TH
Larry Millett: Murder Has a Public Face
@ Magers and Quinn Booksellers
3038 Hennepin Ave S
Minneapolis
7:30pm / free
l'étoile has a major secret crush on Larry Millet. Bringing Minnesotans books like
Strange Days
,
Dangerous Nights
, and the
AIA Guide to the Twin Cities
, he's a powerhouse of uncovering Minnesota's unknown and often-sordid past. His new book,
Murder Has a Public Face
hearkens back to the days when photographers toted giant 4x5 cameras and had unrestricted access to crime scenes and criminals. Listen while he regales the crowd at Magers and Quinn about long-forgotten local crimes.
CLICK THE IMAGE FOR THE MAGERS & QUINN SITE
THURSDAY OCTOBER 16TH
Red Stag Late Night Happy Hour
@ Red Stag Supper Club
501 1st Avenue NE
Northeast Minneapolis
10pm / Free
Looking for a laid back, classy, cool, yummy, and centrally located kick-it spot where you can hear some amazing local music tonight? Look no further. Every Wednesday and Thursday after 10pm The Stag serves up not only some of the best locally grown, organic comfort food in town, but it hosts a rotating cast of fantastic musicians (also locally grown). Tonight's tune-smithing is courtesy of John Swardson, who will add a little good old fashioned Americana to your plate with his acoustic stylings.
WIN A $25 BAR TAB:
l'étoile and the Red Stag are giving away multiple $25 Bar Tabs for Late Night Happy Hour at the Stag! E-mail
kate@letoilemagazine.com
with "RED STAG" in the subject line, along with your name and address to be entered to win! Restrictions: Bar tabs are good after 10pm on Wednesdays or Thursdays through the end of November!
CLICK THE IMAGE FOR THE RED STAG SITE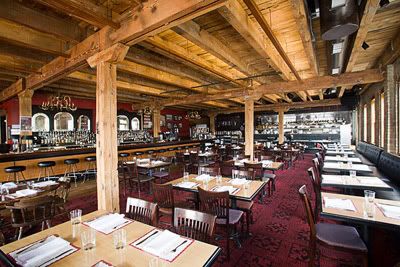 FRIDAY ART PICK: VILLAGE PET STORE & CHARCOAL GRILL
Hi, I'd like to make these hot dogs and chicken nuggets anatomically move? How did the recently-unmasked Banksy propose such a feat? If you're in the West Village this month, stop by his first-ever show in NYC; a storefront pet store featuring rabbits putting on makeup, cameras tending to their young, hot dogs sipping from the mustard container, you name it. We didn't think he could get any more awesome, but he just did. Mom, can we take home that hot dog? Pleeeeassseee?
Click
HERE
to check out the website.
FRIDAY OCTOBER 17TH
Nest
@ Alcoa House
8000 Westwood Hills Drive
St. Louis Park
6pm-10pm / free
Amy Rice and Terrence Payne have teamed up with Sotheby's to create textiles, furniture, and other home furnishings in their first joint exhibition. Enjoy viewing their imagery translated into a new form, and another way to appreciate art - in the retro-snazzy Alcoa House, no less! Through October 19th.
CLICK FOR THIS ART EVENT AND MORE AT MPLSART.COM
FRIDAY OCTOBER 17TH
Haunted Basement
@ The Soap Factory
518 2nd St. SE
Minneapolis
6pm-12am / $15 / 18+ or 13+ if accompanied
Warning #1 the Haunted Basement is seriously scary: You have to sign a waiver. Warning #2: The Soap Factory is under investigation by the Twin Cities Paranormal Society. Think you can handle this level of terror? Buy your tickets early, this artist-designed performance project is wildly popular, terrifying over 3,000 people last year. Rusty soap vats, 12,000 square feet crawling with God-knows-what, and crazy artists? Oooohhhh….spoookkyyy! Through November 2nd.
CLICK THE IMAGE FOR THE SOAP FACTORY SITE
FRIDAY OCTOBER 17TH
Murs
@ 7th Street Entry
701 1st Ave N
Minneapolis
6pm / All Ages / $14
10pm / 21+ / $14
Politically charged, musically adventurous independent hip-hop artist Murs will bring his well-oiled rhymes and unique flow to a loyal following in Minneapolis Friday night for two shows in support of his major label debut,
Murs for President
(we wish!) Kids in the Hall open.
CLICK THE IMAGE FOR THE FIRST AVE SITE
FRIDAY OCTOBER 17TH
Wire
@ First Avenue
701 1st Ave N
Minneapolis
8pm / 18+ / $15
Music nerds rejoice! Post punk pioneers and quintessential art band Wire will be delighting new and old fans alike for their first Minneapolis show since 2002. With their remarkably fresh, unpredictable sound and Brian Eno-inspired ambient experiments, Wire has continued to blow minds and eardrums since their 1977 must-own classic
Pink Flag
. Those lucky enough to have a ticket are undoubtedly in for a legendary performance.
CLICK THE IMAGE FOR THE FIRST AVE SITE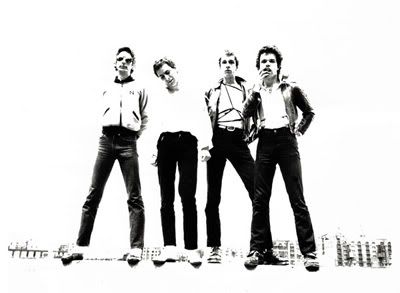 FRIDAY OCTOBER 17TH
Convergence: Wild Thing Edition
@ The Dinkytowner
412 ½ 14th Ave SE
Minneapolis
9pm / 18+ / $5
College kids beware there's an all night dance party brewing in your neighborhood sure to surpass your wildest dreams. The boys from Convergence, Mike G and Jon Hester, take it back to where it all started, the Dinkytowner, for Wild Thing, but they're not alone. l'etoile fav Anthem Heart clothing designer and DJ, Real Talk Radio, controls the decks of the first hour with an opening set saturated with electro jams and old school remixes all while an open bar loosens up your dancing chomps. Then enjoy PBRs for only $2 bucks and rock to the mixing skills of Andy Fargo and the previously mentioned Convergence veterans. With all the money you'll save on drinks, be sure to swing by the merch booth for colorful and rare Anthem Heart attire and brand new Convergence shirts. And as if the musical line-up wasn't enough, Anthem Heart and video-tastic artist Time Squid have joined forces to create, for your visual pleasure, a unique, interactive dance production featuring the sexy Anthem Heart models Cocco and Breezy. Get good and tipsy, then have your pic snapped by photog crew Digital Crush! And after you're all partied out, stick around and replenish yourself with a diner breakfast social served up by the Dinkytowner at 3 AM.
CLICK THE IMAGE FOR THE ANTHEM HEART SITE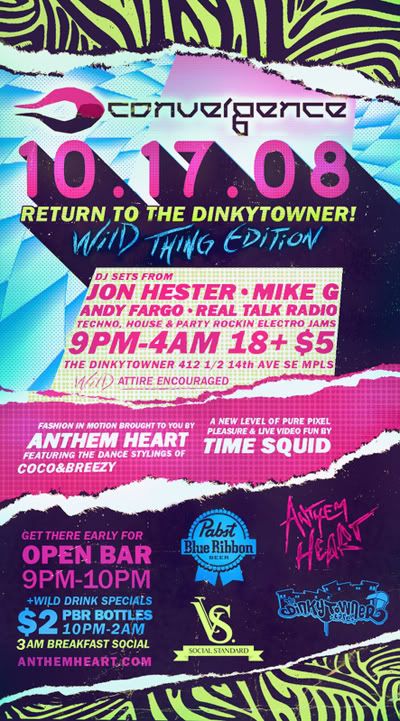 FRIDAY OCTOBER 17TH
Honeymoon
@ First Ave VIP Room
701 1st Ave. N
Downtown Minneapolis
10 PM/ 18+/ $3 with RSVP
Back for its 15th installment, Honeymoon hosts an masquerade bash with surprises around every black-floored square foot of the VIP area. The line-up features Honeymoon regulars The Moongoons, everyone's favorite DJ lady combo Tendercakes, local flavor Gigamesh, Meatwood Flack and Canadian guest General Tso and the Chicken Commander - extra DJs for your extra special dancing pleasure! Prizes for the best party mask, drink specials and T-shirt give-aways are just a few of the goodies Honeymoon has to offer. And as always, an RSVP is not only polite, but gets in you the party for less mullah.
Co-sponsored by l'étoile magazine!
CLICK THE IMAGE TO RSVP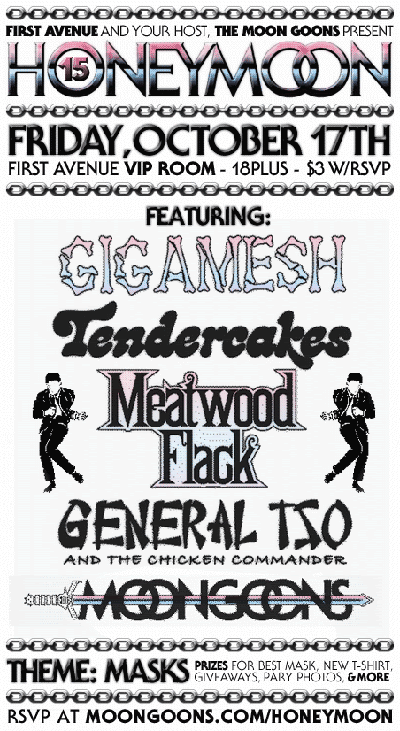 COOL LINK: DEAR-GOD
Never posted an online confession? What a sin. Although, it might be more fun read one then to compose one. Well friends and literary voyeurs, you've come to the right place.
Dear-God
is confessions from anonymous and identified folks across the globe. Each post is categorized by the different pressing issues in life and paired with vividly explicit and often contrary images. The result? A site that ranges from uncomfortable to funny to just plain perplexing. The jump from cathedral to Internet allows anyone to play "God" and post reply comments. This link welcomes you to find absolution, be a savior or just lose yourself in visual limbo.
CLICK THE IMAGE FOR THE DEAR GOD SITE

SATURDAY OCTOBER 18TH
Zombie Pub Crawl IV
@ Starts at Gold Medal Park
2nd St. and 11th Ave S.
Minneapolis
4pm / free for zombies
We want your braiiiinnnssss. Give us your beeeerrrr...(Arms outstretched) Well, which is it? Both! The undead are on a pub crawl today, so grab your tattered clothes and paint on some black eyes, and get down to Gold Medal Park. After a day of "undead-oke," BBQ'd limbs, undead bands, presidential piñatas, and drink specials, the crawl will culminate with a zombie dance party at The Cabooze with MC/VL and Dance Band.
CLICK THE IMAGE FOR THE ZOMBIE PUB CRAWL SITE
SATURDAY OCTOBER 18TH
The Fall Collection
@ 555 Studios
3965 Minnehaha Ave
Minneapolis
7pm-10pm / free
Q: What do you get when you cross a kick-ass tattoo shop with an art opening? A: A wildly good time. Have you been admiring those graffiti'd eyes on the sides of highways and any other blank slates? The artist, Solo AIP can claim them, and has work at this show, along with James Penfield, J Wasyk and many more.
CLICK FOR THIS ART EVENT AND MORE AT MPLSART.COM
SATURDAY OCTOBER 18TH
Booka B: Facementality
@ Nicademus Art
225 N. Snelling Ave
St. Paul
7pm / free
St. Paul has a new place to see art! Frame shop and gallery, Nicademus presents the work of Adam Booker, aka Booka B. Working with canvas, paper, and found objects, and recently reviewed in Juxtapoz magazine, his work strives for ethnic and urban fusion. He'll be there on the opening night, along with local DJ's, and the rest of the growing St. Paul art scene. Through November 8th.
CLICK THE IMAGE FOR THE NICADEMUS SITE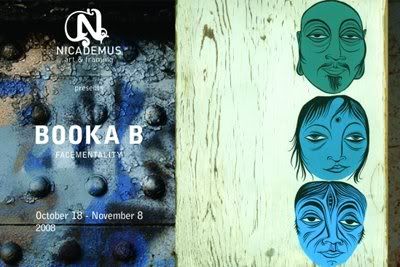 SATURDAY OCTOBER 18TH

The Music of Queen
With the Minnesota Orchestra and Rajaton
@ Orchestra Hall
1111 Nicollet Mall
Minneapolis
8pm / All Ages / $22-$53
After their hugely successful Abba tribute, Finnish acappella vocal ensemble Rajaton will once again join forces with the Minnesota Orchestra in a stunning performance re-creating the music of 70's anthem rockers Queen.
CLICK THE IMAGE FOR THE MN ORCHESTRA SITE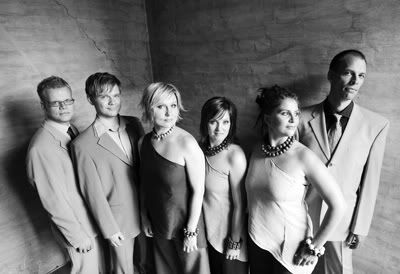 SATURDAY OCTOBER 18TH
Baracktoberfest
@ Lee's Liquor Lounge
101 Glenwood Ave.
Minneapolis
8pm / 21+ / $10
l'étoile endorses Obama! It's just one reason why we're excited about tonight's Baracktoberfest party at Lee's, but if you need even more of a reason, the bevy of Barack-lovin' bands and musicians on this ticket will surely quell your fears of a dull Saturday night. Featuring The Pines, The Ditchlillies, Molly Maher, Jon Rodine, and a ton more! Your $10 donation goes directly to the Obama campaign, so win/win, right?
BONUS:
Ok, we know we gabbed about these boys to you just last week, but in case you haven't heard, hometown print heroes
Burlesque of North America
are among a handful of artists to design a poster for Upper Playground's exclusive Obama poster collection. Not only that, but Burlesque also printed the entire run of posters designed by artists such as Justin Bua, David Choe, Grotesk, The Date Farmers, Munk One, Ron English, and more. Nice, eh? Well, hurry and click
HERE
if you want one of the prints - each design was produced in a 200 print limited edition run that will surely sell out. And all proceeds go to Mr. Obama's campaign, of course!
CLICK THE IMAGE FOR THE LEE'S SITE
Obama Poster by Wes Winship of Burlesque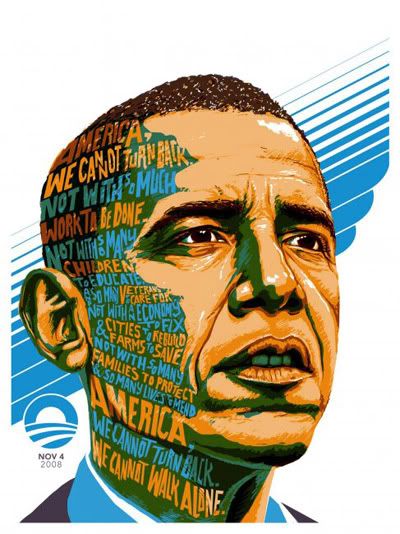 SATURDAY OCTOBER 18TH
RoboChic Fashion Show
@ Station 4
201 E. 4th St
St. Paul
9pm / 21+/ $7
Couture fashion for robots? We knew it was only a matter of time. RoboChic takes us to a post apocalyptic world where, thankfully, fashion is still consequential. As a follow-up to last year's theatrical Dead Sexy zombie fashion show, cyborg models will showcase 'the metal meets material' design essence of eleven local designers. Swearing Jack Productions and special guest DJ Mustang Sally provide the electronic beats. Don't miss this futuristic fashion show - you might just find your Halloween costume inspiration!
CLICK THE IMAGE FOR THE STATION 4 SITE
SATURDAY OCTOBER 18TH
Save the Robots featuring Paul Birken
@ 1st Avenue VIP Room
701 1st Avenue
Downtown Minneapolis
10pm / 18+ /
Speaking of Robots, we best let you in on tonight's electronic riot in the VIP! In a time when laptops are the norm and not the exception, there still exists dedicated artists who continue to push boundaries with machines. Save The Robots is the first in a series of events where DJs will play only vinyl and live acts will be all gear. Featuring an intense live set by the tech-savvy Paul Birken and a special 2.5 hour opening set by Minneapolis dance scene kingpin DVS1.
GUEST LIST ALERT:
E-mail
kate@letoilemagazine.com
with your full name to be put on the l'etoile VIP guest list +1! Space is limited.
CLICK THE IMAGE FOR THE BLACK SITE
SUNDAY MUSIC PICK: EVEREST
With an earnest sincerity that is often associated with indie rock, the veteran musicians in Everest deliver warm melodies and meaningful lyrics perfect for colorful and cool and fall weather. Composed of members from indie music heavyweights Earlimart, Folk Implosion, and Sebadoh, the result is their much buzzed about debut album
Ghost Notes
, that hit shelves back in May. Neil Young has even given these guys his personal seal of approval by signing them to his label, Vapor, and inviting them to open the North American leg of his tour, along with Wilco and Death Cab for Cutie.
CLICK THE IMAGE FOR THE EVEREST MYSPACE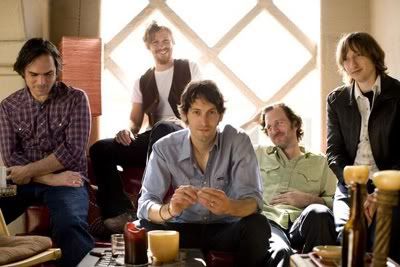 SUNDAY OCTOBER 19TH
Heroes and Figures
@ Barbette
1600 W Lake St.
Minneapolis
3pm-6pm / free
Eddie Hamilton and Scott Helmes' drawings, paintings, and surprises grace the walls at Barbette today. Stop by for a lazy Sunday happy hour reception, and let their happy, squiggly work soothe your tomorrow's-Monday woes.
CLICK FOR THIS ART EVENT AND MORE AT MPLSART.COM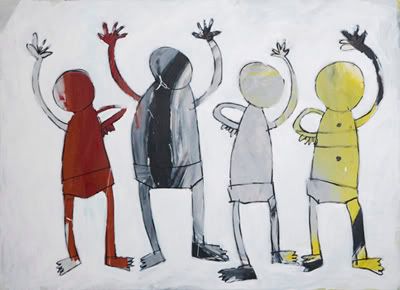 SUNDAY OCTOBER 19TH
The MonaLisa Project
@ Pi Bar
2532 25th Avenue S.
Minneapolis
6pm-2am / $10 suggested donation
B-Girl down, step up! Lisa Berman aka MonaLisa, an esteemed member of the local break-dancing community is currently battling breast cancer and needs your support! Tonight's benefit features a slew of talented Twin Cities performers, musicians and DJs who have come together to rock out for this good cause. Bid on cool stuff in the silent auction, or spring for a torso casting painted by local graffiti artists - all proceeds will go to help cover Lisa's mounting medical bills, with any additional funds being donated to the breast and ovarian cancer foundation Bright Pink. So, come down to Pi tonight to support this community staple and dance educator, and have a great time doing it!
CLICK THE IMAGE FOR THE MONALISA PROJECT SITE
SUNDAY OCTOBER 19TH
Literary Legends: David Sedaris
@ The State Theater
805 Hennepin Ave
Minneapolis
7pm / $35-$42
Reading a David Sedaris book in public is probably the most lively act one can indulge in. Laughing out loud, raising limbs in exasperation, poking strangers to share must read passages. Why, it's almost the kind of embarrassing moment Sedaris himself would write about. Tonight, the Loft Literary Center and the Hennepin Theatre District present legendary humorist, David Sedaris, author of several best-selling essays and short stories and regular NPR commentator. Pushing the boundaries of creative non-fiction, Sedaris' sardonic and misanthropic narratives feel like privileged secrets shared between close friends. Sedaris will be reading from his most recent works including
When You Are Engulfed In Flames
. Don't miss the opportunity to experience this hilarious literary genius live.
CLICK THE IMAGE FOR THE STATE THEATER SITE
A TINY MACHINE MONDAY: CULT CLASSIC
I mentioned MAC's Cult of Cherry collection a while back, but I just came across their promotional video. Directed by and starring Floria Sigismondi and featuring Erin Fetherston, this video has me craving chocolate covered cherries and is further encouraging my red lipstick obsession.

For more entries from our fave fashion/beauty/sci-fi blogger, A Tiny Machine, click HERE.
MONDAY OCTOBER 20TH
Sound Unseen Rock n' Bowl
@ Memory Lanes
2520 26th Avenue S.
Minneapolis
7-10pm / $5 (Includes Bowling)
Frame off against some of your favorite local bands in this annual bowl-o-rama that kicks off the Sound Unseen Music, Film and Art Festival happening October 23rd-30th! E-mail
info@soundunseen.com
to reserve your spot (bowlers must sign up in teams of four) to play against the likes of Bella Koshka, Gospel Gossip, Building Better Bombs, The Guystorm, The Soviet Machines, and many more.
CLICK THE IMAGE FOR THE SOUND UNSEEN SITE
TUESDAY OCTOBER 21TH
Silver + Gold
@ Clubhouse Jager
923 Washington Ave.
North Loop
Every Tuesday / 21+ / 10pm / Free
Join DJ Jonathan Ackerman and l'étoile magazine for an evening of sly winks and sideways glances every Tuesday at Clubhouse Jager. Create some mystery, sip 2-4-1 cocktails with pretty people, and dance the night away to electro, pop, and so much more.
BONUS:
Flirt up a storm then visit letoilemagazine.com on Wednesdays for "missed connections" from the night before!
Sponsored by l'étoile magazine & Alphasuede
CLICK THE IMAGE FOR L'ETOILE TEXT CONNECTIONS
TUESDAY OCTOBER 21ST
New Kids on the Block
@ Xcel Energy Center
175 W Kellogg Blvd
St. Paul
8pm / $35.50-$75.50
The original 80s heartthrobs are back on tour, and as popular as ever. You thought you'd never hear Hangin' Tough, Cover Girl, or Step by Step live again, did you? Donnie, Danny, Jon, Jordan and Joey are all grown up and while not so fresh-faced and new, they do have a new album. And you know you remember all the words to their old albums, so put on that t-shirt with your fave New Kid's face on it, pop a cassette in your car to get excited, and head to St. Peazy to welcome them back.
CLICK THE IMAGE FOR THE NKOTB SITE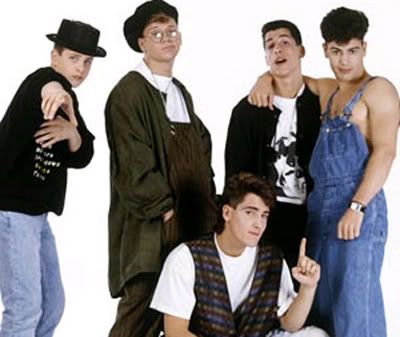 What's What Editor: Kate Iverson
Contributing Writers: Lacey Prpic Hedtke, Beth Hammarlund, Robyn Lewis, Juleana Enright
CONTENT © L'ETOILE MAGAZINE 2008