DANCE DANCE...REVOLUTION?
As the leaves begin their slow autumn turn and the noticeable chill sweeps in, the political climate heats up! While the bulk of this weekend holds an abundance of the fantastic art, music and parties that you've come to expect, Thursday is really the perfect chance to flex your revolutionary muscle. With a handful of thoughtful events that will definitely inspire and entertain, your thinking cap has never looked so stylish!
xo-l'étoile

photo/design by Digital Crush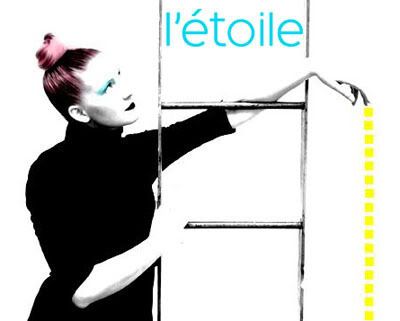 THURSDAY OCTOBER 2nd
First Thursdays in the Art District
@ Various locations
Northeast Minneapolis
5-9pm / Free
Every first Thursday, painters, photographers, potters, and galleries open their doors and show off what they've been doing all month. It's a chance to interact with artists and see some art that's so fresh it hasn't made it to a gallery yet. Definitely stop by the Red Stag in between fits of art viewing for their happy hour, then stick around for a 10pm performance by Lil' Black Blondie. Visit the NEMMA site at the link below for all open studio locations and special events!
CLICK THE IMAGE FOR THE NEMAA SITE
image of Casket Arts Building
THURSDAY OCTOBER 2ND
Chuck Klosterman and E.L. nO.
@ The Triple Rock Social Club
629 Cedar Ave
Minneapolis
7pm / $8 / 18+
The stage at the Triple Rock may be used to hosting rock shows, but tonight best selling author and famed critic Chuck Klosterman will read from his new novel
Downtown Owl
, throwing in some witty pop-culture criticism along the way. After the reading, enjoy music by E.L. nO, an E.L.O. cover band, complete with amazing outfits and afros.
CLICK THE IMAGE FOR THE TRIPLE ROCK SITE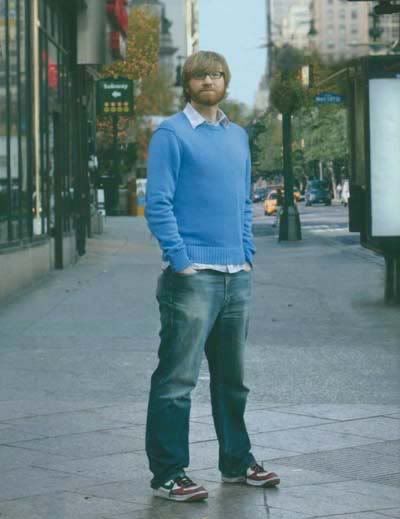 THURSDAY OCTOBER 2ND
The Take
@ Carlson School of Management
Room #L-118
University of Minnesota
West Bank of Minneapolis
6pm-8pm / free
Have you noticed how many worker-owned coops and collectives the Twin Cities is home to? Yep, we're in a hotbed of radicalism and free thought. As part of the Experimental College, this one-time free class will screen
The Take
, a documentary look at a Latin American co-op, complete with drama, a discussion to follow, and free pizza! See what happens when workers don't rely on the capitalist system to support themselves.
CLICK THE IMAGE FOR THE TAKE SITE
THURSDAY OCTOBER 2ND
Chicago 10
@ Walker Art Center
1750 Hennepin Ave
Minneapolis
7pm / free
Already missing those crazy days of the RNC? Feel like you're there again with this experimental film mixing animation, archival footage, music and still photographs detailing the 1968 Democratic Convention in Chicago, where eight protesters were charged with conspiracy while speaking out against capitalism, the war, and what they saw as the country's failings. (Sound familiar?)
CLICK THE IMAGE FOR THE WALKER SITE
THURSDAY OCTOBER 2ND
The Visitor
@ Oak St. Cinema
309 Oak St. SE.
Minneapolis
7pm / Free Screening!
The Advocates for Human Rights and "Twin Cities essential neighborhood movie house" Oak Street Cinema invite you to an important screening of
The Visitor
. Award winning director of The Station Agent, Tom McCarthy's highly reviewed film,
The Visitor
, takes a poignant and blunt look at the immigration detention system in a post-9/11 America through the connection of an unlikely pair. The internationally known and recognized organization, The Advocates for Human Rights, is dedicated to the preservation of human rights in communities and promotes the education of legal issues. After the film, Peter Rachleff, a professor of immigration and history at Macalester College, will hold a discussion panel offering the audience ways to get involved locally. Come support this politically relevant event.
CLICK THE IMAGE FOR THE OAK STREET SITE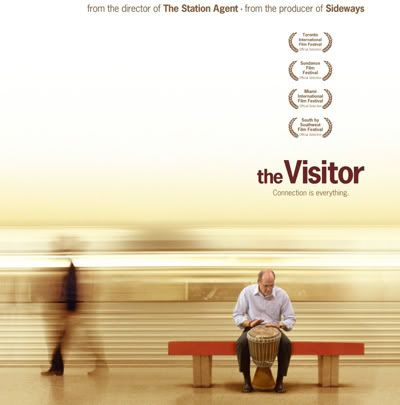 FRIDAY ART PICK: CARA BARER
Photographer Cara Barer transforms common objects into sculpture in her extensive series of curled, abused, and crumpled books. Commenting on the books' decline in the age of computers and the relevance of libraries, this Texas artist's tactile images document the evolution of a common object. A disclaimer on her website assures that no important books were injured during the making of the photographs.
CLICK THE IMAGE FOR THE CARA BARER SITE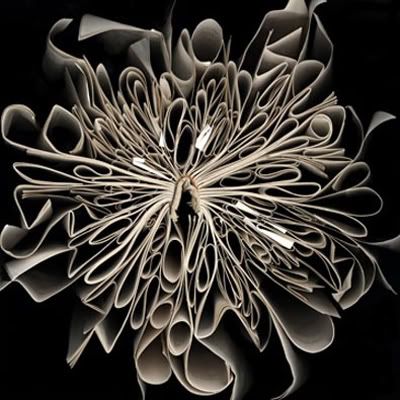 FRIDAY OCTOBER 3RD
Brian Mark: Haunted by Grace
@
Rogue Buddha Gallery
357 13th Avenue NE
Northeast Minneapolis
7-11pm / Free
Central American artist Brian Mark is known for his magnificent bronze and stone sculptures which can be viewed in such places as the National Cathedral in Washington D.C., the Vatican and around the world, Brian Mark has created a new medium through his use of acid on stainless steel. The artist creates images using a multi-layered effect. Depending on the viewer's angle and light source, each piece reveals its different elements–much like a hologram or ghost.
CLICK FOR THIS ART EVENT AND MORE AT MPLSART.COM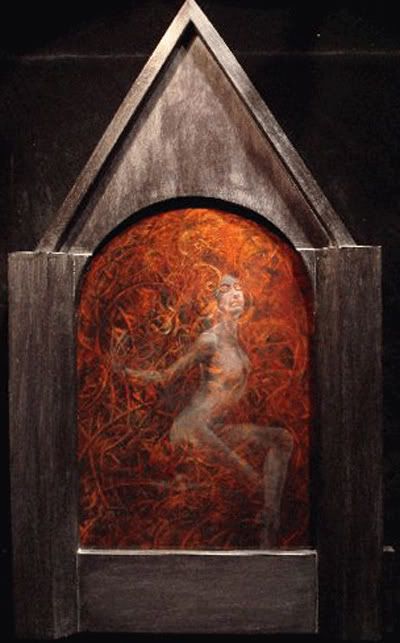 FRIDAY OCTOBER 3RD
Hot Ink: Comic Art in Minnesota
@ Minnesota Museum of American Art
50 W Kellogg Blvd
St. Paul
7pm for MMAA members, 8pm for public/$5 for students and MMAA members, $10 for public
An unbelievable amount of comic art is done right under our noses here in Minnesota. Will Dinski, Tom Kaczynski and King Mini are some of those superstars showing their sketchbooks, inked panels and mini comics. DJ Justin Olson spins a live set while you drink complimentary refreshments in the gorgeous and spacious galleries of the Minnesota Museum of American Art. Runs through October 3rd.
CLICK THE IMAGE FOR THE MMAA SITE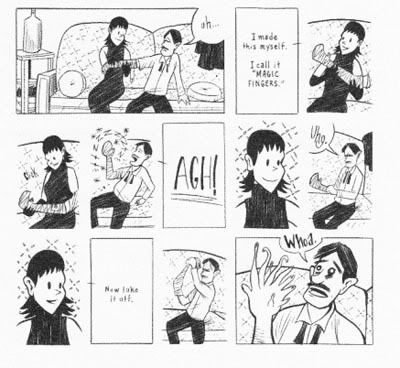 FRIDAY OCTOBER 3RD
Tales from the Black Lodge
@
Altered Esthetics
1224 Qunicy St. NE
Minneapolis
7pm-10pm / free
David Lynch is a creative genius - that goes without saying. Over 30 videographers, poets, photographers, and printmakers respond in an eerie and otherworldly fashion to his work, just in time for spooky October. Usually the Black Lodge (a facet of Lynch's epic
Twin Peaks
) can only be entered when Jupiter and Saturn meet, so consider yourself among the chosen to see this show at Altered. Through October 25th.
CLICK FOR THIS ART EVENT AND MORE AT MPLSART.COM
FRIDAY OCTOBER 3RD
Rumours Grand Opening Party
@ Rumours/Innuendo
213 E. 4th St.
St. Paul, MN
9pm / 21+ / $TBA
No matter if you're straight, gay, bisexual, trisexual, pansexual, no-sexual, asexual or neutered, nightlife in St. Paul is about to get a lot more colorful. The Twin Cities newest gay club Rumours throws open its doors this weekend with a long-awaited grand opening celebration, with DJ Frayz man-handling the decks all night long. Sponsored by our friends at Vita.mn.
CLICK THE IMAGE FOR THE RUMOURS SITE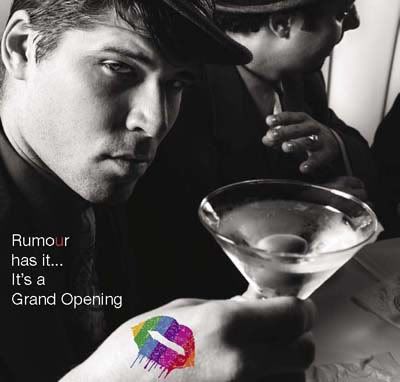 FRIDAY OCTOBER 3RD
The Blind Shake
@ Turf Club
1601 University Ave
St. Paul, MN
9pm / 21+ / $TBA
Just before they hit the road for their fall tour, the Blind Shake blow out the doors of the Turf Club with their earsplitting post-punk clatter and apeshit live show. And, what's a show at the Turf without a stellar line up of local rock? Intelligence, Mute Era, and Zombie Season support.
BONUS:
While you're on that side of the river, stop by
Big V's
, a mere block away, for Lookbook and the Red Pens, two of the most buzzed about bands on the scene.
CLICK THE IMAGE FOR THE BLIND SHAKE SITE
FRIDAY OCTOBER 3RD
Hotel
@ Kitty Kat Club
315 14th Ave. SE
Dinkytown Minneapolis
10 PM-2 AM/ 21+/ Free
On the first Wednesday of every month, MPLS tests it's emergency defense sirens with a blare heard throughout the city. But every first Friday, Jonathan Ackerman and guests DJs test your dancing skills with a breakdown heard throughout Dinkytown. While the weather outside might be getting chilly, Spanky Masterson joins Ackerman to drop the beats that are sure to heat up the dance floor. No cover? No way! Take us to a HOTEL any night.
CLICK THE IMAGE FOR MORE INFO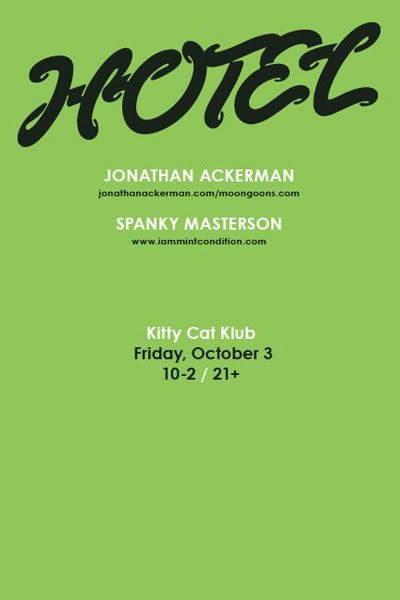 FRIDAY OCTOBER 3RD
Get Cryphy
@ First Ave VIP room
701 1st Ave N.
Downtown Minneapolis
10 PM-2 AM / 18+/ $3
A little crunk here, a bit of hyphy here. This is how they do it. The "no good, double-crossing" DJ bad boys Jimmy 2 Times, Mike the 2600 King and Plain Ole Bill are back tonight for another banging trend-proof but never "typical" set. You won't see any patrons from Drink wandering into this party. Push, Fifth Element and Burlesque of North America sponsor tonight's roof-raising event, Get Cryphy! That's "cry-phee." But then again, if you can't pronounce it, it may be too intense for you.
Bonus:
Can't wait for the show? Check out
this free mix
by cryphy master Jimmy 2 Times.
CLICK THE IMAGE FOR THE GET CRYPHY MYSPACE
SATURDAY OCTOBER 4TH
Backyard Ramp Jam
@ Starts at Uptown Bar (various locations)
3018 Hennepin Ave S
Minneapolis, MN
9:30am / 21+ / Free
As summer fades away and your days of skating outside come to a close, here's your chance to get ridiculous at the 5th Annual Back Yard Ramp Jam! Ride around in a school bus all day, stopping at various backyard skate ramps around the city (with free beer). Then there's an after party at Dusty's ramp (more free beer) starting at 8:30pm. Prizes will be awarded for best trick, worst slam, and biggest beer gut; highlighting any other misadventure that may have occurred along the way. Make sure to email Luke at
tame55@hotmail.com
to reserve yourself a seat on the bus. Bus leaves at 10:30am sharp!
Co-Sponsored by l'etoile magazine
CLICK THE IMAGE FOR THE WHATEVER FEELS GOOD SITE
SATURDAY OCTOBER 4TH
Groundbreaker Battle
@ Minnesota Shubert Center Parking Lot
528 Hennepin Ave
Minneapolis, MN
1-7pm / All Ages / Free
The beat is on this Saturday as over 30 dance crews bust a move at this day-long breakdancing competition taking place in the Minnesota Shubert Center parking lot. In the tradition of hip-hop culture, graffiti art will be on display, as well as a street dancing workshops, and the world premiere of Revolution by b-boy crew the Battlecats.
CLICK THE IMAGE FOR MORE INFO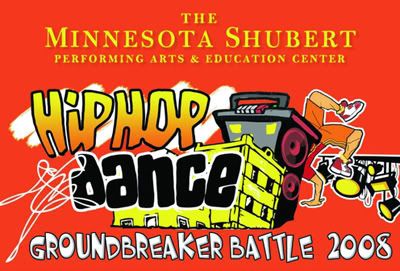 SATURDAY OCTOBER 4TH
Black and White Bash
@ Gremlin Theater
2400 University Avenue
St. Paul
6:30 PM/ Pay as you can $5-$500
Theatre Pro Rata has a new space, a new website and a new fall show. And to celebrate it all, they'll host a posh party - black Tie style of course - featuring appetizers, live mannequins, a classical guitarist, wine, and silent auction with some local artwork items up for bid. After the opening performance of
Killer Joe
, Theater Pro Rata's newest production, the posh gets crashed and a "White Trash" party takes over. Everybody wins! Local experimental indie band Prozac Rat take the stage while 40s and Cheetos replace your precious hors d'oeuvres. Whether you're sporting overalls and a mullet, rocking a Gucci suit, or curiously combining the two, you'll be welcomed. The party is sliding scale so pay what you can but don't skimp - this local theater house needs your support!
CLICK THE IMAGE FOR THE THEATRE PRO RATA SITE
SATURDAY OCTOBER 4TH
Climbing PoeTree, Black Blondie and Black Audience
@ Pi Bar
2532 25th Ave. S.
Minneapolis, MN
9pm / 21+ / $5
Boundary-breaking spoken word soul sister duo, Climbing PoeTree will bring their collage of art, music, activism and poetry to the Pi Bar stage on Saturday night for a very special performance featuring Black Blondie, Black Audience, and more.
CLICK THE IMAGE FOR THE PI SITE
SATURDAY OCTOBER 4TH
BLACK 1 Year Anniversary
@ First Ave VIP room
701 1st Ave N
Minneapolis
10 PM-2 AM/ 18+/ Free
Raves may be called parties now and ecstasy might be passé but true followers in electronic music know that the MPLS underground scene is just as tight and prevalent as ever. As Black Saturdays - MPLS' best in house, techno and drum & bass parties - celebrate their one year anniversary bash, it's easy to see why dance-rock and electro nights are given a run for their money. But it's not a competition, more like a sweet, sweet union. Bassheadz and Home, present Nik E. Gunz, Matt Veloce, Jesse Jakob and Aaron Bliss for pounding beats, deep cuts and 2-4-1s 'til midnight. All free of cover!
CLICK THE IMAGE FOR MORE INFO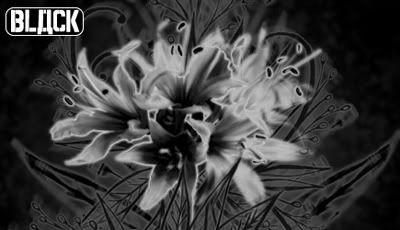 MONDAY OCTOBER 6TH
The Fist of God Tour
@ 1st Avenue
701 1st Avenue N
Minneapolis
9pm / 18+ / $10
With their highly anticipated forthcoming album Fist of God and subsequent tour, indie dance duo MSTRKRFT have finally broken out into the global scene and have become hipster household names, sharing ranks with Justice and Simian Mobile Disco. Hockey mask donning and vowel-deficient MSTRKRFT bring will bring their punk spirit and disco-laden sets to First Avenue this Monday night, and trust us, you don't want t miss it. They put on one helluva show. With Felix Cartel, Congorock, Dayne and D-Struct.
CLICK THE IMAGE FOR THE MSTRKRFT SITE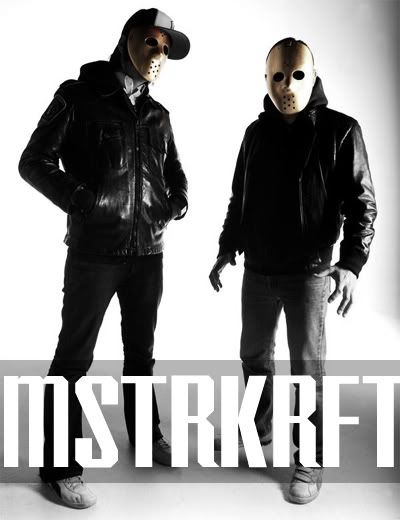 TUESDAY OCTOBER 7th
Best Friends Forever, The Terrordactyls, The Velveteens, Nancy Drew Crew
@ Eclipse Records
1922 University Ave
St. Paul
7pm / $5 / All ages
This is going to be the cutest, head-boppingest show for a long time. Cute-core band The Terrordactyls are back in town for more xylophone and kazoo playing. Local triumvirates of danceable music, Best Friends Forever provide the grooves, doo-wop trio The Velveteens offer the crush songs, and Nancy Drew Crew takes on crafting and mysteries with two hip-hopping front women. Plus, if this isn't enough for you, you can play pinball in the new arcade.
CLICK THE IMAGE FOR THE ECLIPSE SITE
Photo by Sarah Cass
TUESDAY SEPTEMBER 30th
Silver + Gold
@ Clubhouse Jager
923 Washington Ave.
North Loop
Every Tuesday / 21+ / 10pm / Free
Join DJ Jonathan Ackerman and l'étoile magazine for an evening of sly winks and sideways glances every Tuesday at Clubhouse Jager. Create some mystery, sip 2-4-1 cocktails with pretty people, and dance the night away to electro, pop, and so much more.
BONUS:
Flirt up a storm then visit letoilemagazine.com on Wednesdays for "missed connections" from the night before!
Sponsored by l'étoile magazine & Alphasuede
CLICK THE IMAGE FOR L'ETOILE TEXT CONNECTIONS
What's What Editor: Kate Iverson
Contributing Writers: Lacey Prpic Hedtke, Beth Hammarlund, Robyn Lewis, Juleana Enright
ALL CONTENT © L'ETOILE MAGAZINE 2008