DIY OR DIE!
Ok, we really don't want you to die! That was our attempt at being punk rock. Did it work? No? We didn't think so, but either way this weekend's lineup is as DIY as they come, there's no doubt about that. Check out Zinefest at Stevens Square Center for the Arts, "cute-core" band Bla Bla Blacksheep at Eclipse (and Arise), Serious Art at First Amendment, and oodles of more homegrown goodness from majorly talented folks hailing from the Twin Cities and beyond!
xo-l'étoile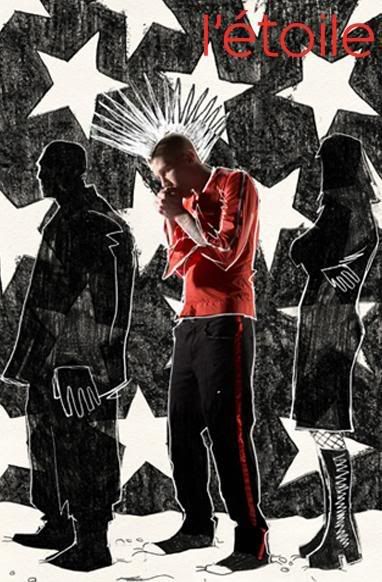 THURSDAY JULY 10TH
Creative Context
@ The Guthrie's Target Lounge
818 2nd Street S
Downtown Mpls
10pm-Midnight / Free
Come check out our new monthly post-show party in The Guthrie's Target Lounge, hosted by a rotating cast of amazing women in Twin Cities arts and media! Happening each 2nd Thursday of the month, Creative Context will feature killer tunes by Jonathan Ackerman and DJ Bach, happy hour drink specials, and an opportunity for you to pick the brains of some of the most influential and creative women in the city - or just sip some vino with your friends while enjoying the view! This month's guest host is
Emma Berg
, Director of
mplsart.com
and head curator for the Gallery at Fox Tax.
You do NOT have to see the play to come to the party, but we encourage it! This week, l'etoile readers can enjoy $20 tickets to the Guthrie's comedy "The Government Inspector" on Thursday, July 10 at 7:30pm! Call the Guthrie Box Office at 612.377.2224 and quote price code "AH" to receive this discount. For more information about the show click the link below! Offer not valid online or with other offers.
CLICK THE IMAGE FOR THE GUTHRIE SITE
THURSDAY JULY 10th (THROUGH SATURDAY)
2008 Bicycle Film Festival
@ Various Locations & Prices
Entire Festival Pass $36
Click
HERE
for Schedule
Fasten the chinstrap on those helmets, roll up your pant leg and pedal on down to the any of the events going on this weekend during the traveling 2008 Bicycle Film Festival! The Minneapolis edition of the festival kicks off Wednesday night at the 7th Street Entry with the aptly titled "Bikes Rock," and will be the first of five consecutive days of citywide film, music and art programming celebrating that manual, green form of two-wheeled transportation that is the bicycle.
Thursday and Friday night play host to lots and lots of movies about bikes, including the bike-culture classic "Breaking Away". Head down to Pi on Thursday and Bedlam Theater on Friday for sweet after parties.Other highlights include a Scavenger Race on Saturday, and closing party at One on One Bike Studio.
Valet bicycle parking provided at all screenings!
CLICK THE IMAGE FOR THE BICYCLE FILM FEST SITE
THURSDAY JULY 10th
Ars Insurgo and Three Way
@ Rosalux Gallery
1011 Washington Ave S
Minneapolis
7pm-10pm / Free
We'd really like Eddie Hamilton's little painted gender/race-neutral creatures to crawl up in to our laps. If you need some warm fuzzies in your life, head to the Rosalux for not one, but TWO fantastic openings. Let Daniel J. Young's Catdonna beam over you, and take in his numerous works about cats-cats and their rockets, cats rocking out, and of course, space cats. In Three Way, three emerging artists complete their internships with a show in Rosalux's new Pocket Gallery. Both shows run through July 31st.
CLICK FOR THIS AND OTHER ART EVENTS AT MPLSART.COM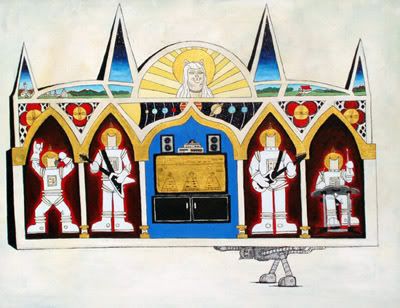 ART PICK: CRISTY C. ROAD
Bad-ass beyond belief! This rabble rouser illustrates dirty thoughts, gender and class, and imperfect relationships. Road has bragging rights to two graphic novels, record album art, concert posters, and magazine illustrations. Sexually and politically charged work makes her colors that much brighter. Priced for the masses, Road's work makes the perfect backdrop for your next manifesto-writing meeting.
CLICK THE IMAGE FOR THE CRISTY C. ROAD SITE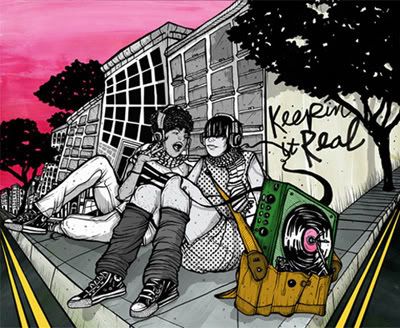 FRIDAY, JULY 11th
Summer Invitational
@ Thomas Barry Fine Arts
530 N 3rd St., B10
Minneapolis
6pm-9pm / Free
Thomas Barry Fine Arts is at it again with its second annual Summer Invitational. Painters show with photographers and sculptors, native Minnesotans mingle with artists from far off places like Germany and Georgia. Check out this wildly diverse show and remember how lucky you are to live in the art hotbed that is the Twin Cities. Through August 29th.
CLICK FOR THIS ART EVENT AND MORE AT MPLSART.COM
Art by Gregory Euclide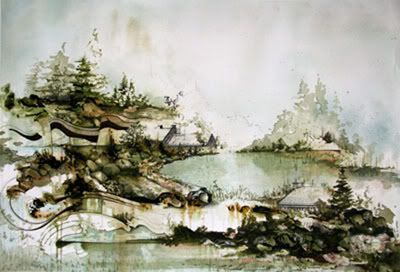 FRIDAY JULY 11TH (THROUGH SATURDAY)
Eastvold Custom Woodworks Show and Sale
@9th Street Entry Gallery
The Rossmor Building
500 N. Robert Street
Saint Paul
4-7pm (Fri. 4 – 9pm and Sat. 8am- 12pm) / Free
What were you up to on your last trip to Lowertown St. Paul? Scoping out the last Art Crawl? Personally delivering a complaint about razor burn to the Gillette factory? Well, we've got a new excuse for you to go this weekend and it's not the Farmer's Market. Eastvold Custom Woodworks is showing some of their fine, hand-made, custom, minimalist, retro-esque furniture at the 9th Street Entry Gallery! Be sure to ask them about their collaborative works with Irish designer Paddy O'Furniture.
CLICK THE IMAGE FOR THE EASTVOLD SITE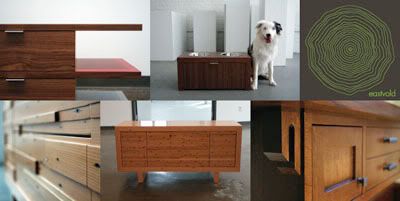 FRIDAY JULY 11TH
Disco Kitty: Remixed
@ 7th Street Entry
701 1st Ave N
Minneapolis
8pm / 18+ / $5
Join the Sol Funke collective in support of the Gentle Touch Animal Sanctuary this Friday night for some jackin' beats by DJs Nate Laurence, Spur, Jeff Kash, Patrick James and Mike Moilanen. A pet supply donation gets you in for free and there will also be a silent auction with donated items. Woof/Meow!
CLICK THE IMAGE FOR THE SOL FUNKE MYSPACE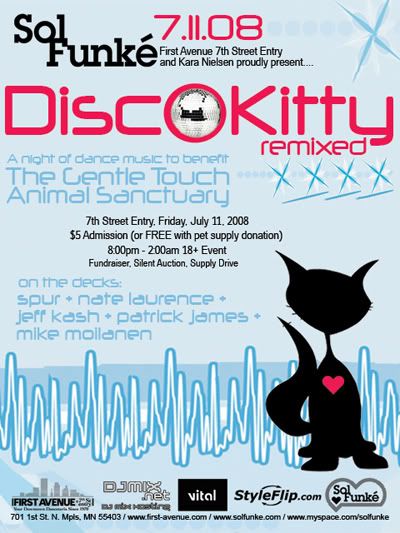 FRIDAY JULY 11th (THROUGH SATURDAY)
Basilica Block Party
@The Basilica of Saint Mary
Hennepin Ave between 16th St. and I-94
Minneapolis
5pm-10:30pm / $30-$250 / All Ages
Have you been craving the likes of Ziggy Marley, Gavin Rossdale and (admit it) the Gin Blossoms? Get your fix at the 13th annual Basilica Block Party. Two days of music and people watching (around 20,000 people to be exact). By partying on its grounds, proceeds fund the ongoing restoration of the Basilica. Jesus is watching, so get down there and have fun!
CLICK THE IMAGE FOR THE BASILLICA WEBSITE


COOL LINK: MICROCOSM PUBLISHING
If you're all worked up about zines and need more, more, MORE, Microcosm Publishing is your new best friend. A major distributor of zines, posters, and DIY stuff from across the globe, Microcosm is also a publisher of zine compilations and documentaries. Search by topic, like gardening, art and design, or punk lifestyle, and throw that $4 zine about substitute teaching in your basket. You can't find literature like this at any chain store.
CLICK THE IMAGE FOR THE MICROPUBLISHING SITE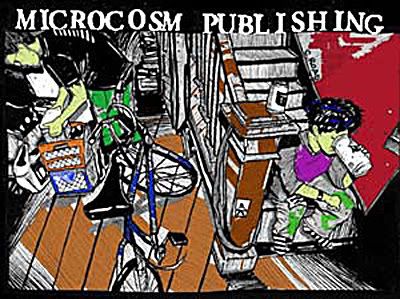 SATURDAY JULY 12TH
Rox Summer Sip
@ Bar Lurcat
1612 Harmon Place
Loring Park
Noon-5pm / Free
Come down to the lovely Bar Lurcat this afternoon for some vino and adornment! Robyne Robinson will be on hand to help you select the perfect piece to fit your personality from her jewelry line, Rox. Rox Jewelry is all about strength, beauty and nature. By pairing raw stone, bone, tusk, and semi-precious gemstones together in unique combinations, Robyne creates, by hand, some of the most unusual and dazzling designs out there. Not to mention, a glass of wine on a Saturday afternoon is good for your health!
CLICK THE IMAGE FOR THE ROX SITE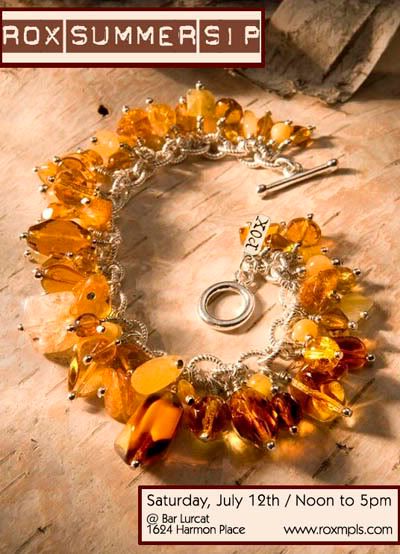 SATURDAY, JULY 12th (THROUGH SUNDAY)
Zine Fest
@ Steven's Square Center for the Arts
1905 3rd Ave S
Minneapolis
Saturday 11am-5pm & Sunday 11am-4pm / Free
Whatcha' mean, what's a zine? This two day extravaganza devoted to independently published and DIY books (zines) is getting all the art kids in a frenzy. Over 30 exhibitors will be selling and swapping zines while you eat Food Not Bombs deliciousness, peruse vintage Minneapolis zines, hear Mr. Mike of Mt. Holly reminisce about Mpls zine history, and see demonstrations and documentaries. Buy a Britney zine or one about roommates directly from the artists, usually for under 5 bucks, and own a piece of pop culture.
CLICK THE IMAGE FOR THE SSCA SITE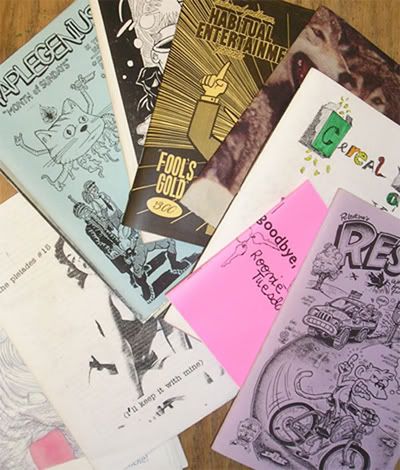 SATURDAY JULY 12th
Serious Art
@ First Amendment
1101 Stinson Ave NE (in basement, rooms A & B)
Minneapolis
7pm-10pm / Free
The adjectives used to describe this show do more than sum it up: barbaric, quadrangular, xeroxed, ridiculous, despicable, entertaining, absurd and barbaric. Michael Gaughan (of Brother and Sister) teams up with Hardland/Heartland for a show of drawings, paintings, collages, hand-made books, installations, fashions, and other craziness. Gaughan treats with a musical performance. Through August 19th.
CLICK FOR THIS ART EVENT AND MORE AT MPLSART.COM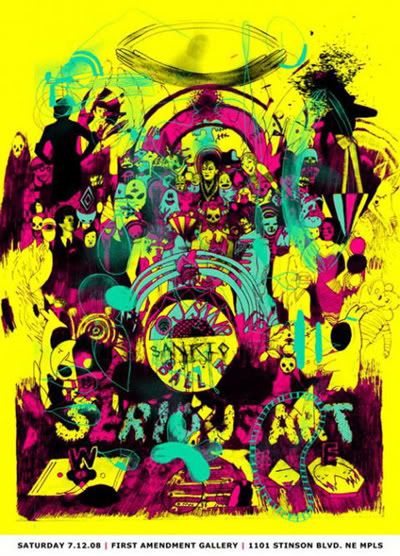 SATURDAY JULY 12th
Blacklist Vintage Open House Party
@ Blacklist Vintage
2 East 27th St.
Minneapolis
8pm / Free
There's a new vintage store in town, and they're shakin' it with an open house party! Beatrix Jar gets things moving, all shoppers can take 10% off, and you'll be shopping at a party. Need more? There's something for everyone here - men's and women's vintage duds, home décor, and two lovely entrepreneurs that will have you swiping your credit cards while they fulfill their mission of "redistributing retro trends".
CLICK THE IMAGE FOR THE BLACKLIST SITE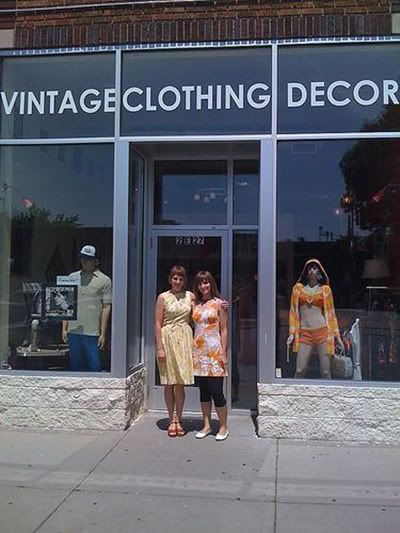 SATURDAY JULY 12TH
Bastard Saint
@ The Hexagon
2600 27th Ave S
Minneapolis
9pm / 21+ / Free
Local face-melting rockers Bastard Saint bring their swaggering, blues-influenced hardcore to the Hexagon Bar Saturday night for a free show, just in case you missed out at the Turf Club the night before. With Sturgeon Valley Nights, Bloodcow, and Guzzlemug.
CLICK THE IMAGE FOR THE HEXAGON SITE
SATURDAY JULY 12TH
BT: Live Laptop Symphony
@ Epic
110 N. 5th St.
Minneapolis
10pm / 18+ / $10 presale, $15 at the door
Sound In Motion presents one of the most influential producers and performers in electronic music. From redefining trance to helping define progressive, BT has always been a little ahead of his time. Witness him perform his "laptop symphony" Saturday at Epic so you can tell your grandchildren about it someday.
CLICK THE IMAGE FOR THE SOUND IN MOTION SITE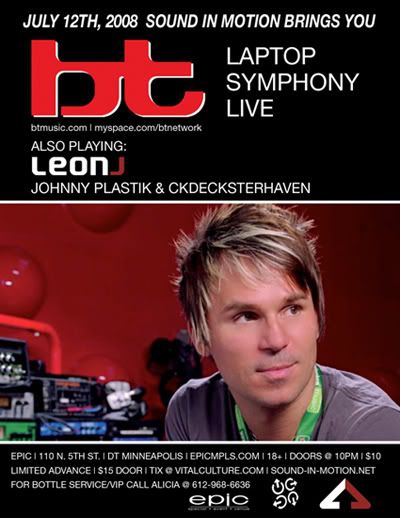 SUNDAY MUSIC PICK: DOOMTREE
Doomtree fans keep your ears peeled!
The Doomtree family is one that cannot be effed with. On the cusp of dropping their self-titled debut record, Doomtree is finally about to blow up. With one of the toughest work ethics in local music, the Doomtree crew dominates the market on backpack rap and DIY production. Each member of the crew is charismatic and talented, but taken as a whole, Doomtree is much more than the sum of its parts. Their genre-bending styles balance one another out flawlessly, with vivid rhymes filled with intelligent lyrics and fearless messages laid against a backdrop of primal beats and intense rhythms. These guys just keep getting stronger.
Their soon-to-drop 21-track album will be the first released to feature the entire collective, complete with guest appearances from the mighty I Self Devine and Kill The Vultures' Crescent Moon. Be prepared for the Doomtree craze to take over the city come the end of the month!
WATCH THIS VID FOR A SNEAK PEEK!
SUNDAY JULY 13TH
Bastille Day
@ Outside Café Barbette
Irving & Lake Street
Uptown
4-10pm / All Ages / Free
Café Barbette is celebrating France's Independence Day with a rockin' block party complete with organic French food and drink, plenty of live music from Sensational Joint Chiefs, Faux Jean, Romantica, Black Blondie and One for the Team; and a wide array of events happening throughout the evening, including a the North Star Rollergirls Mini Derby and Aerialist Jim Domenick, and a flea market.
CLICK THE IMAGE FOR THE BARBETTE SITE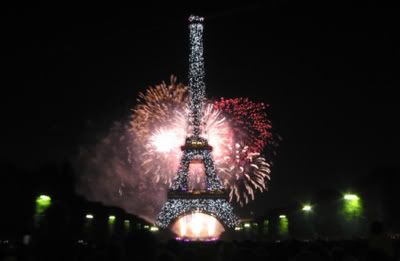 SUNDAY JULY 13TH
Bla Bla Blacksheep, Chokecherry and Family Tree (CA)
@Eclipse Records
1922 University Ave W
St. Paul
6pm / $5 / All Ages
Eclipse Records is the new place to be. Top off your Sunday with an early show featuring Bla Bla Blacksheep and Chokecherry and really cute rockers Family Tree - all the way from California. Kids instruments abound, violins will be heard, and at least one Dolly Parton reference will be made. Will it help if we tell you everyone there will be devastatingly attractive, and you'll never hear a
xylophone played
like this again?
BONUS:
Want to keep punking/zine-ing? Head over to
Arise Bookstore
on Lyndale after this early show for more live music, again, featuring Bla Bla Blacksheep (twice in one night!)
CLICK THE IMAGE FOR THE ECLIPSE RECORDS SITE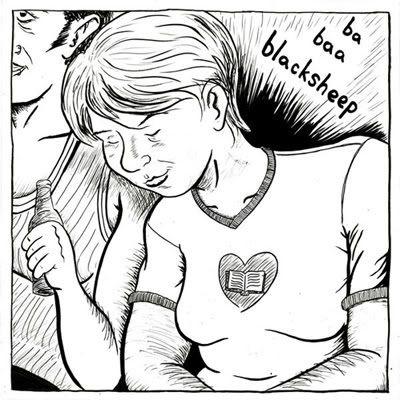 TUESDAY JULY 15TH
Silver + Gold
@ Clubhouse Jager
923 Washington Ave.
North Loop
Every Tuesday / 21+ / 10pm / Free
Join DJ Jonathan Ackerman and l'étoile magazine for an evening of sly winks and sideways glances every Tuesday at Clubhouse Jager. Create some mystery, sip 2-4-1 cocktails with pretty people, and dance the night away to electro, pop, and so much more.
BONUS:
Flirt up a storm then visit letoilemagazine.com on Wednesdays for "missed connections" from the night before!
Sponsored by l'étoile magazine & Alphasuede
CLICK THE IMAGE FOR L'ETOILE TEXT CONNECTIONS
SAVE THE DATE: ATTITUDE CITY YACHT PARTY ON JULY 26TH
The disco sex machines that are Attitude City once again prepare to set sail, this time on the mighty Mississip! Tickets are NOW ON SALE and WILL SELL OUT, so we suggest making a pitstop at either ROBOTlove or Cliche as soon as possible to snap yours up!
CLICK THE IMAGE FOR THE ATTITUDE CITY SITE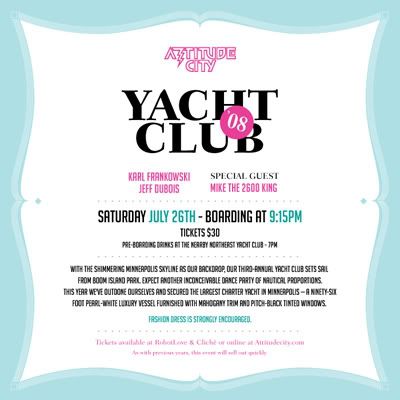 COOL OPPORTUNITIES: CALL FOR MN WRITERS
mnartists.org seeks new short-short fiction for the summer round of this literary competition and publication series for Minnesota writers. Submission deadline has been extended to July 13!
mnartists.org presents miniStories, a quarterly flash fiction competition coordinated by Electric Arc Radio's Geoff Herbach (author of The Miracle Letters of T. Rimburg,Three Rivers Press). This new literary series showcases previously unpublished short stories by Minnesota writers which are selected by authors, editors, and publishing industry veterans from across the country. Winning stories are then published on mnartists.org and in the e-magazine access+ENGAGE. One grand-prize winning author will be selected from each quarter's miniStories winners by series coordinator Geoff Herbach to receive a paid commission for a longer-form short story which will be published on mnartists.org.
There are readings at the Ritz Theater in Minneapolis at the end of each quarter's contest cycle, at which miniStories winners and judges will read their fiction. The next miniStories reading by the summer quarter's winning authors will be held at the Ritz Theater, July 28. An anthology collecting the inaugural year's miniStories winning fiction will be published in April 2009 and available for sale at area bookstores.
CLICK THE IMAGE FOR THE MNARTISTS SITE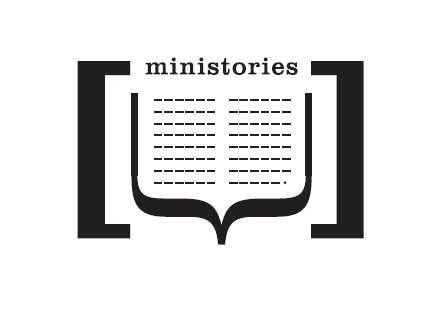 What's What Editor: Kate Iverson
Contributing Writers: Lacey Prpic Hedtke, Robyn Lewis, Stephen Stephens