I WANNA DANCE WITH SOMEBODY
The breezy hint of spring's approach and the slow but sure exit of winter is definitely cause for celebration. l'étoile's recommendation? A good dance party! Peppered in amongst many a fine art show, film, and rockin' good time you'll find an impressive array of dance-worthy opportunities to do the Robot, the Running Man, or even the (ahem) Butterfly...it
is
almost Spring after all.
xo-l'étoile
photo by
Digital Crush
WEDNESDAY APRIL 9TH
Eclecticoiffeur Takes Over Transmission!
@ Clubhouse Jager
923 Washington Ave.
North Loop
10pm / 21+ / Free
As has become the week-before-Voltage tradition, the lovely dames of styling troupe Eclecticoiffeur take over the decks from Transmission's Jake Rudh for a special evening of music and mayhem! The girls will be tossing tracks from this year's Voltage CD as well as some of their own personal faves. Shenanigans ensue!
CLICK THE IMAGE FOR THE ECLECTICOIFFEUR SITE
THURSDAY APRIL 10TH
Alexis Hudson Trunk Show
@ StyledLife
Gaviidae Common
555 Nicollet Mall
Suite 179
Downtown Mpls
10am-4pm / Free
An Alexis Hudson bag is the accessory of the moment, having graced the arms of the ultra-stylish from coast to coast. Chat with handbag designer Rachelle Copeland and snap up a luxurious satchel of your very own!
CLICK THE IMAGE FOR THE STYLEDLIFE SITE
THURSDAY APRIL 10TH (THROUGH THE 12TH)
Marc Bamuthi Joseph: the break/s
@ The Walker Art Center
1750 Hennepin Ave.
Minneapolis
8pm / $22 ($18 Members)
The story of hip-hop's rise from an arts movement to a worldwide cultural force told through dance, spoken word, storytelling, and poetry. Add in live music by human beatbox/percussionist Tommy Shepard and DJ Excess plus live video by David Slzasa and you've got yourself an experience.
CLICK THE IMAGE FOR THE WALKER SITE
THURSDAY APRIL 10TH
Tapes N' Tapes
@ 1st Avenue
701 1st Ave. N.
Downtown Mpls
6pm / 18+ / $14 ($12 Adv)
Local golden boys Tapes N' Tapes headline this early evening show at the Ave. White Denim kicks things off.
CLICK THE IMAGE FOR THE TAPES N' TAPES MYSPACE
FRIDAY VOLTAGE PICK: MAX LOHRBACH
Originally a small town boy with an imagination that spanned the universe, designer
Max Lohrbach
left the bluffs of the Zumbro River many-a-year-ago to seek his fashion fortune. Inspired by clothing, textiles, and design in the most honest and fundamental way, Lohrbach is an appreciator of lost ideas and constructs, and that detailed aesthetic comes through in his work. He describes his current collection as "suitable for a pair of fun loving twins circa 1920", and the antique, handmade quality of the work is proof - with Lorhbach often lavishing 40+ hours on his custom pieces. As a student of not only apparel design, but also fine art, fibers, and millinery - Voltage newcomer Max Lohrbach is definitely equipped to tell us what's up when it comes to personal style and creativity and we are ready to listen.
Check out the designs of Max Lohrbach at Voltage: Fashion Amplified on Thursday April 16th!
CLICK THE IMAGE FOR THE VOLTAGE SITE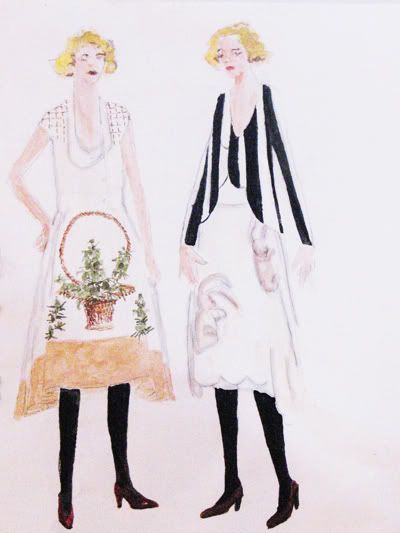 FRIDAY APRIL 11TH
Maximilian Toth: The Insurgents
@
Franklin Art Works
1021 East Franklin Ave.
Minneapolis
6-8pm / Free
An art opening with one painting? Well, when the work is in the form of a massive, 12'x48' canvas, then yes, one is probably enough. Gaze (and stroll the length of) Max Toth's latest creation tonight at Franklin Art Works.
BONUS:
Check out the work of St. Paul photographer Shana Kaplow in Franklin Art Works Project space along with video work by Judit Kurtag.
CLICK FOR THIS ART EVENT AND MORE AT MPLSART.COM
FRIDAY APRIL 11TH
Anything Goes
@ VIP Room
701 1st Ave. N
Downtown Mpls
9pm / 18+ / $3
Despite the fact that the sold out Black Keys show is rocking the mainroom, it doesn't necessarily mean you're banned from the Ave. Get dancey with certain 1st Ave employed birthday boys and a certain 1st Ave resident DJ (we'll give you a hint - his initials are S.P.) as they take it back old school in the VIP.
CLICK THE IMAGE FOR THE FIRST AVE SITE
FRIDAY APRIL 11TH
KRS-ONE
@ Trocaderos
107 3rd Ave. N
Minneapolis
8pm / 18+
A local all-star lineup joins forces with the good vibes of renowned rapper KRS-ONE for a hip-hop bash to remember. Feel the positive beat with the likes of Truthmaze, Muja Messiah, Kanser, First Ladies of the Word, and many more. Also doubling as an after party for Friday's performance of Marc Bamuthi Joseph's "the b/reaks" at the Walker Art Center, (see Thursday's listing), this show will be nothing short of inspiring.
CLICK THE IMAGE FOR THE KRS-ONE SITE
FRIDAY APRIL 11TH
The Parlour Suite
@ The 400 Bar
400 Cedar Ave. S
West Bank
9pm / 21+
A folk-pop explosion is what awaits you at the 400 tonight. Turn your evening into a l'étoile recommended perfect first date with the adorable sounds of the Parlour Suite, Lucy Michelle, and Magic Castles.
CLICK THE IMAGE FOR THE PARLOUR SUITE MYSPACE
photo by Baii Nguyen
FRIDAY APRIL 11TH
Shakedown
@ Secret Location
Minneapolis
message
HERE
for location
9pm-Late / $2
Get your house party on tonight at this secret location featuring trance, drum & bass, hardcore, and breaks from a sweet lineup of techno-heads of high acclaim including silver tongued lyricist, MC Obliquity. As always, enter quietly and be respectful of the location!
CLICK MC OBLIQUITY TO MESSAGE FOR LOCATION
RA'MON LAWRENCE: ELUDED LOVE
You may have heard his name. You may have seen his work. But this year Minneapolis fashion designer Ra'mon Lawrence Coleman breaks out in a BIG way. A sparkling highlight of Voltage: Fashion Amplified in 2007, Coleman makes the leap from the collective to the independent with his upcoming Fashion Weekend event
"Eluded Love"
at the SooVAC Gallery, in support of his new collection. Expect to be impressed as this already established and amazingly talented local designer takes things to the next level with his meticulously tailored and innovative design work.
Ra'mon Lawrence sat down this week for a conversation with l'étoile...
What does the label stand for? What is your design philosophy?
The ra'mon-lawrence label is about sophisticated innovation and versatility. Each garment is created with meticulous intentions, but with an effortless feeling. Details are an essential element to each design. Whether it's ornate beading on an evening shift dress or hand finishing on a sheer tee, the importance on handwork can be seen on every garment. I don't just think about what a woman needs, I also address what she craves. My work philosophy is simple; without continually pursuing knowledge, and immersing oneself in new experiences, I feel that a person becomes
stagnant. This is the mantra of the woman I design for. Fashion should never be taken seriously. True fashion blurs all lines. It serves as a commentary to society, whether through absurdity or conformity. This collection for me isn't just about putting on an event, but establishing the beginning stages of brand exclusivity.
What influenced your current collection?
The concept of The Eluded Love collection is inspired by the paintings of Johannes Vermeer from the Dutch Golden Age, the modern photographs of the Dutch photojournalist, Erwin Olaf, and the narrative of The Metamorphosis by Franz Kafka. Both Vermeer and Olaf have a mastery of depicting domestic interior scenes of what would be considered "ordinary bourgeois life". Their usage of color and light as a direct reflection of emotion serves as the focal point for my color palette as well
as fabrication. Both Olaf's photographs and Kafka's novella push the boundaries of perception, by blurring reality into fantasy. I translated all of these into what I see as a "surreal bourgeois life". Through the use of multi-textural fabrics and architectural silhouettes I am exploring the idea of volume versus tailoring, art versus fashion, absurd versus ordinary. The notion of extreme proportions as well as unexpected "convertible elements" drives the essence of each silhouette. Eluded Love is an organic reaction to the ideals of romanticism that stimulates one's imagination. Open your mind and enjoy.
You've done Voltage: Fashion Amplified before, and also have been a part of other fashion weekend exhibitions - how different is producing your own show, compared to working in a group format?
It's very different for me. While the concept is purely based on my own direction, I am still working in a group format. I have a production staff that I have made integral to every aspect of the show. I wanted to give the opportunity to several talented individuals in the local industry that have not stepped into the lime light yet. They have been a great inspiration to me. There is this freshness to the production that I am confident everyone will enjoy. The thing that is so exciting for me in the format is there is more freedom to be spontaneous. I like to work organically, and constantly evolve the way I am approaching a collection (even up
until the last moment). Sometimes, that doesn't work if you showing as a collective group of designers, because it can effect the overall flow. After such an amazing response from my showing at last year's Voltage, I knew it was time for me to take my aspirations to the next level.
What was the process of creating a show of this scale?
After establishing my concept, it was my mission to find a core group to become my production staff. I knew I had high ambitions for this event, so I need to make sure I had a strong support system to make it happen. After that it was a whirlwind of things: finding the right venue, establishing sponsorships, venue concept, PR/Marketing, casting, soundtrack, among other things.
What is the tie between your show and the American Diabetes Association?
Several of my family members are diabetic. It was something that I was always aware of growing up, but really didn't understand. Both my parents had diabetes. A few years ago, my Dad passed away from complications related to diabetes. That was an eye opener for me. Since then I have been actively contributing the
American Diabetes Association
. While this event has benefits for the brand's exposure, what is even more important is the contribution we will be able to make to the association as well as the education we can pass on to others
Check out the fruits of Ra'mon's labor at Eluded Love at SOOVAC Gallery on Saturday April 19th! Get your tickets, available at SooVAC, before they sell out!
CLICK THE IMAGE FOR THE RA'MON LAWRENCE SITE
SATURDAY APRIL 12TH
Cave Women on Mars World Premiere
@ The Heights Theatre
3951 Central Ave. NE
Columbia Heights
6:30pm / $5
Local writer/director Christopher R. Mihm and co-conspirator Josh Craig premiere their latest flick, "Cave Women on Mars", tonight at the Heights. This hilarious 1950's style space-scapade lives up to its name with hot space babes, caves, adventure, romance, and customary bad acting.
CLICK THE IMAGE FOR THE SHADOW CREEK SITE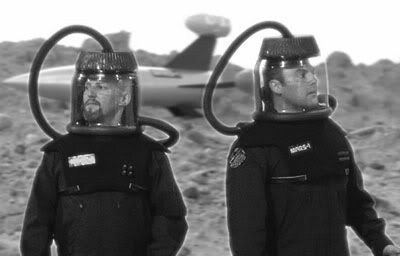 SATURDAY APRIL 12TH
Too Much Love VIP Pre-Party w/ Solid Gold
@ Beasthouse
600 Washington Ave.
Warehouse District
(enter around back)
9-11pm / 18+ / Free
We've got the scoop for you lucky l'étoile-ites! Tonight's super special
TML
(see the listing below) is preceded by a fancy schmancy VIP pre-party and you're invited! Rock out with the complete hotness that is Solid Gold while enjoying complimentary apps and cocktails in the luxury of the Beasthouse.
EXTREME BONUS:
This party also comes with a free ride. Complimentary shuttles will run until 2:30am between the Beasthouse and First Ave!
CLICK THE IMAGE FOR THE SOLID GOLD MYSPACE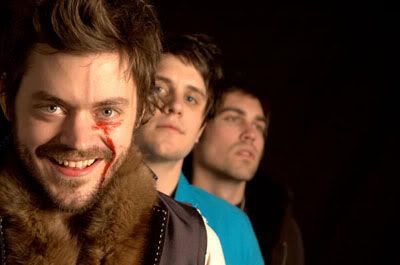 SATURDAY APRIL 12TH
The 2nd Cuttlefish Exhibition
@
Stevens Square Center for the Arts
1905 3rd Ave. South
Minneapolis
7-11pm / Free
Hit up Stevens Square tonight for a group exhibition featuring the work of local artists Sharolyn Hagen, Tim Cnossen, and Tara LaPlante. Live music, wine, and artists ready and willing to discuss their work!
CLICK FOR THIS ART EVENT AND MORE AT MPLSART.COM
photo by Sharolyn Hagen
SATURDAY APRIL 12TH
Ram Jam
@ 7th Street Entry
701 1st Ave. N
Downtown Mpls
9pm / 21+ / $5
Whether you know them or not, this Birthday bash for hip-hoppers Jordon, Snakebird, and JBird will be a blast for friends and strangers alike. Get krunk with the likes of Mike 2600, Kevin Beacham, Paper Tiger, Jimmy 2 Times, Plain Ole Bill, Buck Kac, and some very, very special guest performers.
CLICK THE IMAGE FOR THE 1ST AVE SITE
SATURDAY APRIL 12TH
Too Much Love
@ 1st Avenue
701 1st Ave. N
Downtown Mpls
10pm / 18+ / $3 (free w/ college id)
We know you know. However, tonight is MUCH more than the average packed dance floor, fits of wild abandon, and pretty people parade. This evening Panda and
The Moongoons
bring in a stellar line up that is sure to blow your mind all over the dance floor. The resident DJs from
205 Fridays
in New York make a cameo at TML, featuring James Fucking Friedman, My Cousin Roy, Max Pask, and The Wiz (not to mention our very own Moongoons and one Soviet Panda). This is a TML not to be missed. Trust us.
BONUS:
Check out BLACK in the VIP room for a dose of techno goodness.
CLICK THE IMAGE FOR THE TOO MUCH LOVE SITE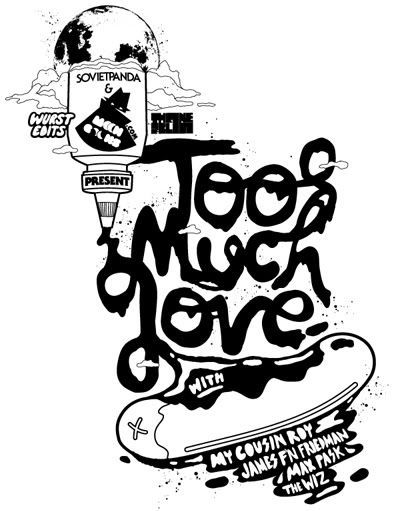 SATURDAY APRIL 12TH
The Lock Inn
@ Secret Location
Warehouse District
email jp@secrettechno.com
10pm / $10
Eucaluptus and Secrettechno come together to bring you a sweet new party spot! Make no mistake, this is NOT an afterhours.
Arrive before 1am
(the doors lock at that time) to party all night! Enter quietly and be good until you hit the dancefloor, at which point, all bets are off. Featuring sets by some local faves plus Berlin's Sean Oneal (aka someone else) and Miskate. Yay!
CLICK THE IMAGE FOR THE SECRET TECHNO SITE
SUNDAY MUSIC PICK: THIS IS IVY LEAGUE
The pleasingly pop sounds of New York's Ryland Blackinton and Alex Suarez are as easy on the ears as the guys are on the eyes. Fresh, harmony-rich, and upbeat in a sock-hop-oddessy sort of way, This is Ivy League is the kind of stuff first kisses are made of (if your first kiss wasn't awkward and drooly, that is). Their first full-length album released on Twentyseven Records hit the streets as of April 1st, so be the first of your friends to snap it up,
HERE
.
CLICK THE IMAGE FOR THE TIVL MYSPACE
SUNDAY APRIL 13TH
Amy Rice's Spring Sale
@ Barbette
1600 West Lake St
Uptown
Reception 3-6pm / Free
Placement Gallery presents a wall-to-wall exhibit of Minneapolis art darling Amy Rice. Have your senses overloaded with an amazing selection of work spanning the last five years, from her signature stencil work to Gocco prints on vintage envelopes.
CLICK THE IMAGE FOR THE PLACEMENT GALLERY SITE
CONNOISSEUR TICKETS GOING FAST!!!!!!!!!!
Connoisseur
Saturday April 19th
@ The Suburban World Theatre
3020 Hennepin Ave. S.
Uptown
9pm-1am / 21+ / $10
pre-sale tix available at ROBOTlove and Cliche (cash only)
YouWorkForThem and HYPE present Connoisseur, a multi-media art event at the beautiful Suburban World Theatre in Uptown. Featuring the best of the best in music, visuals, fashion and performance, party-goers will enjoy a hip and stylish atmosphere set to the ornate backdrop of the historic theatre.
Featuring fashion performance by Hyperlush, YouWorkForThem Video Premiere, Visuals by Alphasuede, special guest DJ Asphalt Haynes along with sets by Mike the 2600 King, Michael Cina, Karl Frankowski, and Benny Lojak.
Sponsored by YouWorkForThem, HYPE, Burlesque, mnartists.org, mplsart.com, MNFashion and l'étoile magazine
CLICK THE IMAGE FOR ALL OUR FASHION WEEKEND EVENTS