STYLE BY THE MILE
Over the years l'étoile has been lucky enough to witness the beautiful and powerful evolution of the Twin Cities fashion scene. And while the community has always thrived creatively, the continuity, professionalism, and scale seems to have hit an all time high as of 2008 and we couldn't be more impressed and proud to be Minneapolitans! So, whether you hit up Voltage, a local designer's trunk show, or a big, glamorous party this weekend, we hope to see you out and about and dressed to the nines!
xo-l'étoile
photo by Eric Eul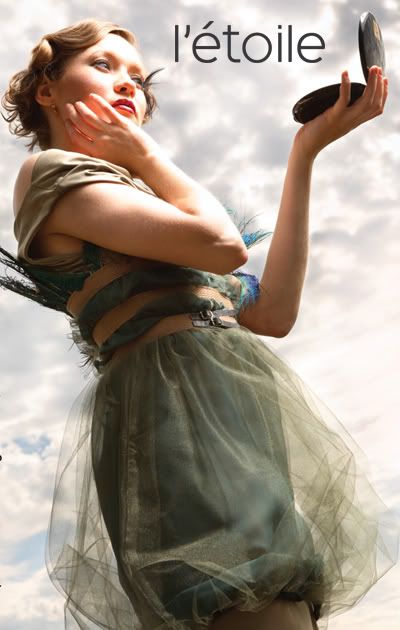 WEDNESDAY APRIL 16TH
Voltage: Fashion Amplified
@ First Avenue
701 1st Ave N
Downtown Mpls
Voltage brings the best of both worlds together: fashion and rock n' roll! A top-notch lineup of local designers showcase their latest this Wednesday along with live music from some of the hottest bands in town, who are also dressed and styled by local designers. The Voltage fashion mavens aim to foster community and collaboration, while justifiably bragging about Minnesota's amazing fashion scene.
Voltage founder and producer Anna Lee sat down for a chat with l'etoile about the show, local fashion, and her new fashion-friendly bikewear line...
Can you give our readers a bit of history on Voltage: Fashion Amplified?
Voltage started as an idea in spring 2003, taking about a year to bring to the first ave stage in may 2004. When it started, we were just trying to make an event that was fresh and represented talent in the twin cities. each year, we get better at doing this. With the addition of the design panel in the 2007 show, we were able to offer a great deal more to the designers. With the development of MNfashion, we will be able to offer new opportunities to the Voltage designers, but importantly, to many more designers in the Twin Cities.
Aside from Voltage of course, what events are you most excited for over Fashion Weekend?
I am excited that we are now able to offer workshops and seminars. The Fashion Photography Portfolio Seminar by Kat Dalager and the Fashion Illustration Workshop by Star Rial are going to be solid. Beyond this, I am thrilled that the amount of events have grown each year. This year, we have a pretty packed schedule- essentially something for everyone.
We know and love Ruby3, your designer hat brand, but we hear you'll be debuting a new line of fashionable bike-wear over Fashion Weekend - how did that come about and what can we expect?
I have been trying to figure out creative ways to get around town by bike while still being fashionable, on my own terms. My winter line of hats addressed the need to be fashionable and warm at the same time, so this is a ongoing process for me.
This summer will involve a lot of biking and clothing experimentation, resulting in a pretty solid Fall line of cycling apparel as well.
What do you think are the key ingredients to becoming a successful independent designer?
A stunning combination of creativity, skill and business sense. Not necessarily in that order.
Your organization, MNfashion, is well on its way to becoming a non-profit. How did that concept get from point a to point b?
We are in the process of becoming a non-profit organization. It has been great to work with Springboard for the Arts as a fiscal agent. That way, we don't have to jump in too quickly, we can take our time to build a strong foundation. The key is finding the right resources and being ready to utilize them.
What's on your plate for 2008?
More of the same! Fall Fashion Weekend is already shaping up, and I am working with the design panel on developing the Voltage 2009 program. We are building revenue for MNfashion in order to get a space and really begin to establish the programs that are just starting in the works. I am also producing the fashion segment for Retrorama3 at the History Center, working on the Identity Theft event with the Minnesota Center for Photography, and there is talk of an MNfashion Holiday Store in 2008. With Ruby3, i am continuing to develop the cycling apparel and headwear- but working on the art as well (i hope to have a bit more to mention on that soon!)
Live Voltage pictures above by beetour.net
CLICK THE IMAGE FOR THE VOLTAGE SITE
THURSDAY APRIL 17TH
Martini Social
@ Clubhouse Jager
923 Washington Ave. N
Warehouse District
5-8pm / 21+ / Free
Join the ladies of mplsart.com, HYPE promotion, and l'étoile Magazine as they host a pre-Fashion Weekend Martini Social at Clubhouse Jager! Find out what's going on over the weekend, learn about our current projects, and tell us about yours while sipping martinis! Enter your business card into a drawing for fabulous prizes, including tickets to Connoisseur, custom fashion pieces, a gift certificate to Cliche, and more!
BONUS:
Tickets for
Connoisseur
will be on sale at this event.
Sponsored by Opulent Vodka
CLICK THE IMAGE FOR THE HYPE SITE
video still from Alphasuede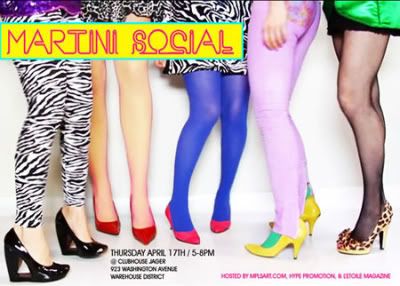 THURSDAY APRIL 17TH
Fashion Weekend Kick-Off Party
@ Clubhouse Jager
923 Washington Ave. N
Warehouse District
10pm-2am / 21+ / Free
Kick off Fashion Weekend with style tonight at the Clubhouse! Featuring the danceable goodness of Millions Billions and DJ Bach, plus drink specials, pretty people, and all the Fashion Weekend information you need to make your weekend sparkle!
Hosted by YouWorkForThem, HYPE, ROBOTlove, mplsart.com, and l'étoile magazine.
Sponsored by Opulent Vodka
CLICK THE IMAGE FOR THE HYPE SITE
video still from Alphasuede
FRIDAY VOLTAGE PICK: RUSSELL BOURRIENNE
Russell Bourrienne's work is nothing sort of modern debonair. Using vintage style as inspiration for his finely tailored and upscale menswear line, Bourrienne creates a decadent clothing option for those who like their cutting edge style with a side of class. Says Bourrienne, "I design for men who like to distinguish themselves in a crowd, true individuals." and we can't deny that his current line will do exactly that.
See Russell Bourrienne at Voltage Fashion Amplified, then stop into his studio this weekend to check out his collection up close and personally @ 711 W. Lake Street, Studio 510.
Hours:
Friday 4-8pm
Saturday 10am-5pm
Sunday Noon-5pm
BONUS:
Our favorite news anchor/jewelry designer Ms. Robyne Robinson will be showcasing her
RoxMen
line as well!
CLICK THE IMAGE FOR THE RUSSELL BOURRIENNE SITE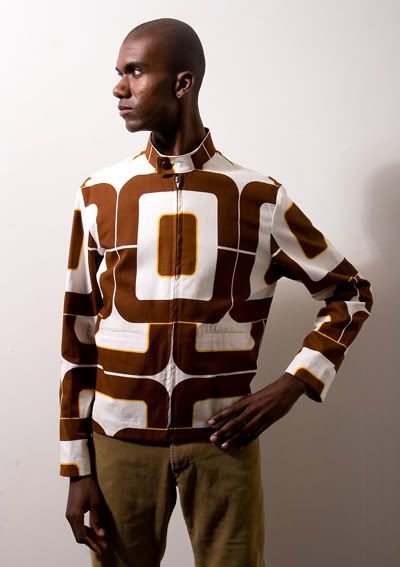 FRIDAY APRIL 18TH
George Moskal Trunk Show
@ Design Collective
1311 26th St. West
Uptown
7pm / Free
Get your mitts on some stylish goods ala local designer George Moskal before he leaves our fair cities for the wilds of Portland. Nothing says "goodbye and good luck" in a more classy way than purchasing an original fashion piece from this talented independent designer.
CLICK THE IMAGE FOR THE GEORGE MOSKAL SITE
Photo by
Nic Marshall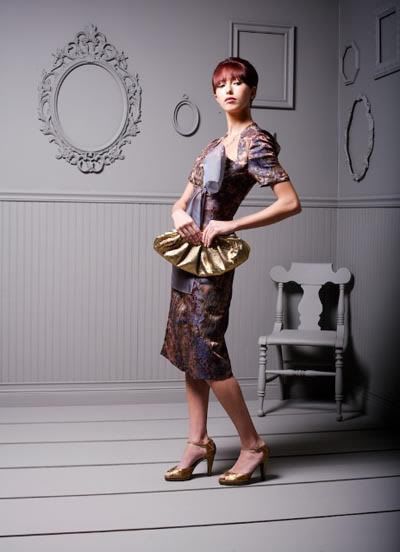 FRIDAY APRIL 18TH
Cliché Open House & Reception
@ Cliché
2403 Lyndale Ave S
Uptown
7-9pm / Free
The Uptown boutique that keeps you in some of the hottest local designer-wear invites you to a fun and festive meet-and-greet with some of the designers themselves. Ask your burning questions, sip some wine, enjoy the sounds of DJ Talk Radio, and while you're at it, snap up a fancy new get-up to strut around peacock-style in this weekend!
BONUS 1:
Come back on Saturday evening from 6-8pm to get coiffed by Voltage Hairstylist Jesse Pool before your big night out. Appointment Only - call 612-870-0420.
BONUS 2:
Get your tix for
Connoisseur
at Cliche! (cash only)
CLICK THE IMAGE FOR THE CLICHE SITE
photo by Eric Eul for l'étoile agency / Client: Cliché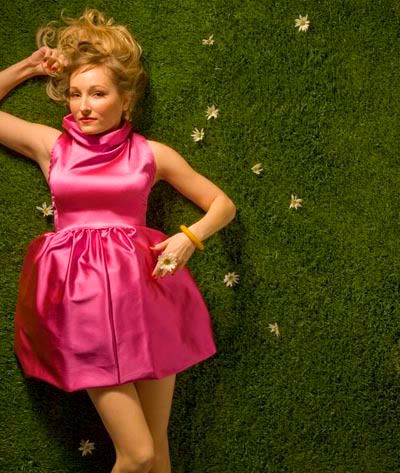 FRIDAY APRIL 18TH
Supastarr
@ Beasthouse
600 Washington Ave.
Warehouse District
(enter around back)
9pm-Midnight/
RSVP Required to supastarr.event@gmail.com
The ever-amazing party starters at Louder Than Bombs bring us yet another ridiculously cool show (anyone that was at the MIA show after party at Foundation knows what we're talking about!) Renowned hip-hop producer and beatmaster extraordinaire DJ Blaqstarr (oops we spilled the beans!) makes a killer cameo in the 612 tonight, and we strongly suggest you don't miss it. Jonathan Ackerman kicks things off the right way.
BONUS:
After the show join Blaqstarr for a jaunt over to the VIP Room for Honeymoon (see listing below!)
CLICK THE IMAGE FOR THE LOUDER THAN BOMBS MYSPACE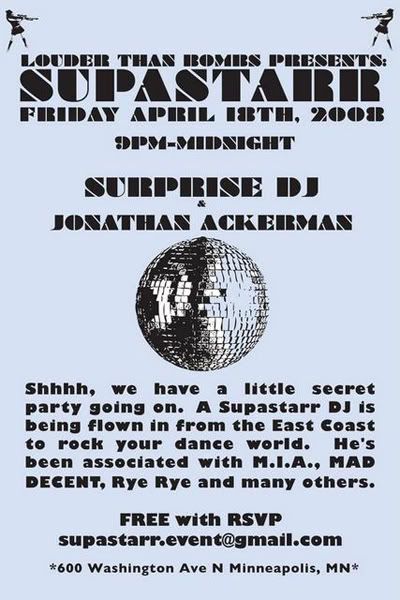 FRIDAY APRIL 18TH
Honeymoon
@ The VIP Room
701 1st Ave. N
Downtown Mps
10pm / 18+ / $3 or $10 t-shirt admission
Our favorite club-rockin' party crew rolls back into the VIP for their monthly rager. The theme? Pool Party! Who says water wings can't double as a fashion accessory? Joining the Goons this time around is DJ Blaqstarr (see listing above), who will definitely make sure the party stays nice and balmy.
BONUS:
Stop in to
ROBOTlove
from 3-6pm for an early in-store Moongoons party. Prizes, snacks, and all the designer toys you can handle.
CLICK THE IMAGE FOR THE MOONGOONS SITE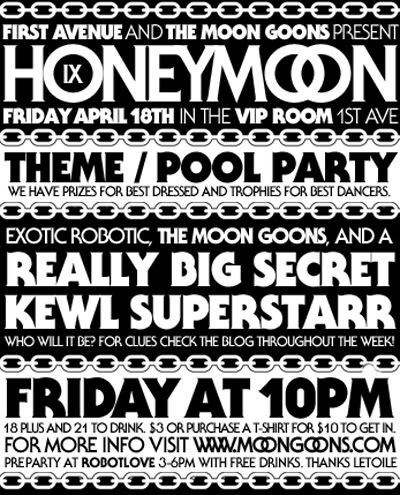 FRIDAY APRIL 18TH
Hot Chip
@ 1st Avenue
701 1st Ave. N
Downtown Mps
8pm / 18+ / $15 Adv - $17 Door
British synth-poppers Hot Chip hit the Ave tonight for a highly anticipated performance that will hopefully create a scene on the dance floor.
CLICK THE IMAGE FOR THE HOT CHIP MYSPACE
FRIDAY APRIL 18TH
MC/VL, Dance Band, Mood Swings
@ Stasiu's
Lowry & University
Northeast Mps
10pm / 21+ / $5
A rockin' Fashion Weekend party featuring Voltage friendly acts such as MC/VL, Dance Band, The Moodswings, and more.
CLICK MC/VL FOR MORE THE STASIUS MYSPACE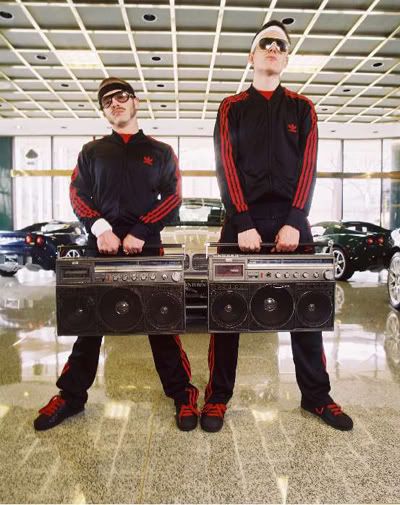 FRIDAY APRIL 18TH
Job One
@ The Lock Inn
Secret Location
Warehouse District
email jp@secrettechno.com for location
10pm / $10
After last week's inaugural blowout, the party people of Secret Techno, Eucalyptus, and their bffs once again join forces to bring you an equally stellar round 2! Featuring NYC's Derek Paslaiko, Berlin's Bruno Pronsato, Jesse Jakob, Heckadecimal (with an all hardware live PA set!), Jamespatrick, and Centrific.
TIP:
The Lock Inn locks up at 1am, so arrive before then to ensure that all night party train doesn't leave the station without you.
CLICK THE IMAGE FOR THE SECRET TECHNO SITE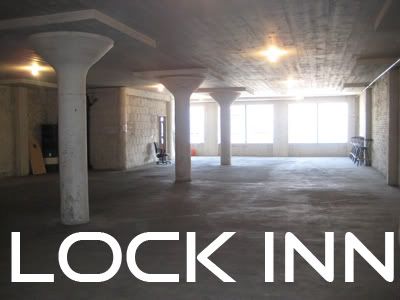 COOL LINK: SOAP FACTORY TV
As the seasons change you can expect a flurry of activity coming from the artistic mecca that is the Soap Factory. To kick things off, they've started a youtube site dedicated to segments from their popular cable access show, SFG4. An interesting perusal of video clips that includes interviews with artists, gallery tours and more.
BONUS:
Tonight at the Soap take in the opening for
"History Room: 20 Years of No Name and Soap Factory
", a new, season-long exhibit based on the long, raucous history of the No Name Exhibitions and the Soap Factory. Located at 518 2nd St. SE, reception at 7pm.
CLICK THE IMAGE FOR SOAP FACTORY TV
SATURDAY APRIL 19TH
Kristina Bell & Lucky Lotus Open House
@ Design Collective
1311 26th St. West
Uptown
Noon-5pm / Free
Pop into fashion-forward boutique Design Collective today for a peek at new designs by Kristina Bell, Lucky Lotus, and Anouk Clothing and leave with something pretty! Chat it up with the designers while sipping champagne, nibbling cupcakes, and watching live mannequins vamp about in the latest styles.
CLICK THE IMAGE FOR THE DESIGN COLLECTIVE SITE
Jewelry by Lucky Lotus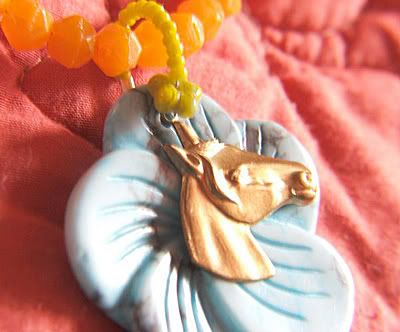 SATURDAY APRIL 19TH
SisBro and Swank Dollar Open Studio
@ 501 Cedar Ave. S.
2nd Floor (about Nomad Pub)
West Bank
1-4pm / Free
Come peruse, purchase or order the latest collections from whimsical and clever designers Erin Smith (SisBro) and Annie Larson (Swank Dollar). This stop should definitely be a priority in your Fashion Weekend itinerary - trust us!
CLICK THE IMAGE FOR THE SWANK DOLLAR SITE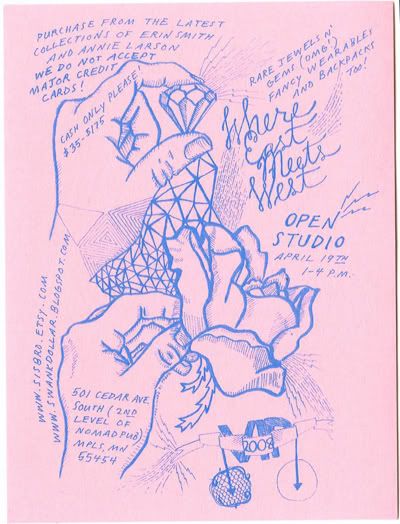 SATURDAY APRIL 19TH
Ivan Idland and Max Lohrbach: Antique Gown Viewing
@ 2400 Lyndale Ave. S
Studio #4
Minneapolis
Noon-6pm / Free
Step into the glamour of the past at this delightful Fashion Weekend event. Behold an impressive array of antique gowns from the 1920s and 1930s, enjoy a glass of wine, and talk with local designers/luxurious garment connoisseurs Max Lohrbach and Ivan Idland.
CLICK THE IMAGE FOR MORE FASHION WEEKEND INFO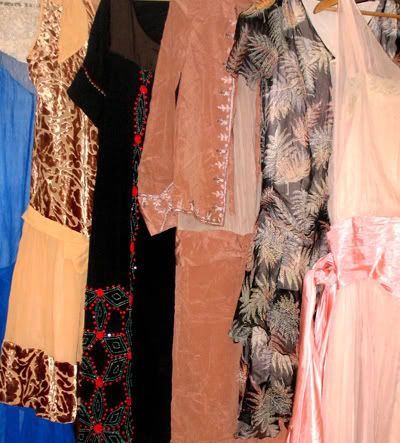 SATURDAY APRIL 19TH
Professional Portfolio Building w/ Kat Dalanger
@ MN Center for Photography
165 13th Ave. NE
Northeast Mpls
2-4pm / $25 / Pre-register by calling 612-824-5500
Up your creative game! Art and Fashion professional Kat Dalanger gives you invaluable tips on how to make sure your portfolio makes an impact. This workshop is a must-do for photographers, fashion designers, stylists, and pretty much anyone of the artistic persuasion.
CLICK THE IMAGE FOR THE MNCP SITE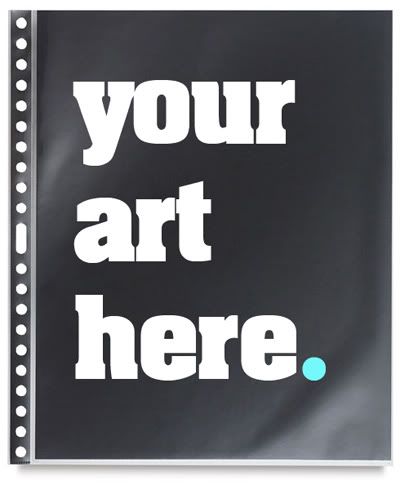 SATURDAY APRIL 19TH
Ruby3 Fashion Ride
@ ROBOTlove Parking Lot
27th & Lyndale
Uptown
1pm / Free
Celebrate Earth Day and Fashion Weekend at the same time! Dress in your finest and show off your bike riding skills during this stylish emission-free cruise through Minneapolis. Meet in the
ROBOTlove
parking lot and help launch the limited edition Ruby3 Cycling Line - Clothes for ladies who bike in skirts! Ride ends at the MNfashion Networking Party at the
Red Stag Supper Club
(see listing below).
CLICK THE IMAGE FOR THE RUBY3 SITE
Image from Ruby3's Cycling Line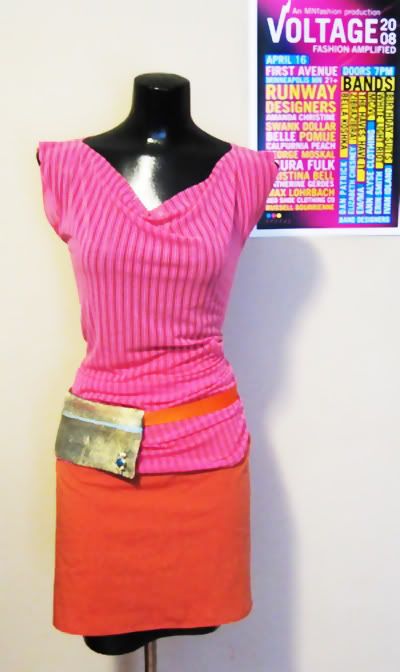 SATURDAY APRIL 19TH
MNFashion Networking Party
@ The Red Stag Supper Club
501 1st Avenue NE
Northeast Mpls
3:30-5:30pm / Free
Mingle with fashion industry insiders and get the scoop on non-profit organization MNfashion at this afternoon networking soiree hosted by the queen of the scene, Miss Anna Lee.
CLICK THE IMAGE FOR THE MNFASHION SITE

SATURDAY APRIL 19TH
MPLS vs STPL
@ The Black Dog Cafe
308 Prince Street
St. Paul
5pm / Free
It's an ancient rivalry. One small river. One major competition of cultures. Witness the final battle at the second installment of
Altered Esthetics'
Mpls vs. St. Paul exhibit at the
Black Dog Cafe
in Lowertown. Earlier this month St. Paul represented in AE's Minneapolis gallery and now St. Paul hosts Minneapolis artists via the walls of this popular Lowertown cafe.
BONUS:
Meet at Altered Esthetics at 1pm to join in on the group bike ride to the St. Paul reception.
CLICK FOR THIS ART EVENT AND MORE AT MPLSART.COM
SATURDAY APRIL 19TH
Kraftwerk
@ Myth
3090 Southland Drive
Maplewood
7pm / $38
Hear the synthpop band that started it all. German electronic superstars Kraftwerk are kicking off their 38th year with a world tour, so bust out your best robotic moves for this sure to be epic show at Myth.
BONUS:
Looking for some after party action? Head over to
BLACK
at the 1st Ave VIP Room for a dose of Kraftwerk inspired electronic mayhem with Aaron Bliss, Jesse Jakob, and Nik Gunz.
CLICK THE IMAGE FOR THE KRAFTWERK SITE
SATURDAY APRIL 19TH
Eluded Love
@ SooVAC
2640 Lyndale Ave. S
Uptown
7pm (show starts at 8pm)/ $15 pre-sale - $25 door
The delectable designs of local threadmaster Ra'mon Lawrence will be on parade tonight during this swanky affair at the Soo Visual Arts Center. A not-to-be-missed Fashion Weekend event! Check out our interview with Ra'mon in
last week's edition
of the What's What if you don't believe us!
CLICK THE IMAGE FOR THE ELUDED LOVE SITE
SATURDAY APRIL 19TH
Connoisseur
@ The Suburban World Theatre
3022 Hennepin Ave.
Minneapolis
9pm-1am / 21+ / $10
Pre-sale tickets available ROBOTlove & Cliché
The biggest party of fashion weekend, no doubt!
YouWorkForThem
and
HYPE
present Connoisseur, a multi-media art event at the beautiful Suburban World Theatre in Uptown. Featuring the best of the best in music, visuals, and fashion including a performance by Hardland/Heartland (the creators of Hyperlush), world premiere video work from YouWorkForThem and Alphasuede, plus DJ sets by San Francisco's Asphalt Haynes, Mike the 2600 King, Michael Cina, Benny Lojack, and Karl Frankowski.
BONUS:
Enter to win a pair of tickets to Connoisseur at Clubhouse Jager on the 17th during our Martini Social!
Sponsored by YouWorkForThem, HYPE, Burlesque, mplsart.com, mnartists.org, MnFashion, Airforce Nutrisoda, Opulent Vodka, and Finnegan's Irish Amber.
CLICK TO WATCH THE CONNOISSEUR TEASER
From Connoisseur event video work by Alphasuede
SUNDAY MUSIC PICK: FLAT DUO JETS
Totally rock-out-able garage-blues duo Flat Duo Jets paved the way for some of today's favorites (such as the White Stripes) with their raw intensity and soulful charm. Flat Duo Jets broke up long ago, but the pair recently announced the release of Two Headed Cow, the soundtrack to the 2006 documentary about front man Dexter Romweber. The disc contains seventeen unreleased tracks recorded in 1986, and is as gritty and good as you would expect!
CLICK THE IMAGE FOR THE FLAT DUO JETS MYSPACE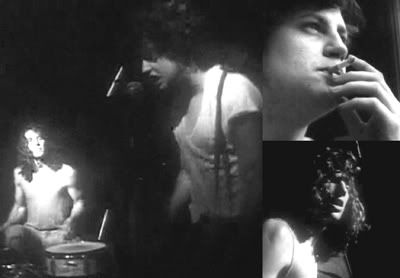 SUNDAY APRIL 20TH
Katherine Gerdes Trunk Show
@ 1004 Marquette Ave.
Downtown Mpls
(across from the Hilton)
1pm / Free
That Katy Gerdes is one talented lady say we! And what better way to support local designers than to go to their trunk shows buy their clothing? Especially if said trunk shows include brunch, like this one. Not to mention, Ms. Gerdes' flattering, sustainable, and comfortable designs definitely deserve to be staple in your summer wardrobe.
CLICK THE IMAGE FOR THE KATHERINE GERDES SITE
photo by Seth Iverson
SUNDAY APRIL 20TH
MNfashion Workshop: Fashion Illustration w/ Star Rial
@ Textile Center
3000 University Ave. SE
Minneapolis
1-3pm & 3-5pm / $30
Most likely, all this local fashion design hoopla is inspiring you want to try your own hand. Let Star Rial start you off with this four-hour workshop covering fabrics, proportions, color palettes, and execution. The Twin Cities can never have enough designers, so get to it!
CLICK THE IMAGE TO SIGN UP FOR THE WORKSHOP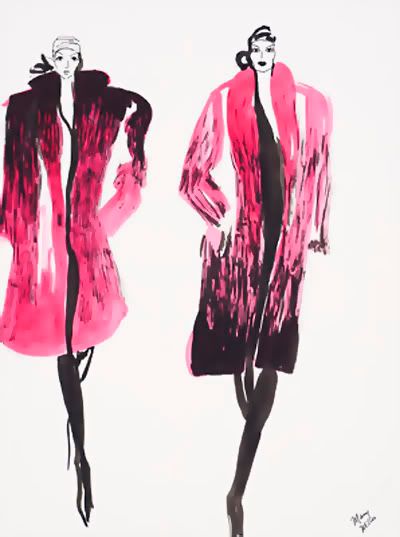 COOL OPPORTUNITIES
ADC Young Guns 6 Competition
Deadline: June 2nd
The rules are simple. You must be under the age of 30, you must have two years' experience in a creative profession, and you must produce high-caliber visual work that will seize the jury's attention and knock 'em dead.
CLICK THE IMAGE FOR THE YOUNG GUNS SITE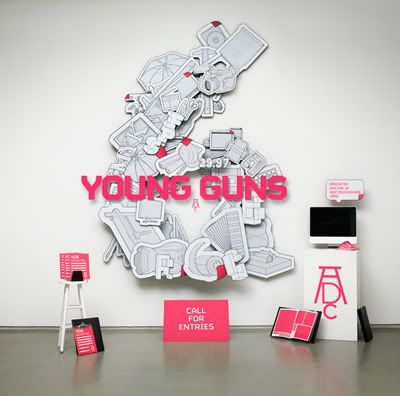 MIX TAPE MONDAY
Courtesy of
Connoisseur
, please enjoy this slick mix by Michael Cina of YouWorkForThem, who we always trust to bring the jams the right way.
CLICK THE IMAGE TO DOWNLOAD THE MIX