SOMETHING FIERCE THIS WAY COMES
The weather's been very much miserable lately, but a real storm is brewing. While you shake, shimmy and sway this weekend, l'étoile's entire crew will be hard at work. Favorite friend, photographer and trouble-starter,
Amy Pierce
, breezes through town this weekend from NYC and things are about to get dangerous. Seek shelter, and maybe steer clear of the Dragon's back room, because we play as hard as we work!
xo-l'étoile
AWESOME BONUS:
Out of hundreds of photographs submitted Amy Pierce recently won first place in The Brooklyn Museum's photography competition with the below image from
"Let's Pretend"
in l'étoile's Spring/Summer issue!
photo by Amy Pierce
THURSDAY OCTOBER 18TH
Rude Girl
@ 7th St. Entry
701 1st Ave.
Downtown Mpls
8pm / 21+ / $5
In the mood for some gender-bending neo-punk? All-lady Clash tribute band Rude Girl is playing the Entry tonight. Freeze Dried Fun, The Western Stars and Louie Dunlap open.
CLICK THE IMAGE FOR THE FIRST AVE SITE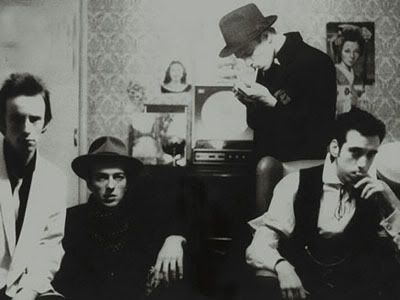 THURSDAY OCTOBER 18TH (THROUGH SATURDAY)
Ugly
@ The Walker Art Center
1750 Hennepin Ave.
Minneapolis
8pm / $25 ($21 Walker Members)
"America's obsession with outward physical perfection is scrutinized in this evening-length work by one of Minnesota's leading choreographers. With his eight-member company and live music by West Coast electronic music pioneer Morton Subotnick, Mathew Janczewski explores notions of beauty and ugliness through movement."
– the Walker.
We can't say it any better than that. Stay after Friday's performance for a Q &A with the crew.
BONUS:
Walker Art Center's annual Women with Vision film festival presents new work by women directors from around the world. Danish filmmaker Susanne Bier's first US production, Things We Lost in the Fire, is showing – FREE – at the Walker tonight. Starring Benicio Del Toro and Halle Berry.
Tickets available at the Bazinet Lobby desk from 6:30 pm the night of the event. To reserve your ticket ahead of time, send a request to:
rsvpmpls@alliedadvpub.com
CLICK THE IMAGE FOR THE WALKER SITE
FRIDAY ART PICK: MICHAEL CINA
Perhaps you aren't aware that an international art dynamo is living, working, and spinning in your midst? Mike Cina is an artist with too many accolades to list. An innovator and influencer of design trend, his collaborative company "
We Work For Them
" has earned numerous international awards. With art exhibits all over the world, projection installations, an online store, motion graphics DVDs, a
weekly DJ night
and more, he still manages to rack up an impressive list of top clients such as Wired Magazine, MTV, Adobe, Coca-Cola and Bacardi.
Catch Mike Cina DJing at
The Get Up
every Saturday with the funky likes of Benny Lojack, Mike 2600 and Mos Jef in Foundation's Deep Lounge from 11pm-2am. Check their myspace for secret passwords and updates!
The talented Mr. Cina took some time out to answer a few questions for l'etoile:
Your brand "We Work For Them" has been around for quite awhile and has won international acclaim - how did the partnership with Michael Young come about and how has it grown?
We would be the only people up at 4AM working and could see that via AIM. Mike and I started doing projects together and companies wanted to pay us to work for them. We no longer publicly take client work but do take projects every now and then if the job is nice enough!
You also run a website and online store called "You Work For Them" that sells prints, vectors, books and more...if you could pick one book for a budding designer to buy, what would it be and why?
Grid Systems would be the obvious choice but I have a warm spot in my heart for Emil Ruder's "Typographie." That is how I learned 'real' graphic design.
What projects are you most excited about working on this year?
Well, we are working on a collection of art for Pepsi cans in 2008. Dale Earnhardt, Jr. asked to meet with us. We just projected our work on the side of the Government building in the Hague, Netherlands. We have had work in a gallery every month all over the world as of late. And like 20 more projects.
Your other website, True is True makes us smile. Can you explain what that's all about?
TrueisTrue
started out as an interactive website that interacted with viewers. Now it is more of a visual scrapbook when I have time. I am planning on starting over and doing some new stuff with it. I really want to change up the format but we will see....
You are also a DJ and music collector - what are your top 5 prized albums?
YES! I guess I don't prize lps, I am in it for the music. I recently got an original Skull Snaps which is nice but I am going to sell it. I will list some current favorite LPs right now because there are too many 12" singles to list.
Leon Ware "Rockin you Eternally"
Claus Ogerman "Gate of Dreams"
Rodriguez "Cold Fact"
High Fashion "Feelin Lucky"
Flying Lotus "Reset"
What makes you most happy?
Good Music, Good Food, Good company, Inspiration, Good Days
CLICK THE IMAGE FOR THE YOU WORK FOR THEM SITE
FRIDAY OCTOBER 19TH
MCAD Jerome Artist Fellows
@ MCAD Gallery
2501 Stevens Ave.
Minneapolis
6-8pm / Free
MCAD and the Jerome foundation present new work by the five recipients of the 2006-07 MCAD/Jerome Foundation Fellowships for Emerging Artists. This year's winners: Ernest Arthur Bryant III, Brian Lesteberg, Cherith Lundin, Monica Sheets and Marcus Young. Runs through November 25th.
CLICK THE IMAGE FOR THE MCAD SITE
photo by Brian Lesteberg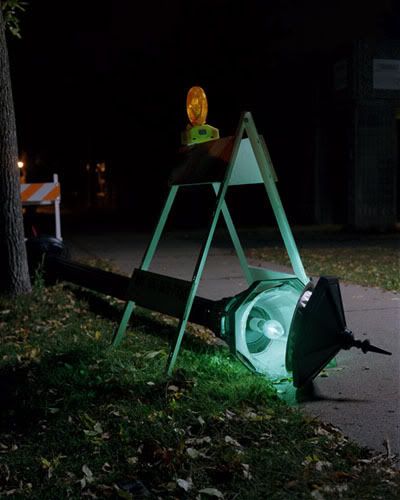 FRIDAY OCTOBER 19TH (THROUGH HALLOWEEN)
The Haunted Basement
Soap Factory
518 2nd St. SE
Minneapolis
7-11pm / 18+ / $10
Anyone who's explored the Soap Factory knows the basement is already more than scary. And cold. And scary. Starting tonight, the terror intensifies with the opening of the long-awaited Halloween exhibit. Designed by local artists Chris Pennington and Aaron Wojak, the raw confines of The Soap Factory's undeveloped netherworld will provide a Halloween experience unlike any other, with only the light of your handheld lantern as guide. This event is 18+ and a waiver must be signed before entering…that's fierce!
Note:
The Haunted Basement will not be open October 27th due to a private event at the Soap Factory.
CLICK THE IMAGE FOR THE SOAP FACTORY SITE
FRIDAY OCTOBER 19TH
Solutions Vol. II
@ Studio 1414
1414 Marshall St. NE
Northeast Mpls
7pm-Midnight / $6 online or $8 door
Solutions Volume 2 features progressive design, art, activism, and more in an innovative format: 13 presenters are given less than 7 minutes to get their point across through 20 images projected for 20 seconds each. Presenters include Chuck Olson, zAmya Theater Project, Walker Art Center and more. Music by DJ Booka B.
CLICK THE IMAGE FOR THE SOLUTIONS SITE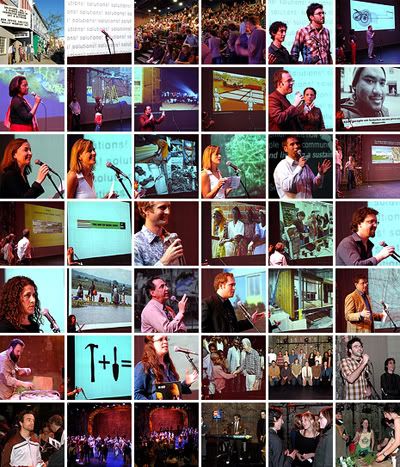 FRIDAY OCTOBER 19TH
Attitude City, DJ Bach, & DJ Talk Radio
@ Picosa
65 Main St. SE
Minneapolis
10pm / 21+ / Free
Dress to impress and disco down to Picosa tonight for a super-sexy lineup of some of our fave DJs! 2-4-1 drink specials enhance your dance!
CLICK THE IMAGE FOR THE ATTITUDE CITY SITE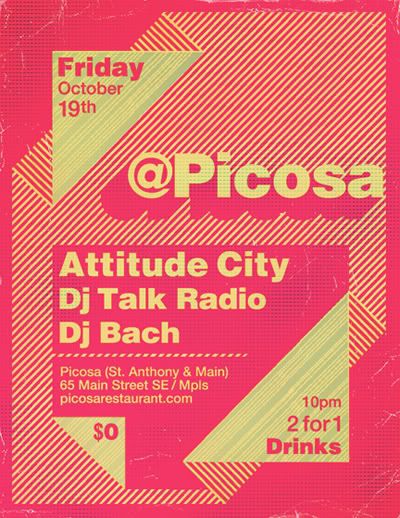 FRIDAY OCTOBER 19TH
2nd Annual Mustache Party
@ The Uptown Bar
Lake & Hennepin
Uptown Mpls
9:30pm / 21+ / $5
Find your inner-Selleck when Uptown hosts its 2nd Annual Mustache Party with free stashes for all. Featuring The Deaths, Friendly No One, Atomic Blue, The New Constitution.
CLICK THE IMAGE FOR THE UPTOWN BAR SITE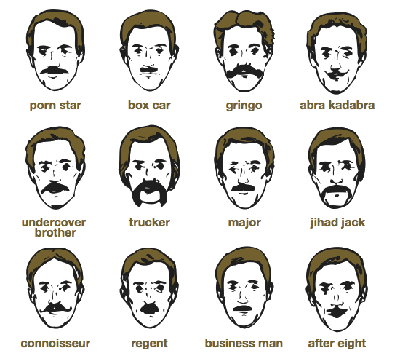 FRIDAY OCTOBER 19TH
Honeymoon III
@ The Nomad
501 Cedar Ave.
West Bank
10pm / 18+ / Free
The Moongoons have been everywhere lately! If they aren't snapping your sexy picture, they are rocking a dance floor near you - and this weekend is no exception.
Tonight's Attire:
Pink everything!
Sponsored by l'etoile magazine and Beautiful/Decay
CLICK THE IMAGE FOR THE MOONGOONS MYSPACE
FRIDAY OCTOBER 19TH
Polyphonic Spree
@ Pantages Theater
710 Hennepin Ave.
Downtown Mpls
8pm / $24.50-$27
Dallas-based "choir symphonic rock" collective, Polyphonic Spree, is pitching their rock-revival tent tonight at the lovely Pantages. Don't let the robes fool you, the Spree's here to spread their own word, not You-Know-Who's.
CLICK THE IMAGE FOR THE POLYPHONIC SPREE MYSPACE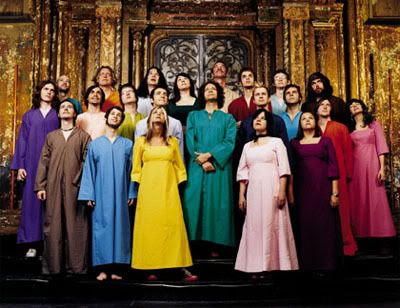 FRIDAY OCTOBER 19TH
BLACK OUT Techno Weekend
@ various locations
Downtown Mpls
Friday:
Alphahouse Records own Andrew Rasse aka Butane lights up Foundation's VIP room tonight. After Hours party at a not-so-secret location to follow featuring James Patric, Jack Complex (Live PA) and Butane!
Saturday:
BLACK in the VIP Room @ 1st Ave welcomes Sutekh, a hard to label audiophile that rocks everything from noise collage to hard techno.
CLICK THE IMAGE FOR MORE INFO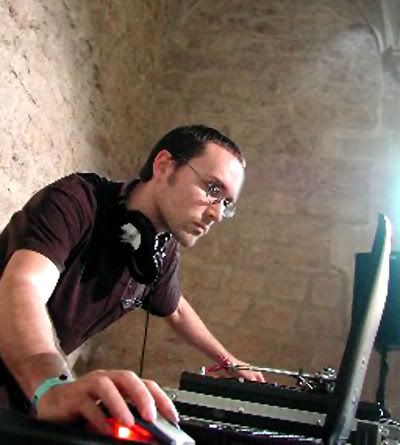 COOL LINK: LIVINGSTONES
l'étoile hearts nature, its true. So we can't help but heart these huggable river rocks. Why not bring a little of the outdoors in and pick up one of these super stones for your lily pad?
CLICK THE IMAGE FOR THE LIVINGSTONES SITE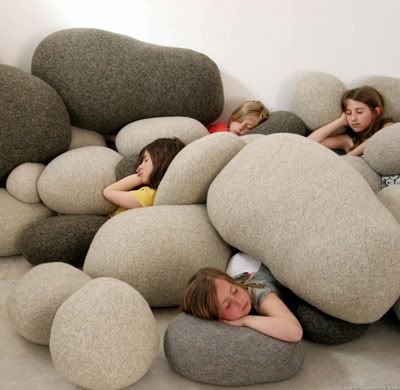 SATURDAY OCTOBER 20TH
What is Hardland/Heartland?
@ Organ Haus
510 W. 31st
Minneapolis
Noon-5pm / Free
Check out art by Eric Carlson, Aaron Anderson, Crystal Quinn, Brett Smith, Croix Clayton, Abi Chase and Grant Leuning. Also, there will be work pertaining to or about or involving: Building Better Bombs, The Gamut, Lazerbeak & Mictlan, METAL TEETH, Wild Wing (Josh Journey-Heinz, Derek Maxwell & Croix Clayton), The Organ Haus, Mean Beep, The Revolting Queers and Steve.
Free Gocco screenprints and Mini Zinez will be available as well as t-shirts, zines, posters, drawings, and fashion up for grabs at reasonable prices!
CLICK THE IMAGE FOR THE HARDLAND/HEARTLAND SITE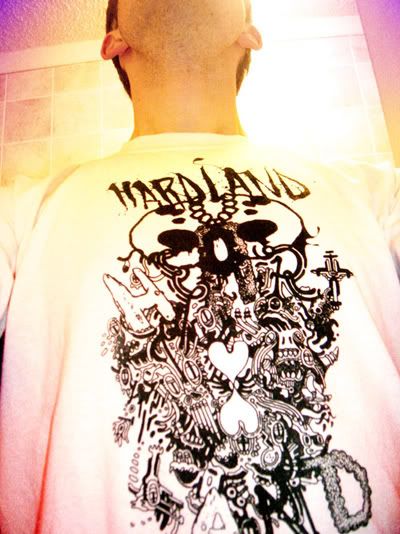 SATURDAY OCTOBER 20TH
Minnie/Mad Festival II
@ Stasiu's
Lowry & Marshall
Northeast Mpls
9pm / 21+ / $5
Minneapolis goes up against Wisco sister-city Madison tonight in this rockin' showdown. 6 bands from each city thrash it out on two levels at Stasiu's.
CLICK BIRTHDAY SUITS IMAGE FOR THE STASIU'S MYSPACE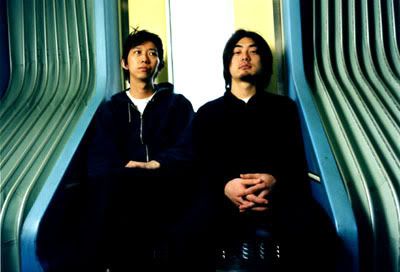 SATURDAY OCTOBER 20TH
Here by Design III: Process and Prototype
@ The Goldstein
364 McNeal Hall
1985 Buford Avenue
St.Paul
1:30-4:30pm Saturdays / 10am-4pm Weekdays
Third in a series exploring excellence in Minnesota design. The exhibit will examine the innovation of sustainable design solutions.
CLICK THE IMAGE FOR THE GOLDSTEIN SITE
SATURDAY OCTOBER 20TH
Resistencia Festival
@ 7th St. Entry
1st & 7th St.
Downtown Mpls
6pm / 18+ / $15
Art, music and culture collide at this alternative music festival celebrating diversity in the Minnesota music scene via Español! Featuring bands, DJs, spoken word, and more.
CLICK THE IMAGE FOR THE RESISTENCIA MYSPACE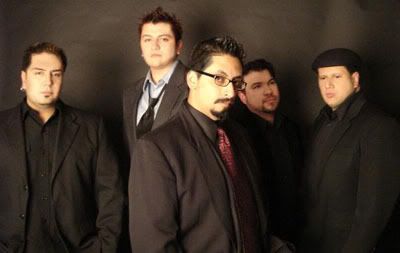 SATURDAY OCTOBER 20TH
Too Much Love
@ First Avenue
701 1st Ave.
Downtown Mpls
10pm / 18+ / $3 (free w/ College ID)
Show your love for Too Much Love! Hit the mainroom tonight and make a scene to the sounds of Soviet Panda, Scott Butters, Jonathan Ackerman and more. Do a pop in at the VIP room for Sutekh, who will surely surprise you with his appropriated antics!
TIP:
First Avenue will close at 2am instead of 3am until further notice. Sorry kids!
CLICK THE IMAGE FOR THE TOO MUCH LOVE SITE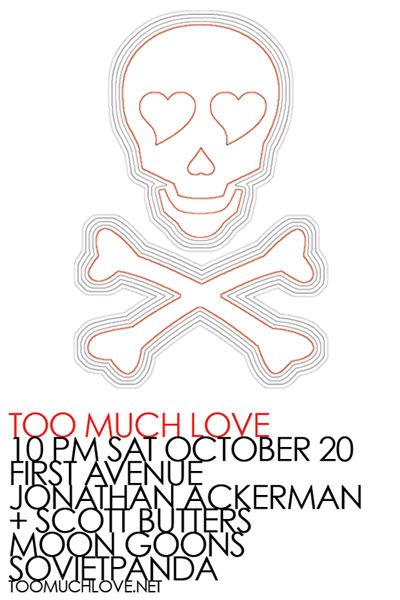 SATURDAY OCTOBER 20TH
Revolver Modele
@ Big V's
University & Snelling
St.Paul
9pm / 21+ / $5
Local lovers Revolver Modele saunter into Big V's tonight to teach a lesson in rock 'n roll. The Knotwells, Sin Horses, and Kill the Runt join in the fray.
CLICK THE IMAGE FOR THE REVOLVER MODELE MYSPACE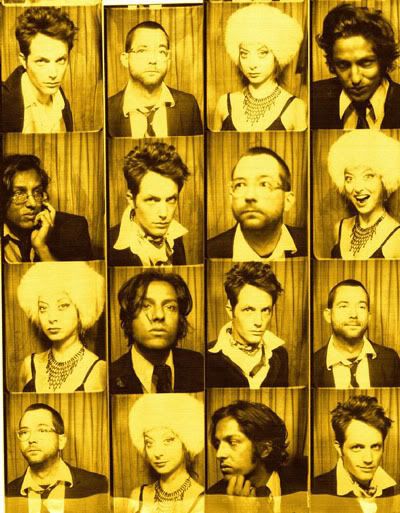 SATURDAY OCTOBER 20TH
The Axis Sessions: Afterhours Spinoff
@ Not-So-Secret Location
Downtown Mpls
(check website day of)
10pm / $5
Internet Rave Radio-heads AfterhoursDJs will be dropping an all-night bass bomb on Minneapolis this Saturday. Featuring 10 local and national DJs of all genres duking it out on the decks.
CLICK THE IMAGE FOR THE AHDJs SITE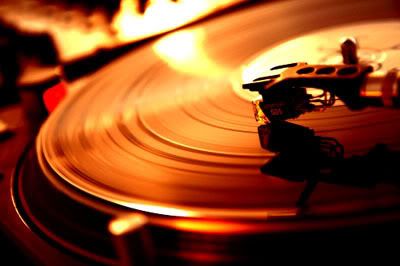 SUNDAY MUSIC PICK: Kasper Bjørke
We predict hot, hot, hot Dane Kasper Bjørke will be the next big thing - his synthy symphonics and sexy vox definitely rub us the right way.
CLICK THE IMAGE FOR THE KASPER BJORKE MYSPACE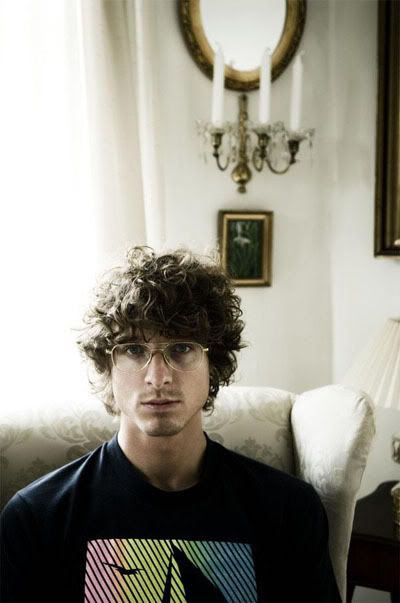 SUNDAY BLOODY SUNDAY
l'étoile will working hard on new top-secret editorial, but we invite you to revel in what wet weekends were meant for – relaxing with good friends and an even better drink. A perfect Bloody Mary is the ultimate Sunday pleasure - so enjoy our secret recipe made with
Effen Vodka
!
This recipe makes eight 6-ounce servings, because we know how popular you are:
1 (46 fluid ounce) bottle Spicy V8
1 1/2 limes, juiced
1 teaspoon brown sugar
1 tablespoon steak sauce
1 tablespoon Worcestershire sauce
1 teaspoon prepared horseradish
2 teaspoon hot sauce
1/2 teaspoon celery salt
Add much Effen Vodka as you'd like and Wha-la!
Make it a meal with a skewered smorgasbord: think sautéed shrimp, hard boiled eggs, grilled asparagus, pickles, olives…to compliment your creation.
CLICK THE IMAGE FOR MORE BLOODY MARY INFO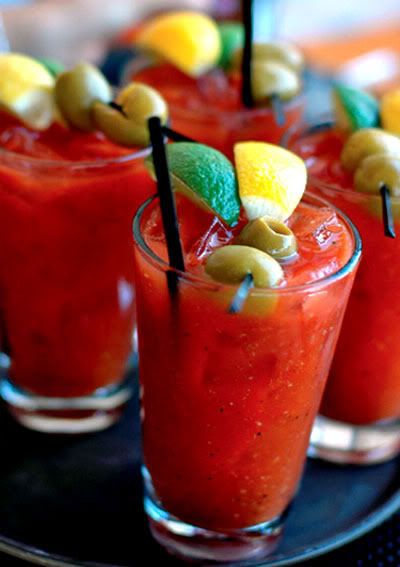 VOLUNTEERS NEEDED FOR THE FOA
October 28th-November 2nd
The Festival of Appropriation is looking for committed volunteers to help check in artists, move and install artwork, etc. at the Soap Factory on October 28th-30th. The FOA is also seeking volunteers to work the opening reception on Friday November 2nd (bartending, setup, cleanup, security, etc.)
Chip-inners will receive a gift bag with yet-to-be-identified swag from
Some Assembly Required
,
mnartists.org
and
l'etoile magazine
!
e-mail kate@letoilemagazine.com to sign up
CLICK THE IMAGE FOR THE FOA SITE