KJUREK COUTURE FALL FASHION SHOW FEATURING AMANDA CHRISTINE DESIGNS
Thursday night, the Suburban World Theatre in Uptown showcased some of the best emerging design talents in the cities.
Amanda Christine's
line of cocktail dresses and coats cemented her position as a local designer to watch, and her slouchy knit
hats - featuring rosettes, bows, and ropes of fabric - could well become the local fashion scene's "it" item for fall. Christine's talent shone brightest in her more structured pieces, particularly when juxtaposing a heavy, gray wool knit with rows of jewel toned sequins.
Kimberly Jurek's fall collection for
Kjurek Couture
confirmed her reputation as one of the most important designers in the Twin Cities. The collection featuring cocktail dresses and car coats was exceptionally wearable. Standout pieces? A lovely black velvet cocktail frock; an acid green wallpaper print coat; a raspberry satin dress with becoming trumpet-sleeves and a tomato red coat.
Apart from a few rushed passes and exaggerated poses, the models were poised and professional, parading the polished, sultry vision of the styling team. And despite a late start, the production was rather seamless. Overall, the well-produced show was just another sign of the Twin Cities' rise as a major destination for independent fashion.
-beth hammarlund
CLICK THE IMAGE FOR THE KJUREK COUTURE SITE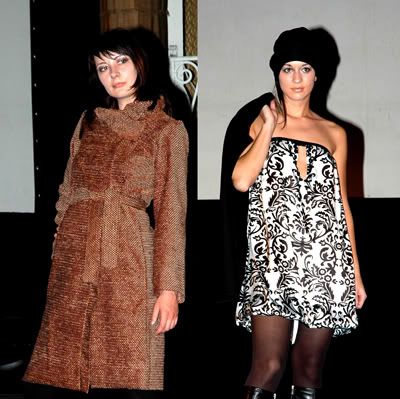 RUSSELL BOURIENNE OPEN STUDIO
The
Russell Bourienne
open studio showcased the designer's coat-heavy menswear line. Floor length faux furs; pieced leather and fur bombers; sherlock holmes-style
cloaks and even a straight jacket will certainly serve as accent pieces to the wardrobes of Bourienne's growing clientele. Other highlights were bound-cuff, blouson shirts; knickers; jodhpurs; wildly plaid bondage pants and kilts in traditional tartans and denim.
-sonia mulford and amanda schroder
RED SHOE CLOTHING COMPANY FALL LINE AND WEBSITE LAUNCH
Friday night at
Cliché
offered white wine, canapés and a peek at Kerry Riley's Fall 2007 collection for
Red Shoe Clothing Company
. The event celebrated not only the debut of the new collection, but also the launch of the line's website,
redshoeclothing.com. Despite some initial difficulty displaying her pieces (when hung from clip hangers, Riley's signature leather harnesses bear an unfortunate resemblance to chastity belts), Riley was in great spirits and eager to show her new line. Although the event marked the expansion of Red Shoe Clothing Company, Riley is proud her pieces are still locally produced.
–beth hammarlund
MNFASHION WORKSHOP: FASHION ILLUSTRATION
The most intimate event of fashion weekend may also have been the highlight. The
fashion illustration workshop was a small, informal gathering at the
Textile Center of MN
. Instructor Star Rial packed a four hour class with enough information to keep students sketching for weeks. Rial operated in both the conceptual and the practical, addressing the process of developing an idea and the techniques used to translate it to paper. The success of this event should bring about more MNfashion workshops in the near future.
–beth hammarlund
LOVE'S LABOURERS @ BEAST HOUSE
Dynamic duo Emma Berg and Kristoffer Knutson of
mplsart.com
have done it again: another fantastical fashion show! Or was it an interactive art installation? Or the hottest new sweatshop on earth??? One thing is certain, they will keep you enthralled with their "Art is Fashion, Fashion is Art" concept again and again.
Friday night, a mash up of local artists and designers came together to create this 1 of 1 t-shirt series for MN Fashion Weekend. For 4 hours only, Minneapolines had the chance to witness a garment in-the-works by designers Annie Larson, Ra'mon Lawrence AND members of Hyperlush, Crystal Quinn, Aaron Anderson and Eric Carlson. If that's not enough for you, artists Adam Garcia aka Snakebird, Eric Inkala and Jennifer Davis all added their special touches to each of the pieces as well.
Minneapolis favorite DJ Bach with special guest DJ Paul Birkin layed down
inspirational tracks for the eclectic group of creatives to whip up amazing one of a kind pieces on the spot. As garments flew off the assembly line of love, photo gurus Joe Kramm and Danica Andler whisked away each lucky new t-shirt owner for their own personal photoshoot, giving designers, artists and party people alike the chance to adore the wares. Talk about immediate gratification!
-angie hanson
CLICK THE IMAGE FOR MORE LOVE'S LABOURERS PHOTOS
Photos by Joe Kramm assisted by Danica Andler
courtesy of mplsart.com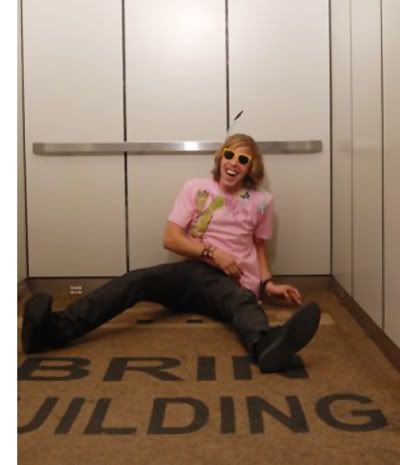 HOUSE OF HENRY TRUNK SHOW
The knit dress returns with handcrafted details in the
House of Henry's
Fall 07 collection. This locally designed and produced line offers skinny woven pants, knit tops and woven brocade print computer bags with fashion detailing, such as contrast cloth-covered buttons and asymetrical cowl necks. Solid hues range from burnt pumpkin, black, white, brown, camel, eggplant and gray while prints reflect designer Michele Henry's love for oversized floral prints.
-sonia mulford
RECTANGLE DESIGNS TRUNK SHOW
The
Rectangle Designs
Trunk Show at
Design Collective
featured the the work of local designer Sarah Nassif, and was complimented by locally produced beer, apples and other delicious baked goodies.
Nassif's botanically inspired fashions in functional silhouettes combine her love of botany and photography. Beautifully executed screen prints of Queen Anne's Lace, Ginkgo, Rosehips and other flora pop from cotton jersey separates in fresh combinations of fuchsia on white, teal on sea green and silver on cobalt. The collection includes scarves, crew tees, slashed v-necks, polo dresses, skirts and canvas clutches.
-sonia mulford
ECLECTICOIFFEUR COTILLION @ THE SOUND GALLERY
The ultra-chic came out Saturday night in droves to celebrate the official launch of
Eclecticoiffer
, a decorated styling team consisting of some of the cities most in-the-know fashion pros: Jahna Peloquin, Di Medlock, and Kelsy Osterman. This huge party spanned two levels at the Sound Gallery and featured DJs and an an open bar on both floors.
l'étoile, a co-sponsor of the event, pulled out all the stops - decorating a room in the VIP lounge and providing party themed-stylish cocktail waitresses and promotions staff dressed to the nines, who worked the party like rockstars all night!
Special thanks to all of our staff who worked so hard this week putting the "l'etoile touch" on this event. Thanks also to the amazing sponsors, MNfashion, Effen Vodka, Pabst Blue Ribbon, Vitamin Energy, Vita.mn, The Minneapoline and also of course to Matt, Kelsy, Di, and Jahna for making the magic happen in the first place!
-kate iverson
Congratulations to Eclecticoiffeur on a completely gorgeous evening!
Photos by
Susannah Dodge
,
Craig Servin
,
Kate Iverson
, and
Andy Evans