LIFE ON THE FRINGE
Thought we forgot? Oh no, not us. The 2007 Fringe Festival is feeling fierce under new executive director, Robin Gillette. 162 shows, 22 different venues in 10 days - whew! And you think your job is tough. We've picked out a few below, but check the fest's site for much, much more. What to do next? You are going to show this town how to party. From a stellar lineup of local beatmachines at Clubhouse Jager to the all-girl dance riot via DC Productions, your late nights (well, early mornings) will be wonderfully uncivilized. Leave the gardening and the groceries for next week and sleep in!
xo-l'étoile
THURSDAY AUGUST 9TH
Beat, Bash, Bang
@ The Turf Club
1601 University Ave
St Paul
9pm / 21+ / $4
Brit is IT as The Flavor Crystals top this delightfully poncey bill along with Fab Tab and the Teds, The Screens and The Debut. DJ Hot Roxx Jen and Vampire Hands Colin will be spinning between bands.
CLICK THE IMAGE FOR THE TURF CLUB SITE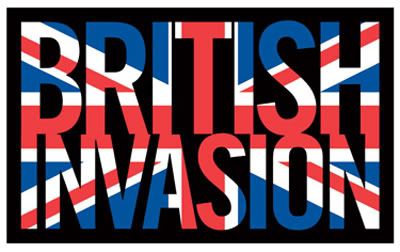 THURSDAY AUGUST 9TH (through Saturday)
PEZcon 12
@ The Ramada MOA
(formerly Thunderbird Motel)
Bloomington, MN
Hours Vary / All Ages / $5
What kind of people go to the Pez convention? We have no idea, but you will definitely find out this weekend at PEZcon12, a celebration of the little candies and their collectable dispensers. Enjoy all things Pez, craft seminars, vendors, and more...Pezalicious!
Strangely enough, the website has already been updated for the 2008 convention, but rest assured, this weekends festivities are sitll in full effect!
CLICK THE IMAGE FOR THE PEZCON12 SITE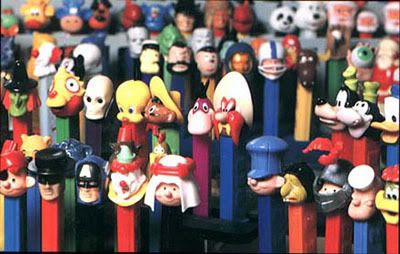 FRIDAY ART PICK: Christian Ward
Christian Ward's visual landscape is occupied by femme fatales, psychedelic mind clouds and caped villains. Reminiscent of Richard Linklater's films, Ward's dream-like yet hard-edged style combines fine lines, lush colors and a sense of surrealism.
CLICK THE IMAGE FOR CHRISTIAN WARD'S SITE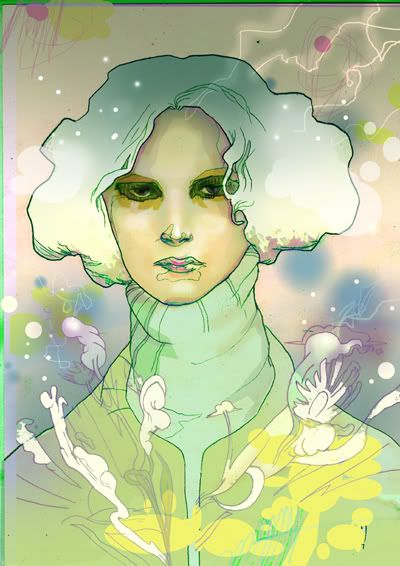 FRIDAY AUGUST 10TH
The Alarmists
@ Uptown Bar
3018 Hennepin Ave S
Minneapolis
9:30pm / 21+ / $5
The Alarmists continue their tour de force at the Uptown with an evening of blistering jams that includes local rockers So it Goes, Raven, and The Exchange!
CLICK THE IMAGE FOR THE ALARMISTS MYSPACE
FRIDAY AUGUST 10TH
Theo Parrish
@ Foundation
10 S. 5th St.
Minneapolis
10PM / 21+ / $5 before 12, $8 after
Detroit House legend Theo Parrish will sear your ears with his motor city bass-lines and signature hypnotic beats. Parrish spins an impressive 4 hour set. Don't forget to pop into the Deep Lounge for a change of bass - Mike 2600 and DJ Applejews entertain!
CLICK THE IMAGE FOR THE FOUNDATION SITE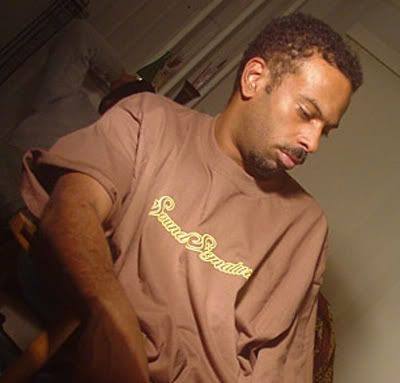 FRIDAY AUGUST 10TH
Excursion: A Late Night Dance Affair
@ Secret Location TBA
Minneapolis
Electro-nerds The Hamptons are a sure thing if you crave hot scratchings on the wheels of steel! Jack Trash, Tink, Nathan Vox and more will make sure that the rhythm does in fact get you. All night long.
Check mnvibe.com or call the info line at 651-206-6023 day-of for location. Presented by Sound in Motion!
CLICK THE IMAGE FOR THE MNVIBE SITE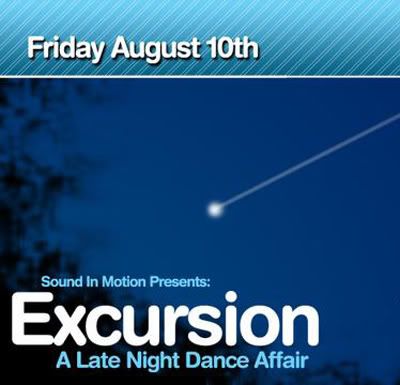 FRIDAY AUGUST 10TH
Fringe Festival Pick: A Fistful of Dice
@ Theatre de la Jeune Lune
105 1st Ave N
Minneapolis
10pm / $12 (+ $3 for button)
Throw on your best cloak of darkness and summon your sages, mages and paladins - we've got a show for you! This Blacky Cat Company production follows Trent, a professional gamer, as he decides whether to hang up his 12-sided dice or go for Dungeons and Dragons glory.
CLICK THE IMAGE FOR THE FRINGE SITE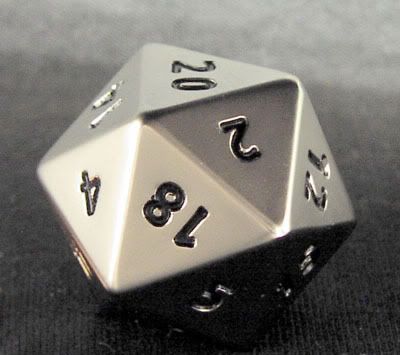 COOL LINK: Beautiful/Decay
Beautiful/Decay's t-shirt shop is a bit like
threadless.com
with 'roid rage. The designs are completely out of control! We're in love with the lo-fi stereo visuals and we're especially enamored with local l'étoile contributor
Josh "Toothjuice" Clancy
, whose "Melting Hearts" will be crowning our wardrobe in 3-5 business days.
Our friends at
ROBOTlove
in Minneapolis carry Beautiful/Decay products and have the new shirts on order, so stop in soon to pick yours up! While you're there, snag the latest copy of Beautiful/Decay Magazine - it's a l'étoile favorite!
CLICK THE IMAGE FOR THE BEAUTIFUL DECAY SITE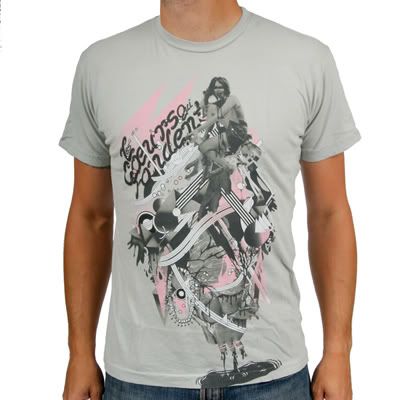 SATURDAY AUGUST 11TH
Familia DVS Shoe Release and Party
@ Familia Skateshop
647 Snelling Ave. S
St.Paul
Store Opens @ 10am / Free
Familia is the only game in town for totally awesome skateboarding paraphernalia! Saturday marks the arrival of the Familia DVS Huf 5 shoe and its sure to cause a stir. After 9pm hit the
Psycho Suzi's
after-party with the Familia crew, and wear your new kicks!
Tucker Gerrick
, shoe designer and owner of Familia Skate Shop, sat down to chat shoes, skating and Typoscura:
How and why did you start Familia?
Familia was created out of a dire need for a skate shop in the Twin Cities. I was aching to open a store where I could get O.C.D. on all aspects of it's design and personality. Adam & Steve wanted to stores too, but on their own. We figured out that with all 3 of us involved, the odds were too good NOT to do it.
How did you get into designing skate shoes?
It started 7 years ago with my first trip to California to see the operation at Sole Technologies (parent company of Etnies, Emerica, eS and 32 boots). Immediately after I started working in a shop, and began the treacherous descent into shoe geekdom. Only recently with opportunities from opening Familia have I had the chance to actually design.
What is your best skateboard related memory?
My fondest memory would have to be of Aqua Jam (Aquatennial's long gone skate contest) in 88 or 89'. I was skating with my little brother with all these strangers and there was a mini ramp contest - some kid was skating a board without griptape...and he was KILLING it.
Your personal blog, Typoscura, is very clever - How did that start?
I was hesitant to do anything purely about me on the net, but I ended up having so much "content" surrounding all the stuff I've been up to, that I figured why not? It's been rad though. Now I have an outlet, but it also acts like a buffer or layer between me and the real world.
Any new projects on the horizon?
I've got a handful of special events before the end of this year, events that non-skateboarders are gonna love too. As for next year, let's just say I've got my hands in about a billion cookie jars. I can't say exactly what those jars are full of though.
CLICK THE IMAGE FOR THE FAMILIA SITE
SATURDAY AUGUST 11TH
BULK.
@ Clubhouse Jager
10th & Washington
Minneapolis
10pm / 21+ / Free
One definition of the word BULK is to "gather, form, or mix into a cohesive or uniform mass". And we think the boys have that covered tonight as BULK officially launches its new bi-monthly dance party. A seamless blend of the cities hottest party DJ's flip wax for your pleasure all night, featuring Mike Cina, Jonathan Ackerman, Attitude City, Scott Butters, and Mike 2600, just to name a few.
CLICK THE IMAGE FOR THE JAGER MYSPACE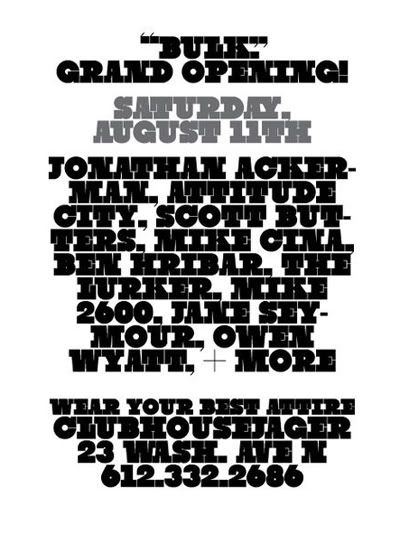 SATURDAY AUGUST 11TH
Blockalypse
@ Pizza Luce
32nd & Lyndale
Minneapolis
Noon-10pm / Free
Pizza Luce hosts the block party to end all block parties at this 5th Annual shindig. Ian (of Drinking With fame) emcees the lineup of bands, including Chooglin and Doomtree. And yes, there will be pizza.
CLICK THE IMAGE FOR THE PIZZA LUCE SITE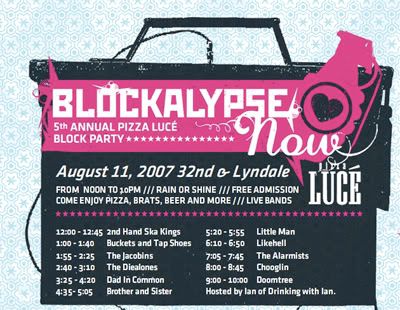 SATURDAY AUGUST 11TH
Mickey Avalon
@ The Fine Line
318 1st Ave N
Minneapolis
8pm / 18+ / $16
Mickey Avalon rolls back into town for the second time this year peddling his Hollywood-glam brand of electro-hip-hop-punk. We just can't get enough! If you missed him the first time now's your chance to mend that regret.
CLICK THE IMAGE FOR THE MICKEY AVALON MYSPACE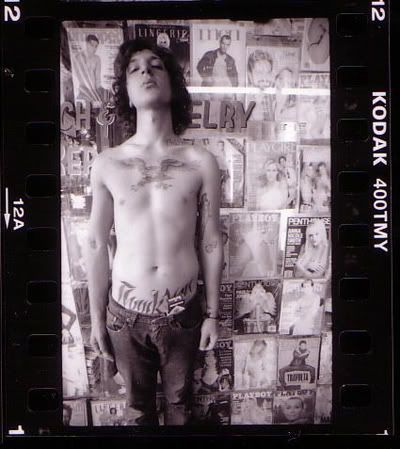 SATURDAY AUGUST 11TH
Teen Girl Squad
@ The DC House of Love
Location TBA
Minneapolis
It's an all-night, all-girl dance riot at the DC House of Love! The cities prettiest and most talented will be spinning, including Symmetry, Nancy Cheng, DJ Eve and Mustang Sally.
Check Symmetry's myspace blog the day-of for directions to the secret spot!
CLICK THE IMAGE FOR SYMMETRY'S MYSPACE FOR LOCATION
SATURDAY AUGUST 11TH
Fringe Festival Pick: Super Glossy
@ Red Eye Theater
15 14th St W
Minneapolis
10pm / $12 + $3
In this sci-fi satire, brought to you by Big Sexy Productions and Courtney McLean. Beauty media, celebrity idolatry, brainwashing, and baby-snatching merge to create the ultimate distopia.
CLICK THE IMAGE FOR THE FRINGE SITE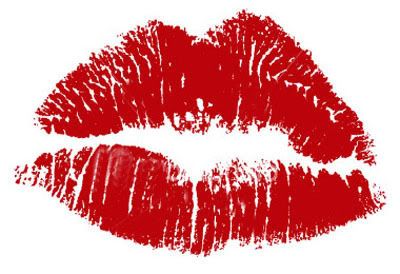 SUNDAY MUSIC PICK: DJ Talk Radio
Local multi-talent Ken Hannigan aka Talk Radio aka Anthem Heart has become a force to be reckoned with over the past few years. We've watched this cat grow from an up and coming graphic designer to a budding multi-media empire! Ken took a moment to chat with us about his rise to local esteem:
You've been djing since the late 90's - how has your musical esthetic grown over time?
I started deejaying a lot more after I added CD turntables, music blogs, and file sharing to my previously "vinyl only" mode of operations. I used to stick to various genres, but over the past maybe 6 months things have blown wide open for me: I'm always attracted to the "disco-punk" tracks out there, but at parties I end up playing more of the "booty" stuff.
You also own Anthem Heart Clothing - how has your business and style evolved since you began designing?
I've been willing to take more chances and experiment. Also I've been collaborating a lot on many different levels. Hyper Lush for Voltage 2007 was an AH project. We will be releasing some new pieces designed by Tooth Juice and Mint Condition at an after party for Too Much Love on August 25th!
Best place to record dig in the cities?
Vital Vinyl
(now refered to as simply "Vital") has emerged as the leader in vinyl but also gear rentals, clothing, cds, event tickets and promotion of the local scene. After Let it Be closed a couple years ago Vital really stepped up.
Top 5 dance tracks of the year?
off the top of my head...I've been digging these:
KWIK Allstars - Theater of Disco
Pogo (Maximized By Punks Jump Up) - Digitalism
Fancy Footwork - Chromeo
Bojangles (tyler fedchuk edit) - Pitbull feat. Le Dust Sucker
Give It To Me (Sta Remix) - Timbaland ft Nelly Furtado & Justin Timberlake
Any future/ongoing events you want to plug?
Too Much Love
at First Ave every Saturday.
Electrobowl Thursdays
at Memory Lanes. Jonathan Ackerman & I are curating a big after party for TML on August 25th at DEFI, featuring live art & video installations, limited edition wearables, giveaways, and of course a hot dance floor!
CLICK THE IMAGE FOR THE TALK RADIO MYSPACE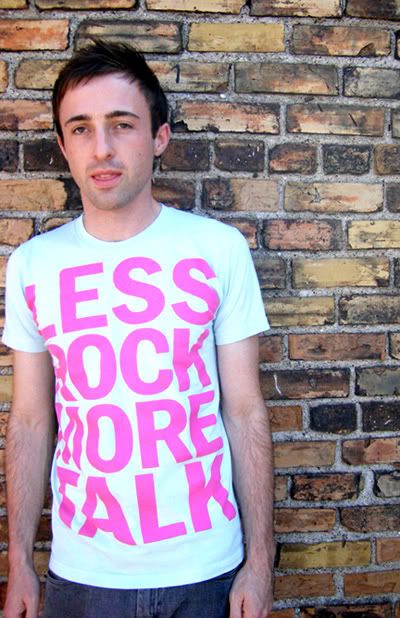 SUNDAY AUGUST 12TH
Plaster the Town Closing Party
@ The Soap Factory
518 2nd St. SE
Minneapolis
Noon-10pm / Free (donation suggested)
Join Twin Cities rock poster royalty Squad 19, Burlesque Design, Aesthetic Apparatus and more for the closing of this amazing show. In true Minneapolis art-star fashion, craziness will ensue featuring DJ Espada, Mike 2600, Chooglin, and STNNNG!
CLICK THE IMAGE FOR THE PLASTER THE TOWN MYSPACE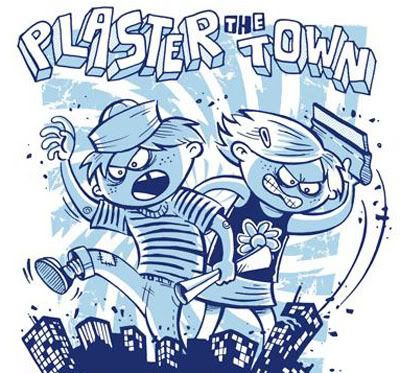 SUNDAY AUGUST 12TH
New Works by Allen Brewer & Greg Gossel
@ Barbette
Irving Ave and Lake St
Minneapolis
3pm-6pm / Free
Pop meets graffiti meets surrealism: Allen Brewer and Greg Gossel show off recent work in this new show at Barbette. Brewer's paintings second-guess conventional beauty and narrative, while Gossel's stencils question cultural identity while referencing an urban landscape.
CLICK THE IMAGE FOR THE BARBETTE SITE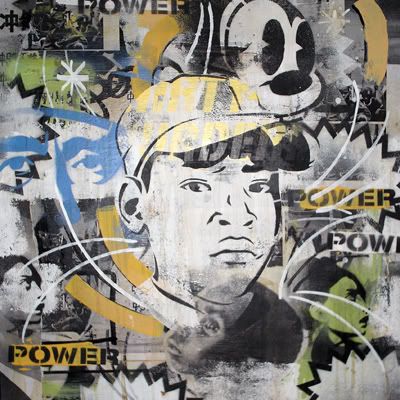 SUNDAY AUGUST 12TH
Fringe Fesival Pick: Take a Left by the Giant Cow
@ Pillsbury House Theater
3501 Chicago Ave S
Minneapolis
7pm / $12 + $3
North Dakota storytellers Curt Lund and Laura Bidgood are back from last year's uberhit "Two Queers and a Chubby" to share more about growing up in " Minnesota's awkward stepsister to the West."
CLICK THE IMAGE FOR THE FRINGE SITE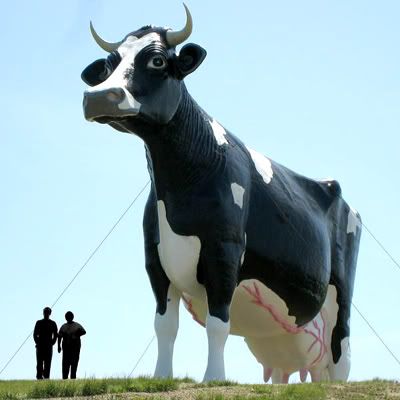 COOL OPPORTUNITIES
Call for Artists: These Elves Went to Art School
SUBMISSION DEADLINE: September 1st
The Gallery @ Fox Tax would like to invite local artists to be a part of their holiday exhibition entitled, "These Elves Went to Art School", a display of miniature art by 50+ local artists. All works for this show must be 4"x4", 2"x4", or 2"x2". Our hope is to showcase each artist's unique style in miniature (and affordable) form.
Deadline to Complete and Deliver Artwork: Nov 1st
Please send submissions/questions via email to:
mark@foxtaxservice.com
If you would like your event, link, or opportunity to be featured in l'étoile magazine's WEEKEND WHAT'S WHAT please email info and image to kate@letoilemagazine.com for consideration.