FASHION/PASSION
As
MNFashion Week
delves into its grand finale weekend, style mavens all over the city are frantically planning their outfits. With numerous events on each day, you'll be hard pressed to hit them all -- not to mention the many other cool, non-fashion-related shenanigans on our weekend roster. In this week's edition of l'étoile, we'll be excerpting events from our
Fall Fashion Week spectacular
and more, but be sure to click
HERE
to see our previews of each and every event on the official schedule. So, Twin Cities, get gussied up and hit the town; we'll be out in full force documenting and celebrating the fabulousness of it all, and we expect to see your pretty faces!
xo-l'étoile

FRIDAY ART PICK: SUBLIME STITCHING
Art meets craft meets some pop culture artists and illustrators at Sublime Stitiching. For a couple bucks, you can buy one of their embroidery iron-on kits and perhaps embellish a bitchin' jean jacket with a Daniel Johnston eyeball-monster or a surreal Jim Woodring creature. If you are inspired to make your own fashions after this week, but need a little jump-start, it's as simple as snapping up an embroidery kit and get your needles out -- voila, instant flair!
CLICK THE IMAGE FOR THE SUBLIME STITCHING SITE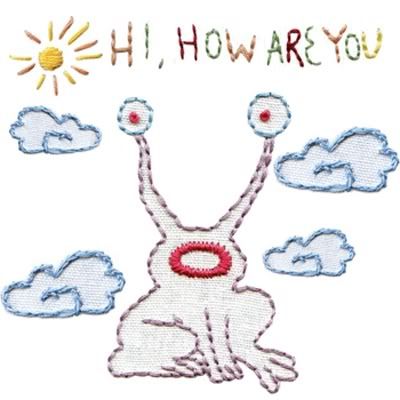 FRIDAY SEPTEMBER 25TH (THROUGH SUNDAY)

SooVAC's Rummage Sale
@ SooVac
2640 Lyndale Ave. S.
Minneapolis
Fri. – 10 am – 6 pm
Sat. – 9 am – 5 pm
Sun. – 10 am – 4 pm
This is not your granny's garage sale, nor is it for the faint of heart – this weekend get ready for a rummaging frenzy as Soo Visual Arts Center fills its gallery with eclectic goodies galore. From clothes to furniture, electronics, unconventional art supplies and must-have conversation pieces, these sale items can be worn, adorned and adored to your scouring heart's content. Best of all, proceeds go to SooVAC programming and 10% goes to Free Arts Minnesota, so you can feel warm and fuzzy about your purchases. But get their early, you'll have to battle other treasure seekers for the good stuff.
CLICK THE IMAGE FOR THE SOOVAC SITE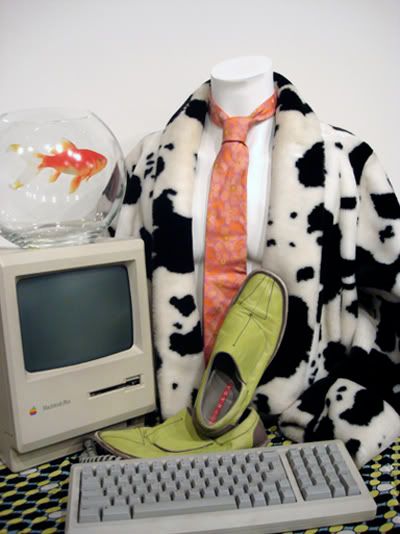 FRIDAY SEPTEMBER 25TH
Eat Street Style: Rare and Well Done
Head on over to Eat Street to feast your eyes on styles from three Nicollet
boutiques.
Head to Toe
,
Lost and Found
and
Blacklist Vintage
will satisfy your cravings for yummy fall fashions and plenty of stylish socializing. We're especially excited for the last look from our pals at Blacklist Vintage. Apparently, it's inspired by steampunk!
Bonus:
Drag Queens.

Sponsored by l'étoile magazine!
Visit our
Fashion Week Spectacular
for an interview with Vanessa Messersmith from Blacklist Vintage!

8 p.m. doors, 9 p.m. show, Head to Toe Salon, 2445 Nicollet Ave S., Minneapolis, $5
FRIDAY SEPTEMBER 25TH
Midori
@ Ritz Theater
345 13th Ave NE
Minneapolis
7pm-9pm / $30
You never know when you might need to tie someone up for...romantic reasons. When that magical moment happens, you'll need to know the ropes, so to speak. Our friends over at Smitten Kitten are bringing in fetish writer and educator Midori to give a weekend of sassy workshops. Bring a friend to the Ritz tonight and learn how to tie each other up the right way! You can also stop in at the Kitten on Saturday night for Midori's "How to Eat a Peach" workshop. LOL.
CLICK THE IMAGE FOR THE SMITTEN KITTEN SITE
FRIDAY SEPTEMBER 25TH
Salon Series 5: Punk & Pearls
Despite not being on the official fashion week schedule, this spectacular evening of music, dance and fashion a la Minnesota Opera and Vita.mn is one you will not want to miss. Take
in the grandiose design work of renowned costumer Zandra Rhodes, who has recently extended her talents to the MNOp's production of
The Pearl Fishers
-- which opens on Saturday. Get a sneak peek of some of the amazing costumes that will grace the Ordway's stage through October 4th and mingle with a fashion forward crowd while doing it!
9 p.m., Ritz Theater, 354 13th Avenue NE, Northeast Minneapolis, Free with reservation
FRIDAY SEPTEMBER 25TH
Kjurek Couture Exclusively Fall Runway Show
Kimberly Jurek
has established herself as one of the most consistent designers in the Twin Cities. Her new fall collection features luxurious fabrics in rich
colors, punctuated with the occasional pop of daring brightness. Jurek's beautifully constructed, gracefully draped garments will add the perfect touch to your autumn wardrobe. These designs will be showcased in a fully-seated show, so buy tickets in advance at Cliché, Drama, Karma, or Gallery 360 to ensure your spot runway-side.

8 p.m. to 11 p.m., W Hotel, 821 Marquette Avenue, Minneapolis, $20
FRIDAY SEPTEMBER 25TH
Bomp! Vol. 8
@ Bedlam Theatre
1501 S. 6th Street
Minneapolis
10pm / 18+ / $5
The most eclectic monthly dance throwdown is back once again at the Bedlam for its 8th epic installment! Join DJ wonders The Moon Goons, Jimmy 2 Times & Plain Ole Bill, Shannon Blowtorch, Wzz Wnshp, DJ Bach, Espada, and Rambo Salina and friends for this massive sonic blast that brings together some of the most popular DJs in town for a night of West Bank-style party mayhem. Hipsters, punks, weirdos, and squares can all appreciate these bompin' beats so come on down and rub up against a random!
Sponsored by l'étoile magazine!
CLICK THE IMAGE FOR THE FACEBOOK EVENT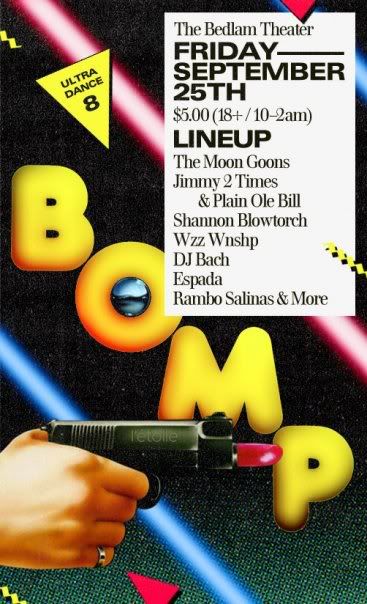 FRIDAY SEPTEMBER 25TH
Rust
@ Future Classic Gallery
4011 Washington Avenue N.
Acrylic Fabricators Bldg
2nd Loading dock to the right
Minneapolis
9 p.m. to 2 a.m. / 21+ / $10 members, $12 non-members (get your membership card at the door)
Always the purveyors of awesome late night dance parties, the techno-minded cats behind the Future Classic series throw a festive jam to ensure you sweat your way into Autumn the right way. Featuring DJs Centrific, Dustin Zahn, Par Grindvik, and Joel Mull, all well-known for their fresh ass techno beats. Park across the street from the building and get there early to ensure admittance to this on-the-DL warehouse party -- once capacity is reached you'll be outta luck!
Bonus:
Keep your ears perked next week for deets on a secret dance party with DJ Mike Huckaby!
CLICK THE IMAGE FOR THE HUSH SITE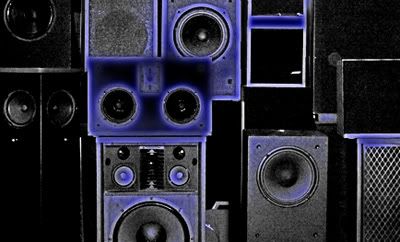 FRIDAY SEPTEMBER 25TH
Richard Lloyd
@ Nick and Eddie
1612 Harmon Place
Minneapolis
10:30pm / All Ages / $10
Nick and Eddie is back (full bar!) with a truly remarkable show to celebrate! The greatest guitarist of his generation and one of those most understated and influential figures of NYC 70's punk scene, Richard Lloyd of abstract art rock band Television, will play an incredibly intimate set in support of his latest album – a collection of Jimi Hendrix covers. Music cred aside, this is one show this fall that you would simply be a fool to pass up.
CLICK THE IMAGE FOR THE NICK AND EDDIE SITE

COOL LINK: L'ETOILE'S COMPLETE FASHION WEEK GUIDE
Please forgive our shameless plugging. Fashion week is crazy! And who knows it better than us? So many events; so many wardrobe changes; so little time. Where does a fashionista even start? Luckily, with our help
MNfashion Week
doesn't have to be a stress game and you never need to be out of the loop. Consider our complete fashion week guide, your bible and visit it religiously. From trunk and anticipated runway shows, to cocktails with local designers and couture art/fashion/music bashes, we preview every event on the fashion week schedule, plus post-event wrap-ups and reviews, Q&As with fashion designer and SCENEaSOTA creator, Maritza Ramirez and Blacklist Vintage co-owner Vanessa Messersmith, plus a few events not officially on the line-up but definitely hype-worthy. Let l'étoile plan your fashion week -- there are only a few days remaining!
BONUS:
Our Fashion Editor has been recappin' like crazy! Click
HERE
to read reviews of events she attended last weekend and check back for more this weekend and next week!
CLICK THE IMAGE FOR OUR GUIDE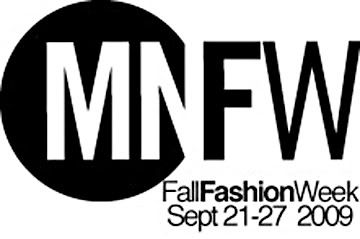 SATURDAY SEPTEMBER 26TH
Groundbreaker Battle 2009
@ Parking lot between Hennepin Center for the Arts and the Shubert Theater
528 Hennepin Avenue
Minneapolis
1pm-9pm / free
Battle! Grab your crew and sign up for the battle: you'll get a free lunch, a chance to demonstrate your skills live on TV, and a chance to be interviewed for print media. But if you're uncoordinated (like most of us) head to the Shubert Theater and just watch it all go down outside in the parking lot! Check out live graffiti displays and workshops from Juxtaposition Arts, breaking workshops from Zenon Dance Company and Motion Disorderz, a panel discussion on the biz-ness of hip hop -- and of course, tons of amazing breakdancin'. Show up and experience this day-long celebration of art and dance!
CLICK THE IMAGE FOR THE SHUBERT SITE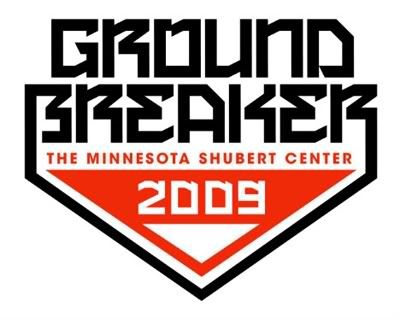 SATURDAY SEPTEMBER 26TH
Liebling Designs, Ruby3 and Third Willow Trunk Show
DIY or die this Fall season with a creative oo-la-la trunk show from Northeast's under-the-radar, but cute as a button boutique,
I Like You.
With their "small
things for a prettier life" mantra and devotion to all things local and handcrafted, I Like You! highlights the Autumn styles of some of this year's most vibrant designers, including unique headwear from Ruby3 (a.k.a. style authority and designer Anna Lee), gorgeous and ornate jewelry by Liebling Designs and stylish clutches, handbags and totes from Third Willow. Chat with the designers, enjoy refreshments and tour I Like You's charming new space.
2 p.m. to 5 p.m., I Like You!, 501 1st Ave. NE., Minneapolis, Free
SATURDAY SEPTEMBER 26TH
Rox on Ice!
What better way to wind down Fall fashion week than with local celeb and style guru, Robyne Robinson at her design space, Rox Studio. Robyne's infectious
jewlery designs
have long been a hot commodity, and have been especially buzzed about lately due to the pairing of her accessories with Project Runway contestant Ra'mon Lawrence-Coleman's collection at the most recent NYC Fashion Week! Sip on delicious chilled champagne as you view her sophisticated and unique line of semi-precious stone, pearl and African brass bead jewelry. Purchase these exotic creations and chat with the talented designer herself.
1 p.m. to 5 p.m., Rox Studio, 2205 California St. NE. Studio 403, Minneapolis
SATURDAY SEPTEMBER 26TH
SCENEaSOTA
Local design darling Maritza Ramirez doesn't just know how to create fashions a la mode, but she knows how to spot the next big it-designer. Due to the success of last
year's show, MNfashion's Fall Fashion Week welcomes back the style-charged runway showcase,
SCENEaSOTA
, hosted by Maritza herself. Featuring the stunning Fall collections of established and emerging local designers including returning designers Renate Adjei, Jenny Carle and Carmichael Claith, fresh designs from recent St. Kate's grad, Ashley Busch, Karmadandi, and the eagerly awaited runway debut of mplsart.com curator and local fashion plate, Emma Berg. Held at the airy Ignite Models Studio, the event is sure to be more than just a crowd pleaser, but paradigm for the season's fashion trends. Best of all, every must-have design will to available for purchase the following day at Uptown boutique, Cliché.
BONUS:
Check out our interview with Miss Maritza in our
Fall Fashion Week Spectacular
!
7 p.m. to 10 p.m., Ignite Models Studio, Brin Glass Building, 600 Washington Ave. N. Suite 101, Minneapolis, $10 general, $20 VIP

SATURDAY SEPTEMBER 26TH
Paper Trails
@
Rosalux Gallery
1011 Washington Ave S
Minneapolis
6pm-10pm /free
Run to Rosalux! Grab your tent and start camping out, cause this one-night-only show and sale is your chance to own limited-edition works from Rosalux artists for ONLY $25-50 each. Current Rosalux members and alumni are represented, including some of our favorites: Alex Kuno, Nick Howard, Amy Rice, Tara Costello, Jennifer Davis, Andy Ducett and many more! Artists are donating 25% of sales to help Rosalux move to their new space in February (We hear it's SooVAC, despite previous rumors of a possible Flanders Gallery space relocate). Scrape the change from your couch, you're gonna need it!
CLICK FOR THIS ART EVENT AND MORE AT MPLSART.COM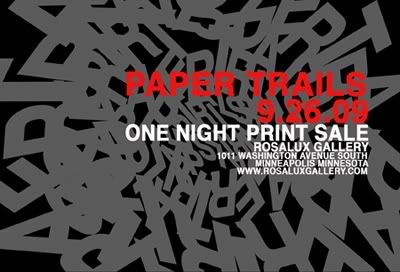 SATURDAY SEPTEMBER 26TH
Jagerfest
@ Club Jager
923 Washington Ave N
Minneapolis
5pm / 21+ / $5
Celebrate the changing of seasons on Clubhouse Jager's awesome patio with an all out blowout of local buzz bands including electro-poppers Ultrachorus, supergroup rockers Bluesky Blackout, noisy swoon duo Red Pens, and a very special reunion show by Astronaut Wife on the outdoor stage, followed by an 80's dance party provided by Transmission DJ Jake Rudh from 10 till close. You surely don't want to miss this end of summer rager.
Sponsored by l'étoile magazine!
BONUS:
Read l'étoile's extensive article with member of Astronaut Wife by Rob Callahan,
HERE
.
CLICK THE IMAGE FOR THE CLUBHOUSE JAGER SITE
SATURDAY SEPTEMBER 27TH
The Atlantis Exhibit
@
Gallery 13
811 Lasalle Avenue
Downtown Minneapolis
7pm-2am / $10-$20
Tonight's exhibit at Gallery 13 is going to be a doozy! Based on the theme of the Lost City of Atlantis, the gallery will be transformed into an underwater multi-media experience featuring live video projections of Poseidon, visual art, a fashion installation by l'étoile fave, Laura Fulk, and bangin' tunes from The Dongers, The Nightstalker, Bryan B, Bankie Phones, DJ Bach and Darrin Cassey. Also featured are "live nude models" who will be turned into living mermaids before your very eyes via body painting by The Ink Warrior. Dress in blue to score $10 admission, otherwise you can wear whatever you'd like and pay $20. Tack on another $5 on for all you can handle refreshments.
CLICK FOR THIS ART EVENT AND MORE AT MPLSART.COM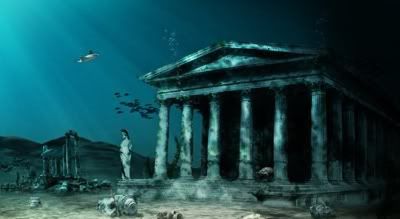 SATURDAY SEPTEMBER 26TH
Invigorate: Elsworth Men's Fall Fashion Preview
Because fashion week is every bit as much about stylish men's wear and it is women's, Downtown's chic apparel store,
Elsworth Menwear
joins the ranks in their
first ever appearance in MNfashion Week! Hosted by the Lab Theater, tonight's preview affair features a tailored Fall/Winter collection of sleek and sexy looks for the male version of the fashionista. Elsworth's professional yet edgy styles promise to be the "talk of the town" this year and the foundation for an evening style-conscious gentlemen don't want to miss. Enjoy drinks and groovable tunes before, during and after the show.
Note:
Suite tickets for this event are unfortunately sold-out. Guests can still purchase $20 general admission tickets at Elsworth Men's store or on the website.

8 p.m. to 1 a.m., The Lab Theater, 700 1st Street N., Minneapolis, $20 General/$35 Suite-sold out
SATURDAY SEPTEMBER 26TH
Worn to Be Wild: Anthem Heart Studio Series
The most party-esque event on the MNfashion Week menu, the boys behind the beloved design collective
Anthem Heart
kick off the first in what is soon to be a monthly engagement: the Worn to be Wild Studio Series. The Anthem Heart event welcomes
special guest t-shirt designer Matt Locher of MPLS' electro-heartthrobs, Solid Gold, in a series of collaborative prints especially – and only – for tonight's party. With multiple screens, a variety of blank t-shirt styles, a crazy selection of color choices and a little bit of improv, the design possibilities are literally endless. After all, can you really call yourself a true MPLS-loving fashionista without a few hot, Anthem Heart print tees in your wardrobe? And best yet, the one-of-a-kind wearables will be at a recession-proof price of under $30 bucks! Jam out to beats from DJs Wzz Wnshp (BRLSQOTHEQUE), Gigamesh and Deus ex Machina (l'etoile and SOTC's own Juleana Enright), plus enjoy cool drinks and tasty appetizers. This one's an late-nighter so get ready to get your party on!

11 p.m. to 3 a.m., Anthem Heart Studios, Q.arma Building, 1224 Quincy St. NE. #225, Minneapolis, free

SUNDAY MUSIC PICK: SUCKERS
Yet another buzz-worthy Brooklyn band you should lend your ears too,
Suckers
easily prove themselves as more than just a hipster obsession of the week. Imagine David Byrne meets MGMT or Yeasayer, with a twist of Modest Mouse. Constructing songs around uplifting chants and harmonies and at times slightly dub-like, these always joyful synth-and-percussion vibes pervade throughout, and their first single "It Gets Your Body Movin" does just what it promises.
SUNDAY SEPTEMBER 27TH
Miyagi Fashion Chop
Oh, we just love
Miyagi Salon
! Not only do we count the super cool owners Chris and Mo as personal pals, but we know for a fact that they do top notch work. Get your
mop chopped by this fleet of concise clippers for a measly 20 bones today between Noon and 5pm. We guarantee you'll stroll out of the salon feeling like a million bucks -- not $20. The best part? All the proceeds from the cut-a-thon will go directly to
MNFashion
, which in turn will keep the Twin Cities buzzing with fashionable activities like it has been this entire week!
BONUS:
For
more Sunday fashion week events
check out our MNFashion Week Spectacular!
Noon to 5 p.m., Miyagi, 411 E. Hennepin Avenue, Minneapolis, $20 haircuts
TUESDAY SEPTEMBER 29TH
JagerCon: Sci-Fi Tuesdays
@ Clubhouse Jager
923 Washington Avenue N.
Minneapolis
Every Tuesday
10 p.m. / 21+ / Free
Join hosts Kate Iverson (l'étoile magazine, Secrets of the City) and Beth Hammarlund (l'étoile magazine, A Tiny Machine) every Tuesday Night for JagerCon! JagerCon is a weekly sci-fi party featuring screenings of classic nerdy movies and television shows -- topped off with 2-4-1 cocktails all night served by Star Captain Paul!
Mingle with like-minded sci-fi geeks, discuss D&D strategies, and use that Captain Picard impression you've been perfecting to pick up chicks at the bar. Snort-laugh the night away while bragging about your MMORPG addiction and enjoy a cozy, nerd-friendly environment.
Upcoming Events:
NEW SCHEDULE ANNOUNCED!
Sept 22nd: Howard the Duck
Sept 29th: Brazil
Oct 6th: They Live
Oct 13th: Planet of the Apes
Oct 20th: Communion
Oct 27th: Jason X: Jason in Outerspace
Nov 3rd: Westworld
Nov 10th: Cocoon
Nov 17th: Class of Nuke Em' High
Nov 24th: Legend
This week's flick is Brazil!
GUEST BLOGGER: A TINY MACHINE
Beth Hammarlund recaps our "Charmed Life" event on her blog. Keep your eyes peeled for more official recappin' from l'etoile as well as tons of pix!
For the Beth's recap
click HERE
, but first, check out Beth, Kate and Laura Fulk on Fox 9 News! Though they got our titles wrong, it was still a super nice piece about Charmed Life and MNFashion Week! Thanks Fox 9!
GUEST BLOGGER: LE PETIT CONNAISSEUR
Our hearts are broken! Jahna Peloquin talks about Ra'mon's aufing and Christopher's top 3 design.
Minnesota loses one on Project Runway
Tonight, one of our own went home on "Project Runway." Judging from last week's previews, we could tell Ra'mon-Lawrence Coleman would be in trouble for his bright green, lizard-like piece. The designers were given a theme based on a genre of movie, and Ra'mon's was sci-fi. After calling his first look, a bright green jumpsuit, "Kermit the Frog gone wrong," he wisely changed it to a dress, but that didn't seem to help. Tim called it "sublime, or a big hot mess," and his eventual design was deemed by Heidi Klum "a hot green mess" with another judge calling it "swamp thing." Our worst fears came true, and Ra'mon was auf'd.
Read Jahna's complete article on Thursday's episode at
Le Petit Connaisseur
Editor in Chief: Kate Iverson
Contributing Writers: Lacey Prpic Hedtke, Robyn Lewis, Juleana Enright, Rob Callahan, Kate Iverson, Beth Hammarlund, Jahna Peloquin