BRIGHT LIGHTS, BIG CITY
Some of us are seething with jealousy this weekend. Why? Well, a number of our talented friends and cohorts are off to New York Fashion Week to help produce Ra'mon-Lawrence's official debut on ze NYC catwalk! l'étoile fashion editrix, Jahna Peloquin, who jetted out earlier this week to art direct the show (with 35 pairs of shoes in tow, no less), will definitely do us proud during this epic turning point in our hometown boy's career. If the mega-super-celeb filled guest list is any indication, we're pretty sure Ra'mon is set to become a major contender in the fashion world --
Project Runway
win or not (though we're definitely crossing our fingers and toes for both Ra'mon and Christopher). Talk about exciting! Those of us who have stayed behind to hold down the fort will be anything but bored, however, as this weekend is jam-packed with more party action than we can shake a stick at. Enjoy yourselves, Twin Cities, and send positive vibes to our pals in NYC while you're at it!
BONUS:
Enter to win a pair of tickets to the Minnesota Opera's Opera Tasting 2009 on September 19th! See our "Cool Link" post below for details!
xo-l'étoile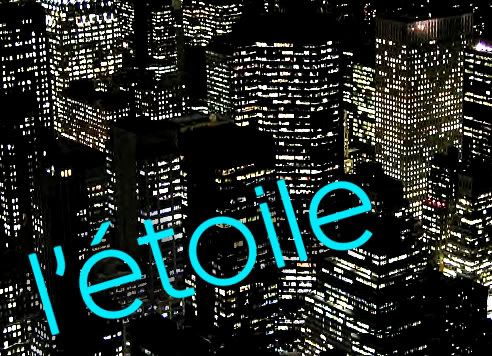 THURSDAY SEPTEMBER 10TH
MinnEconomy w/ Red Pens & Gospel Gossip
@ Electric Fetus
2000 4th Ave. S
Minneapolis
6pm / All Ages / Free
Every second Thursday, beloved local record shop Electric Fetus (recently struck by a tornado!) hosts MinnEconomy, a "shop local" program that aims to benefit both shoppers, local businesses, and of course, music lovers! This month, sample mouth-watering chocolates by B.T. McElrath Chocolatier, followed by noisy performances by feedback-fueled faves the Red Pens and Gospel Gossip.
CLICK THE IMAGE FOR THE ELECTRIC FETUS SITE
THURSDAY SEPTEMBER 10TH
Soundstage with Demietoile: Volume Quatre
@ Clubhouse Jäger
923 Washington Ave. N.
Minneapolis
9 pm/ 21+/ no cover
Don your darkest sunglasses and throw on a sexy trenchcoat as Clubhouse Jäger and l'étoile magazine present an evening of mystery, romance, deception and suspense with a killer soundtrack! Tonight, the fourth installment of the music/movie madness night, Soundstage, features a dual adventure in secret agent loving all set to the backdrop of visually sensual and artsy spy flicks, Roman Coppola's
CQ
and the Cary Grant/ Audrey Hepburn jewel,
Charade
. DJ Demietoile and guest Deus Ex Machina's (l'étoile's own Juleana Enright!) dual-deck action reinvent the soundtracks to these classic films, spinning tasty obscure foreign synth-pop, synth-rock favorites, underground electro from local rockstars, erotic French synth, sexy italo disco, 80's minimal and vintage electro.
CLICK THE IMAGE FOR THE DEMIETOILE MYSPACE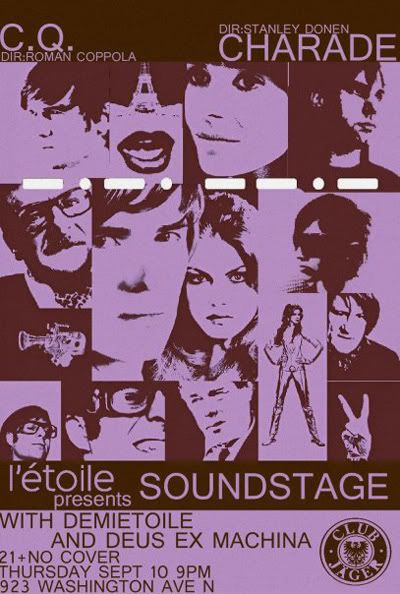 THURSDAY SEPTEMBER 10TH
Performing Arts Season Preview
@ Walker's McGuire Theater
1750 Hennepin Ave.
Minneapolis
7 pm / free
Want a sneak peak at the riveting new works coming to the Walker this season? Join WAC senior performing arts curator, Philip Bither, for a complete rundown on the "arresting and influential" live performance art soon to fill the Walker's experimental grounds. From visually stimulating dance performances and live musical guests to adventurous theater shows, this year the Walker is the place to be to experience cutting edge art. And don't forget, every Thursday at the Walker is Target Free Thursday nights. So come early, stay late and enjoy all the frills Thursday night has to offer.
CLICK THE IMAGE FOR THE WAC SITE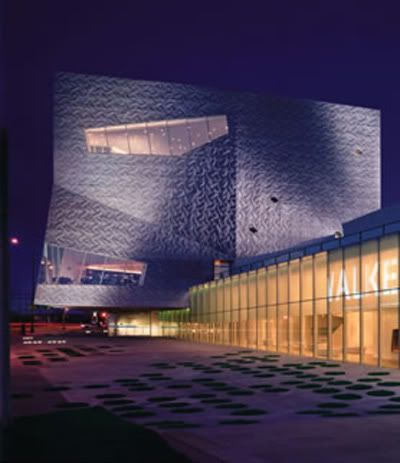 THURSDAY SEPTEMBER 9TH (EVERY THURSDAY)
Project Runway Weekly Screenings
@ Hell's Kitchen
80 S. 9th Street
Downtown Minneapolis
8-9pm Fashion Trivia with l'étoile
9-10pm Project Runway
10-11pm Models of the Runway
Tonight's Trivia Prizes:
A pair of tix to Charmed Life and a $50 bar tab!
Come cheer on our hometown boys Ra'mon and Christopher every Thursday at Hell's Kitchen! Put on something snazzy and join us for weekly screenings of Project Runway, sponsored by l'étoile and Metro Mag! Show up early from 6-8pm for live music, drink specials and the full dinner menu, then from 8-9pm play fashion trivia with Kate and Beth from l'étoile , who will be giving away sweet prizes including a $50 bar tab every week. From 9-11pm settle in and watch back-to-back eps of
Project Runway
and spin off show,
Models of the Runway
, live on Hell's big screen. Enjoy drink specials, fashionable revelry, and damn good food at Hell's Kitchen every Thursday with us! Parking: $5 parking in adjacent lot, or metered street parking.
Bonus:
Christopher and/or Ra'mon will be joining us from time to time!
CLICK THE IMAGE FOR THE FACEBOOK EVENT
FRIDAY ART PICK: DEUCE SEVEN
l'étoile is always in awe of everything MPLS-based artist Deuce Seven creates. His latest print, "Falling Into the Black Hole Sun" – whether a reference to 90s band Soundgarden or not – is definitely more psychedelic than grungy. Gorgeous and graphic, the print embodies a lucid graffiti underworld, with hidden, distorted creatures, neon hues and a splash of geometric flavor. Brought to life by the color and screenprint pros of Burlesque of North America, Wes Winship and Ben LaFond, the 19" x 25" print is hand-embellished on French paper with the artist's own John Hancock. Get your hands on this local print gem at Burlesque's website, but act quickly because there are only 72 copies of this brilliant piece posed for circulation!
CLICK THE IMAGE FOR THE BURLESQUE SITE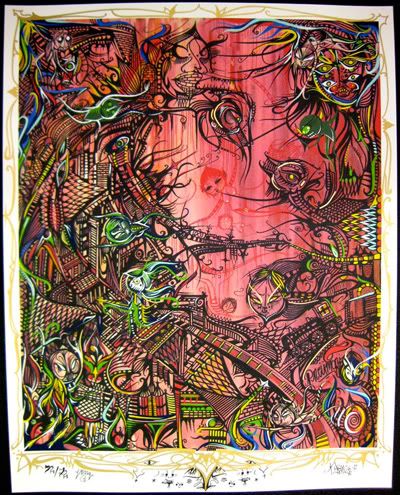 FRIDAY SEPTEMBER 11TH (THROUGH SUNDAY)
Concrete and Grass Festival
@ Mears Park
Corner of Sibley & 6th St.
Lowertown St. Paul
Friday: 3:30-10pm
Saturday: Noon to 10pm
Sunday: Noon to 8pm
All Ages/Free
The trend-setting Lowertown neighborhood has quickly become the hip place to be in St. Paul. Historic as it is urban, Lowertown is home to many cool spots such as Barrio tequila bar, organic cafe the Black Dog and the tranquil Mears Park, which plays host to this week's Concrete and Grass Festival. This eclectic outdoor extravaganza features three days of free, eclectic concerts from hot local artists. Kicking off Friday's lineup is MPLS jazz band the Story City followed by performances from Papa John Kolstad, members of The Minnesota Opera and Freddy Fresh with special guest Mark Wheat. On Saturday and Sunday, don't miss sets from indie rockers Idle Hands, hip-hop artists Heiruspecs and Desdamona, the soulful folk sounds of Romantica and indie acoustics from Kid Dakota. Munch on delicious eats and refreshing beer from Lowertown's tasty restaurants, including the Bulldog and Señor Wong. Enjoy the lovely weather while it lasts!
CLICK THE IMAGE FOR MORE INFO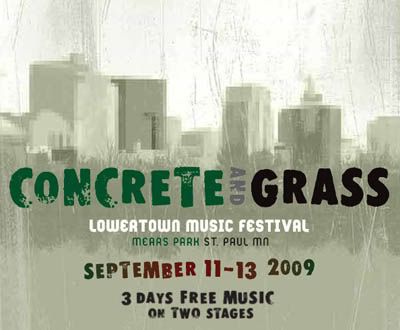 FRIDAY SEPTEMBER 11TH
ARP! Release Party: Pipe Dreams
@
Highpoint Center for Printmaking
912 W Lake St.
Minneapolis
7pm-11pm/$5 suggested donation
The word on the street is that ARP! (Art Review & Preview) is only publishing one more issue, so now's the time to act like everything's normal and pretend we aren't losing a wonderful arts resource, but gaining one more insightful issue! Times change, people move on, and good art journals unfortunately come to an end, but that doesn't mean you can't celebrate tonight! This issue's theme is Pipe Dreams, and that covers everything from the invention of photography to sleeping dreams. The fun part is that you can find out the meaning of your dreams, screenprint your own cover of the newspaper, check out Highpoint's new space, and live in sweet oblivion until the harsh reality of change slaps you in the face next time around.
CLICK THE IMAGE FOR THE ARP! SITE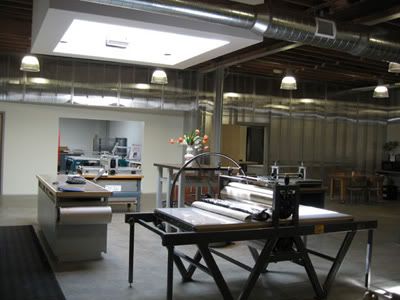 FRIDAY SEPTEMBER 11TH (THROUGH SATURDAY)
Soap Factory $99 Sale
@
Soap Factory
518 2nd Street SE
Minneapolis
Friday: Preview Party 7-10pm / $20
Saturday: Public sale 9am-Noon / Free
For the fourth year in a row, our fave local gallery, The Soap Factory, has been making visual art accessible to art lovers on a budget with their annual $99 Sale. This fundraiser for the non-profit gallery offers up over 250 original artworks of the same size, signed only on the back so you won't know who the artist is unless you buy! Each work of art is priced at a measly $99, a small price to pay for some of the big-name artists that will grace the walls of the Soap this weekend! Get first dibs on the good stuff by popping for the $20 preview party of Friday, or show up Saturday morning to score what's left. This event is a fantastic opportunity to score sweet art at ridiculously low prices, and support the Soap Factory while doing it.
BONUS:
Speaking of the Soap and their pals, the annual Art Shanty Projects are in full-swing fundraising mode as well -- head to 801 Lofts this Saturday evening for an All-You-Can-Eat Hotdog fundraiser. Because nothing says "Art Shantys" better than meat in tube format. Visit
www.artshantyprojects.org
for the deetz.
CLICK FOR THIS ART EVENT AND MORE AT MPLSART.COM
FRIDAY SEPTEMBER 11TH
Benefit for Rosie
@ Hexagon
2600 27th Ave. S
Minneapolis
9pm / 21+ / Free
Anybody that frequents the Seward rock & roll dive, the Hexagon, is familiar with its lovable bar matron, Rosie. From keeping bands in line with her pre-show pep talks to making sure the drinks are poured strong, Rose has been rocking out longer than most of us have been alive, and has been an invaluable supporter of the local music scene until recently, as her health has begun to suffer. Hoping to raise money to help Rosie pay some of her medical bills, rowdy country-rockers the Gleam, joined by the Tisdales and the Bill Patton Trio have teamed to rock the Hex in her honor. Stop by and show your support for one of Minneapolis' most beloved fixtures.
CLICK THE IMAGE FOR THE HEX SITE
Photo by Jen Hughes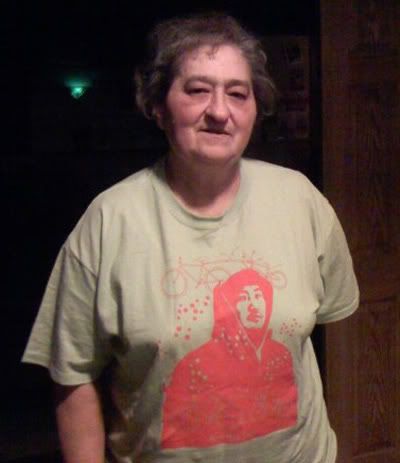 FRIDAY SEPTEMBER 11TH
The Hoot featuring Patches and Gretchen
@ The Music Box
1407 Nicollet Ave S
Minneapolis
9:30pm / 21+ / $5 Suggested Donation
Ever been to a Hoot? We hear they're all the rage. This weekly musical commune hosted by rock critic Jim Walsh a.k.a. the Mad Ripple has long been a staple for artists to consort, swap stories and share ditties. This week's hooters include Slim Dunlap, Lianne Smith, Kevin Bowe, and Venus Demars jamming out, but you never know who else might show up! Special post-hoot performance by Patches & Gretchen!
CLICK THE IMAGE FOR THE MUSIC BOX SITE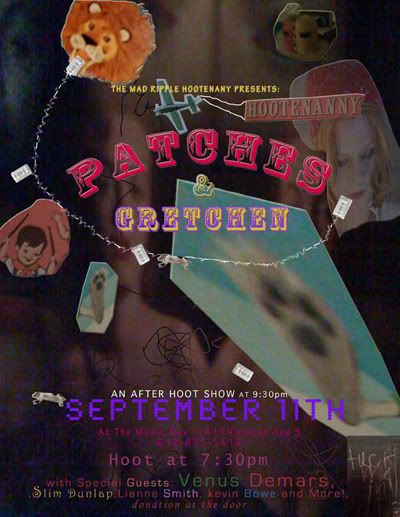 FRIDAY SEPTEMBER 11TH
Street Sounds Swirlin' Through My Mind
@ 1st Avenue VIP Room
701 1st Ave N
Minneapolis
10pm/$5/18+
DJs Attitude City, Mike the 2600 King and King Otto personally invite you to grease your hair, your palms, and your dancing shoes tonight. Reenact your favorite scene from
Saturday Night Fever, Footloose
, or any choreographed dance routine in First Avenue's VIP Room. Just being there will increase your coolness. You need them, they need you, get down there!
Sponsored by l'étoile magazine, of course!
CLICK THE IMAGE FOR THE FIRST AVE SITE
FRIDAY SEPTEMBER 11TH
Future Classic Part IV
@ Secret spot
12am-late/$10 members, $12 non-members
It only happens once a month, and it's ultra-secret. DJs Jeff Dubois of True Roots Music, Nancy Cheng of Sweet Sounds, Mike G. of futuristic Moods and Soul:Control featuring Ghetto & DVS1 of Late Night Session ALL represent. Party the night away into the wee hours of the morning with this bass bumpin' crew and the Twin Cities' most dance-crazed creatures of the night. Email info@hushsound.com to be put on the mailing list so they can tell you where this ultra-hush-hush location is. Do it!
CLICK THE IMAGE FOR THE HUSH SITE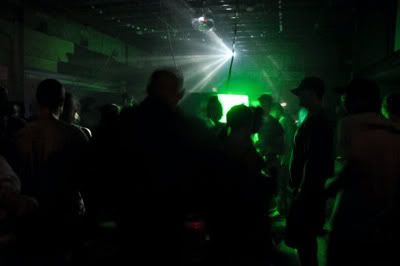 COOL LINK: LE'TALK WITH THE MN OPERA
Yes, we're linking to ourselves this week. Conceited, eh? Peep our recent interview with the Minnesota Opera's Audience Development guru Jamie Nieman and find out about the upcoming (and l'étoile co-sponsored) event Opera Tasting 2009 on September 19th, a super swanky soiree that pairs liberal wine drinking with a sampling of previews of the MNOp's upcoming performance season. We can't wait -- we're planning our outfits already!
ENTER TO WIN A PAIR OF TIX TO OPERA TASTING 2009!
Simply e-mail
kate@letoilemagazine
with "OPERA TASTING" in the subject line to be entered to win. Winners will be drawn and notified next week and put on the guest list!
CLICK THE IMAGE FOR THE INTERVIEW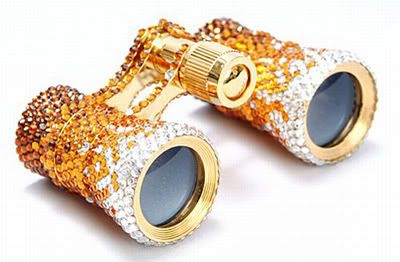 SATURDAY SEPTEMBER 12TH
Vita.mn Autumn Movies & Music Series: Low + Jaws
@ Lake Harriet Bandshell
43rd Street W & East Lake Harriet Pkwy
Minneapolis
5:30 / All Ages / Free
The big daddy of summer blockbusters, Jaws, kicks off
Vita.mn's Autumn movies and music
at Lake Harriet Bandshell, with minimalist Duluth indie-rock trio Low playing a free show at this outdoor series. Music starts at 5:30 with Low playing at 7:15 sharp, the film starts at dusk! Also, be sure to give Vita.mn's Christian-Philippe a birthday spanking or two!
SATURDAY SEPTEMBER 12TH
Randomness, Control, and the Loss or Attainment of Both Those Things
@
Fox Tax Gallery
503 1st Ave. NE.
Minneapolis
6-11 pm/ free
In the art world, randomness can take a piece of work from simplistic to avant-garde, or abstract to impressionist. In his solo exhibition, local artist and recent U of M grad, Miles Mendenhall explores the concept of control and its antithesis: chaos and randomness. Known mostly as a self-portrait artist (albeit a very colorful and somewhat outrageous one), Mendenhall's latest work is a drastic change, creating sporadic configurations through structures of modern pyramids and soothingly addictive geometric patterns. Join Fox Tax and the artist for an opening reception tonight. Exhibit runs through October 4th.
CLICK FOR THIS ART EVENT AND MORE AT MPLSART.COM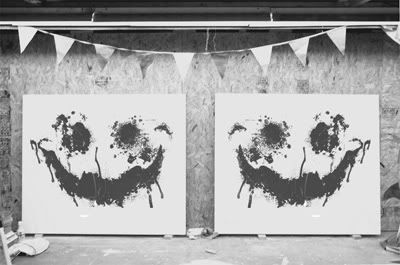 SATURDAY SEPTEMBER 12TH
One Year Anniversary Party
@ Miyagi
411 E Hennepin Ave
Minneapolis
6pm-9pm/free
Yay! Miyagi's been at it for a year! Celebrate this awesome salon's existence tonight with their first art opening by Fab Girl Pinstriper Stacie Depner, appetizers, drinks, music, and a hinted-at surprise. Music wafts through from DJs Drew Miller and l'étoile bff and salon owner Chris Strouth.
CLICK THE IMAGE FOR THE MIYAGI SITE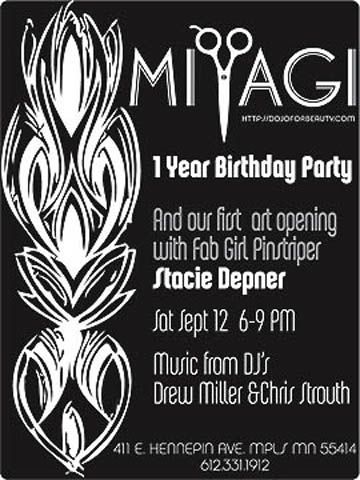 SATURDAY SEPTEMBER 12TH
Praise & Punishment
@
Rosalux
1011 Washington Ave S
Minneapolis
7pm-11pm/free
Joel Starkey and Toni Gallo present a mixture of paintings, drawings and multimedia artwork in this mixed-bag show. Gallo's ladies are dream-like, ghostly and delightfully deranged. Starkey brightens it up a bit in terms of color to make this show a thoughtful and pretty pairing. Lay eyes on it all at tonight's opening reception! Through September 25th.
CLICK FOR THIS ART EVENT AND MORE AT MPLSART.COM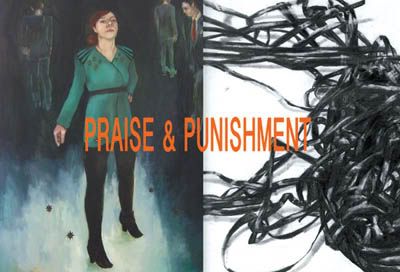 SATURDAY SEPTEMBER 12TH
Dougieland 60
@ California Building Gallery
2205 California Street NE
Minneapolis
7-11pm / Free
If there's one person in the Twin Cities that we'd love to watch a biopic on, it's
Doug Padilla
. The now 60 year old local artist has a mind like a steel trap when it comes to art scene history, and believe us, we've been privy to his colorful storytelling. Not to say that Padilla is a golden oldie who spins yarns in a paint-splattered rocking chair by any means -- this exuberant, talented, and super-sassy Minneapolis staple is as stylish and hip as they come, most def. Head to the California Building tonight for a carnival of visual marvels a la Padilla, who describes his work as "21st Century Self-taught Nor-Mex-esotan Pulp Magic Realism." The show will include a retrospective of Padilla's work, featuring the rarely seen Museé Halle Saint Pierre and "La Mode" series, as well as a collaborative, experimental performance helmed by Deborah Jinza Thayer/Movement Architecture that reflects Thayer's reaction to "La Mode." "Stylish, amusing, and fascinating" attire is encouraged, so dress to the nines and help celebrate 60 years of one of the most charismatic cats in town.
BONUS:
Score additional art points before or after Dougieland at the Sample Room Dock, just a mere few blocks away as Creative Electric Studios busts out with yet another cool "floating" exhibit featuring the work of Pattie Chalmers entitled "Mudmaid Museum." Visit
www.creativeelectricstudios.com
for all the deetz.
CLICK FOR THIS ART EVENT AND MORE AT MPLSART.COM
Photo by Xavier Tavera
SATURDAY SEPTEMBER 12TH
Andy Hardman Opening/Let's Dance
@
Familia Skate Shop
2833 Hennepin Avenue
Uptown
8pm-10pm / Free
After Party/Let's Dance
@
Red Stag Supper Club
503 1st Avenue NE
Northeast Mpls
11pm-2am/21+/free
It's an arty party dubz header tonight with La Familia! Stop into the recently relocated Uptown skateshop to catch a glimpse of Andy Hardman's 6-foot long mega-photos and rub elbows with art-friendly skateboarders and the funky fresh Familia crew. After saturating your eyeballs with cool visuals, turn the attention towards your ears and your feet as the party moves over to Northeast hot spot, The Red Stag, for drinkin', carousin', and most definitely, dancin' courtesy of Millions Billions and Tendercakes monthly jam-out, "Let's Dance."
CLICK FOR THIS ART EVENT AND MORE AT MPLSART.COM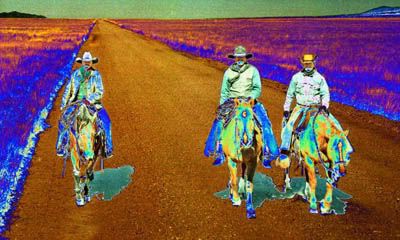 SATURDAY SEPTEMBER 12TH
Bella Koshka
@ Kitty Cat Klub
313 14th Ave SE
Minneapolis
In the vein of Imogen Heap and Bat for Lashes, Minneapolis' violin-driven darlings Bella Koshka storm the stage of the Kitty Cat Klub along with Madison's Icarus Himself, one of the more out-there hyperfolk debuts to emerge from the clamor of Madison indie bands. Phantom Tails and Painted Saints kick things off.
CLICK THE IMAGE FOR THE KITTY CAT KLUB SITE
SUNDAY MUSIC PICK: KID CUDI
If it's fresh beats you're after, look no further than Brooklyn's rap-slinging pop machine,
Kid Cudi
. This artist is sure to garner much play on iPod playlists and mix CDs well into Fall with electro-disco grooves tickled with starry-eyed keyboards. Cudi's jams are incredibly gripping in their sleek and futuristic compositions, like a slew of sex-jams that have somehow time-traveled back from the future. His debut album drops on Tuesday, and features one of the best first lines that we've have heard in a grip… "I got 99 problems and they ALL bitches." Hot!
SUNDAY SEPTEMBER 13TH
Daniel Kaniess & Scott Seekins
@
Barbette
1600 W. Lake Street
Minneapolis
3pm-6pm / Free
Pop on over to Barbette this afternoon for some Pommes Frites served with a side of cool art! New Barbette curator, Sean Smuda, kicks off his appointment in style, with a showing of work by iconic artist-about-town Scott Seekins and mixed media guru Daniel Kaniess. Barbette openings are our fave, because Sunday afternoons at this sweet spot are lazy, tasty, and artistically sound; a perfect respite from the long weekend of fabulous shenanigans. Good conversation and visual delights always tend to abound!
CLICK FOR THIS ART EVENT AND MORE AT MPLSART.COM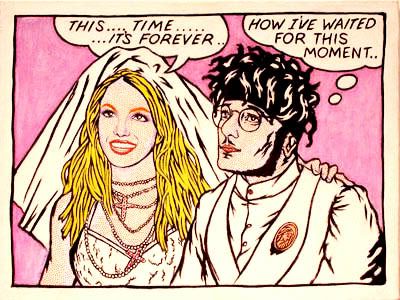 SUNDAY SEPTEMBER 13TH
Rockstar Storytellers
@
Bryant-Lake Bowl
810 W. Lake Street
Minneapolis
7 pm/ $12 ($10 w/ fringe button)
Out of a self-proclaimed drunken haze and a love for the art of storytelling, the
Rockstar Storytellers
crew was born. The energetic, prolific, and creative troupe of artists have gained popularity across the city through open mic nights at Kieran's, monthly events at the BLB, and their domination of the Fringe Festival. Tonight, the Rockstars take things back to where it all began, BLB's cabaret stage where their modernized storytelling – laced in irony and comedy – kicks off a third season. Each month, the Rockstars' series explores literature genres from Erotic and Chick Lit to Horror and Self-Help, starting tonight with the theme, The Bookshelf Sampler.
Learn more about the Rockstar Storytellers:
TUESDAY SEPTEMBER 15TH
JagerCon: Sci-Fi Tuesdays
@ Clubhouse Jager
923 Washington Avenue N.
Minneapolis
Every Tuesday
10 p.m. / 21+ / Free
Join hosts Kate Iverson (l'étoile magazine, Secrets of the City) and Beth Hammarlund (l'étoile magazine, A Tiny Machine) every Tuesday Night for JagerCon! JagerCon is a weekly sci-fi party featuring screenings of classic nerdy movies and television shows -- topped off with 2-4-1 cocktails all night served by Star Captain Paul!
Mingle with like-minded sci-fi geeks, discuss D&D strategies, and use that Captain Picard impression you've been perfecting to pick up chicks at the bar. Snort-laugh the night away while bragging about your MMORPG addiction and enjoy a cozy, nerd-friendly environment.
Upcoming Events:
NEW SCHEDULE ANNOUNCED!
Sept 15: Barbarella
Sept 22nd: Howard the Duck
Sept 29th: Brazil
Oct 6th: They Live
Oct 13th: Planet of the Apes
Oct 20th: Communion
Oct 27th: Jason X: Jason in Outerspace
Nov 3rd: Westworld
Nov 10th: Cocoon
Nov 17th: Class of Nuke Em' High
Nov 24th: Legend
This week's flick is Barbarella!

GUEST BLOGGER: A TINY MACHINE
Beth Hammarlund gets the score on Target's upcoming Go International collaboration with Rodarte.
a little birdy

Breaking news! This is an image of one of the Rodarte for Target dresses being released this December. It's a black sequined mini-dress with ribcage detail on the front and a plain back. This is a very early image, so it's not an official promotional shot. But I'm so psyched to have an idea of what to look forward to from Target and the Mulleavy girls this holiday season. Nothing says "Merry Christmas" like "Count my vertebrae."
CLICK THE IMAGE FOR MORE FROM A TINY MACHINE
GUEST BLOGGER: LE PETIT CONNAISSEUR
Jahna rounds up local fashion news for the week, talks Mary Poppins-inspired fashion, and oh-so much more.
Minneapolis does New York Fashion Week
Though the Twin Cities has its own fashion week coming up (Sept. 18-26), it's still pretty exciting when Minnesotans get into the mix at New York Fashion Week. Current Project Runway contestant Ra'mon-Lawrence Coleman will be having his first official showing at New York Fashion Week. Local jewelry designer (and FOX news anchor) for her line ROX Robyne Robinson will be presenting her jewelry with his Spring 2010 collection. (Full disclosure: I am serving as Artistic Director, with my stylist collective Eclecticoiffeur as Lead Stylists.) A number of high-profile guests have been said to have RSVP'd, so stay tuned!
CLICK THE IMAGE FOR MORE FROM LE PETIT CONNAISSEUR
Photo by Stephen Stephens/Digital Crush for l'etoile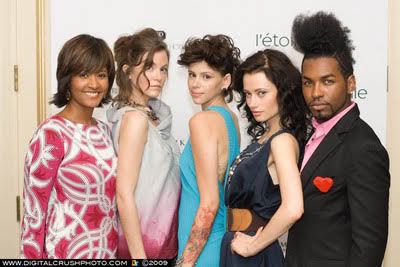 L'ETOILE NEWSWIRE
SAVE THE DATE 9/23: CHARMED LIFE
Curate your life. Be charmed.
Join l'etoile mag and Metro Mag for a
festive evening
of fashion, shopping and
interior design at the beautiful International Market Square. This event features local, independent clothing and jewelry designers, as well boutiques selling their wares in a fashion marketplace. Mingle with the Twin Cities' fashion crowd amongst the gorgeous furniture and home decor of the IMS showrooms. Enjoy cocktails, appetizers, swag bags, a live fashion photo shoot, a fashion styling challenge, tunes from DJs Millions Billions and Tendercakes and more. Curate your life – be charmed!
Featuring fashion from local designers Max Lohrbach, Ruby3, Laura Fulk, Ferociter, Design Collective, Blacklist Vintage and many, many more.
PLUS meet current Project Runway designer
CHRISTOPHER STRAUB
and see his designs! Also meet fashion maven
CHERYL TIEGS
and get your pic snapped on the red carpet at the Cambria showroom!
Charmed Life
Wednesday, September 23
6-9 p.m.
Tickets: $25
Purchase Now!
Click HERE to purchase tickets!
SAVE THE DATE 9/19: OPERA TASTING 2009
Tempo
, the Minnesota Opera's young professionals group for ages 21 to 39, invites you to a tantalizing evening of music and wine as they present
Opera Tasting 2009
!
You'll be transported to bohemian Paris, exotic Sri Lanka and sultry Seville as performed by Minnesota Opera's Resident Artists.
The evening begins at 7:30 pm with cocktails then at 8:30pm, Amy Buchanan of Le Cirque Rouge will guide you through the sensory delights.
September 19, 2009


Cocktails 7:30 pm; Wine Tasting 8:30 pm
Heavy hors d'oeuvres
Cocktail attire
Presenting Sponsor: KFAI Radio
Sponsors: l'etoile and MVP Wines

Click HERE for more information and to purchase tickets!
Scroll down to read our interview with the MN Opera's Jamie Nieman!
Editor in Chief: Kate Iverson
Contributing Writers: Lacey Prpic Hedtke, Robyn Lewis, Juleana Enright, Kate Iverson, Beth Hammarlund, Jahna Peloquin