I WANT CANDY
Attention Twin Cities: We are issuing an official fashion challenge! Considering the vibrant, stunning, eye-poppin' and brilliantly colored nature of this weekend's lineup we formal request you dress the part! Go all out to sparkle, because between Eric Inkala's art opening, Le Cirque Rouge's 5-Year Anniversary Bash, and the Twin Cities Pan African Fest - just to name a few - you're going to have to step it up a notch if you want to get noticed (and we know you do)!



Win Big:

Send us photos from your candy-colored weekend fashion shenanigans and you could not only be featured in an upcoming edition of the What's What, but you could win a sugary-sweet l'étoile prize package that includes a 4-pack of tickets to The Government Inspector at The Guthrie on 7/14! The winner will then be invited to the Guthrie's Target Lounge to pick up their prize package and have a drink on us at Creative Context, a post-show party hosted by l'etoile! E-mail kate@letoilemagazine.com with your submissions. Deadline Tuesday August 12th, 5pm
xo-létoile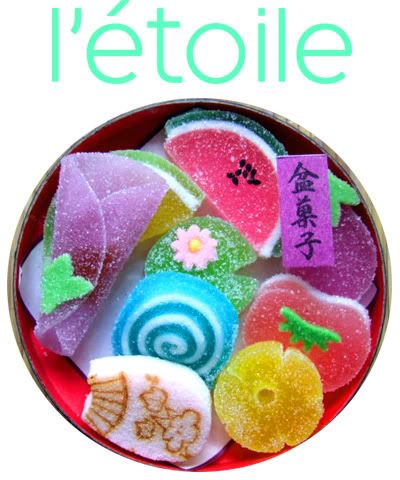 THURSDAY AUGUST 7TH
Gallery Grooves
@
Altered Esthetics
1224 Quincy Street NE
Northeast Minneapolis
7-9pm / Free
The Twin Cities Pan African Fest is in full effect now through Sunday, so take a min to
peek at the lineup
before making any rash weekend decisions! Tonight's event is a super-duper-mega awesome one, because our pals at The Rake are throwing a special edition "Gallery Grooves" in honor of the Festival. Head to
Altered Esthetics
tonight for a look at the latest exhibit,
The Revolution Will Not Be Televised
, along with a one-night-only showing of African artist
Rabi Sanfo's
gorgeous sculpture and metal work - which always blows us away. Factor in some delicious South African Wine and live music from the Drum & Art Ensemble as well as jazz guitarist John Penny, and you've got yourself an impressive date night!
CLICK THE IMAGE FOR THE RAKE SITE
Art by Rabi Sanfo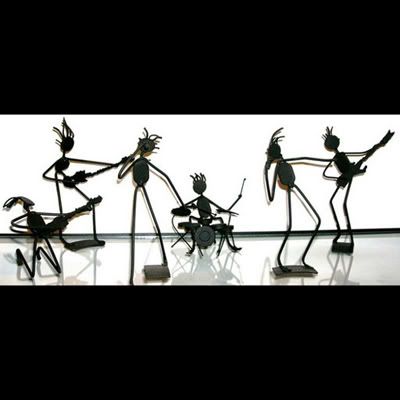 THURSDAY AUGUST 7TH
METRO Fiesta Happy Hour
@ Skyscape Condominiums
Rooftop Patio
929 Portland Avenue
Downtown Mpls
6-9pm / $25 / Pre-orders Only - Reserve Your Tickets
HERE
Join the cool kids at METRO Magazine as they team up with the notorious party people of VimLab for a fiesta of epic proportions! Enjoy a fabulous view of Downtown Minneapolis from the breezy rooftop patio of the Skyscape Condos while sipping margaritas (and trust us, METRO makes one hell of a margarita, we know this), ice cold Coronas, yummy food and live music from Tambuca. Teams will also compete for the title of "Best Guacamole Makers in the Twin Cities" so come ready to put your refined palate to the test! Space is limited, and this is a killer deal, so click below to score your tix right this minute!
CLICK THE IMAGE TO ORDER YOUR TICKETS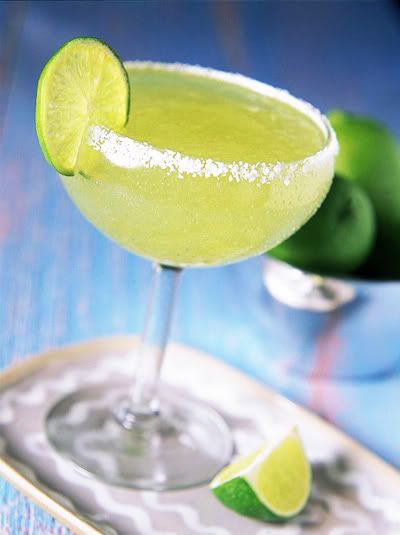 FRIDAY ART PICK: TARA DONOVAN
Paper plates, plastic drinking straws and Styrofoam cups are Tara Donovan's medium. These cheap commercial utensils become undulating indoor oceans, organic forms and beings on a massive sculptural scale. Her installations and sculptures go beyond the shock factor of knowing you're looking at torn tar paper, but how?
CLICK THE IMAGE FOR THE TARA DONOVAN SITE
FRIDAY AUGUST 8TH
Overflow: A Pleasure Trip
@
Fox Tax Gallery
503 1st Ave NE
Minneapolis
6pm-11pm / Free
Curator Emma Berg of mplsart.com always delights with her electic and well-thought out shows, and tonight is no exception. Graffiti artist cum rising art world star
Eric Inkala
was given reign of The Gallery at Fox Tax to realize his brilliantly colorful vision. Wall murals frame candy-colored canvases of all shapes and sizes and cut whales and other signature characters hang from the ceiling, completely surround the viewer and transforming the space into a swirling dreamland. During the opening, familiar characters from Inkala's world (literally) come to life, and music from DJ Espada and Mike the 2600 King help set the mood.
CLICK FOR THIS ART EVENT AND MORE AT MPLSART.COM
Photo by Joe Kramm, Styling by Eclecticoiffeur for mplsart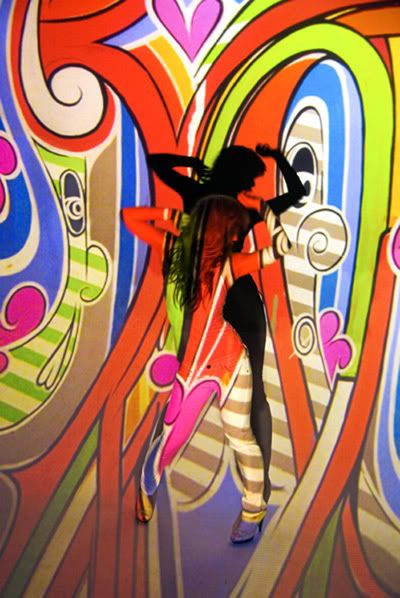 FRIDAY AUGUST 8TH
Fringe Spotlight: You're No Fun
@ U of M Rarig Center Thrust
330 21st Ave S
Minneapolis
10pm / $10-$12 + $3 Fringe button
An extremely meta musical about a hobo boyfriend that wanders back into town to find his ex-girlfriend has written a play about him that he ends up in. Somehow this joke's-on-you-theatre-types show works in egg throwing (watch out, first row!), doo wop, an old timey band, a kickline, and dinosaur performance art. Luc Parker is almost too believable as the lead, and he's got a bitchin' get-up. The Bedlam Theatre audiences looooved it this summer, so it's back by popular demand.
CLICK THE IMAGE FOR THE FRINGE FEST SITE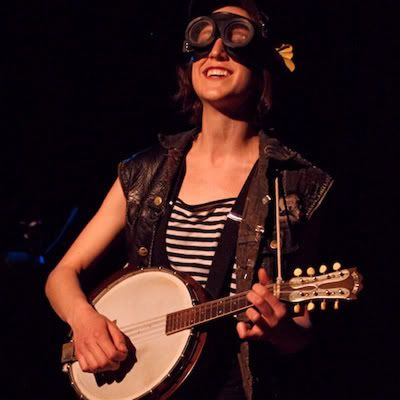 FRIDAY AUGUST 8TH
Le Cirque Rouge 5 year Anniversary
@
Nick & Eddie
(Loring Alley)
1612 Harmon Place
Minneapolis
10pm / $6
Five years of booty shakin' is something to celebrate! Not to mention - taking it off, sultry dances and GREAT costumes. You do the math; One show a week for five years equals...a highly refined cabaret and burlesque act! The Loring Alley behind Nick and Eddie is a choice place for this milestone, so slink up to the bar and order one of those snow-cone cocktails, because it's going to get steamy!
CLICK THE IMAGE FOR THE LE CIRQUE ROUGE SITE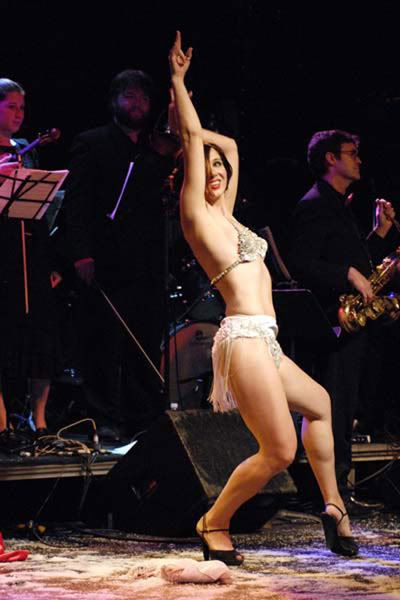 FRIDAY AUGUST 8TH
Volverse Un Ocho
@
Art of This
3506 Nicollet Ave
Minneapolis
7pm / $5 suggested donation
Present and past students of Minneapolis' Vesper College collaborate on a one-night installation at Art of This. Live jazz wafting through will help you to contemplate the school's ecologically-balanced ethic towards design, with sculpture and architecture as its focus. It's not everyday you run into some with an MFA in Eco-Architecture, so now is your chance to catch up on Vesper College's contribution to the city and the earth.
CLICK FOR THIS ART EVENT AND MORE AT MPLSART.COM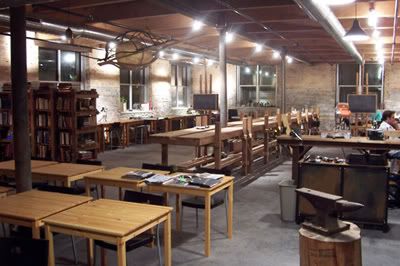 FRIDAY AUGUST 8TH
The Bass Queen 08.08.08
@ The Lock Inn
email jp@secrettechno.com for location
Downtown Minneapolis
Commemorate the invention of the 808 drum machine on 08.08.08 with the finest local knob-tweakers at yet another installment of the now infamous Lock Inn. This bass-heavy night is going to be off the hook, because there will be no computers used, only the legendary sounds of analog drum machines, synths, and sequencers. Be sure to arrive BEFORE 2am to be allowed access, and enter through the fire escape!
CLICK THE IMAGE FOR THE SECRET TECHNO SITE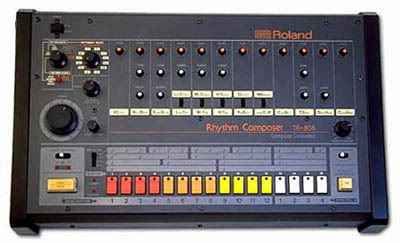 COOL LINK: REFINERY 29
Yes, we blogged about Refinery 29 last year, but considering its complete awesomeness we thought we'd refresh your memory! When you need to know all the news, blog updates and store openings of indie designers, Refinery 29 is your tour guide! They do all the leg work to find trends, ebay obsessions, cooler than cool shopping and fashion related links and they even dig up awesome videos and music for you to tell your friends about, who, by the way, are not nearly as cool as you. Now hurry up and click below, you've got some serious retail therapy to catch up on!
CLICK THE IMAGE FOR THE REFINERY 29 SITE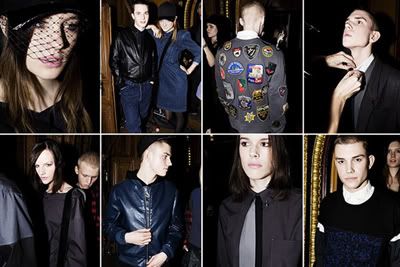 SATURDAY AUGUST 9TH
Pizza Luce Block Party
@ Pizza Luce Uptown
3200 Lyndale Ave
Minneapolis
Noon-10pm / All Ages / Free
Pizza, crusty punks and overstyled uptown hipsters will get together and revel in the last days of summer at the Pizza Luce block party, the oldest and rowdiest street bash the Southside has to offer. This year's sweet line up includes everything from hip-hop to country and everything in between - Charlie Parr, the Brass Kings, Romantica, the Evening Rig, Rockford Mules, the Hawaii Show, A Night in the Box, Kill the Vultures and Crossing Guards. Professional boozer Ian from Drinking with Ian hosts.
CLICK THE IMAGE FOR THE PIZZA LUCE SITE

SATURDAY AUGUST 9TH
Pan African Fest Outdoor Music & After Party
@ Nomad World Pub
519 Cedar Ave. S.
West Bank
3pm–2am / All Ages / Free
Nomad World Pub presents a day of free music as part of the Twin Cities Pan African Festival. A slew of artists from across the artistic and geographic map will perform on the outdoor stage, including critically acclaimed Minneapolis-based Ghanaian hip hopper M.anifest. Also featured will be KUT Dance, a Twin Cities dance team integrating styles from the East African region with hip-hop and reggae. The after party continues at 10pm inside the Nomad with a variety of reggae and hip-hop acts including the ever-fabulous Maria Isa.
CLICK THE IMAGE FOR THE DEMO MN SITE
Photo of M.Anifest by Julian Murray

SATURDAY AUGUST 9TH
Reveille Magazine Party
@ Turf Club
1601 University Ave
St Paul
9pm / 21+ / $2
Last year, the creme de la creme of local music writers came together to form Reveille Magazine, and it's already time to celebrate their first birthday! Trivia with Chuck n' Sean, prizes, cupcakes, and summer jamz provided by our favorite red haired vixens Tendercakes and Danny Sigelman will make for an evening well spent. Happy B-Day, ya'll!
CLICK THE IMAGE FOR THE REVEILLE SITE

SATURDAY AUGUST 9TH
Flogging Molly at Irish Fair
@ Harriet Island
1601 University Ave
St Paul
8:30pm / All Ages / Free
Sip a pint or two of Guinness and kick up your heels as Irish-inspired punk rockers
Flogging Molly
, a band that celebrates every day like it's St. Patrick's, puts on a truly powerful live show at one of the biggest celebrations of Irish Heritage in the US. Last year the band drew crowds in record numbers, so be sure to get their early to stake out your spot. The fair runs all day from 10am until Midnight, so if you want to get your extreme Irish on, come down early for river dancing, soda bread and plenty of Guinness. Flogging Molly takes the stage at 8:30. Irish Fair continues Friday through Sunday, click below for more info.
CLICK THE IMAGE FOR THE IRISH FAIR SITE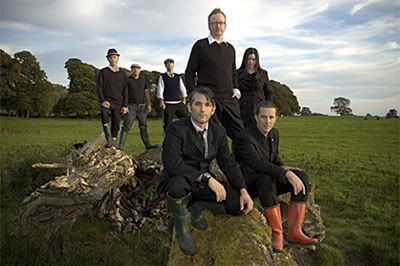 SATURDAY AUGUST 9TH
Fringe Spotlight: Reefer Madness The Musical
@ Bryant Lake Bowl
810 West Lake Street
Uptown
10pm / $12 + $3 Fringe Button
If you like your humor black and silly, take a hit off
Reefer Madness: The Musical
. Inspired by the original 1936 propaganda film of the same name. This raucous comedy takes a tongue-in-cheek look at the hysteria caused when clean-cut kids fall prey to marijuana, leading them on a hysterical downward spiral filled with evil jazz music, sex and violence. Don't forget to buy your tickets in advance!
CLICK THE IMAGE FOR THE FRINGE SITE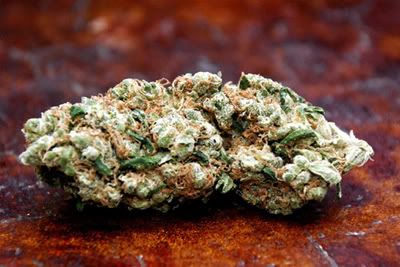 SUNDAY MUSIC PICK: MELVINS vs MINNEAPOLIS 3 CD SET
Perhaps you haven't heard, but the kings of the rock poster, Burlesque of North America, have up and started their very own record label, and their second release is a real doozy! Cramming 11 complete live performances from the Melvin's legendary shows at Grumpy's dating all the way back to 2000 into a beautiful silk-screened package designed by the amazing Wes Winship, makes this not just any CD, but a true collectible. This artifact is limited to 666 copies and the only place you can get it is online. Included are two CD's of live material, and one Mp3 disc, adding up to hours of mind blowing music from the Melvins!
CD Sets go on sale 2pm on Thursday, August 7th!
CLICK THE IMAGE FOR THE BURLESQUE SITE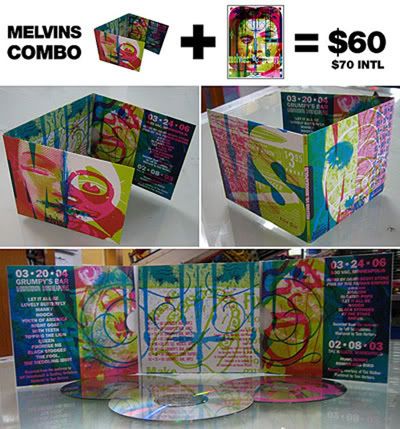 SUNDAY AUGUST 10TH
Pan African Fest Movie Night
@ Parkway Theater
4814 Chicago Ave
Minneapolis
5:45pm, 7pm, 8:15pm / $5 / all ages
As part of the Twin Cities Pan African Festival, The Parkway Theater has teamed up with Demo and Sound Unseen to offer up three documentaries relating to Africa and its music scene. At 5:45, Hip Hop Colony details the influence of hip hop in Kenya and Africa. At 7pm, Music is the Weapon (free!) features Fela Kuti, Nigerian singer and activist in all his Afro-beat glory. Bob Marley is the focus of Africa Unite at 8:15. Since it's hard to see these films elsewhere, you might as well make a day of it!
CLICK THE IMAGE FOR THE DEMO MN SITE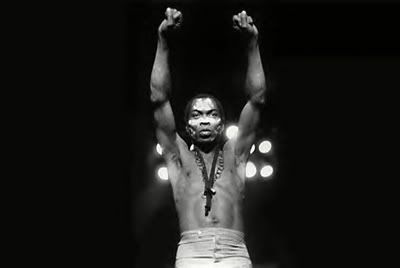 COOL OPPORTUNITY: MANURE FOR THE GARDEN CONTEST
Deadline September 28th
Smokin Yogi
has begun a second round of its Manure for the Garden contest. Manure for the Garden invites you all to share your inspiring stories (
in written or video form
) and transform the crap in your lives into nourishment for the garden — from which we can all pick its fruit. Stories must inspire hope and encouragement, fully reflecting the objective of an uplifting message inspired by an unpleasant shift in life. The deadline for entries is September 28th.

Top entries will receive cash prizes and be featured at Shift Happens: a Healing Story Festival.
TUESDAY AUGUST 12TH
Worn to be Wild
@ VS Social Standard
1221 West Lake St.
#102
Uptown Minneapolis
7pm-11pm / All Ages (21 to drink) / Free
The epitome of hip converges on Uptown style shop VS Social Standard tonight. One of the city's most promising up and comers, Anthem Heart, showcases a new line of screen-printed clothing featuring collaborations with some of our fave local artists such as Eric Inkala, John Grider and Mike Davis. Models styled by Eclecticoiffeur will parade around while you swig free PBR and zone out to "radical live video" ala visual guru Time Squid - all set to hot tunes courtesy of The Moongoons, Mike the 2600 King, Millions Billions and Real Talk Radio. A Tuesday night never looked so good.
p.s.-While you may be tempted to go to the Triple Rock, don't forget the l'étoile sponsored Tuesday night party
Silver + Gold
at Clubhouse Jager has 2-4-1s
all night long
! See our listing below for more info!
CLICK THE IMAGE FOR THE ANTHEM HEART SITE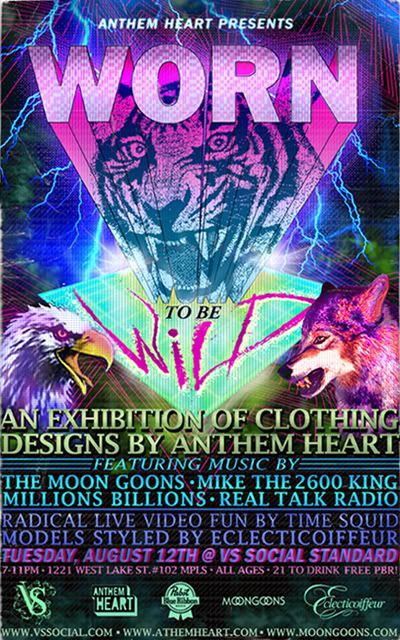 TUESDAY AUGUST 12TH
Silver + Gold
@ Clubhouse Jager
923 Washington Ave.
North Loop
Every Tuesday / 21+ / 10pm / Free
After you hit VS Social Standard for the Anthem Heart show, join DJ Jonathan Ackerman and l'étoile magazine for an evening of sly winks and sideways glances every Tuesday at Clubhouse Jager. Create some mystery, sip 2-4-1 cocktails with pretty people, and dance the night away to electro, pop, and so much more.
BONUS:
Flirt up a storm then visit letoilemagazine.com on Wednesdays for "missed connections" from the night before!
Sponsored by l'étoile magazine & Alphasuede
CLICK THE IMAGE FOR L'ETOILE TEXT CONNECTIONS
What's What Editor: Kate Iverson
Contributing Writers: Lacey Prpic Hedtke, Robyn Lewis
ALL CONTENT © L'ETOILE MAGAZINE 2008