SUMMER LOVIN'
We hate to say it, but we're halfway through the last "official" month of summer. It seems like the sunny season just arrived, but as they say, time flies when you're having fun! But don't despair dear readers, there's plenty of party crammed into these last few free-wheelin' weeks to keep you warm until winter! Film is where it's at this weekend, with not only the Square Lake Film and Music Festival, but the weekend-long Bearded Child Film Fest at the Bedlam Theatre making its Minneapolis debut! Art also makes a splash with skate-inspired art shows at both Vine Art Center and Cal Surf (fyi: where there are skateboarders, there is usually beer), and with multiple dance parties on the platter as well, we have no doubt you'll find some memorable summer mischief to get yourself into!
xo-l'étoile
Photo by Ingrid Werthmann for l'étoile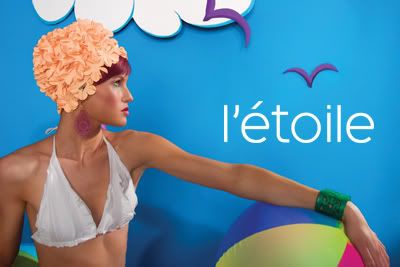 THURSDAY AUGUST 14TH
l'étoile magazine presents Creative Context
@ The Guthrie's Target Lounge
818 2nd Street S.
4th Floor
Downtown Mpls
10pm-Midnight / Free
Join l'étoile magazine and The Guthrie for this special edition of Creative Context, a monthly post-show party in The Guthrie's Target Lounge, hosted by influential women in Twin Cities arts and media. This month's host is amazing lady and publisher of
The Rake
, Kristin Henning! The event will feature killer tunes by Jonathan Ackerman and DJ Bach, happy hour drink specials, and an opportunity for you to pick the brain of Ms. Henning, who will be minglin' and chatting it up with the crowd - or simply sip some vino with your friends while enjoying the view from the gorgeous Target Lounge.
You do not need to see a play to attend the free party, but we encourage it! Tonight l'étoile readers can enjoy
$20 tickets
to the Guthrie's comedy
The Government Inspector
at 7:30pm - call the Guthrie's box office at 612.377.2224 and quote price code "AS" to receive the discount.

Creative Context happens the second Tuesday of each month and is presented by l'étoile magazine!
CLICK THE IMAGE FOR THE GUTHRIE SITE
CONGRATS TO OUR WINNER!
Congrats to Miss Alli Illektro for winning last week's candy colors fashion contest! She wins a 4-Pack of tickets to see
The Government Inspector
at the Guthrie this Thursday, before Creative Context!

Alli is wearing Betsy Johnson (Spring 2008 Collection)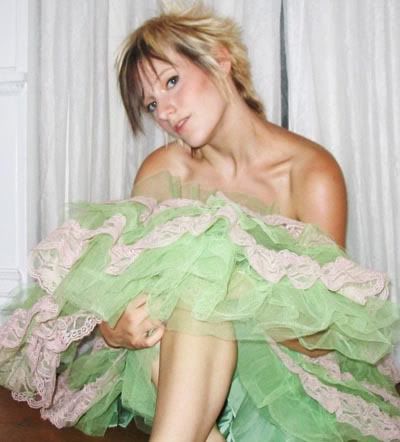 THURSDAY AUGUST 14TH
David Carr: The Night of the Gun
@ Magers & Quinn
3038 Hennepin Avenue
Uptown Minneapolis
7:30pm / Free Reading
"Where does a junkie's time go? Mostly in 15-minute increments, like a bug-eyed Tarzan, swinging from hit to hit," says David Carr, former editor of Twin Cities Reader and current columnist for The New York Times, in
The Night of the Gun
. A former Minneapolis junkie's evolution into a prestigious and respected journalist might be easier left as an elusive memory. But Carr's memoir candidly exposes, through interviews and medical records, the conflicts existing when memory battles reality and uncovers how deeply a person's identity is shaped by their own recollection.
Carr's memory of a linear journey towards sobriety is riddled with messy and humiliating details. The recovery he believed occurred immediately after the birth of his twin daughters is discredited by a vivid account where his infants are left in the back of a car one winter night while he purchased crack cocaine.
Sometimes a recovered junkie's time goes not into reliving past sins, but into embracing the present. Perhaps his prominence as a media figure makes Carr's former life seem no more than a bad dream. He writes, "some people I interviewed wanted me to say it was all a mistake ? it was, and it was not." Don't we all hope for the luxury to one day say: I'm not the person I used to be, thank God!
CLICK THE IMAGE FOR THE MAGERS AND QUINN SITE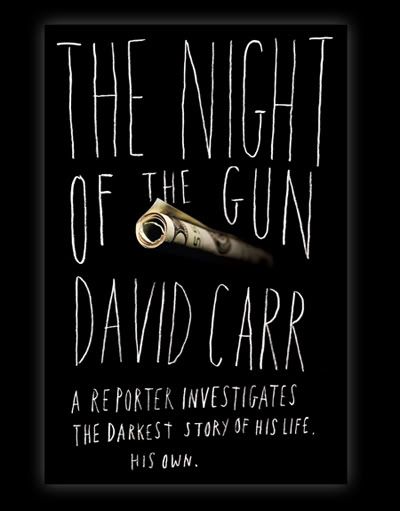 THURSDAY AUGUST 14th (THROUGH SATURDAY)
Bearded Child Film Fest
@
The Bedlam Theatre
1501 S 6th St.
Minneapolis
6pm-1am / $7
Four days of experimental film madness! Tonight catch local performers
Cell Phone and Shield Your Eyes
, "radical domestic animations", and "voyeuristic ruralcore madness." And that's just one night! Grab a tall boy and one of the Bedlam's great pizzas, get yourself a cozy booth and settle in for a night of bizarre brain-twisters. Runs through Saturday.
CLICK THE IMAGE FOR THE SCHEDULE
THURSDAY AUGUST 14TH
Jen Bervin and David Wyrick
History Room: 20 Years of No Name and the Soap Factory
@ The Soap Factory
518 2nd Street SE
Minneapolis
8pm / Free
If you haven't seen this ongoing exhibit highlighting the past 20 years of Soap Factory antics and curated by the one and only Andy Sturdevant, we highly recommend you check it out - and tonight is the perfect excuse. The Soap Factory will be featuring new work by New York-based artist and poet Jen Bervin during the last half of the month, and Wisconsin-based sculptor David Wyrick during the whole month of August. Lucky for you tonight is the official opening reception for both, and will feature a poetry reading with Jen Bervin, Steve Healey and William Waltz.
CLICK THE IMAGE FOR THE SOAP FACTORY SITE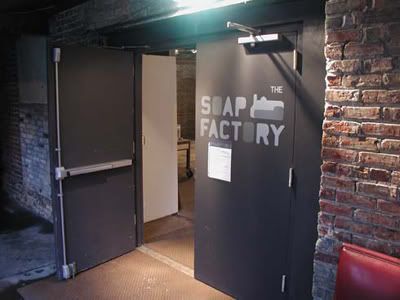 FRIDAY ART PICK: DEBORAH LUSTER
Living and working in New Orleans can do weird things to an artist. The city's haunted quality reflects on Luster's work- modern takes on the old fashioned tintype. Her latest work,
One Big Self: Prisoners of Louisiana
, is a collection of more than 1,000 photographs of inmates from three state penitentiaries. To gain trust from the prisoners, she made over 25,000 pocket-sized portraits for them. These images reflect on death, violence and survival under bleak circumstances.
CLICK THE IMAGE FOR THE DEBORAH LUSTER SITE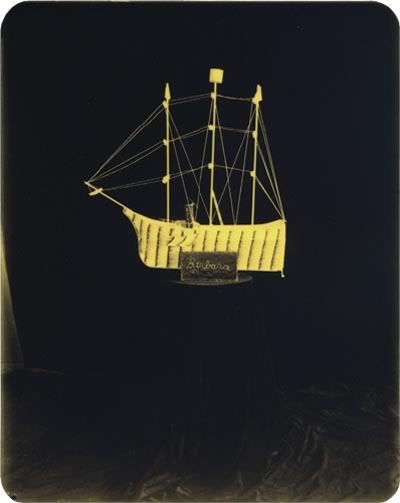 FRIDAY AUGUST 15TH
Accelerator Campout
@ Outback Ranch
7750 TT Rd.
Houston, MN
Friday at noon through Sunday at noon / 18+ / $45
As summer winds to a close, Particle People are throwing a weekend-long extravaganza at the Outback Ranch in southeastern Minnesota. This incredible one-of-a-kind occasion will be an all weekend camping and dancing experience, so gear up and get out! The kick-ass local and national lineup will feature DJs on 2 main stages and 3 supporting stages. And, if countless hours of dancing in the grass isn't enough, camp under the stars and witness a partial lunar eclipse early Sunday morning!
Presale tickets are available at www.VitalCulture.com
All ticket prices include camping.
Visit www.OutbackRanch.net for directions and additional info.
CLICK THE IMAGE FOR MORE INFO
FRIDAY AUGUST 15th
Call and Answer Silent Auction
@ Black Dog Coffee and Wine Bar
308 Prince St. (at Broadway)
St. Paul
7pm / $10
While the actual opening reception and party for the Poster Offensive show is reserved for August 29th, you can get a sneak peek tonight at the Black Dog as they host the "Support the March on the RNC & Stop the War Silent Auction" which will feature items such as restaurant certificates, massages, private wine tastings, catering and vacations! All proceeds will help pay for the Coalition to March on the RNC and Stop the War's demonstration at the Republican National Convention to take place on September 1. A good cause say we! Meet like-minded political folks, eat tasty treats and sip sumptuous drinks in the airy and comfortable Black Dog Cafe.
CLICK THE IMAGE FOR THE BLACK DOG SITE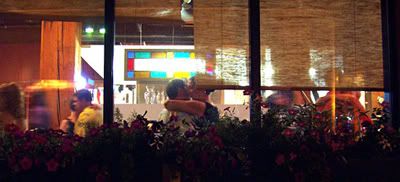 FRIDAY AUGUST 15TH
A Night With the Agency
@
Vine Arts Center
2637 27th Ave S
Minneapolis
6pm-10pm / free
Stereo Sound Agency
, founded by skaterboarder and actor Jason Lee and pro-skater Chris Pastras, present
A Night With the Agency
, featuring the work of Lee, Pastras and Clint Peterson. A skateboard archive so to speak, will be shown chronicling Stereo's history, photos, drawings, painting and illustrations by the skateboarders abound. Something raucous and fun happens when skateboarders make art, and this show is no exception. Runs through September 13th.
BONUS:
Come kick it with the Stereo Sound Agency at
Familia Skate Shop
on Saturday at 1pm for an informal in-store autograph signing and homeboy BBQ. Click
HERE
for more info!

This week l'etoile had a super quick chat via e-mail with busy photographer and actor Jason Lee...
You're one multifaceted dude, finding success as an actor, director, pro-skateboarder, business owner and photographer - which are you currently most passionate about, and do you think you'll ever settle on one as your main gig?
I am probably most passionate about photography because it's incredibly personal, and is something that I do on my own without the involvement of others. I love acting,
too, which is really fun. and I'm passionate about continuing to help Stereo in any way I can. It's an important brand to me, and I do all I can to encourage its growth.
Has your celeb status ever allowed you to get a photo that otherwise may not have been gotten? Any good stories?
I do my best to separate photography and acting.

You co-own Stereo Sound Agency...What is your personal business mantra? How did you meet Chris?
Business mantra? Stay in business! I met Chris 20 years ago through Mike Vallely.

Do you have a good excuse for not coming to Minneapolis for the opening?
The very recent birth of my daughter.
CLICK FOR THIS ART EVENT AND MORE AT MPLSART.COM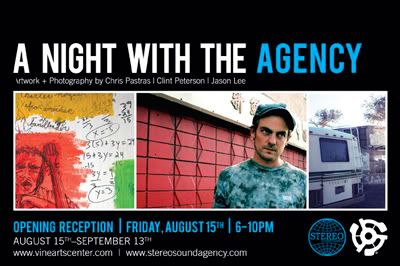 FRIDAY AUGUST 15TH
Secrecy
@ The Walker Art Center
1750 Hennepin Ave
Minneapolis
7:30pm / $8
Secrets, secrets are no fun. This documentary reveals the government's secrecy surrounding civil liberties. Going back to the 1940s, filmmakers Peter Galison and Robb Moss examine the beginnings of the national security policy using animation, installations, interviews and a fabulous score. Tonight's showing includes a Q&A with the directors after the screening. Maybe they'll spill the beans on some secret knowledge. Part of the Cinema of Urgency series.
CLICK THE IMAGE FOR THE WALKER SITE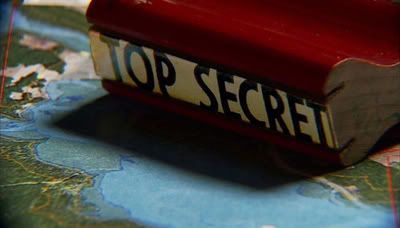 FRIDAY AUGUST 15TH
Bon Iver
@ First Avenue
701 First Avenue N
Downtown
8pm / 18+ / $14 SOLD OUT (Get Resourceful!)
Somewhere between the heartbreaking falsetto vocals of TV on the Radio and the hushed beauty of Iron and Wine, lies the music of Wisconsin native Bon Iver. Like the dark before the dawn, Bon Iver's songs exude an aura of isolation and nostalgia that translate into a breathtaking live performance. Bon Iver brings his particular brand of melancholy indie-folk to First Avenue for a sold-out show, supported by new Dylan #34 A.A. Bondy.
BONUS:
Drop into the 7th Street Entry for a set by Dan Boecker of Wolf Parade's dark, minimalist side project, the Handsome Furs!
CLICK THE IMAGE FOR THE BON IVER MYSPACE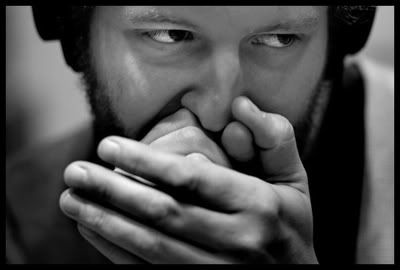 FRIDAY AUGUST 15TH
Black Blondie & Roma Di Luna
@ Triple Rock Social Club
629 Cedar Avenue
Minneapolis Westbank
9pm / 21+ / $8
Tight grooves and a killer line-up will make a stop at the Triple Rock tonight a no-brainer as the high-energy, charismatic members of Black Blondie headline an eclectic evening of soul, trip-hop, and R&B. Also on the bill are husband and wife roots-folk duo Roma Di Luna, and the beautiful, acoustic tones of Aby Wolf.
CLICK THE IMAGE FOR THE TRIPLE ROCK SITE
photo by janellephoto.com
FRIDAY AUGUST 15TH
Honeymoon
@ VIP Room
701 1st Avenue N
Downtown Mpls
10pm / 18+ / $3 with
RSVP
If you've managed to recover from last month's 1-year anniversary extravaganza, you'll be primed and ready to make an appearance at the 13th installment of Honeymoon tonight! This month's theme is NERDS, which for
some of us
, isn't that ironic of a concept. We expect you won't have a problem rustling up a convincingly nerdy pair of lenseless hipster glasses to wear with a neon bowtie, or finding the time to bedazzle and/or gold-spray paint a calculator which you can then attach to that appropriate Mr. T chain we know you have. We believe in your resourcefulness! Speaking of resourceful - the Moongoons impress us yet again with a kick-ass lineup that includes Brooklyn jack-of-all-things-hip, Fit For Use, along with the Moongoons themselves and new live special effects group called "Butt-to-Butt." We love it!

Honeymoon is sponsored by l'étoile magazine & ROBOTlove
CLICK THE IMAGE TO RSVP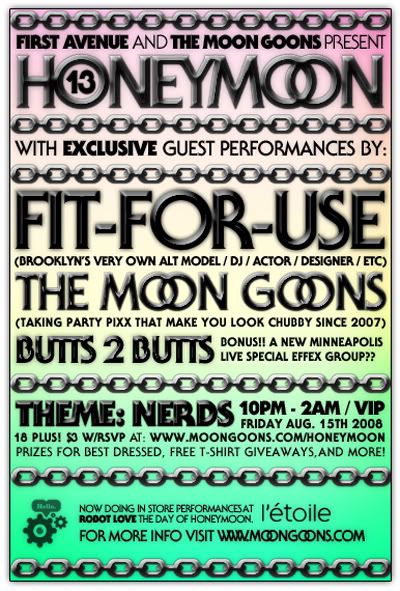 COOL LINK: NOT FOR TOURISTS
So you've just booked a trip to Boston, New York or Philly, and now are wondering where all the cool, non-tourist-infested spots are. Not For Tourists is your online guide to all things cool. Their searchable database for nine cities is broken down by neighborhood, activity or cost. Their printed books are completely accessible online, and they have writers offering up weekly tips on the latest fun stuff. Highly informative and irreverent, with maps and insider scoops galore.
CLICK THE IMAGE FOR THE NOT FOR TOURISTS SITE
SATURDAY AUGUST 16TH (THROUGH SEPT. 28TH)
Renaissance Festival
@ Ren Fest Grounds
12364 Chestnut Blvd.
Shakopee
9am-7pm / Weekends and Labor Day / $16.50-$19.95
Huzzah! The Ren Fest is back! Don't blush, you know you have tights and a jester hat in your closet, so don your chest-enhancing gown and get thee to Shakopee. Eat giant turkey legs like a true Middle Ages barbarian while drinking fine ales and speaking in olde dialect. Get your portrait painted, or your hair braided intricately, and choose from a list of fortune tellers to make your Renaissance life complete. Through Sept. 28th.
CLICK THE IMAGE FOR THE REN FEST SITE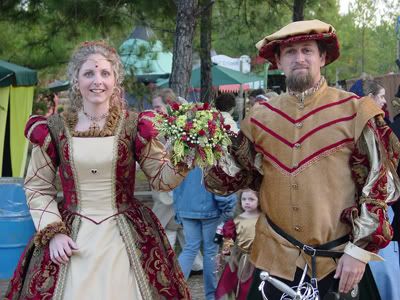 SATURDAY AUGUST 16TH
Square Lake Film + Music Festival
@ Square Lake
13359 Partridge Ridge Rd. N
Stillwater, MN
1pm-1am / $20
Make the trek to Stillwater for a day of film and music that you won't regret. Headlining will be snazzy jazz group Happy Apple along with local faves Fort Wilson Riot, who will work their theatrical musical magic by scoring a film that will screen at the festival - live. Local and national short films abound, making this eclectic annual fest a can't-miss for film and music buffs alike.
CLICK THE IMAGE FOR THE SQUARE LAKE SITE
SATURDAY AUGUST 16TH
2nd Annual Art Market
@ Hang It parking lot
122 8th St. SE
Minneapolis
10am-4pm / Free
We're loving the art markets every weekend around town! This weekend Hang It's parking lot is it! Photographs, glass art, recycled art and bags by local artists will sing their siren call to your wallets. Can you resist? Should you, really? Support your local artists, and walk away with something unique this weekend.
CLICK FOR THIS ART EVENT AND MORE AT MPLSART.COM
SATURDAY AUGUST 16TH
Tate ®Fabrication
@
Art of This
3506 Nicollet Ave
Minneapolis
7pm / $5 suggested donation
Power equipment? Trademarks and registered symbols? What's going on at Art of This? The Rotarians Society, an art group/gentleman's club announces IMPEL products, a mock product launch for a fake corporation that makes a high-tech machine that basically just pounds a square peg through a round hole. Part of AOT's One-Nighter series, so, yes, this amazing innovation will be on exhibition tonight only.
CLICK FOR THIS ART EVENT AND MORE AT MPLSART.COM

SATURDAY AUGUST 16TH
Very Serious Business
@
Cal Surf
1715 West Lake Street
Minneapolis
7-10pm / Free
Join the cool cats at Cal Surf for a lively art opening featuring work by Miles Mendenhall, Drew Peterson, Anthony Cappetta, Steve Krause, Pat Smith, and Luke Hunt & Eric Vernilyea of Handjob. Swig some PBR or Redbull (or a combo of the two if you're adventurous) and since you're already there, peruse Cal-Surf's sweet selection of duds, kicks, and skate/snowboards!
CLICK FOR THIS ART EVENT AND MORE AT MPLSART.COM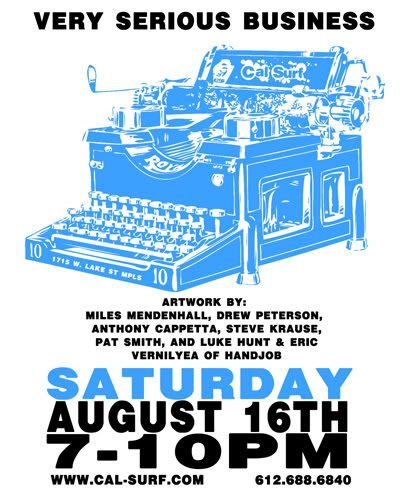 SATURDAY AUGUST 16TH
Building Better Bombs
@ Big V's
1567 University Ave. W
St. Paul
9pm / 21+ / $5
One of the Midwest's most important punk/hardcore bands, Building Better Bombs will unleash their blistering, screaming chaos and catchy hooks and choruses tonight at Big V's, with MUte ErA, Tirra Lirra (from Chicago) and Daughters of the Sun, making the trip across the river oh so worth it!
CLICK THE IMAGE FOR THE BUILDING BETTER BOMBS MYSPACE
Photo by Lapvance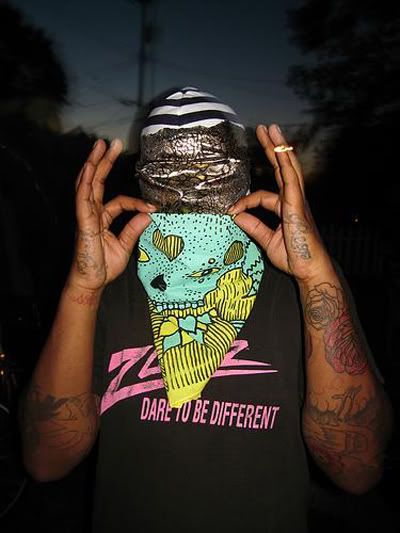 SATURDAY AUGUST 16TH
Twin Cities Scooter Rally
@ Triple Rock
629 Cedar Avenue
Minneapolis Westbank
7pm / 21+ / $7
For sociable scooterists around the Midwest, the gathering of the summer is here. The 9th annual scooter rally takes place this weekend with an assortment of activities happening all over the city. Hit the T-Rock tonight and marvel at the mass of scooters piled in the parking lot and head inside for music, raffles, and prizes! Bands include Rattle My Bones, the Reckless Hearts, and Umbrella Bed. For other Scooter Rally events happening throughout the weekend, click below.
CLICK THE IMAGE FOR THE SCOOTER RALLY SITE
SATURDAY AUGUST 16TH
Soviet Panda's Birthday!
@ Too Much Love
1st Avenue
701 1st Ave. N
Downtown Mpls
10pm / 18+ / $3
The most danced about DJ in the city turns another year older this weekend, and celebrates with a huge, insane, sweaty, sexy, outrageous dance party - which for him, isn't very unusual. Show Panda you care by buying him a birthday shot or throwing your underwear at him - which by the way, is only considered creepy on non-birthday occasions. However, the best gift you can give is simply dancing your heart out, and with Panda serving up the smokin' beats, that's pretty much a given. Also featuring the musical stylings of the Moongoons and XXNaughty Wood. Happy Birthday Panda, l'étoile salutes you!
CLICK THE IMAGE FOR THE TOO MUCH LOVE SITE
SUNDAY AUGUST 17th
Japanese Lantern Lighting Fest
@ Como Conservatory
1225 Estabrook Dr.
St. Paul
3pm doors, lantern lighting at dusk / $5
If you've never seen a Japanese lantern floating across a pond, you're missing out. Six stone lanterns and even more paper lanterns throughout the Japanese garden pond and Frog pond will gracefully glide over the surface, thus stealing your heart. Make a day of it by taking in the drumming, dancers, Japanese folk singers, and learn to make your own origami from one of the dozens of vendors on hand.
CLICK THE IMAGE FOR MORE INFO
TUESDAY AUGUST 19TH
Silver + Gold
@ Clubhouse Jager
923 Washington Ave.
North Loop
Every Tuesday / 21+ / 10pm / Free
Join DJ Jonathan Ackerman and l'étoile magazine for an evening of sly winks and sideways glances every Tuesday at Clubhouse Jager. Create some mystery, sip 2-4-1 cocktails with pretty people, and dance the night away to electro, pop, and so much more.
BONUS:
Flirt up a storm then visit letoilemagazine.com on Wednesdays for "missed connections" from the night before!
Sponsored by l'étoile magazine & Alphasuede
CLICK THE IMAGE FOR L'ETOILE TEXT CONNECTIONS
What's What Editor: Kate Iverson
Contributing Writers: Lacey Prpic Hedtke, Robyn Lewis, Juleana Enright
ALL CONTENT © L'ETOILE MAGAZINE 2008