FLIRTIN' WEATHER
Take advantage of the fleetingly bright sunny days and hot balmy nights to bare some skin and jazz things up! Stop by the Smitten Kitten's birthday weekend kickoff party for a game of adult bingo on Thursday, or check out Tendercakes and Solid Gold at the Hexagon Bar for The Rift Magazine Release Party this Saturday, which also features the epic 30th B-day party of lovely l'étoile staffer Robyn Lewis! And while you're there, make time to step outside and patrol the cuties that inevitably congregate on the Hex sidewalk. There's still plenty of time for a sexy summer fling, and according to l'étoile's staff meteorologist, flirting conditions will be ideal.
xo-l'étoile

Photo by Eric Eul for l'étoile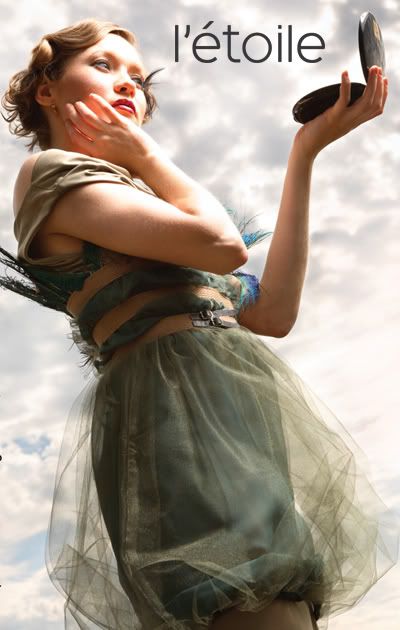 THURSDAY AUGUST 21ST
Gallery Grooves: Face the Nation
@ MN Center for Book Arts
Open Book Complex
1011 Washington Ave S
Minneapolis
6pm-9pm / Free
When
The Rake
,
Jazz88
, amazing art and liberally poured wine collide good things happen! This month Gallery Grooves makes a cameo at the MCBA for a peek at
Face the Nation
, the current exhibit exploring typeface design from 1900 to 1960, and the role national identity and politics played in the evolution of American typography. Drummer Wallace Hill will keep the beat with the Progressive Percussion Ensemble while you mingle and sip wine courtesy of Artisan Vineyards. A sweet start to your Thursday night!
CLICK THE IMAGE FOR THE RAKE SITE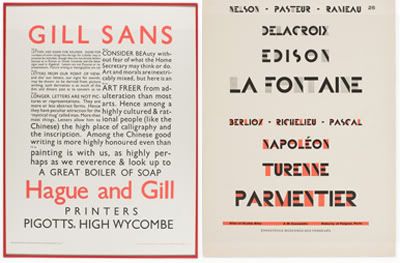 THURSDAY AUGUST 21ST
Smitten Kitten 5th Birthday Party Kickoff!
@ Pi Bar
2532 25th Avenue S.
Minneapolis
7pm / Free
Happy Birthday Smitten Kitten! We're glad this lady-owned adult shop is around, and even more so that they know how to throw a weekend-long birthday party! Tonight promises
Live! Nude! Drag!
, a gender-bending burlesque show that is sure to delight, and a game of adult (ahem) bingo. These aren't your grandma's bingo prizes, and all proceeds go to a local charity, so get your bingo markers and visors out. Party through Saturday with Smitten Kitten by checking out even more events at the link below.
CLICK THE IMAGE FOR THE SMITTEN KITTEN SITE
THURSDAY AUGUST 21ST
Chokecherry CD release show
@The Hexagon Bar
2600 27th Ave S
Minneapolis
9pm / Free
This album has been a long time in the making, and we're just about to explode with excitement! If you haven't yet heard Chokecherry, now is the time. They have a brand new CD to sell you, it's their tour kickoff show, and they've invited their friends Nancy Drew Crew to rap about crafts and deodorant, Baby Guts to scream their heads off, and The Knotwells to continue the raucous dancing. As always, if you buy your drinks at the back bar, the bands get a cut, so drink up and dance, dance, dance to that Chokecherry song that will be stuck in your head for days.
CLICK THE IMAGE FOR THE CHOKECHERRY MYSPACE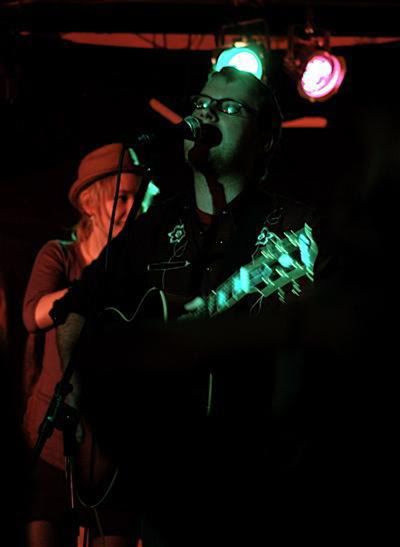 THURSDAY AUGUST 21ST
Yeti Release Party
@ ROBOTlove
27th & Lyndale Ave. S
Minneapolis
6-8pm / Free
Join our pals at ROBOTlove for a triple-header designer toy extravaganza! Artist Erin Currie will be on hand to celebrate the release of Curster's
Yeti!
designer plush. Each Yeti is 9.5" tall with 4 face options available, and this series is limited to 375 pieces per style, so get 'em while they're hot! Chat with Erin about her super-adorable creations, then stick around for ROBOTlove's monthly Dunny trading party, and while you're there, you might as well get your claws on toys from the Kidrobot/Matt Groening Simpson's collab series, also releasing today!
CLICK THE IMAGE FOR THE ROBOTLOVE SITE
THURSDAY AUGUST 21ST
DJ St. Croix and Hardland/Heartland
@ King and I Thai
1346 LaSalle Ave.
Minneapolis
10pm / Free
Join the multi-faceted DJ St. Croix as he continues his sizzlin' monthly DJ series (every third Thursday) alongside special guests, avant-garde art collective
Hardland/Heartland
. Chill out in the lounge as these cool cats play some of their favorite funk, disco, and new wave records - creating the perfect late summer soundtrack to sip infused martinis to.
FREE MIX ALERT:
Click
HERE
to download the steamy hot l'etoile Summer Soul mix courtesy of DJ St. Croix himself!
CLICK THE IMAGE FOR THE DJ ST. CROIX MYSPACE
THURSDAY AUGUST 21ST (THROUGH SEPTEMBER 1ST)
Minnesota State Fair
@ Minnesota State Fairgrounds
1265 Snelling Ave
North St. Paul
6am-midnight/ $11 (adults) $8 (kids)
If you think the Minnesota State Fair is strictly for the generic, think again. Once you get past the crowds (it's the second largest fair in the country) you'll find an eclectic and often eccentric underbelly. With attractions like the 3rd Lair Skatepark; the lumberjack competition; performances by Gnarls Barkley, The Black Keys and De'Anna-The Hypno Chick - not to mention some primo people watching - the State Fair can feel like a modern day freak show. So, while getting your "freak" on, indulge in a deep fried/on a stick concoction - this year's fad being chocolate-covered bacon. Record the whole experience with a video camera and you'll have a chance to win a prize package through the Video Commercial Contest. Don't have a car? That's no excuse, because express buses travel daily, and are probably your best bet for a stress-free fair commute. Visit metrotransit.org for bus schedules.
CLICK THE IMAGE FOR THE STATE FAIR SITE
Photo by
Digital Crush
FRIDAY ART PICK: ESTHER SOLONDZ
Fall is just around the corner, so it's time to start finding fitting things that are a little bit creepy and otherworldly to get us through the season. Solondz works with rust, hummingbird nectar and mud, branding portraits into felt, beeswax and Styrofoam and creating installations of rusted faces and massive salt sculpture. As Little Edie says, "it's hard to keep the line between the past and the present" and Solondz's haunting images blur that line even more.
CLICK THE IMAGE FOR THE ESTHER SOLONDZ SITE
FRIDAY AUGUST 22ND
In Celebration of Russell Mroczek
@ Soo VAC
2640 Lyndale Ave S
Minneapolis
5:30pm-8pm / Free
The late, great Russell Mroczek was the chair of MCAD's Design Department, and contributed to the college's outstanding reputation for over 30 years. He loved Chinese and Japanese art and cultural studies, and his work reflects that. This weekend is your chance to see his work, appreciate his contributions to the city, and talk with people who knew and loved him. Through August 24th.
CLICK FOR THIS ART EVENT AND MORE AT MPLSART.COM

FRIDAY AUGUST 22ND
The One Show: Advertising + Design + Interactive
@ MCAD
Concourse Gallery
2501 Stevens Ave
Minneapolis
The One Club knows good advertising, in fact, for many years they've built their brand around recognizing and promoting it. Advertising advertising! Catch this fantastic touring exhibit of the best radio, television, design, interactive, new media and print design in the universe. Minneapolis' own Fallon has some winning designs in the show (of course), so stop in for a peek and a lil' bit of ad-driven inspiration. Through September 24th.
CLICK THE IMAGE FOR THE ONE CLUB SITE
FRIDAY AUGUST 22ND
VimLab/Sol Funke Boat Party
@ Boom Island Park
700 Sibley St.
NE Mpls
9:30pm-1am / 21+ / $30
The Minneapolis Queen is set to cruise (rain or shine) for the second time this summer with a party coordinated by VimLab Promotions. The boat sets sail at 10pm (no later - run if you have to!) and takes course down the Mississippi River through the locks and under the new 35W bridge, providing an Emerald City-like view of downtown. Special guests include DJ Spur, Jeff Kash, Patrick James and Nate Laurence. Also displaying her amazing talent is hula hoop artist extraordinaire Jessica Bessette, juxtaposing dance moves and techno to rock the plastic hoop! Connect with your inner Captain and Tennille aboard this moonlight adventure ride.
CLICK THE IMAGE FOR THE VIMLAB SITE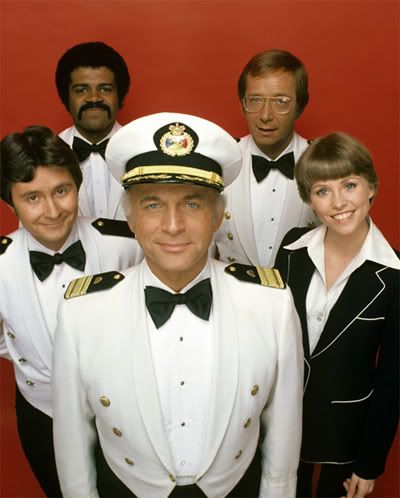 FRIDAY AUGUST 22ND
LA Riots
@ 1st Ave
701 First Avenue North
Downtown Minneapolis
10pm / 18+ / $12
Vita.mn, Sound In Motion and The Moongoons present electro-crazy cool kids LA Riots, making their first ever appearance in Minneapolis! Get your riot/dance gear on, because this Los Angeles DJ power duo have been absolutely destroying the scene with their killer remixes - everything they touch becomes a fist-pumping adrenaline-fueled banger! Get ready to hear them everywhere - they are on the brink of blowing up in a beyond-the-blogsphere sort of way.
CLICK THE IMAGE FOR THE LA RIOTS MYSPACE
FRIDAY AUGUST 22ND
Bits Screening featuring Vampire Hands
@ Uptown Theatre
2906 Hennepin Ave
South Minneapolis
11:30pm Doors / Free (donations accepted)
The word "inventor" can conjure up the stereotypical image of a socially inept, awkward loner. Brilliance always seems to come at a price. In
Bits
, the first film by local crew FRD Productions, Steve, an amateur inventor, loses himself, and at times his sanity to a project intended to drastically alter human connection as we know it. Local psychedelic indie rock band, Vampire Hands, are scheduled to perform before the screening and also have songs featured in the film. Drop your Blackberry and attend this screening, because it just may be your ticket to futuristic communication.
CLICK THE IMAGE FOR THE BITS SITE
COOL LINK: THE FRISKY
This one is definitely for the ladies! Consider this website your one-stop shop for love, sex, and shopping news and advice. Toss in some celebrity gossip and astrology, and you've got your work woes covered. The Daily Hotness provides fodder for unattainable crushes, while dating dos and don'ts round out the powerhouse of good advice The Frisky has going. The ultimate girly time-waster.
CLICK THE LINK FOR THE FRISKY SITE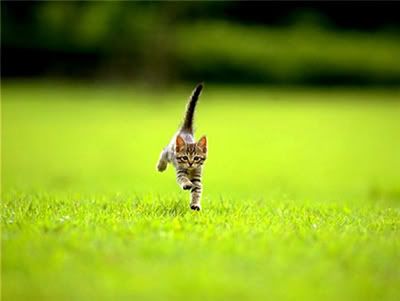 SATURDAY AUGUST 23RD
Design Collective Quarterly Sale
@ Design Collective
1311 26th Street West
Uptown
Mon-Sat 11am-7pm, Sun Noon-6pm, Closed Tuesdays
Hit up hip Uptown design boutique Design Collective today through August 31st to snatch up swift deals on clothing, accessories, jewelry and gifts from your favorite independent designers! There will be markdowns on items by many l'étoile faves such as Labrador, Drawl Graphics, Ann Alyse Clothing, Renee Larson jewelry and many, many, many more. The perfect way to waste your renter's rebate - if you were smart enough to file one in time, unlike some of us.
CLICK THE IMAGE FOR THE DESIGN COLLECTIVE SITE
SATURDAY AUGUST 23RD
30 Percent More Commercial
@ First Amendment Arts
1101 Stinson Blvd
Basement Studio A
Minneapolis
7-10pm / Free
Creators of the Emmy Nominated rock n' roll kids show
Yo Gabba Gabba
, local interactive firm PUNY Entertainment brings you 30 Percent More, an animated installation featuring the stylish work of 22 artists, designers, and programmers who "throw shit against a wall to see what sticks" at First Amendment Gallery. On display through September 25
CLICK THIS AND OTHER ART EVENTS AT MPLSART.COM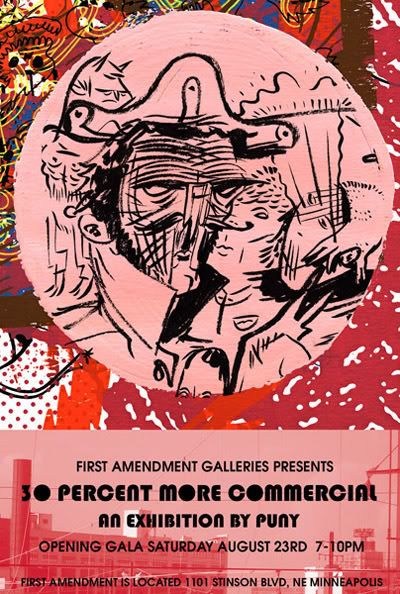 SATURDAY AUGUST 23RD
Important if True (Hootenanny in E)
@ Burnet Gallery
901 Hennepin Ave
Minneapolis
6pm-9pm / Free
Seven heavy-hitters in the art world tackle the theme of politics just in time for the streams of pols coming our way for the you-know-what. Photography, painting and even neon take on the topic, while three projected videos by Jeremy Lion will screen in the lobby lounge area during select times, including throughout the RNC. Through November 2nd.
CLICK FOR THIS ART EVENT AND MORE AT MPLSART.COM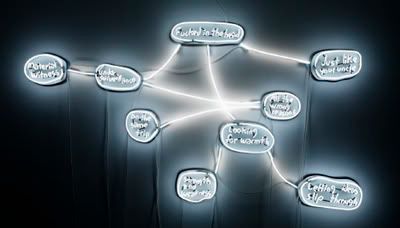 SATURDAY AUGUST 23RD
Hindsight is 20/20 Exhibit
@ The Weisman Art Museum
U of M West Bank
333 East River Road
Minneapolis
Visit the website for museum hours/ August 23, 2008-January 4, 2009 / Free
If seeing is believing, what is hearing? If we hear a phrase often enough does it ring more true or just become double talk? The ever provocative Weisman Art Museum presents an exhibit by New York visual artist and composer, R. Luke DuBois. The exhibition consists of 43 graphic prints organized by the rate of word usage in State of the Union addresses, and features an example from each U.S. president. Metaphorically displayed in the form of an eye chart, the prints graze how politicians use propaganda and the repetition of rhetoric to sell their vision to the American people and persuade the eyesight of a nation. The exhibit runs well into the next year but visit early and what you see may change your perspective on what you hear in the upcoming election.
CLICK FOR THIS ART EVENT AND MORE AT MPLSART.COM
SATURDAY AUGUST 23RD
RIFT Magazine Release Party & DIRTY 30
@ Hexagon Bar
701 First Avenue North
Seward
10pm / 21+ / FREE
Stop by the Hexagon on Saturday night as some of the best bands in town celebrate release of local music publication Rift Magazine's 25th issue, and wish a happy Dirty 30 to Minneapolis music lover and sassy l'étoile staff writer, the amazing Robyn Lewis (who we definitely could not live without!) Things are bound to get buck wild as the babes of Tendercakes liven up the Hex with an old school dance party, and the hot-as-hell boys from Solid Gold shake things up. The fun doesn't stop there – two super special guests will be making surprise appearances in honor of the occasion, and believe us, you do NOT want to miss out.
IMPORTANT TIP:
Buy your booze from the band side of the bar to benefit our kick-ass pals at Rift Mag!
CLICK THE IMAGE FOR THE RIFT SITE
Poster by the amazing Miss Amy Jo
SATURDAY AUGUST 23RD
Honky Tonk'n Hoe Down
@ Clubhouse Jager
923 Washington Avenue
Minneapolis
10pm / 21+ / Free
Join the lovely dames of Double Trouble for a boot-stompin' good time at the Clubhouse! Channel your inner Dolly as the girls spin a slew of classic country hits while you suckle down moonshine and make stupid jokes about how hard it was to park your horse downtown. Tonight is one of those rare occasions that you'll actually be able to wear those ass-less chaps without being questioned. Well, you probably
will
be questioned, but at least you'll have an excuse, thanks to good ol' Clubhouse Jager.
CLICK THE IMAGE FOR THE DOUBLE TROUBLE MYSPACE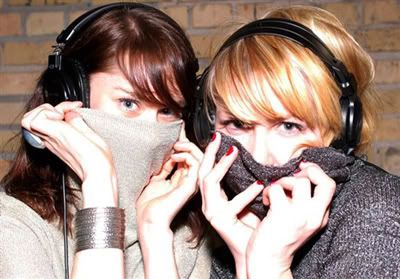 SUNDAY MUSIC PICK: HALEY BONAR
Only 24 years young, Minnesota dweller Haley Bonar's country-inspired brand of folk has garnered her some serious acclaim. With an enchanting new full-length release entitled Big Star on Afternoon Records, Bonar offers her most compelling album to date. Having already shared stages with the likes of Neko Case and Arcade Fire, and contributed to Andrew Bird's mind-blowing 2007 album Armchair Apocrypha, Bonar's Big Star solidifies her as a songwriter worth paying close attention to. Hers are the type of songs you want on your ipod as you zone out watching the human race go by.
Visit the link below for upcoming local shows and more info.
CLICK THE IMAGE FOR THE HALEY BONAR MYSPACE

SUNDAY AUGUST 24TH
What Light Poetry Reading
@
Magers and Quinn Booksellers
3038 Hennepin Ave
South Minneapolis
5pm / Free
Wine, poetry, a fleeting glimpse of a beret? You don't need to be a beatnik to appreciate these pairings. Each quarter, Magers and Quinn and the Walker Art Center's mnartists.org present the What Light poetry contest for mnartists.org members and residents of Minnesota. The winning poems are published in an anthology collection and featured in a quarterly reading series. Now in its third year, What Light is attracting some distinguished and recognizable figures. Carol Muske-Dukes, National Book Award finalist and critic for the New York Times Book Review is among the judges, while Joyce Sutphen, whose poems have appeared in American Poetry Review is one of this year's winners. Join the poets for a reading and partake in a wine sampling sponsored by Artisan Vineyards. Can ya dig it? *snap*
CLICK THE IMAGE FOR THE MNARTISTS.ORG SITE
TUESDAY AUGUST 19TH
Silver + Gold
@ Clubhouse Jager
923 Washington Ave.
North Loop
Every Tuesday / 21+ / 10pm / Free
Join DJ Jonathan Ackerman and l'étoile magazine for an evening of sly winks and sideways glances every Tuesday at Clubhouse Jager. Create some mystery, sip 2-4-1 cocktails with pretty people, and dance the night away to electro, pop, and so much more.
BONUS:
Flirt up a storm then visit letoilemagazine.com on Wednesdays for "missed connections" from the night before!
Sponsored by l'étoile magazine & Alphasuede
CLICK THE IMAGE FOR L'ETOILE TEXT CONNECTIONS
What's What Editor: Kate Iverson
Contributing Writers: Lacey Prpic Hedtke, Robyn Lewis, Juleana Enright
ALL CONTENT © L'ETOILE MAGAZINE 2008