Never say never!
Winter is about tickling your own wish bone and reinventing yourself while others hibernate. So if you're stuck in "neverland" and having trouble making good on your resolutions, become your very own tabloid and try spreading a wild rumor about yourself - go ahead - it's entertaining and binding! Say what? We at l'etoile are spreading some mad rumors about ourselves that are sure to leave you breathless! Keep your bananas peeled for the exciting and scandalous buzz in the coming weeks. While you're waiting, lay high this weekend because you won't want to miss a thing!
xo-l'etoile
p.s.- l'etoile would like to send extra happy birthday vibes to our special pal Justin Guenther and also a big bon voyage and good luck to our friends Darren Roark and Amy Demas who are headed to the Big Apple! l'etoile hearts ya'll!
Keep your finger on the pulse of Minneapolis art world by checking in with our friends at mplsart.com each week!
THURSDAY JANUARY 18th
A Tenacious Slew - CD Release Party
@ The Rogue Buddha Gallery
357 13th ave. NE
Minneapolis
8pm / Donation at the door
Saxophonist George Cartwright is back at the mouthpiece with a "slew" of local far-out jazz musicians including Adam Linz (bass), Alden Ikeda (drums), Anne Elias (visuals) and more.
CLICK THE IMAGE THE GEORGE CARTWRIGHT SITE
THURSDAY JANUARY 18th
Dunny Azteca Release Party
@ ROBOTlove
28th & Lyndale
Minneapolis
Join ROBOTlove for a dunny-licious trading fiesta tonight for children and adults alike! Log on to www.kidrobot.com to download a special coloring page to bring along. A winner will be chosen and sent home with a piñata filled with buttons and Azteca Dunnys.
This new 3 inch Dunny series features some of Mexico's most talented artists including Artemio, Beast Brothers, Carlos Dufour, Ed Sison, El Muerto, Jenkah DSR, Kraken, Mocre DSR, N.A.H.U.A.L., Saner DSR, v.m. 06, Quque Rangel and Hula+Hula.
CLICK THE IMAGE TO DOWNLOAD THE COLORING PAGE
THURSDAY JANUARY 18th
Winter Rejuvenation
@ The Black Dog Café
308 Prince St.
St.Paul
6-9pm / prices $10-$15 per treatment
The Black Dog Café transforms itself into a veritable feast for the soul, featuring a variety of treats and treatments designed to help carry you through the dreariest days of winter. Highlights include henna tattoos, chair massage, energy healing and palm readings, along with food and drink specials and an informal wine tasting!
CLICK THE IMAGE FOR THE BLACK DOG SITE
FRIDAY ART PICK: EMMA FREEMAN
This week's artist is Minneapolis based photographer, Emma Freeman. Moody and textural, Freeman's work includes portraits, landscapes and photo journalism-style hybrids that are confusing yet compelling. She explores our relationship with the earth: destroying it, rebuilding it and sustaining it; and how people relate to each other in constructive, and occasionally destructive ways.
CLICK THE IMAGE FOR THE EMMA FREEMAN SITE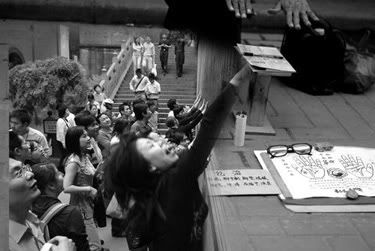 FRIDAY JANUARY 19th
Rift Magazine Art + Music Party
@ The Q.arma Building
1224 Quincy St. NE
Minneapolis
7pm-1am
Rift Magazine strolls down memory lane with past cover artists this Friday at the Q.arma Building! Local talent Amy Jo, Chuck U, Dale Flattum, Josh McKevitt, Sean Tubridy, Chad Carr and Josh Ernst provide the eye candy while DJ Jake Ruhd, Zibra Zibra, Mighty Fairly and Ouija Radio rock the sweet sounds.
CLICK THE IMAGE FOR THE RIFT SITE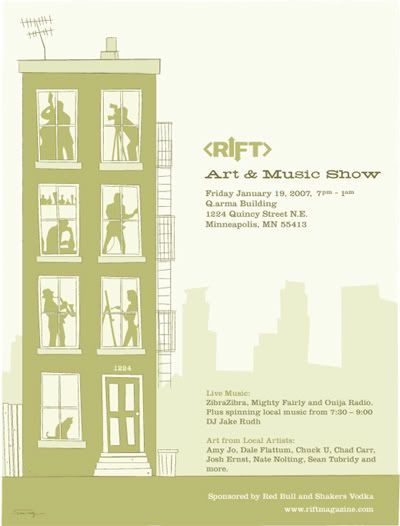 FRIDAY JANUARY 19th
Too Much Love
@ First Ave - VIP Room
1st Ave & 7th St.
Minneapolis
10pm / 18+ / $3
Too Much Love is back in the First Ave VIP room this Friday! Oh, a little birdy told us TML may be fluttering over to the main-room, bringing sexy - and the dance party - back to Minneapolis on a weekly basis beginning next month. It's about time.
CLICK THE IMAGE FOR THE TOO MUCH LOVE PAGE
FRIDAY JANUARY 19th (and through Saturday)
Loverboy
@ Treasure Island Casino
5734 Sturgeon Lake Rd.
Welch, MN
8pm / $25-$40
80's rock darlings Loverboy rekindle the romance this weekend at Treasure Island Casino. We understand it isn't exactly your scene, but why not make a party of it? Hotel rates are quite sensible, nickel slots abound and come' on, who doesn't love a buffet? Unless you're "Working for the Weekend", get out the hot comb and iron up the acid wash because "This could be the Night"!
CLICK THE IMAGE FOR THE TREASURE ISLAND SITE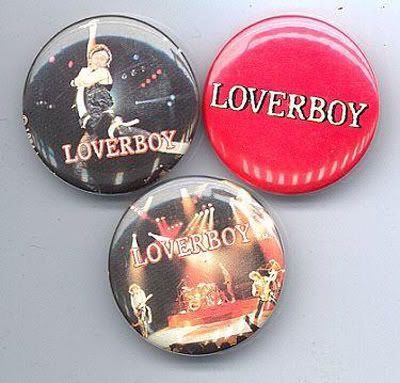 SATURDAY JANUARY 20th
Music x Music
@ Fhimas
6th & Wabasha
Downtown St.Paul
10pm / 21+ / Free
Music x Music debuts this weekend at Fhima's. This chic haven in downtown St. Paul along with Betty Bombshell bring you weekly rotating art and music events starring your favorite local rockers spinning the tunes they use to get their own juices flowing. Band selected drink specials each week. Our fave? Cans of Sophia Coppola's Pink Champagne! Revolver Modele kicks off this two month series tonight!!!
CLICK THE IMAGE FOR THE MUSIC X MUSIC MYSPACE
SATURDAY JANUARY 20th
Past Lives: Thrift Store Ephemera
@ Creative Electric Studios
2201 2nd Street NE
Minneapolis, MN 55418
7-11pm / Free (donations encouraged)
Artist, Screenwriter and Filmmaker Wyatt McDill returns for his second show at Creative Electric Studios in Northeast Minneapolis.
In McDill's new show, "Past Lives: Thrift Store Ephemera", paintings and photographs highlight the abandoned, neglected things found at thrift stores. This exploration of everyday, commonplace items creates a natural dialogue about life, death and possession. And will make you think twice before you buy that novelty beer stein.
CLICK THE IMAGE FOR THE CREATIVE ELECTRIC SITE
SATURDAY JANUARY 20th
Ballin'
@ The Entry
1st Ave & 7th St.
Minneapolis
8pm / 21+ / $6
A troop of local bands "team" up for "Ballin' - 30 Songs about 30 NBA Teams", a benefit for Peace Players International. Featuring Chooglin', E.L.No, Trillbert Arenas, It from Bit, Supa Doopa, Shoveldance, Solid Gold, Sweatpants Boner, The Mad Ripple, Tom Cruise Control, and The Western Fifth. Hosted by Ian Rans of Drinking with Ian, who's sure to make this b-ballin' rock party a "slam-drunk"!
CLICK THE IMAGE FOR THE PLAYING FOR PEACE SITE
SUNDAY MUSIC PICK: JAHCOOZI
Our Sunday music pick, Jahcoozi, comes to you all the way from Berlin, Germany. This bass-heavy electronic trio merges grime, rhythm and vocal attitude into something smooth, cool and dance-able. Exactly how we like it!
CLICK THE IMAGE FOR THE JAHCOOZI MYSPACE
SUNDAY JANUARY 21st
Treasure Hunt!
Check the front page of the local section of today's Pioneer Press for your 1st clue on where this year's Winter Carnival medallion is hiding out. The St. Paul Winter Carnival officially kicks off next weekend, so stay ahead of the game! Clues will be posted daily through February 1st or until the medallion is discovered by a lucky local.
CLICK THE IMAGE FOR THE RULES AND MORE INFO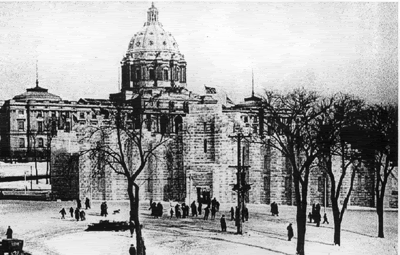 SUNDAY JANUARY 21st
The Mall of St. Paul
@ Fairview & Selby Ave.
St.Paul
10am-6pm
Antiquing? Oh, how lovely! Stillwater? Duluth? Hardly. You can save on gas money with a quick zip over the river. The Mall of St. Paul is a hidden gem on the corner of Fairview & Selby and a favorite haunt of l'etoile. Their unassuming storefront disguises a treasure-filled labyrinth of retro, antique and vintage collectibles. Enjoy complimentary cookies and warm bevies and ask a staff member to guide you through the jam-packed 2 levels of "have to haves". They might even tell you the last time Josh Hartnett came through. "Oh shoot! You just missed him!"
CLICK THE IMAGE FOR THE MALL OF ST.PAUL SITE
COOL OPPORTUNITIES
CALLING ALL DESIGNERS!
Bacardi Limon - Call for Designers
Entry deadline JANUARY 27th
The Bacardi "Express Your Style" Competition will reward the undiscovered talent whose couture cocktail design best exemplifies the essence of Bacardi Limon, a unique blend of Bacardi Premium Rum, infused with an artful combination of lemon, lime and grapefruit essences.
The contest calls for entrants, aged 25 and over, to send sketches of fashions for men or women, in yellow tones, of course, that convey the excitement and intensity of a fabulous night out on the town.
A description of the creative concept, in 500 words or less, must accompany the design, including the types of fabrics required.
Contestants can enter as many times as they wish, but each entry must be different.
Sketches may be sent either by mail or via email as a jpeg attachment sized between 600x900 and 1200x1800 pixels.
All entries must be received by 11:59 EST on January 27, 2007.
CLICK THE IMAGE FOR RULES AND GUIDELINES
BECOME A NEMAA MEMBER
Are you an artist living or working in Northeast Minneapolis? If you're not a NEMAA member yet, you need to jump on the bandwagon, toot sweet!
Becoming a member entitles you to perks beyond any artists wildest dreams (for $50 at least!) - a dot on the coveted Art-A-Whirl map, a listing in the Art–A-Whirl Catalog, inclusion in the NEMAA Fall Fine Arts Show, a subscription to the exclusive, bi-monthly, members only e-newsletter that includes news and opportunities galore.
Being a NEMAA member is a priceless networking tool, fool - so don't wait - the deadline for new members is February 12th!
CLICK THE IMAGE FOR THE NEMAA SITE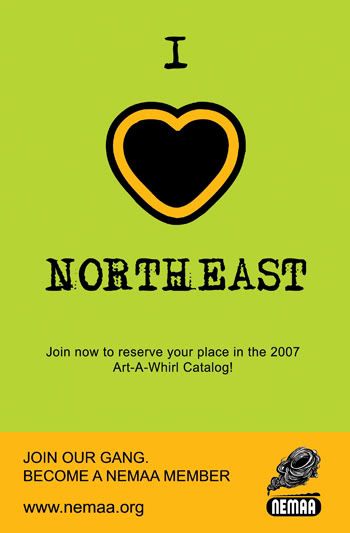 ONGOING EVENTS
Art Shanty Projects
@ Medicine Lake (on the beach)
Plymouth, MN
Free / runs through February 17th
The Soap Factory teams up with a hearty band of ice-friendly artists to bring you the Art Shanty Projects on Medicine Lake for the 3rd chilly year in a row.
This weekends events :
Friday, Jan 19
Postal Shanty performs 356 plays/days
Saturday, Jan 20
11:45: Vista Shanty performs their day of the 365 plays/days outside
the Vista Shanty
Noon-4: Kite Day organized by the Vista Shanty, BYOK
12-2: Roe Family Singers perform in the Vista Shanty and KICE 97.7
3pm: Tours by Andy Sturdevant, chairman, Medicine Lake Gentleman's
Research Society
10-5: The Knitting Shanty
Learn how to make "Peter's Scarf." Knitters bring your yarn (Manos del Uruguay or any worsted weight) and size 10 or 11 needles.
This weeks featured Shanty : The Shanty of Misfit Toys by Karen Kasel, Willie Pike, Marlaine Cox, Kurt Allis
CLICK THE IMAGE FOR THE ART SHANTY SITE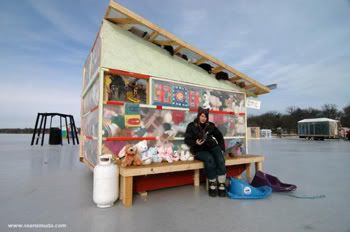 TUESDAY JANUARY 23rd
Tasty Tuesday with l'etoile magazine
@ Clubhouse Jager
923 Washington
(10th & Wash in the North Loop)
7:30pm-1am / Free / 21+
Join your friends at l'etoile magazine for a drink every Tuesday at the Clubhouse!
Clubhouse Jager is a beautifully restored, turn-of-the-century saloon with a speak-easy feel, complete with fireplace, comfy chairs, enclosed patio, attractive bartenders, live music and much more. Really.
DJ Criminal starts the jams @ 10pm
Featuring a comely count-down of drink specials each week:
$6 Black & Blue
$5 l'etini (the official beverage of l'etoile magazine)
$4 house drinks
$3 vodka lemonades
$2 Pabst bottles
$1 bartender shots
CLICK THE IMAGE FOR THE JAGER MYSPACE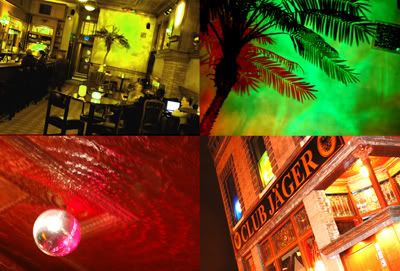 If you have an event you would like to see featured in our weekly What's What, please e-mail kate@letoilemagazine with complete event information and image for consideration. l'etoile's weekly review of the best of the best is eagerly anticipated by over 4,000 well-qualified revelers each week.