Oooh Baby! It's going to be COLD outside - but that's no reason to clip your wings and perch at home! We've found some sizzling scenes for this first real winter weekend, so bundle up and have a ball!
xo l'etoile
Keep up to date with what's rockin' in twin cities art week to week by visiting mplsart.com.
CLICK THE IMAGE FOR THE MPLSART SITE
FRIDAY ART PICK
Paola Pivi
Paola Pivi, an Alaska-based Milanese born in 1971, has won international recognition for her ambitious, daring and thoughtful projects, which are often enormously complex to realize, grande in size and scope and employ a variety of media, ranging from sculpture and photography to live actions involving animals and people. Pivi's interest in the oddities in popular culture and human relationships is evident in every installation. Wow, we're tuckered out just thinking about it! If you just so happen to be in Switzerland next week, check out her new solo show at Kunstalle Basel (we'd certainly be there, but we're busy that night).
The artist's website is under construction (ah, to be a relaxed Italian! Oh wait, ours is under construction too!) but a quick Google search does the trick if you crave more information!
CLICK THE IMAGE FOR MORE INFO ON PAOLA PIVI
FRIDAY JANUARY 12th
Beatrix*Jar
@ Clubhouse Jager
923 N. Washington
Minneapolis
9pm / 21+ / Free
Spend your Friday evening at lovely Clubhouse Jager, not only for the amazing ambiance and delicious drinks, but creative and ever-changing musical line up served 3-4 nights a week. Tonight circuit bending super heroes Beatrix*Jar entertain!
Beatrix*Jar layer glitchy, electronic beats with samples and sounds coaxed from circuit bent devices. Their live, cross-pollination of ancient electronics with modern ideas equals a bizarre and beautiful blend of futuristic noise-funk.
CLICK IMAGE FOR THE BEATRIX*JAR SITE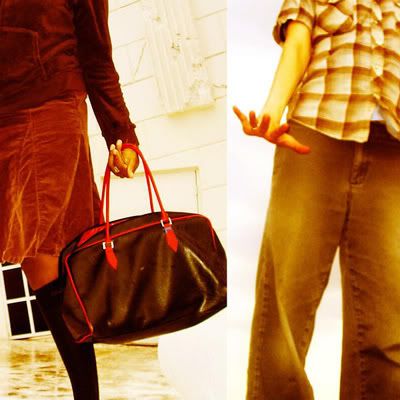 FRIDAY JANUARY 12th
A Common Thread pt. 1
@ The Textile Center of MN
3000 University Ave. SE
Minneapolis
Opening Reception
6pm-8pm
The Textile Center kicks off the first of a two-part series featuring member-created fantastic fiber art. A common "thread" of creativity is apparent in this collection of their finest pieces! Runs through February 3rd.
CLICK THE IMAGE FOR THE TEXTILE CENTER SITE
FRIDAY JANUARY 12th (and through Sunday)
Happy Apple 10th Anniversary
@ The Artists Quarter
7th St. & St. Peter
Hamm Building
St.Paul
9pm / 21+ / $12
Happy Apple celebrates 10 years at the Artists Quarter this weekend with a 3-night Jazz party. Formed in Minneapolis in 1996, Happy Apple (named after a 1960's Fisher-Price toy), has put out 6 albums since joining forces and continues to wow the crowds from Minneapolis to Paris with their unique sound.
CLICK THE IMAGE FOR THE HAPPY APPLE SITE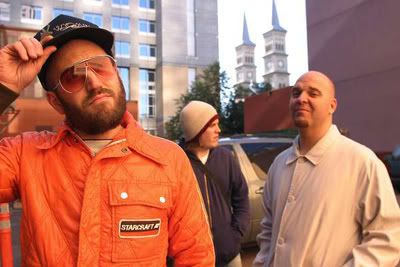 FRIDAY JANUARY 12th
2006 Jerome Ceramic Artists
@ Northern Clay Center
2424 Franklin Ave. E
Minneapolis
6pm-8pm / Free / runs through the 25th
Hot off the kiln! The Jerome Foundation picks only the best and brightest to receive their grants so if you want to see what all the fuss is about, we recommend a visit to Northern Clay Center this Friday for the opening reception. Featuring work from 2006 Jerome Ceramic Artist Project Grant Recipients Ursula Hargens, Jamie Lang, Cheryl Melander, and 2005 Jerome Residency recipient Kathleen Moroney.
CLICK THE IMAGE FOR THE NORTHERN CLAY CENTER SITE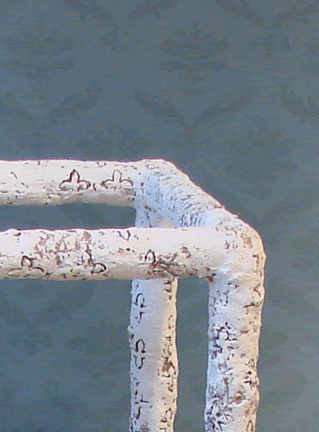 SATURDAY JANUARY 13th
High Tea @ The Saint Paul Hotel
@ St.Paul Hotel Lobby
350 Market Street
Downtown St.Paul
3-5pm / $26 / Reservations Required 651-228-3860
Celebrate your Very Merry Un-Birthday with High Tea every weekend at The Saint Paul Hotel. This traditional, five-course tea is served regularly on Saturdays from 3-5pm with live entertainment in the lovely lobby. Who knows, maybe the White Rabbit or Mad Hatter might stop by?
CLICK THE IMAGE FOR THE ST.PAUL HOTEL SITE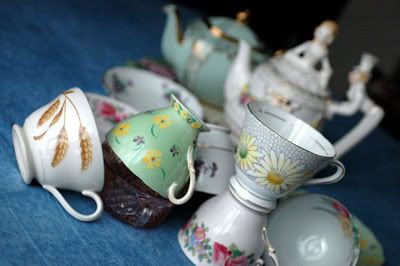 SATURDAY JANUARY 13th
Fox Tax Opening Party + Art Show
@ Fox Tax
503 1st Ave NE
Minneapolis
6pm-11pm
Join the foxiest tax agency in the city for the grand opening celebration of its new Northeast Minneapolis location. Accompanied by new, artsy neighbors (and friends) Robert Lesch, David Lynn, Kia Yin Kwok, John Alspach, John Grider, Terrence Payne, Amy Rice, Tara Costello, Ruben Nusz, Shawn McNulty, Pam Lesch, Shiny Robot Studios, Solo Vino and more, this evening will surely show you how well business mixes with pleasure!
Make sure to set an appointment while you're at it - Fox Tax specializes in tax preparation for artists and musicians, so if you want to learn how to write-off your white-out, Mark's your man.
CLICK THE IMAGE FOR THE FOX TAX SITE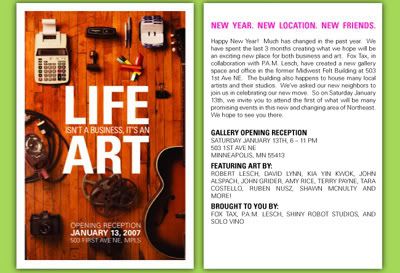 SATURDAY JANUARY 13th
Art Shanty Projects
@ Medicine Lake (on the beach)
Plymouth, MN
Free / runs through February 17th
The Soap Factory teams up with a hearty band of ice-friendly artists to bring you the Art Shanty Projects on Medicine Lake for the 3rd chilly year in a row.20 shanties will line the beach this year (due to the general unfrozen-ness of Medicine Lake) and feature everything from knitting classes to scientific experiments. Lots of warm drinks, wine and nibbles will mark your path along the way.
The image below is the "Postal Shanty", created by Jes Schrom, Robert Marbury, Brian Lesteberg and Gabe Welker. You really can send and receive mail on the lake, so be efficient and mail those Christmas thank yous! Check out
http://www.postalshanty.com/
for more info.
CLICK THE IMAGE FOR THE ART SHANTY PROJECTS SITE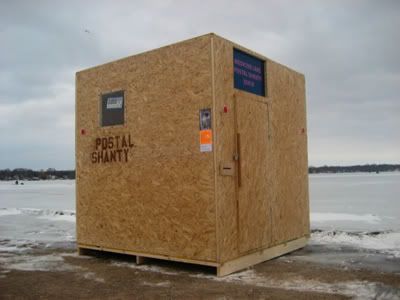 SATURDAY JANUARY 13th
Rift Magazine Local Music Showcase
@ The Hexagon
2600 27th Ave.
Minneapolis
9pm / 21+ / Free
Rift Magazine celebrates issue #21 with a free music-fest at the Hex tonight! Featuring the groovy musical stylings of Beight, Skittish, Aviette and The Roe Family Singers!
CLICK THE IMAGE FOR THE RIFT SITE
SATURDAY JANUARY 13th
Get Lucky
@ Soo Visual Arts Center
28th & Lyndale
Minneapolis
7pm-11pm / $40
Get lucky tonight at the SOOVAC's annual gala (l'etoile hearts galas!), featuring silent and live auctions, hors d'oeuvres, entertainment and so much more. Many local creations will be on the block, so we urge you bid the night away in the name of art! Tickets are going fast, so make your reservation today!
CLICK THE IMAGE FOR THE SOOVAC SITE
SUNDAY MUSIC PICK
Some Assembly Required Special MASHUP MIX!
Some Assembly Required busts out with the hottest mashup mix this side of the copyright fence! Hear a special preview of select tracks from the upcoming season of the radio show, which focuses on sample based music and audio art. Some Assembly Required is heard locally on Radio K, Saturdays 2-3pm and podcast from
www.some-assembly-required.net
Download the entire, hour long mix for free at the link below
CLICK THE IMAGE TO DOWNLOAD THE SAR MASHUP MIX
SUNDAY JANUARY 14TH
The New Show-n-Tell Revue
@ The Turf Club (Clown Lounge)
University & Snelling
St.Paul
10pm / 21+ / $3
The second installment of this Variety Show-Off at the Turf will make you laugh - or possibly cry from embarrassment for yourself or your friends - but either way, you'll have great stories to tell the next day. Featuring Community Gardens, Dreamland Faces and if you're very lucky, the Shim Sham Shufflers!
If you or a friend have a talent you dare to share, e-mail
NewShownTell@yahoo.com
to sign up!
CLICK THE IMAGE FOR THE SHOW-N-TELL MYSPACE PAGE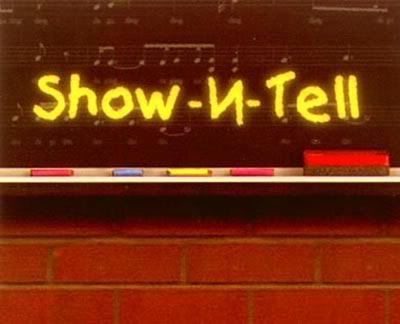 MONDAY JANUARY 15th
Hot Roxx
@ The Hexagon
2600 27th Ave.
Minneapolis
10pm / 21+
Join DJ's Macku$ and Jen for some extra big hair and extra good times at the Hex tonight as they spin Hot Roxx live, the best and the worst of the 70's and beyond. Also, don't forget to tune in to Radio K every Monday from 7-9pm to listen to Hot Roxx on the air!
CLICK THE IMAGE FOR THE HEXAGON SITE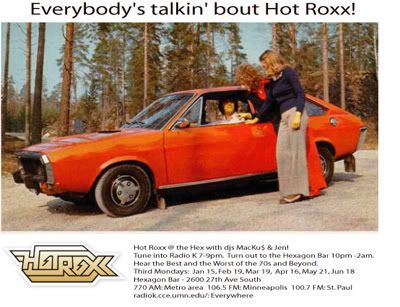 TUESDAY JANUARY 16TH
Tasty Tuesday with l'etoile magazine
@ Clubhouse Jager
923 Washington (10th & Wash in the North Loop)
Minneapolis
7:30pm-1am / Free / 21+
Join your friends at l'etoile magazine for a drink every Tuesday at the Clubhouse!
Clubhouse Jager is a beautifully restored, turn-of-the-century saloon with a speak-easy feel, complete with fireplace, comfy chairs, enclosed patio, attractive bartenders, live music and much more. Really.
Featuring a comely count-down of drink specials each week:
$6 Black & Blue
$5 l'etini (the official beverage of l'etoile magazine)
$4 house drinks
$3 vodka lemonades
$2 Pabst bottles
$1 bartender shots
CLICK THE IMAGE FOR THE JAGER MYSPACE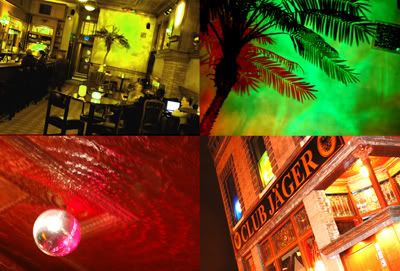 If you have an event you would like to see featured in our weekly What's What, please e-mail
kate@letoilemagazine
with complete event information and image for consideration. l'etoile's weekly review of the best of the best is eagerly anticipated by over 4,000 well-qualified revelers each week.