RED, WHITE, AND TOTALLY BODACIOUS
Happy B-Day America! As a bazillion of our fellow countrymen prepare to grill hot dogs, drink beer and watch fireworks, you'll be taking it up a notch thanks to all the hip events this weekend. Shuck the traditional and toss on that Darth Vader suit you've been saving for a rainy day and hit up the ConVergence Sci-Fi Convention, or head to the Soap Factory Saturday night for the annual Ten Second Film Festival. There are plenty of rock shows, dance parties and art exhibits to be had as well, so slither into your patriotic party pants and enjoy!
Extra:
Enter to win tix to the
Phédre
screening at the Guthrie or Cirque Du Soliel's
Kooza
! Scroll down to the very bottom of this week's edition for details!
xo-l'étoile
Mega-patriotic image by Ned Lampert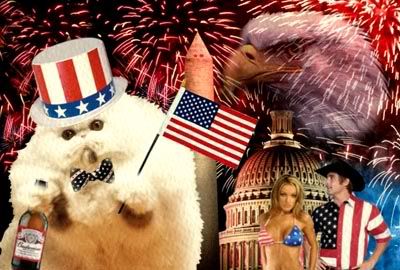 THURSDAY JULY 2ND (THROUGH SUNDAY)
The ConVergence Convention
@ Bloomington Sheraton
7800 Normandale Blvd.
Bloomington
Official hours:
Thursday 10am-11pm
Friday 9am-11pm
Saturday 10am-8pm
Sunday 11am-6:30pm
*room parties go late fri-sat
Con badge $70 / l'étoile party is FREE to attend (Fri-Sat 9pm-4am)
We know from personal experience that the ConVergence Convention is one of the best parties of the year. Not only do people get buck wild, but they do it for four days straight; think Spring Break for nerds (if Spring Break happened over 4th of July weekend, that is). Each year, ConVergence takes over the Bloomington Sheraton for Minnesota's largest Science Fiction convention. All day long there are special events such as panel discussions, special guest speakers, silent auctions, swap meets, film screenings, live music, literary and art events and tons more. In the evening the convention switches gears with late night dance parties, music jams, and of of course, the famed all-night "Room Parties" in which costumed nerds deck out three floors worth of hotel suites in hilariously geeky motifs -- and serve drinks!
This year, l'étoile magazine jumped on the bandwagon with our BFF Clement Shimizu, the technical whiz behind years of fancy l'étoile party tricks and video projects! Together we'll host the first EVER l'étoile magazine ConVergence party room. Get your pic snapped and see it transformed into an animated sci-fi fantasy with everything from squirming tentacles to Sci-Fi movie themes -- and everything weird inbetween. We'll be serving multi-hued space cocktails courtesy of our pals at
UV Vodka
while we kick out the intergalactic dance jams and make video magic!
The l'étoile party "Intergalactic Vidtastic Space Bar & Photo Fun Booth" in room 223 is free but Convention badges are required for other "official" events ($70 for the weekend). Many room parties, like ours, will not require a badge but we recommend you buy one if you want to have the full experience!
Click HERE for the l'étoile party's Facebook event page.
CLICK THE IMAGE FOR THE CONVERGENCE SITE
photo by stephen stephens, 2008 Convergence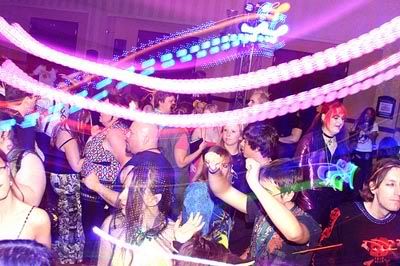 THURSDAY JULY 2ND
Hot Roxx/Vampire Hands CD Listening Party
@ Club Jager
923 Washington Ave
Minneapolis
10pm / 21+ / Free
We happen to love summer, fun, and good music, and we know you do too. We know you also love booze and partying on school nights, so join the Hot Roxx crew tonight for a listen to Vampire Hands hotly anticipated forthcoming album
Hannah in the Mansion
. Needle drops at 10pm, followed by a set of your all fave 70's jams a la Hot Roxx.
CLICK THE IMAGE FOR THE VAMP HANDS SITE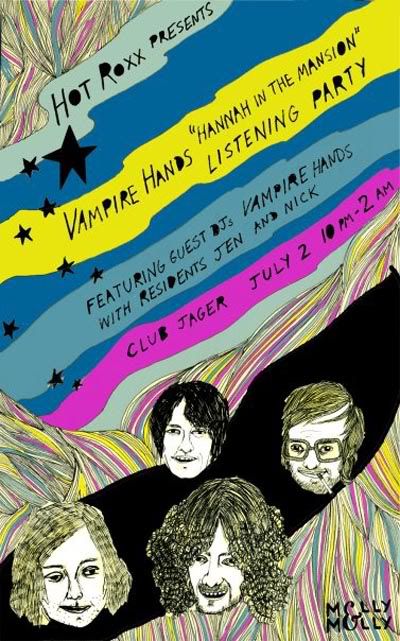 FRIDAY ART PICK: ALEXIS MACKENZIE
To call Alexis Mackenzie's art "collage work" would be a terrible travesty. Although juxtaposed in a scrapbook-esque cut and paste fashion, her art pieces are more like elements of a deconstructed world, half sci-fi and half women studies. Using materials found in antique books, acid-free glue sticks, extensive layering patterns, and a pair of sewing scissors, Mackenzie places obscure paper cut-outs into disparate and surreal ecosystems, where the color palette is just as important as the vibrant characters they meet along the way. Often surrounded by bats, butterflies and flying fish, her black and white, contently ambivalent figures never seem incongruous next to vivid color and macabre skeleton parts. We're absolutely in love with Mackenzie's mixed media style. Now, if only we could kidnap the San Franciscian talent queen and make her redecorate our bedrooms.
CLICK THE IMAGE FOR THE ALEXIS MACKENZIE SITE

FRIDAY JULY 3RD
Resident Artists V
@ Altered Esthetics
1224 Quincy St. NE
Minneapolis
Opening reception 7pm-10pm / Free
Each year, non-profit community art gallery Altered Esthetics opens its doors to all the artists and volunteers who have gone above and beyond to help make the gallery what it is today. See a collection of works from numerous local artists including painters, photographers, sculptors, mixed media artists, video artists and more. Join them all tonight for a festive opening reception, sip a wine, and learn more about this wonderful Northeast art hot spot!
CLICK FOR THIS ART EVENT AND MORE AT MPLSART.COM
FRIDAY JULY 3RD
ExtraVaaKhanga
@ Graves 601 Hotel
601 1st Ave. N.
Minneapolis
8pm-2am / $15 General Admission
$25 Mezzanine Floor Standing VIP
$40 Mezzanine Floor & Main Floor Reserved & Seated VIP
MNFashion and FunkHouse Entertainment team up tonight to present an African-inspired extravaganza dedicated to the ever-evolving face of international fashion. Tonight's showcase features the innovative styles of St. Louis Park's urban wear designer, Bongo Republic; contemporary khangawear from South Africa and Keyna designers, Lalesso; Kenya designer, Utamaduni Wear; MPLS Sudanese high fashion designers, Bothdol Fashion; and Congo born, Chicago-based designer, Modahnik. The opening ceremony begins with a performance from live dancers and continues with a runway show, a khanga contest with prizes for the best audience-worn khanga ensemble, and Afro-vibe sets from DJ Dave, DJ Nasser and DJ Dennis -- plus a late-night dance party with DJ Cape and FunkHouse Crew in the Khanga Lounge.
CLICK THE IMAGE FOR THE EXTRAVAAKHANGA SITE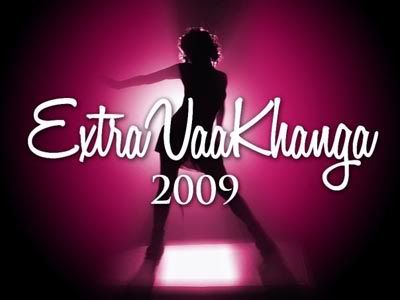 FRIDAY JULY 3RD
Go Negativ #2 Release
@ 7th Street Entry
701 1st Ave. N
Minneapolis
9pm / 18+ / $7
We here at l'étoile happen to be big fans of printed matter. New independent zine
Go Negativ
is a do-it-yourself collection of locally produced fiction, non-fiction, poetry and visual art with a dark, cynical and humorous slant. Primed to spread a new wave of creative sardonism around town with their hard-hitting cultural commentary,
Go Negativ
presents to you the release of issue #2 featuring original work from such local luminaries as TD Mischke, David Hansen, Danny Sigelman, Nikki Miller, founder Christopher Matthew Jensen, and more. Celebrate its launch with a carefully curated line up of local and national musicians including the olde-timey sounds of Dark Dark Dark; the psychedelic swirls of Magic Castles; banjo/guitar modernist Paul Metzger; and Hurray for the Riff Raff -- all the way from New Orleans. As if that wasn't cool enough, the proceeds from admission will be donated to Fremont Community Clinics. We likey!
Bonus:
Copies of
Go Negativ
#2 will be available at the event for $3. These are limited edition and are likely to sell out, so don't dilly dally, ya'll!
CLICK THE IMAGE FOR MORE INFO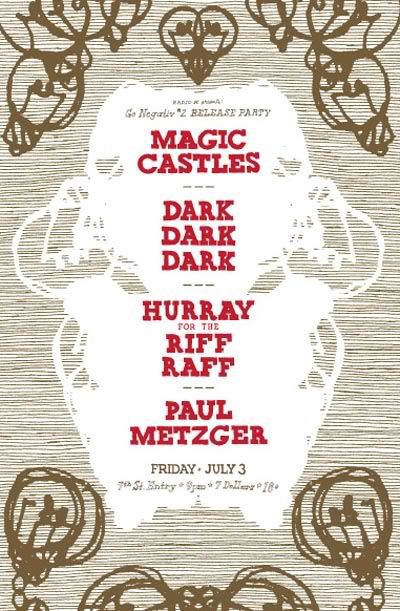 FRIDAY JULY 3RD
Get Cryphy!
@ First Ave VIP Room
701 1st Ave N.
Minneapolis
10pm-2am / 18+/ $3
Ring in the early hours of Independence Day in true American style – all cryphy, no hype. Bringing the best in dirty electro, hip hop, rowdy mash-ups and 80's R&B bangers for your buck, cryphy-master deejays Jimmy 2 Times, Kenny Kingston, Wezz Winship and DJ Last Word are at it again. You know the name, you know the DJs, but you can never be quite prepared for the ultimate dance journey these boys take you on. Featuring yummy drink specials, fantastical giveaways from Phenom and Familia Skateshop, and oh yeah, DANCIN'!!! Be there or be unAmerican.
CLICK THE IMAGE FOR THE GET CRYPHY MYSPACE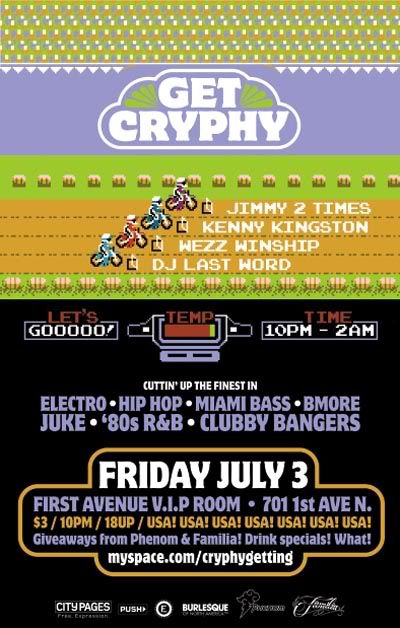 FRIDAY JULY 3RD
Hotel
@ Kitty Cat Klub
313 14th Ave. SE
Dinkytown
10pm / 21+ / Free
DJ Jonathan Ackerman's Hotel equals par-tay! This monthly dance night will get you sweatin', guaranteed. Jonathan is a fun-making professional, and the Kitty Cat Klub is a perfect place to show off your moves. Back it up to the always bodacious beats of Mr. Ackerman along with special guest Gary Slam. All. Night. Long.
CLICK THE IMAGE FOR THE ACKERMAN SITE
FRIDAY JULY 3RD
The Slam Factory
@ Secret Location
Minneapolis
email info@timefog.net
Midnight / 21+
Oh snap! An all-new, all-night party spot? You don't say! The fun-timers of Timefog are hell bent on making sure your late night dance attacks are fully indulged, and tonight's inaugural event certainly won't let you down. Celebrate the new space AND the release of the first Timefog EP by Jamespatrick and Bruno Pronsato.
CLICK THE IMAGE FOR THE TIMEFOG SITE
COOL LINK: MINIOPOLIS
We here at l'étoile are connoisseurs of cute. One of our favorite fantasies even involves dozens of sleepy puppies and that big, silver bed from Superman (this is SO much less creepy than it actually sounds). Fellow appreciators Ned and Sarah indulge our adorableness obsession with their new blog, Miniopolis. A site devoted to all things "mini," you'll be treated to a visual overload of precious pics featuring everything from baby animals to tiny objects de art. Check back often, as new images and links are added daily. 2QT2B4G10!
CLICK THE IMAGE FOR THE MINIOPOLIS BLOG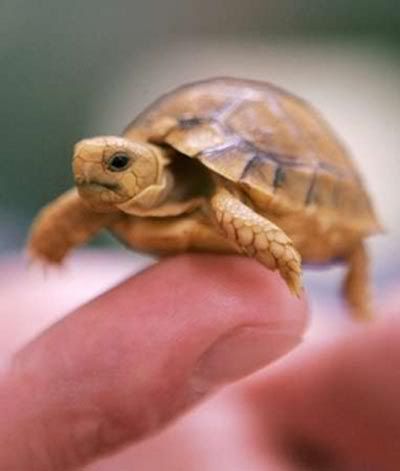 SATURDAY JULY 4TH
Second Annual Sidewalk Sale
@ Cliché
2403 Lyndale Avenue S.
Minneapolis
11am-7pm / Free
The local fashion-forward wait for this special day in high anticipation of scoring designer duds on the cheap! Stop by Uptown boutique, Cliché, for their annual sidewalk sale featuring big, big discounts on styles from the past and maybe even some of the mythic, hidden gems that reside in Cliché's basement (bedazzled kitten vests, anyone?) With prices ranging from a mere $5 to $30, you can bet that every fashionista in town is going to be lined up and ready to gouge your eyes out as soon as those racks hit the street. Get there early if ya know what's good for ya!
CLICK THE IMAGE FOR THE CLICHE SITE
SATURDAY JULY 4TH
Ten Second Film Fest
@
Soap Factory
518 2nd Street SE
Minneapolis
10:15pm (after St. Anthony Main Fireworks) / Free
For the fifth year in a row, the Ten Second Film Fest returns for another bout of offbeat, hilarious, and bizarre ten second long mini-films created with cellphones, webcams, and other such devices. An event for "the amateur and immature; the talented and the unfortunate; the virtuoso and the accidental artist," each year seems better than the last. And it's not just about the 100+ films that will screen; the event also features plenty of ice cold beer and a rockin' set by The Debut, who will also act as "pit-band" throughout the night. Hosted and judged by Twin Cities talents Barb Abney, from
89.3 The Current
; Alexis MckInnis, sex advice columnist from
Vita.mn
; the distinguished Mrs. Smith; and actor and director extraordinaire Randy Reyes.
CLICK FOR THIS ART EVENT AND MORE AT MPLSART.COM
SATURDAY JULY 4TH
Elvis Costello
@ Taste of Minnesota
Harriet Island
8pm / All Ages / $10
Elvis Costello, at the Taste? Yep, you heard right. One of the most respected songwriters of the last 30 years, Elvis Costello has an instantly recognizable voice and style that's kept him relevant in modern pop music as other artists who broke in the '70s have faded away. The bespectacled golden-voiced crooner will bring his bag of good-time rockers to our fair state's annual 4th of July celebration at Harriet Island. Ten bucks gets you admission plus two drink tickets. Score!
CLICK THE IMAGE FOR THE TASTE OF MN SITE
SATURDAY JULY 4TH
Fireworks!
@ Various Locations
Twin Cities
Independence Day is not complete without an epic fireworks display, and this year the sky will be ablaze with light at numerous locations in the Twin Cities. The most obvious and extravagant displays will be at Saint Anthony Main in Minneapolis and the Taste of Minnesota in St. Paul, but our pals at Metromix have a detailed rundown of sparkly spectaculars in the cities and beyond.
CLICK HERE FOR THE METROMIX FIREWORKS GUIDE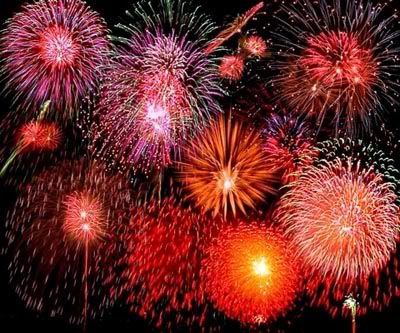 SATURDAY JULY 4TH
Dillinger 4th of July
@ Triple Rock
629 Cedar Ave S
Minneapolis
8pm / 21+ / $8
There's no better way to celebrate the birth of our nation than with the reckless, alcohol-soaked punk rawk of Dillinger Four. The incredible power and energy behind this band's live performance always leaves minds blown and ears ringing. Earplugs recommended! Off With Their Heads, Superhopper, The Arrivals, and Dear Landlord open.
CLICK THE IMAGE FOR THE TRIPLE ROCK SITE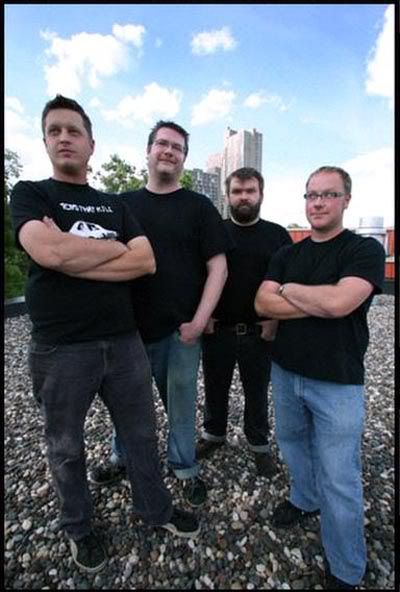 SATURDAY JULY 4TH
Jour de la Déclaration d'Indépendance
@ Kitty Cat Klub
313 14th Avenue SE
Dinkytown
9pm / 21+ / Free
After you get your firework-watch on, head to the KCK for a fine evening of dancin' and drinkin'. Hosted by the Frenchie-friendly party purveyors of The Embassy, with bangin' beats from the always kick-ass DJ Bach and an electro set from Tai. No cover charge = extra moola for champagne!
CLICK THE IMAGE FOR THE FACEBOOK EVENT
Photo by Kate Iverson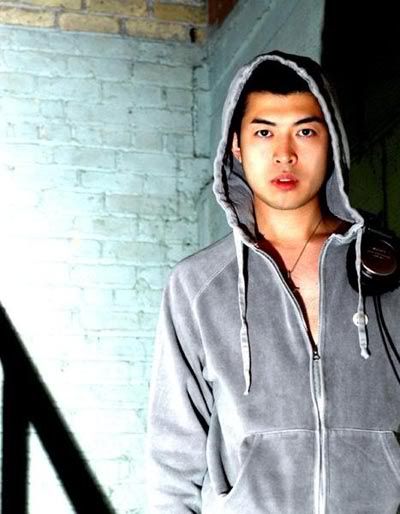 MUSIC PICK: GOD HELP THE GIRL
Stuart Murdoch (brilliant frontman and songwriter behind Glasgow's indie maudlin pop outfit, Belle & Sebastian) has always had a knack for turning the roller coaster ride of human emotion into catchy pop tunes. Why, practically every emotional situation you find yourself in has a perfectly complimentary B&S song to accompany it. While on the 'Dear Catastrophe Waitress' tour in 2004, Murdoch began an internet-wide talent search for a twee musical,
God Help the Girl
– to be released in 2010. The 60's-inspired project features a broader musical palette than B&S, formed on the backbone of a musical narrative that follows the lives of four bandmates intertwined by their romantic and creative ties. Murdoch hosted a vocalist competition where singers from across the country could add their vocals and submit their own renditions of classic B&S hits, the auditions of which are used as inspiration for the film. Over 400 entries were posted, and the final vocalists were recorded and released last month on the
God Help the Girl
soundtrack (released on Matador). The result is a breathtaking album featuring singular female vocalists with heavy kudos to 60's girl groups, 80s indie and classic bubblegum pop, including a jazzy remake of the infectious,"Funny Little Frog."
Click HERE for the God Help the Girl site.
SUNDAY JULY 5TH
Bloody Sunday
@ Azia
2500 Nicollet Avenue S.
Minneapolis
11am-3pm every Sunday
Here at l'étoile, we are completely obsessed with drinking good Bloody Marys! Our favorite meal-in-a-cup/hangover cure has been taken to the next level at Eat Street staple, Azia. From 11 a.m. to 3 p.m. each Sunday you can indulge in the ultimate build-your-own Bloody Mary bar. Featuring not only all the standard Bloody-friendly fare, but also glorious additions such as red curry, serano chili, lychee and pickled ginger -- just to name a few. Put your own spin on bloody sake, bloody beer, and other bloody concoctions made with vodka, tequila, whiskey and gin. Accompany your drink with something off Azia's new "Sunday Snackin'" menu featuring such delectables as Pork Steamed Buns, Sweet Potato Fries with Curry Aioli, Kobe or Crabcake sliders, Tempura veggies and more. What could make this even more enticing? Everything on the menu is ONLY $5 -- food AND bloodys. What a deal!

SPECIAL DEAL FOR L'ETOILE READERS:

Mention l'etoile and recieve a free appetizer off the Bloody Sunday menu with the purchase of any Bloody Mary!



CLICK THE IMAGE FOR THE AZIA WEBSITE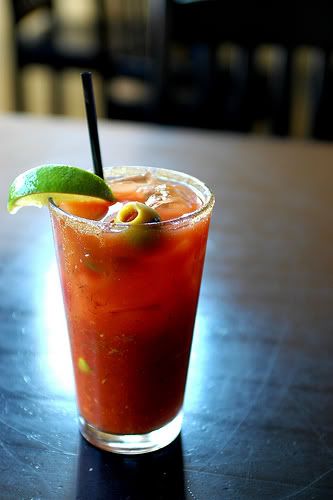 TUESDAY JULY 7TH
JagerCon: Sci-Fi Tuesdays
@ Clubhouse Jager
923 Washington Avenue N.
Minneapolis
Every Tuesday
10 p.m. / 21+ / Free
Join hosts Kate Iverson (l'étoile magazine, Secrets of the City) and Beth Hammarlund (l'étoile magazine, A Tiny Machine) every Tuesday Night for JagerCon! JagerCon is a weekly sci-fi party featuring screenings of classic nerdy movies and television shows -- topped off with 2-4-1 cocktails all night served by Star Captain Paul!
Mingle with like-minded sci-fi geeks, discuss D&D strategies, and use that Captain Picard impression you've been perfecting to pick up chicks at the bar. Snort-laugh the night away while bragging about your MMORPG addiction and enjoy a cozy, nerd-friendly environment.
Upcoming Events:

July 7th: Robo Cop 1 and 2
July 14th: Repo Man
NEW LINE UP COMING SOON!
For more info visit
www.jagercon.blogspot.com
THIS WEEK'S FILMS ARE ROBOCOP 1 & 2!
GUEST BLOGGER: A TINY MACHINE
Beth Hammarlund shows us a slew of her favorite "beautiful things," including the trailer for the Anna Wintour documentary 'The September Issue' -- which we can't wait to see, obvs!

Click here for the entire post!
Trailer for 'The September Issue'
GUEST BLOGGER: LE PETIT CONNAISSEUR
Jahna Peloquin takes a look at the iconic styles of Farrah Fawcett and Michael Jackson.

Style Tribute: Michael Jackson + Farrah Fawcett
Two icons died today, and both were known as style icons of their generations. As a tribute to both, let's take a look at their respective styles throughout the years.
Farah Fawcett was pretty much the poster girl for the '70s - big, bouncy curls, all-American looks, not to mention that bod that every boy dreamed about. The Charlie's Angels star could look just as hot in high-waisted bell bottoms and sneaks.
CLICK THE IMAGE TO READ THE ENTIRE POST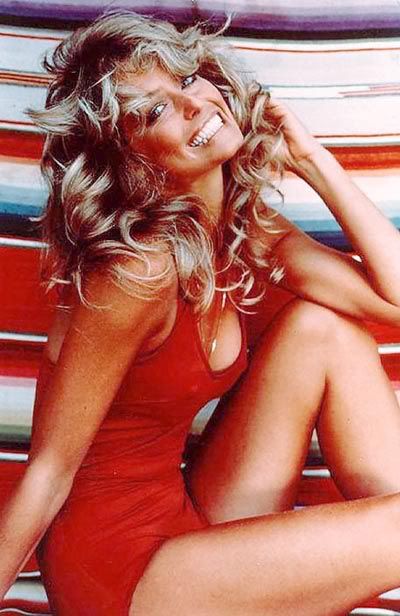 L'ETOILE NEWSWIRE
TICKETS ON SALE FOR ATTITUDE CITY YACHT CLUB
From the AC site:
It's summer time and you know what that means! The yacht is booked and once again we
are leaving from a convenient downtown Minneapolis dock. Bonus: We are planning an insane after party so that your sexy summer adventure can last into the wee hours of the morning. Don't sleep, this will sell out quickly. (We sold nearly half of the tickets at our pre-sale party last Saturday). Featuring Attitude City DJs Karl Frankowski & Jeff Dubois and special guest Mike the 2600 King.
FRIDAY JULY 24th, 8:45pm—1am / $35
Get tickets HERE or stop by ROBOTlove or Cliche to pick up a pair. Tickets WILL sell out so act fast!
WIN A PAIR OF TICKETS TO 'PHEDRE' AT THE GUTHRIE!
For the first time in its history, the UK's National Theatre is
broadcasting live
performances of plays in high definition into other theaters worldwide. The Guthrie will be the exclusive Twin Cities venue to re-broadcast the high-definition screening in this exciting international partnership. About
Phèdre
: Consumed by an uncontrollable passion for her young stepson and believing Theseus, her absent husband, to be dead, Phèdre confesses her darkest desires and enters the world of nightmare. When Theseus returns, alive and well, Phèdre, fearing exposure, accuses her stepson of rape. The result is carnage. Helen Mirren takes the title role in this savage play by Jean Racine, translated into muscular free verse by Ted Hughes.
July 8th and 9th
7:30 p.m. / $20
Enter for your chance to win a pair of tix to

Phèdre

by e-mailing

kate@letoilemagazine.com

with "PHEDRE" in the subject line along with your name, preferred e-mail address and what day you'd like to go (8th or 9th). Winners will be drawn and notified by e-mail on July 6th.
WIN A PAIR OF TICKETS TO CIRQUE DU SOLEIL'S 'KOOZA'
Kooza
is a return to the origins of Cirque du Soleil: It combines two circus traditions – acrobatic performance and the art of
clowning. The show highlights the physical demands of human performance in all its splendor and fragility, presented in a colorful mélange that emphasizes bold slapstick humor.
Enter for your chance to win by e-mailing

kate@letoilemagazine

with "KOOZA" in the subject line, along with your name and preferred e-mail address. Winners will be drawn and notified by e-mail on July 6th.
Editor in Chief: Kate Iverson
Contributing Writers: Lacey Prpic Hedtke, Robyn Lewis, Juleana Enright, Kate Iverson, Beth Hammarlund, Jahna Peloquin

CONTENT © L'ETOILE MAGAZINE 2009