JINGLE BELL ROCKIN'
This weekend is a bit light considering it's sandwiched precisely between Christmas and New Year's Eve, but we have to admit we're looking forward to "taking it easy" for once. Luckily the Twin Cities are music-obsessed so there is no shortage of sonic waves to be absorbed this time around, despite the obvious lack of art events. From big-time techno producer Claude Von Stroke to the chilled out indie-folk sounds of such groups as Dark Dark Dark, Matt Latterell, and The Parlour Suite; and from '70s glam rock cover bands to crunked-out holiday jam fests, this weekend's musical landscape has a little something for everyone!
Check back on Monday for our New Year's Eve event guide, a comprehensive list of all the coolest parties and NYE shenanigans going down this coming Wednesday!
xo-l'étoile
Photo by Kate Iverson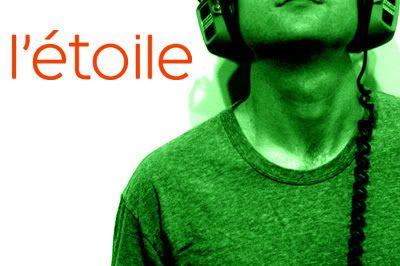 THURSDAY DECEMBER 25TH
Soundbar Christmas Party
@ 414 Soundbar
414 3rd Avenue N
Warehouse District
9pm-2am / 18+ / Ladies Free, Guys $5
The glamsters at 414 Soundbar know how to make James Brown Day sparkle the right way. Finish up with la familia and wander to the Warehouse District for an evening of dancing, sexy peeps, and debaucherous holiday cheer. DJs rock the house with hot salsa, reggae, house and more.
CLICK THE IMAGE FOR THE SOUNDBAR SITE
Soundbar party photo by Stephen Stephens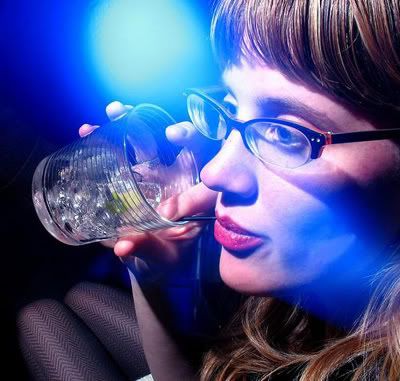 THURSDAY DECEMBER 25TH
Christmas Night DJs
@ Market BBQ
1414 Nicollet Avenue
Downtown Minneapolis
9:30pm / Free
Dancing and barbecue go hand-in-hand tonight as DJ Secret and Kyle Wyld host a dance-crazed evening at this legendary Downtown Minneapolis rib joint. Hear Ian Lehman rock a live p.a. set while you eat, drink and be merry!
CLICK THE IMAGE FOR THE MARKET BBQ SITE
THURSDAY DECEMBER 25TH
Staraoke Christmas Party
@ The Triple Rock
629 Cedar Avenue
West Bank
9pm / 21+ / Free
Capping off Christmas with drunken karaoke sounds like a fine idea to us. The Triple Rock's recurring make-an-ass-of-yourself-on-stage night, hosted by the fabulous Arzu, is extra festive this evening, so wear your jingle bells and rock...and drink!
CLICK THE IMAGE FOR THE TRIPLE ROCK SITE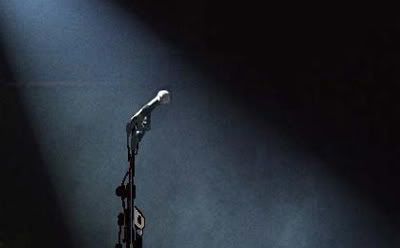 FRIDAY ART PICK: RUSS MILLS
This UK based artist/illustrator has definitely captured our attention in 2008 with his graphic novel meets Jackson Pollock-esque artwork. Fine lines and mischievous absurdity collide with a schizophrenic sort of beauty. The artist's dark and moody color schemes and seemingly violent bursts of abstraction are as delicious as they are curious. Keep your eyes peeled for this one in '09!
CLICK THE IMAGE FOR THE RUSS MILLS SITE
FRIDAY DECEMBER 26TH
Matt Latterell, Meg Ashling, Gabe Barnett, and Jack Torrey
@ The 331 Club
331 13th Avenue NE
Northeast Minneapolis
9pm / 21+ / Free
There's nothin' like a little hometown folk music to warm the cockles of your winter-frozen heart. Take a Christmas wind-down at the 331 where camaraderie, cocktails and soulful indie folk music will whisk you away to simpler times. Featuring the talented lineup of Matt Latterell, Meg Ashling, Gabe Barnett, and Jack Torrey; all of whom capture an old-timey Midwestern charm that we certainly wouldn't kick out of bed.
CLICK THE IMAGE FOR THE 331 SITE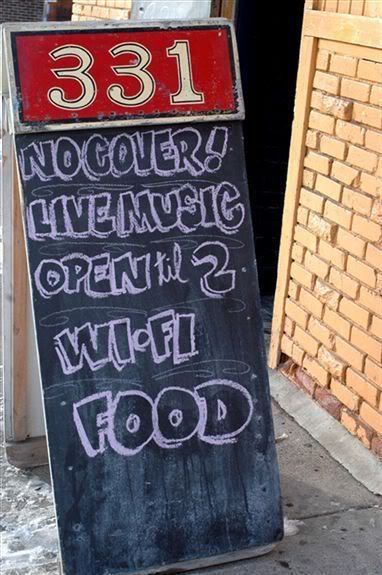 FRIDAY DECEMBER 26TH
Michael Berg and The Parlour Suite
@ Clubhouse Jager
923 Washington Avenue N
North Loop
9pm / 21+ / Free
Get a taste of Michael Berg's sweet indie-psychedia tonight at the Clubhouse. This Los Angeles-based visitor will bring the sonic bliss with his dark and breathy vocals wrapped up in an eclectic cloak of pop-tinged goodness. Local lovelies The Parlour Suite round things out with their toe-tappin' folk stylings and trilling vox. And, as usual, Jager brings the proper ambiance and perfect cocktails for a cozy evening by the (faux) fireplace.
CLICK THE IMAGE FOR THE JAGER MYSPACE
FRIDAY DECEMBER 26TH
3rd Annual Crunkmas
@ Nomad World Pub
501 Cedar Avenue S.
West Bank
9pm / 21+ / $5
Party crew Mpls Kids Have More Fun present a crunkified evening of music and mayhem on the West Bank. Featuring rap-rockin' loud-mouths City on the Make and beat junkie Crunk Monster along with Brown Moses, Meta, and the Tape Jays.
CLICK THE IMAGE FOR THE NOMAD SITE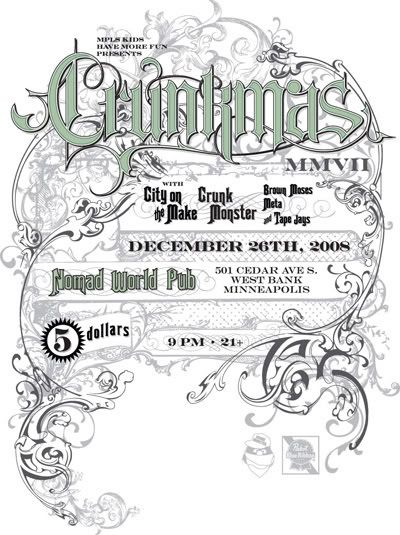 COOL LINK: 10 MOST INNOVATIVE CONCERT VISUALS
We love pretty lights. We also love good music. San Diego-based blog, Accent Feed, is the go-to inspiration source for VJs and Video performers far and wide, featuring everything from cool video work to interactive design. In the spirit of "Best of" lists, Accent Feed has put together a sick selection of the top 10 most innovative concert visuals of 2008. Peep video clips of each winning concert design, along with links to the artists (both musical and visual). And when you're done being impressed, be sure to poke around on this cool blog for even more sweet eye candy.
CLICK THE IMAGE FOR THE ACCENT FEED SITE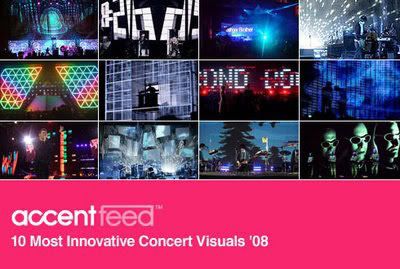 SATURDAY DECEMBER 27TH
Hot Roxx Hexmas
@ The Hexagon
2600 27th Avenue S.
South Minneapolis
9pm / 21+ / Free
Join our favorite rock n' rollers Macku$ and Jen of Hot Roxx fame as they host their third ever live music showcase! In the spirit of the holidays, bands such as Leather & Lace, Dante & The Lobster, and Invisible Boy will be covering 70s hits and Christmasy classics for your dancing pleasure. Macku$ and Jen will be spinning their best wax between sets to keep the party lively. So, come down, buy your drinks from the band side of the bar, and put on your best Bowie face and/or gold lame pants.
BONUS:
While you're there, give a birthday spanking to l'etoile cohort and rockin' chick Danielle Morris!
CLICK THE IMAGE FOR THE HOT ROXX MYSPACE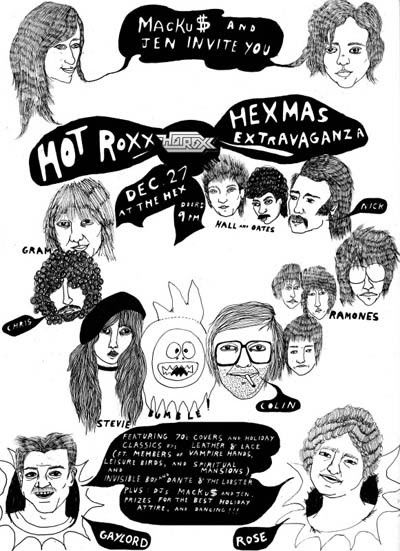 SATURDAY DECEMBER 27TH
Black: Claude Von Stroke
@ VIP Room
701 1st Avenue N
Downtown Minneapolis
10pm / 18+ / $5
Get a dose of internationally loved DJ/producer Claude VonStroke at this intimate show in the VIP Room. Record label owner, party promoter and even documentary director, this San Fran-based multi-tasker is a can't miss experience for any electronic music fan. It's likely your chance to catch Von Stroke won't come around again for quite some time, so make it count. l'étoile bff Aaron Bliss kicks things off the right way.
CLICK THE IMAGE FOR THE BLACK MYSPACE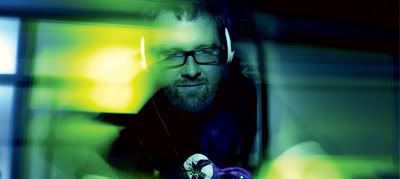 SATURDAY DECEMBER 27TH
Dosh and Dark Dark Dark
@ Cedar Cultural Center
419 Cedar Avenue S.
West Bank
Doors 7pm, Show 8pm / $15
Much raved-about one man band, Martin Dosh, brings his unusual blend of DIY experimental electronic music to the Cedar this evening. Joined by velvet-twisted folkies Dark Dark Dark as well as DJ Odd Nosdam, tonight's show is the perfect cure to the winter blues.
CLICK THE IMAGE FOR THE CEDAR SITE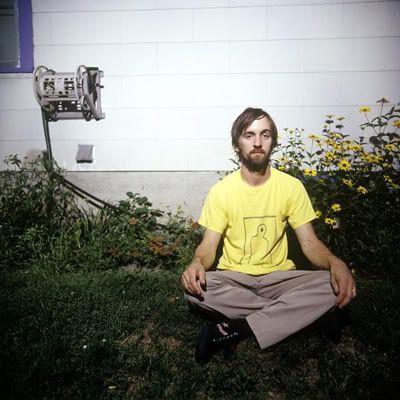 SATURDAY DECEMBER 27TH
Yuletide Sweater Ball
@ 331 Club
331 13th Avenue NE
Northeast Minneapolis
9pm / 21+ / Free
Don't pack up that hideous Christmas sweater quite yet. The 331 gives you a final chance to show off your red, green, snowmen, kittens, reindeer, snowflakes, santas, etc. Prizes for best sweater and best overall outfit will abound, and live music from the likes of The Pistol Whippin' Party Penguins and Two Many Banjos will please your ears.
CLICK THE IMAGE FOR THE 331 CLUB SITE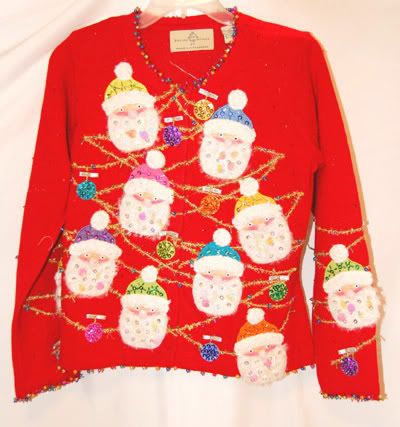 SUNDAY MUSIC PICK: CULTURE BULLY'S 2008 MASHED
Our pals over at Culture Bully know their stuff. If you don't already have this kick-ass local music site bookmarked, you best get on that tout de suite! Culture Bully brings you a daily serving of local and national music coverage, reviews, free downloads, photos, giveaways and more. Today's freebie is a downloadable mashup mixtape; Culture Bully's personal selection of the best musical bastardizations of 2008. We likes.
CLICK THE IMAGE FOR THE CULTURE BULLY SITE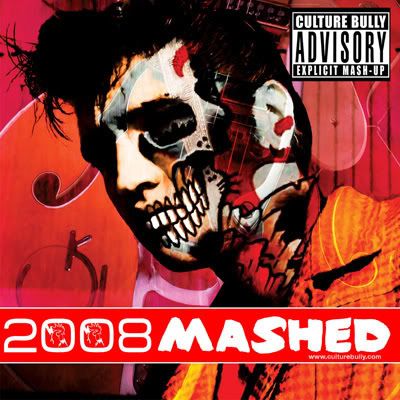 LE PETIT CONNAISSEUR SUNDAY
Our friend, fellow writer, and Twin Cities fashion plate Jahna Peloquin has finally graced the blogsphere with her presence. Her new blog,

Le Petit Connaisseur de la Mode

, is a fresh look at local and national fashion. We'll be featuring a post from Jahna each week, lucky us! Check out more posts at

Le Petit Connaisseur

by clicking HERE.
New for Spring: Dip-dyed Tights by Calpurnia Peach
The always-busy duo behind Twin Cities fashion line
Calpurnia Peach
is known for its tights screen-printed with its original designs. Now, they're offering a new take on their best-seller: Dip-dyed tights. I received my first pair from the Peach girls, specially made in a magenta/plum colorway. My favorite part about the tights is how they get darker as they get closer to the bottom, working well with darker shoes and adding a great pop of color right where the skirt hem hits.
Eclecticoiffeur
used mustard/brown tights, from Calpurnia Peach's Fall 2009 collection, for a promotional shoot for the collection on Friday. Above is an untouched preview of that shoot, photographed by
Nic Marshall
. Interested in some for yourself? Contact the designers at
calpurniapeach@gmail.com
.
Image by Nic Marshall / Styling by Eclecticoiffeur / Jumper and Tights by Calpurnia Peach / Earrings by Buck Luck
CLICK THE IMAGE FOR THE LE PETIT BLOG
A TINY MACHINE MONDAY

Another post from our fave Sci-Fi Beauty Blogger, A Tiny Machine!

I've Got Your Indie Credibility Right Here
It's not a breakthrough statement to observe that much of our power as citizens comes from our voices as consumers. By choosing where we spend our money, we make statements about our values and beliefs in an objective and effective way. I make efforts to be socially and politically conscious with my spending, but I also buy a lot of Go International blouses from Target and cheap dresses from Forever 21.
However, in the current economic climate, I'm trying to be more aware of where and how I spend my money, and what political and social statements that those purchases make. Though I'm still pumping my fair share of dollar bills back into the national economy, I'm also making a concerted effort to support smaller independent artists and boutiques. And since online shopping is my crack, I've been spending way more than my fair share of time on sites like Etsy and Supermarket. Here are a few of my favorite discoveries.
Necklush in Charcoal Grey (Supermarket)
: Anything that's too tight around my neck immediately turns me from a relatively reasonable 27 year-old woman into a petulant child. "Mom! Get it off!" she cried as she clawed helplessly at the neckline of her embroidered holiday turtleneck. So I love that this circular scarf can be worn nice and loose. The $55 price tag is more than I usually spend on an easy-to-misplace outerwear accessory, but that's because I forgot my cashmere Burberry scarf in the movie theater when I saw Marie Antoinette and I haven't really gotten over it. But this might just be the item that gets me off of the Target outerwear train. Plus, it reminds me of this squid ink spaghetti that I had at the Loring Pasta Bar a couple of years ago. I never knew that dark gray noodles could be so delicious.
Click below for many more indie shopping picks from A Tiny Machine, and also a pretty good Gwen Stefani rant!
CLICK THE IMAGE FOR THE TINY MACHINE SITE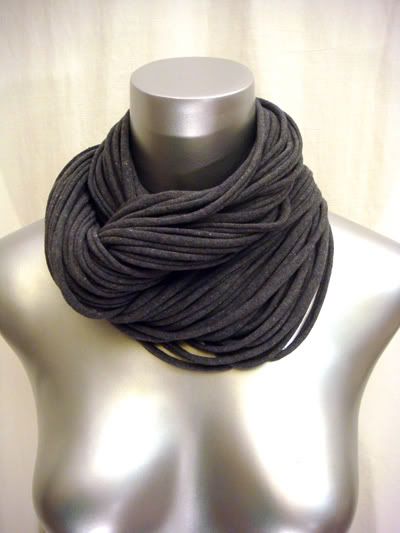 TUESDAY DECEMBER 30TH
Silver + Gold
@ Clubhouse Jager
923 Washington Ave.
North Loop
Every Tuesday / 21+ / 10pm / Free
Join DJ Jonathan Ackerman and l'étoile magazine for an evening of sly winks and sideways glances every Tuesday at Clubhouse Jager. Create some mystery, sip 2-4-1 cocktails with pretty people, and dance the night away to electro, pop, and so much more.
BONUS:
Flirt up a storm then visit letoilemagazine.com on Wednesdays for "missed connections" from the night before!
Sponsored by l'étoile magazine & Alphasuede
CLICK THE IMAGE FOR L'ETOILE TEXT CONNECTIONS
What's What Editor: Kate Iverson
Contributing Writers: Lacey Prpic Hedtke, Beth Hammarlund, Robyn Lewis, Juleana Enright, Jahna Peloquin, Kate Iverson
CONTENT © L'ETOILE MAGAZINE 2008