SIZZLE & SHAKE
It might be chillin' outside, but Minnesotans are dead set on keeping things hot and heavy. You can work up a sweat at any number of smokin' DJ nights, or ignite your flame at a passion themed art show. It's also the first real mitten-worthy weekend, so bust out your most stylish winter-wear and keep your sexy self insulated - at least until you hit the dance floor!
xo-l'étoile
Photo by Kate Iverson for Digital Crush/Styling by Eclecticoiffeur
THURSDAY NOVEMBER 20TH
Gallery Grooves
@ Capstone Gallery at Frame-Ups
4325 Nicollet Avenue
Minneapolis
7pm-9pm / Free
Hit up the Capstone Gallery tonight for Gallery Grooves with our pals at
Secrets of the City
(formerly
The Rake
and
MNSpeak
) and Jazz88fm! This month's artsy gathering will feature oil paintings by Wisconsin artist (formerly of South Dakota, Minnesota and Indiana), Gregg Rochester, as well as live jazz music and of course, complimentary wizzo.
CLICK THE IMAGE FOR THE GALLERY GROOVES PAGE
THURSDAY NOVEMBER 20TH
Third Thursday: New Delhi Nights
@ Minneapolis Institute of Arts
2400 3rd Ave S
Minneapolis
6pm-9pm / Free
The MIA has quite the evening planned. To correspond with their new show,
INDIA: Public Places, Private Spaces
, they've got lectures, tours, sitar players, a cash bar and films on tap. The exhibition brings 28 Indian contemporary photographers and filmmakers to the museum for a chance to muse on democracy, politics and Indian culture.
CLICK THE IMAGE FOR THE MIA SITE
THURSDAY NOVEMBER 20TH
The Red Queen
@ The Lowry Lab Theater
350 St Peter St
Saint Paul
7pm / $6
Whether they're silent carriers of emotion or garishly candid "open books," the lives of women are an intricate, often internalized balancing act of expression and concealment. Tonight's performance of The Red Queen, written by local spoken word artist and playwright Lorena Duarte and performed by the diverse artists of the Teatro del Pueblo troupe, follows the lives of three separate cultures of women bound by a journey through language, love, war, politics and family. The performance sensitively portrays the struggles common to the average woman and those unique to the lives of immigrant women.
BONUS:
Come back on Friday for Las Madres de La Plaza de Mayo, by Rhiana Yazzie, directed by Suzy Messerole.
CLICK THE IMAGE FOR THE TEATRO DEL PUEBLO SITE
FRIDAY ART PICK: ROBERT BOWEN
For someone who started out making graffiti art in high school, painter Robert Bowen has come a long way. His lowbrow and sometimes vile paintings tend to be colorful and lyrical, mirroring pop culture but adopting a surreal twist, incorporating imagery from childhood memories. His proficiency with the paintbrush has garnered raves across the country, from galleries to apparel. The writing is on the wall: this urban artist is sure to make his mark.
FRIDAY NOVEMBER 21ST (THROUGH SATURDAY)
MCAD Art Sale
@
MCAD
2501 Stevens Ave
Minneapolis
Friday 6pm-9pm, $35-$40 / Saturday 9am-5pm, Free
Thousands of people will flock to MCAD to buy work from emerging artists for under $1000. Get your holiday shopping started tonight at the art sale of the season while directly supporting artists with your purchases. Hundreds of artists are represented, and are preparing to blow your mind! Friday's preview will cost you a few bucks to get in, but if you're content with slim pickings, show up Saturday for complimentary admission.
CLICK FOR THIS ART EVENT AND MORE AT MPLSART.COM
FRIDAY NOVEMBER 21ST
Sum of Parts: Surface Design Association Membership Exhibition
@ Goldstein Museum Gallery
241 McNeal Hall, 2nd floor
St. Paul
7pm-9pm / Free
You get a conference full of surface designers from all over the world together, and look what happens. The Surface Design Association is serious about textiles, tactile surfaces and interwoven media. 100 pieces make up this touring juried show, showing off every process and material under the sun. Through January 18th.
CLICK THE IMAGE FOR THE GOLDSTEIN SITE
FRIDAY NOVEMBER 21ST
Mighty Fairly CD Release Party
@ Bunkers
761 N. Washington Avenue
Minneapolis
9pm / 21+ / $7
Indie pop cuties Mighty Fairly certainly have something to celebrate tonight with the release of their brand new album! Head to Bunkers (no, we've never been there either) for some upbeat tunes courtesy of this troupe of seasoned musicians, along with local bands The Small Cities and Mercer. And yes, that
was
a Mighty Fairly tune you heard on episode 17 of
The Real World: Sydney
!
CLICK THE IMAGE FOR THE MIGHTY FAIRLY SITE
FRIDAY NOVEMBER 21ST
Hexagon Rose's Birthday Party
@ Hexagon Bar
2600 27th Ave. S
Minneapolis
9pm / 21+ / Free
Permanent Hexagon fixture and Minneapolis legend Hexagon Rose is turning another year older! Rose has been rocking out longer than most of us have been alive, and has been an invaluable supporter of the local music scene, keeping bands and kids in line for over 20 years. Stop by the Hex and give Rose a hi-five and enjoy music by some of her faves and ours - Military Special, Ouija Radio, Gospel Gossip, and Sleeping in the Aviary.
CLICK ROSE FOR THE HEXAGON SITE
FRIDAY NOVEMBER 21ST
Cloud Cult
@ The Whole Music Club
300 Washington Ave SE
Minneapolis
9pm / All Ages/ $7 (students) $10 (everyone else)
The skies are dulling and trees are shaking off their leaves - call it the change of seasons. The goosebump-invoking cinematic pop of local indie heroes Cloud Cult (think Arcade Fire meets Flaming Lips) will sweep you up like the twisters invoked on their latest album; the unpredictable, expansive and fearless Feel Good Ghosts. Cloud Cult wrap up their fall tour at the Whole Music Club, so catch them while you can. Word on the street is that this will be their last hometown show until the seasons change again. With Jelloslave.
CLICK THE IMAGE FOR THE CLOUD CULT MYSPACE
FRIDAY NOVEMBER 21ST
Honeymoon
@ First Ave VIP Room
701 1st Ave N.
Minneapolis
10pm / 18+ / $6 ($3 with
RSVP
)
Stepping into tonight's VIP area might have you a bit visually confused. The array of black attired, heavy eye-lined angst kids ready to dance might have you thinking more "Ground Zero" than "First Ave." There's no mistake, tonight's Honeymoon theme just happens to be "goth." With a sick line-up consisting of Diamonds from the Glamour, Madison's OCD Automatic, Wes Winship of Burlesque of North America and of course, The Moon Goons. As always, party favors galore will be given away all night long courtesy of VS. Social Standard and The Moon Goons; and photographers will be slinking through the crowd capturing the dark demeanor of each regal guest. So, stuff a copy of something by Camus tightly in your back pocket and don't forget to bust out the clove cigarettes.

Honeymoon is co-sponsored by l'étoile magazine!
Bonus:
RSVP early to receive 10% off your next VS. Social Standard purchase!
CLICK THE IMAGE TO RSVP
FRIDAY NOVEMBER 21ST
Attitude City
@ The Loft
711 Hennepin Ave S.
Minneapolis
10 PM- 2 AM/ 18+/ $5
A four hour hot and heavy set of sexy audio gems with the Attitude City boys is every loyal fan's fantasy. Veterans and vanguards of MPLS' dance parties, Jeff and Karl of AC have been a discernible influence in the 80's redux scene for 10+ years. Tonight, as a precursor to Shelter's closing party next Friday, Attitude City takes the dance floor to epic proportions. The boys dig into their exceptional vinyl collection for an untabulated quantity of rare and eclectic electro, 80's funk, disco and dance rock tracks. Tonight, Shelter is in store for a memorable tribute to the evolution of MPLS club music. Get ready for stamina with attitude!
CLICK THE IMAGE FOR THE SHELTER MYSPACE
Photo by Ingrid Werthmann
COOL LINK: NEW YORK TIMES SPECIAL EDITION
Our dreams came true! The world is right again! Last Wednesday over a million copies of this fantasy paper published in the future by the Yes Men were distributed throughout the country. This special edition of the (fake) Times assures us that the Iraq war has ended, all the country has health insurance, a maximum wage law has been passed and biofuel use has become widespread. Even the advertisers are socially conscious in this fantasy world. Let's hope for tomorrow's news and hope it becomes reality.
CLICK THE IMAGE FOR THE NYT SPECIAL EDITION
SATURDAY NOVEMBER 22ND
The Klezmatics
@ The Cedar Cultural Center
416 Cedar Ave S
Minneapolis
2pm / $25-28
This Eastern European-inspired klezmer band has been at it for over two decades. Their 2006 release of Wonder Wheel, a klezmer take on Woody Guthrie lyrics, won a well-deserved Grammy. They don't come by all that often, so this early afternoon show is quite a treat.
CLICK THE IMAGE FOR MORE INFO
SATURDAY NOVEMBER 22ND
Northeast Fashion Crawl
@ Various Locations
Northeast Minneapolis
10am-7pm
Dangerous shopping alert: The Northeast Minneapolis Fashion District is kicking off the holiday season the right way! Max out your CCs at this all-day shopping crawl that offers 25% off a single fashion item at any of the following boutiques: Belle Reve, Bibelot Shop, Gretchen House, Key North, Melrose Antiques, Pacifier, and Parc Boutique. And if you were eyeing those $400 L.A.M.B. shoes at the Belle Reve opening a couple weeks ago (and we know some of you were), then this is one sale you don't want to pass up. Not to mention, you can enter to win a $500 shopping spree, and who hates a shopping spree?
CLICK THE IMAGE FOR THE KEY NORTH SITE
SATURDAY NOVEMBER 22ND
Kevin Odegard
@ Jewish Community Center St. Paul
1375 St. Paul Ave
Saint Paul
7:30pm / $15 General, $10 JCC Members
Legendary MN folk rocker, Bob Dylan's
Blood on the Tracks
album was first recorded solely by Dylan during a tumultuous time in his marriage. It is perhaps this outpouring of emotion that led Dylan to bring the album to a south Minneapolis studio, and tweaking it to an obsessive level. Local guitarist Kevin Odegard was one of the few musicians privileged to be a part of the re-recorded album, which
Rolling Stone
gave a nod to as one of their top 20 greatest rock albums. The Twin Cities Jewish Book Fair welcomes Odegard, a musician and author of
A Simple Twist Of Fate: Bob Dylan and the Making of Blood On The Tracks
. Listen as he shares the stories and music from his experience with Bob Dylan at this very special event, which will mark the end of the Book Fair.
CLICK THE IMAGE FOR THE JCC SITE
SATURDAY NOVEMBER 22ND
MN Rollergirls All Stars Vs. Mad Rollin' Dolls + Punk Vs. Disco
@ Roy Wilkins Auditorium
175 Kellogg Blvd W
St. Paul
7:30pm / $10-14
We're so glad roller derby season is back! Don't even think about missing tonight's all-star bout with the Dairyland Dolls from Madison. Revel in some friendly rivalry, get a rink-side seat, and hope one of those tough ladies kicks you over - it's a privilege, remember! As an added bonus, they've got a punk vs. disco bout lined up to showcase this years' newest rookies.
CLICK THE IMAGE FOR THE ROLLERGIRLS SITE
SATURDAY NOVEMBER 22ND
IFP MN Member Photo Show
@ IFP Minnesota Center for Media Arts
2446 University Ave W.
St. Paul
7pm-10pm / Free
What goes on in that darkroom? A photographer goes in, out comes a piece of paper that has magically materialized into an image. The IFP always has something interesting brewing—this annual member's show and auction is the perfect time to see what their members have been concocting with those photo chemicals. Through January 10th.
CLICK THE IMAGE FOR THE IFP SITE
SATURDAY NOVEMBER 22ND
Loveartpassion
@ Calhoun Beach Framing & Art Gallery
4959 Penn Ave S
Minneapolis
7pm-9pm / Free
Whenever those MCAD students do a show together, you better believe something hot is brewing. This time eleven emerging artists show images of love, art and passion—something we all need more of these days.
CLICK THE IMAGE FOR THE LOVE ART PASSION SITE
SATURDAY NOVEMBER 22ND
80s Rock Fashion Show
@ The Cabooze
917 Cedar Ave S
Minneapolis
8:30pm / 18+ / $5
It's official. Eighties fashion has returned. Just when you ditched the last of your skinny ties, velour shirts, big hair and Girbaud jeans with the zipper up the ankle, the apocalypse is upon us. This iconic decade in fashion will be showcased at the 80's Rock Fashion Show at the Cabooze this Saturday night, appropriately featuring new wave and 80's revivalists Cherry Bomb and Hollywood Boulevard.
CLICK THE IMAGE FOR THE CABOOZE SITE
SATURDAY NOVEMBER 22ND
Dykes Do Drag
@ Bryant Lake Bowl
810 W Lake St.
Minneapolis
10pm / $14
Thank your lucky stars that Dykes Do Drag has stuck around these Twin Cities for eight years. Lounge singers, dancers, and eccentric talent converge to create a drag cabaret to be contended with. Coming in drag is encouraged, so do it - who doesn't love dressing up?
CLICK THE IMAGE FOR THE DYKES DO DRAG SITE
SATURDAY NOVEMBER 22ND
Menergy 2
@ Clubhouse Jager
923 Washington Ave N
Minneapolis
10pm / 21+/ Free
What's the perfect antidote for a cold Saturday evening? Why, high levels of testosterone of course! Menergy's vivacious dance night has the answer. The second XY revved installment of Menergy – festively name "Mensgiving" - is bound to put you in the "giving" mood. Real Talk Radio joins Grandmother Grant as they enrapture the dance floor with Italo, new wave, electro and 80's funk goodies. Enter a virtual dimension with a prop or a friend in Menergy's one of a kind Vidtastik Funbooth, provided by digital master Time Squid. But make sure to RSVP for the Funbooth since photo time is limited. And to amplify the excitement, tonight Grandmother Grant, MPLS' most menergetic partier and Menergy coordinator, celebrates his birthday! So, find the sexiest synth-laced song and grind up next to him. Tonight is all about male ardor!
CLICK THE IMAGE FOR THE JAGER MYSPACE
SUNDAY MUSIC PICK: LADYHAWKE
It's safe to say that Pip Brown (aka Ladyhawke) knows her roots. Borrowing 70's guitar riffs, synthy analog sounds and referencing the 1985 Michelle Pfeiffer fantasy movie, this New Zealand lady rocker's debut album pays homage to everything fierce, passionate and diverse about rock and roll. With blond flowy locks, Ladyhawke conjures up the persona of a young Stevie Nicks and belts vocals comparable to Kim Wilde. A true songwriter, Ladyhawke's lyrics are half-heartbreak, half a nightlife love affair. Brown's exquisite hands-on contribution to the album (playing drums, guitar and synth on top of vocals) restores conviction to anyone doubting the strength and talent of the lady rock scene.
CLICK THE IMAGE FOR THE LADYHAWKE MYSPACE
SUNDAY NOVEMBER 23TH
What Light Poetry
@ Magers and Quinn
3038 Hennepin Ave S.
Minneapolis
5pm / Free
The end of the Fall Season hardly brings "light" to mind. During this month, most Minnesotans have resigned to the darkness ahead. But Magers and Quinn's Fall quarter always ends with a spark of light. We're referring of course to the MN artists sponsored What Light poetry series held quarterly by Uptown's independent bookstore, Magers and Quinn. Judges Deborah Bernhardt, Jim Johnson and William Stobb have selected the most noteworthy poems from contest contributors across the state and tonight's event showcases a reading of the winning poems. Join the writers for a night of exceptional local literature.
CLICK THE IMAGE FOR THE MAGERS AND QUINN SITE
SUNDAY NOVEMBER 23RD
Artist Industry Night
@ Red Stag Supper Club
509 1st Avenue NE
Northeast Minneapolis
9pm / 21+ / Free
We've found our official Sunday night kick-it spot! This chilled-out happy hour is the way to go if you're looking to wind down the hectic weekend in style. Get your network on with Northeast artists while enjoying the sweet sounds of Nikki Matteson, Rich Rue and friends and sippin' ridiculously cheap 2-4-1 specials on select wines, taps, and rail drinks.

ENTER TO WIN A $25 GIFT CARD:
l'étoile and the Red Stag are giving away multiple $25 Gift Cards for Late Night Happy Hour at the Stag! E-mail
kate@letoilemagazine.com
with "RED STAG" in the subject line, along with your name and address to be entered to win!
Restrictions:
Bar tabs are only good after
10pm on Wednesdays, Thursdays and Sundays
through the end of November! Gift cards will be mailed to winners.
CLICK THE IMAGE FOR THE RED STAG SITE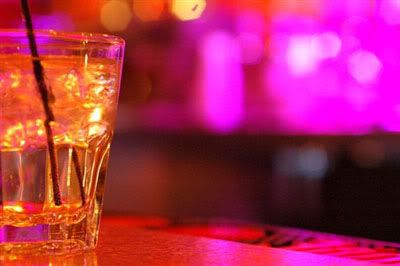 A TINY MACHINE MONDAY
Another post by our fave sci-fi/beauty blogger A Tiny Machine! Click HERE to read more entries.
Suck it, Twilight
I wanted to like Twilight. I hadn't heard much of the books, but once the movie buzz began I decided to give the series a try. Now I'm as into hot, marble-bodied vampires as much the next girl, but wow, I hated that book. Don't get me wrong, I finished it in like a day and a half. It's a pretty addicting read. But I found the writing juvenile, the story tired, and the message entirely anti-feminist. Needless to say, I won't be seeing the movie or finishing the rest of the series. There was something else about the novel that I found a bit unnerving, and now that Robert Pattinson (the hot British Cedric Diggory actor who plays sparkly love vamp Edward Cullen) has commented on it, I know I'm not alone.
"When I read it I was convinced Stephenie was convinced she was Bella and it was like it was a book that wasn't supposed to be published. It was like reading her sexual fantasy, especially when she said it was based on a dream and it was like, 'Oh, I've had this dream about this really sexy guy,' and she just writes this book about it. Like some things about Edward are so specific, I was just convinced, like, 'This woman is mad. She's completely mad and she's in love with her own fictional creation.' And sometimes you would feel uncomfortable reading this thing."
That, and the fact that the author is already claiming that Pattinson's performance is Oscar-worthy (and I don't think the actor would take that compliment seriously either), and I'm starting to think she's a wee bit off her rocker. So in the interest of celebrating movies that
don't
feature clumsy self-absorbed damsels in distress, here's the new trailer for Harry Potter and the Half-Blood Prince.
For more from a Tiny Machine click
HERE
.
TUESDAY NOVEMBER 25TH
Silver + Gold
@ Clubhouse Jager
923 Washington Ave.
North Loop
Every Tuesday / 21+ / 10pm / Free
Join DJ Jonathan Ackerman and l'étoile magazine for an evening of sly winks and sideways glances every Tuesday at Clubhouse Jager. Create some mystery, sip 2-4-1 cocktails with pretty people, and dance the night away to electro, pop, and so much more.
BONUS:
Flirt up a storm then visit letoilemagazine.com on Wednesdays for "missed connections" from the night before!
Sponsored by l'étoile magazine & Alphasuede
CLICK THE IMAGE FOR L'ETOILE TEXT CONNECTIONS
WEDNESDAY NOVEMBER 26TH
Milk
@ Uptown Theatre
2906 Hennepin Ave
Minneapolis
$7-9
Harvey Milk is an icon. California's first openly gay public official, he was assassinated by another city employee. Sean Penn plays Milk in this feature put together by friends and former associates exploring his life, career and legacy.
CLICK THE IMAGE FOR MORE INFO
SPECIAL ALERT!
Stolen Artwork at the Q.arma Building!
The sheer audacity one would have to possess to steal artwork is quite unfathomable to us. Last weekend at the Q.arma Building in Northeast Minneapolis, such a stunt was pulled on woodwork artist and l'étoile homeboy Kevin Showell. Sometime during the day on Saturday or Sunday, one of Kevin's sculptures was lifted from Gallery Q on the 1st Floor. The piece is a wood carved original on a wood and stone base approximately 16 inches high. While we know our gentle readers are much too refined to ever think about stealing art (the horror!), we still wanted to fill you in – who knows where this piece could eventually turn up!
Burn the below image into your retinas.
If you have any information, call Kevin at 612-229-0787 or email kevin.showell@yahoo.com
CLICK THE IMAGE FOR MORE OF KEVIN'S ART
What's What Editor: Kate Iverson
Contributing Writers: Lacey Prpic Hedtke, Beth Hammarlund, Robyn Lewis, Juleana Enright, Kate Iverson
CONTENT © L'ETOILE MAGAZINE 2008