WHIRL-WIND
This weekend's off-the-chart whirlwind of creative tornadic activity lands you in Northeast Minneapolis for Art-A-Whirl, the largest studio crawl in the upper Midwest! Investing in a piece of local artwork will make your life a little brighter - and with the vast number of open studios and galleries at your disposal this weekend, you'll be hard pressed not find something to love. In honor of said festivities, we dedicate this edition of the What's What to ART and those who make it - words really can't express how much we appreciate you!
Tip:
Info booths will be scattered throughout Nordeast, so be sure to stop and pick up an
Art-A-Whirl
catalog and map for organized art-ing.
xo-l'étoile
Photo by Jayme Halbritter/l'étoile agency for mplsart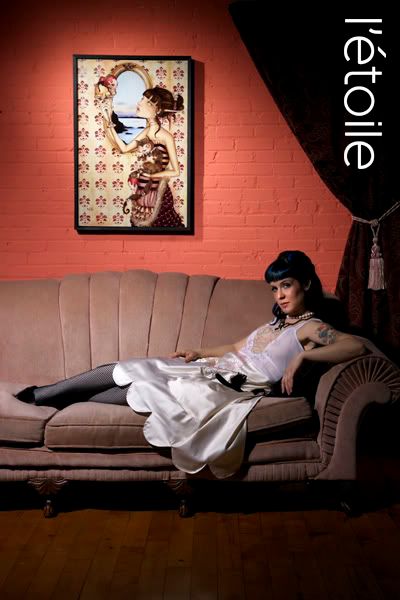 THURSDAY MAY 15TH
RetroRama
@ MN History Center
345 W. Kellogg Blvd
St.Paul
7-11pm / $15
Join the prolific Miz Anna Lee along with style geniuses Eclecticoiffeur and a bevy of local designers for this 1950's inspired fashion show at the MN History Center. Featuring Laura Fulk, Calpurina Peach, Kerry Riley and more, plus shopping boutique by Swank Retro and Via's Vintage, bingo with celebrity callers, a 1950s-60s photo exhibit, and music by Lucy Michelle & The Velvet Lapelles and Transmission's DJ Jake Rudh!
CLICK THE IMAGE FOR THE RETRORAMA SITE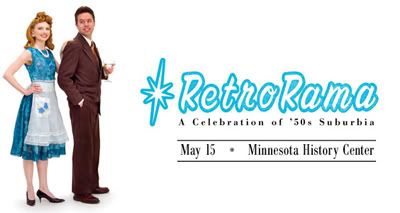 THURSDAY MAY 15TH
Sound Funktion
@ 414 Soundbar
414 3rd Ave. N
Warehouse District
10pm / 21+ / Free
This Thursday get DEEP at the 414 Sound Bar. Dress code: Sexy, because you know how the Soundbar does! Come mingle with Minnesota Lynx players and dance to the sultry sounds of DJs James Patrick, Aaron Bliss, and Jesse Jakob.
CLICK THE IMAGE FOR THE SOUNDBAR SITE
Photo by Digital Crush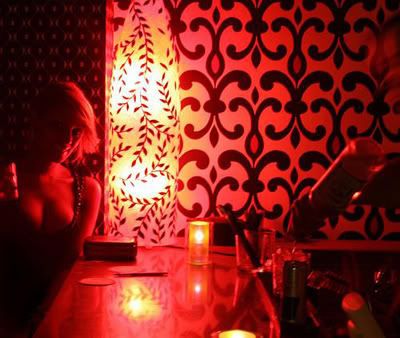 ART-A-WHIRL SPOTLIGHT: KYLE FOKKEN
Local sculpture scion Kyle Fokken has more than a few high-profile accolades under his belt. A longtime Art-A-Whirl staple, you can expect to see Fokken's signature style of antique fantasy appropriation work on display this weekend in locations including
The Placement Gallery
and the
Rogue Buddha Gallery
. We guarantee you'll be taken with his impeccably constructed birds of flight, sleek wheeled monstrosities, and general phantasma!
We sat down with the charming Mr. Fokken himself for a quick q&a this week....
How long have you been participating in Art-A-Whirl and how has it changed since you became involved?
I first became involved in Art-A-Whirl in 1998 when I shared a studio in the Tyler Street Building on 13th and Tyler. That was the year we had major storms blow through knocking out the power for most of the weekend. My studio mate called it our "Art in the Dark" show. Things were a little more rough and tumble in those days and there were more crazy parties in illegal living spaces. A couple of years later, when I was on the NEMAA board as a 2 term Treasurer, I assisted with the Arts Action Plan that created the Arts District, hire staff and increase the number of board positions to include community and business leaders.
What influences your work?
I'm influenced by a number of artists, writers, and philosophies, but I look to engineering, antique toys and outsider art as my primary inspirations. I've been influenced by creative problem solvers in all fields, but my work favors engineering as it applies to machines of the last century. I'm intrigued by how the Wright Brothers studied nature to achieve powered flight and how other inventors did not comprehend that flapping homemade wings while jumping off of a cliff could lead to their deaths. I take delight in vehicle forms - aircrafts in particular - and how they relate to their function, but also am influenced by the designs that go awry. I guess this falls in line with why I like outsider art, since I appreciate the imperfect aesthetic and avoid slick, antiseptic design. This is also true as to why I like antique toy designs from the early part of the last century. There's a clunky wonderfulness that speaks of greater things that the child isn't old enough to use in real life, or that may be too fantastical for reality. I refer to them as a cultural barometer to study where our own culture was and may be headed.
What would be your dream project if money and materials were no object?
I think my dream project would be to remake a city using my designs for the trains, buses, cars and planes. I would work with designers from auto companies, aircraft, boat and train manufacturers to invent unique, interesting vehicles to ferry people and goods around. Granted, most of my designs aren't air/land/sea worthy, but I think it would be an interesting experiment. I'd also have a hand in redesigning/building upon the city infrastructure - roads and bridges, traffic flow, pedestrian/bicycle walkways etc. since a well designed street is aesthetic in nature as well. I would employ outstanding local, national and international architects, engineers and artists, to aid in this endeavor since I believe that it is healthy to have variety of viewpoints to grow neighborhoods "organically" to improve the aesthetics and usage for the people who live there. So, my dream? Have a big civic project to share with others. Oh, yeah - and be the first person to make a sculptural installation on the moon - Ha!
What do you think are your greatest accomplishments, artistic and otherwise?
I would have to say that my first and biggest accomplishment set up all the others. I am the first of my family to graduate from college (since leaving Europe over a hundred years ago.) I'm also the first to travel overseas and live/work in another country. After working for a few years, I was able to afford to tour much of Europe by myself, then later had trips to Greece, Thailand and Italy with my lovely wife. I'd have to say that having been married almost 6 years and have a great little boy and baby girl that we are so proud of is a great accomplishment as well. I chalk it all up to being able to leave my hometown and get an education. Artistically, I would have to say my biggest achievements so far are that I won a competition for
the cover of an international sculpture magazine (Sculptural Pursuit) and had a show at a gallery on the Upper East Side of Manhattan (yes, NYC, not Kansas). Of course, there are numerous other press and publications, awards and shows, a fair number of sold work under my belt, but I still feel that the best has yet to come!
What are your top 5 albums to make art to?
Big Black - Songs About Fucking
Jesus Lizard - LIAR
Husker Du - Zen Arcade (of course)
Iggy Pop - Raw Power
Brother Ali - The Undisputed Truth
CLICK THE IMAGE FOR THE KYLE FOKKEN SITE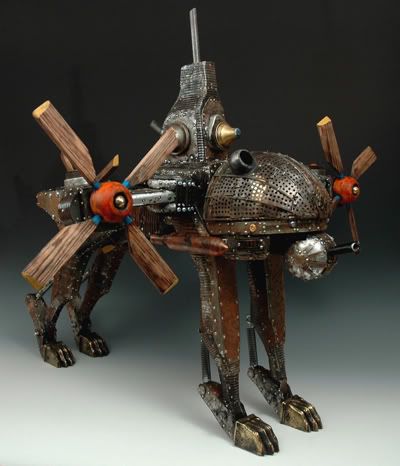 FRIDAY MAY 16TH
Sandra Dowd: Dancing with Paint
@ Northrup King Building
1500 Jackson St. NE
Studio 376
Northeast Mpls
8pm / Free
Johnny Depp is hottt, this we know (hence the three t's). Artist Sandra Dowd pays homage by painting a portrait of Johnny in pastels, while listening to music from his movies in only 20 minutes. Blink and you'll miss it!
CLICK THE IMAGE FOR THE SANDRA DOWD SITE
"Marilyn" By Sandra Dowd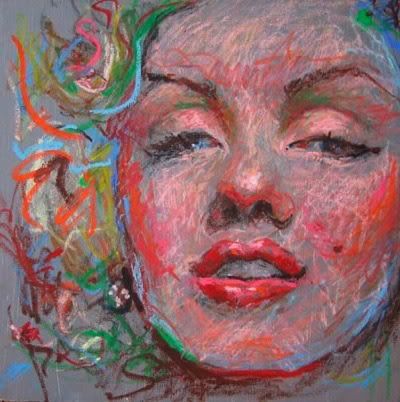 FRIDAY MAY 16TH (AND ALL WEEKEND)
Pure Pleasure: 10 Years of Curating by Yuri Arjas
@ Thorp Building
1620 Central Ave. NE
Northeast Mpls
Reception Friday 6-10pm
Placement Gallery
will feature 20 artists shown over the past 10 years by curator Yuri Arjas, live speed painting by JAO, plus the stellar tuneage of DJ Espada. Yuri's moving to Canada, eh, so this will be the last Placement Gallery show in Minneapolis for quite awhile, but never say never!
CLICK FOR THIS ART EVENT AND MORE AT MPLSART.COM
Art by Greg Gossell
FRIDAY MAY 16TH (THROUGH SATURDAY)
Heliotrope
@ The Ritz Theater
345 13th Avenue NE
Northeast Mpls
May 15th-17th / Check Web for Times
Flaneur Productions presents a weekend of underground music. Tokyo modern-psych band Suishou No Fune joins a line up of entirely local musicians in this annual show. Just a taste: Gay Beast, Skoal Kodiak, Vampire Hands plus the hotness that is DJ Croix Clayton between bands. Enough said?
CLICK THE IMAGE FOR THE FLANEUR SITE
Poster design by Kevin Boettcher
DESTINATION SPOTLIGHT: 13TH AVENUE
13th & University Avenue
Known as "Arts Avenue", 13th Ave. is easily the most bustling and eclectic stretch of Artsy prime real estate in Northeast. A jaunt down this strip will lead you into Art-A-Whirl destinations such as Rogue Buddha Gallery, Art Trujillo Gallery, Gallery 13, MN Center for Photography, Frank Stone Gallery, and more. Stop in for a cocktail at the 331 or the Peacock Lounge, or grab a tasty bite at the Modern Cafe or Eurodeli.
CLICK THE IMAGE FOR THE 13TH AVE SITE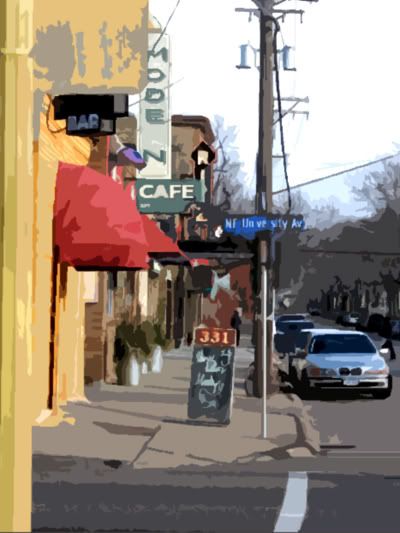 FRIDAY MAY 16TH (AND ALL WEEKEND)
One by Eleven
@ MPLS Photo Co-op
2400 North 2nd St.
Northeast Mpls
Reception 5-10pm (and all weekend) / Free
It's a bit off the beaten track, but you absolutely won't regret a trip to the MPLS Photo Co-op! This collective of a number of talented photographers is one of the more under-exposed (pardon our pun) Northeast art stops on the map but it's also one of the most visually exciting! Explore the vast 2nd floor of this warehouse art building filled to the brim with gorgeous photography by Twin Cities shutterbugs of the highest caliber. Lead by Artistic Director Orin Rutchick, the MPLS Photo Co-op offers not only delicious eye candy, but also debuts its expanded gallery space and learning center this weekend. Make this stop a priority, we insist!
CLICK THE IMAGE FOR THE MPLS PHOTO COOP SITE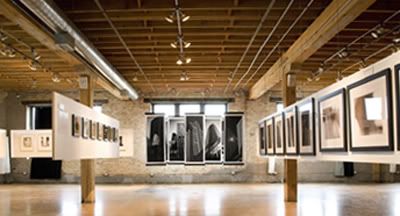 FRIDAY MAY 16TH (AND ALL WEEKEND)
Adam Turman
@ Artistic Indulgence
302 E. Hennepin Ave.
Northeast Mpls
Reception 7-10pm / Free
Isn't Minneapolis purty? So much so that Adam Turman has screenprinted an ode to our fair city. Stop by the reception on Friday to meet the man and pick up some must-own loose prints.
CLICK THE IMAGE FOR THE ADAM TURMAN SITE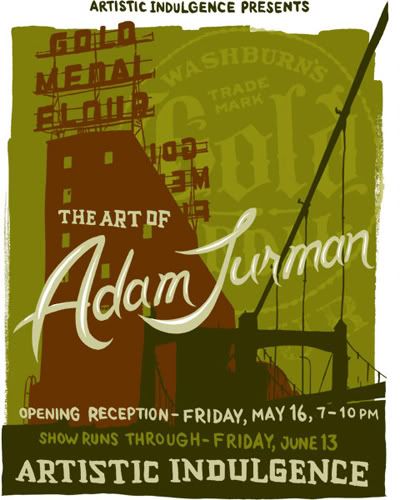 FRIDAY MAY 16TH (AND ALL WEEKEND)
Spot-A-Whirl
@ Spot Art
1828 Marshall St. NE
Northeast Mpls
Receptions 7-11pm Friday & Saturday
Nine amazing artists, a bright and spacious gallery (along with a very interesting and adorable guard dog), and a yearly Art-A-Whirl tradition spur on firedancers and music by Lonesome Dan Kase on Friday, and a fashion show, music by Faux Jean and more on Saturday. One of the best Art-A-Whirl parties around!
CLICK THE IMAGE FOR THE SPOT ART SITE
Art by Ryan Kelly
FRIDAY MAY 16TH (AND ALL WEEKEND)
Art-A-Whirl at CW Lofts
@ CW Lofts
730 Stinson Blvd
Northeast Mpls
All Weekend / Free
Cupcakes and truffles will be eaten, books will be signed and 25 artists will amaze you at this historic Cream of Wheat building. Qué yum!
CLICK THE IMAGE FOR THE CW LOFTS SITE
Photography by Terry Barth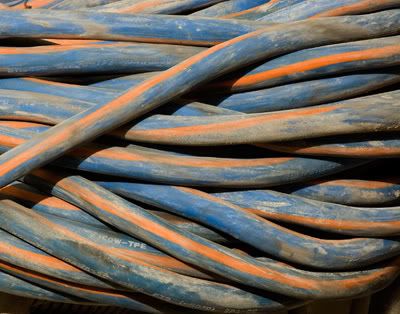 FRIDAY MAY 16TH (AND ALL WEEKEND)
Area 52 Open Jam Night
@ Casket Arts Carriage House
17th & Jefferson
Northeast Mpls
Music Starts 8pm Friday / Free
400 musicians make up Area 52. They've invited their friends (which equals a lot of talent) to their annual open jam night. Open your ears, you're in for a treat.
BONUS:
The Casket Arts Building is a Art-A-Whirl must-stop - dozens of open studios and numerous other events will be going on all weekend!
CLICK THE IMAGE FOR THE CASKET ARTS SITE
Photo by Kate Pabst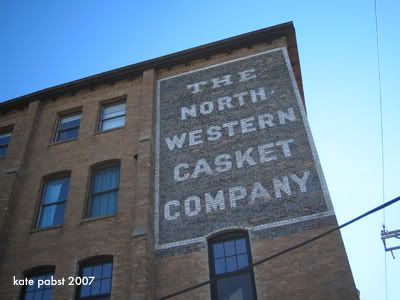 FRIDAY MAY 16TH (AND ALL WEEKEND)
NEMAA Silent Auction
@
The Northrup King Building
1500 Jackson St. NE
Room 332
Northeast Mpls
Regular AAW Hours / Free
No Art-A-Whirl excursion is complete without a trip to the Northrup King Building! After perusing the huge number of artist studios in the biggest art building in Northeast, stop into the 3rd Floor Gallery for a peek at over 100 NEMAA members work up for bid in this annual silent Auction, which closes at 3pm sharp on Sunday!
BONUS:
Come say hi to l'etoile Arts Editor and NEMAA auction coordinator Kate Iverson - she'll be there all weekend!
CLICK THE IMAGE FOR THE NEMAA SITE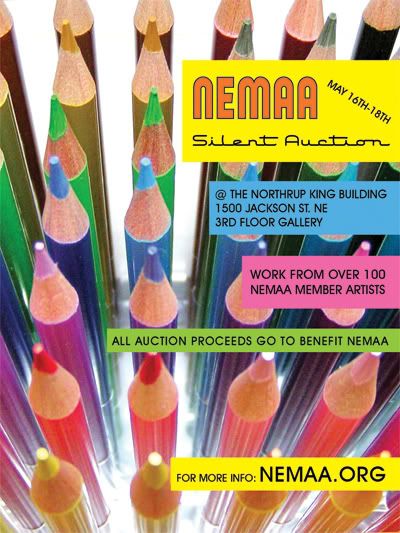 FRIDAY MAY 16TH (AND ALL WEEKEND)
Safe House Boat
@ Docked behind the Sample Room
22nd & Marshall Ave.
Northeast Mpls
Reception 7-11pm / Free
Creative Electric Studios
returns from a long hiatus with Safe House Boat. Tucked behind the Sample Room on the Mississippi River, Safe House Boat will display survivalist Dennis "Kiddie" Cramer's boat and possessions. A cross between found art and voyeurism if you ask us - but that doesn't mean we aren't dying to see it!
BONUS:
Live music by White Map and The Owls who will play while floating by on Pontoon boats!
CLICK FOR THIS ART EVENT AND MORE AT MPLSART.COM
FRIDAY MAY 16TH
Honeymoon
@ VIP Room
701 1st Ave. N
Downtown Mpls
10pm / 18+ / $3 or $10 t-shirt admission
One of our only non-Art-A-Whirl-related plugs this week, but we think you need to know! The Moongoons tear things up, as usual, at the VIP tonight along with special guests When the Eagle Met the Wolf. Dress code is GOLD, which we know you have no shortage of, being glam as all get out.
BONUS:
Check out the pre-Honeymoon performance at
ROBOTlove
from 4-6pm to swill some PBR and win some glorious prizes!
Honeymoon is sponsored by l'étoile magazine and ROBOTlove
CLICK THE IMAGE FOR THE MOONGOONS SITE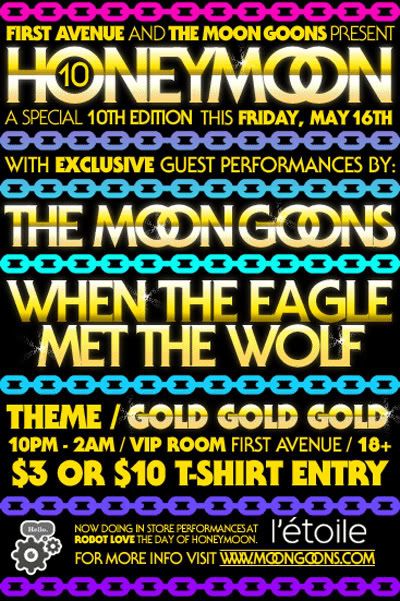 SATURDAY MAY 17TH (AND ALL WEEKEND)
Johnstock
@ Various Locations
28th & Johnson
Northeast Minneapolis
10am-8pm / Free
Over 40 craft and art vendors will be packing the Merchant Parking Lot this year. With tons of live music, free face painting and crazy hairstyling at Shannon Aleczander Salon, you could let Johnstock eat up your entire afternoon.
BONUS:
l'étoile cohort
Papernova
will be peddling her eclectic array of wares at this event!
CLICK THE IMAGE FOR THE JOHNSTOCK MYSPACE
Jewelry by Papernova/Photo by Digital Crush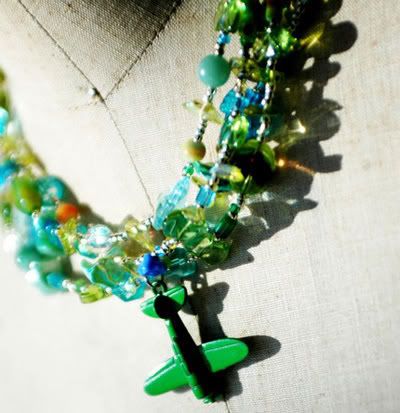 SATURDAY MAY 17TH
Art-A-Whirl at Maude Salon
@ Maude Salon
Q.arma Building
1224 Quincy St. NE
Northeast Mpls
Noon-5pm / Free
Not only do the pretty and sweet ladies of Maude Salon know how to make you look like a million bucks, but they know how to make you feel like it too! Stop into Maude this Art-A-Whirl to check out their awesome art collection and beautifully decked out space, pick up some cute and crafty goodness created by salon owner Amy Terry, get a sassy and colorful hair extension put in, and best of all, meet and greet with the Maude mascot - Beatrice (pictured below w/ l'etoile editor in chief
Beth Hammarlund
!)
CLICK THE IMAGE FOR THE MAUDE SITE
Photo by Digital Crush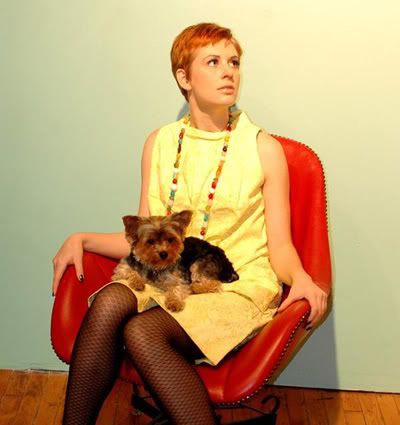 SATURDAY MAY 17TH (THROUGH SUNDAY)
Metal & Music
@ Elias Metal Studio
1129 Van Buren St. NE
Northeast Minneapolis
12-8 pm / Free
There's more to welding than what you learned from watching Flashdance. Check out live blacksmithing demonstrations by Lisa Elias with performances by Jello Slave, The Mighty Mofos, The Loose Rails, Arcwelder, Lumber, Jackie Wilson, Alias, Repo, and Marcy School Rock Band. Can't make it Saturday? The demonstrations/fun will continue all day Sunday.
CLICK THE IMAGE FOR THE ELIAS SITE
Metal work by Lisa Elias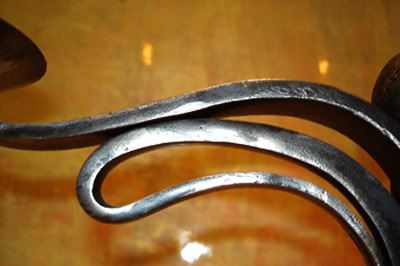 SATURDAY MAY 17TH (AND ALL WEEKEND)
Lift Kids Presents Jim Daniels
@ Global House
1302 2nd St. NE Ste. 220
Northeast Minneapolis
Reception 5-10pm Friday / Free
Lift Kids presents a three-day exhibition of photographs from National Geographic Lives of Service. The photographer, Jim Daniels, will be at the event to speak about his work. To learn more about the eco-friendly Lift Kids and their inspiring mission, visit the link below.
CLICK THE IMAGE FOR THE LIFT KIDS SITE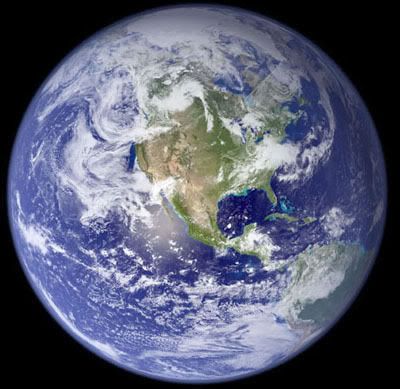 SATURDAY MAY 17TH
My Art School Summer
@ Ritz Theater
345 13th Ave. NE
Northeast Minneapolis
2pm / $5 suggested donation / adults only
This 90-minute sex comedy for adults is the first hand-drawn animated cartoon to be produced in Northeast Minneapolis. The film, which premiered in Rio de Janeiro, will be making its Twin Cities debut at the Ritz Theater this afternoon.
CLICK THE IMAGE FOR THE RITZ SITE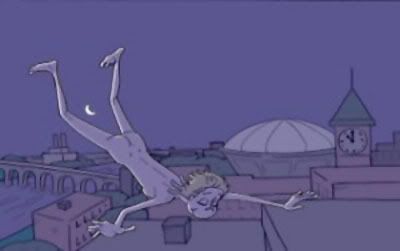 DESTINATION SPOTLIGHT: Q.ARMA BUILDING
1224 Quincy Street NE
Easily the most rockin' building on your Art-A-Whirl itinerary! Not only can you check out the amazing comic art show at
Altered Esthetics Gallery
and get your mitts on this year's Lutefisk Sushi volume, but you can also feast your eyes on work by a number of "orphan artists" (NEMAA members without studios in Northeast) plus the work of residents throughout the building. Add live music all day long, hair extensions by Maude Salon, and movies projected on the wall after dark, and we think you've got yourself one amazing Art-A-Whirl experience!
CLICK THE IMAGE FOR THE Q.ARMA WEBSITE
Q.arma Building Poster by Adam Turman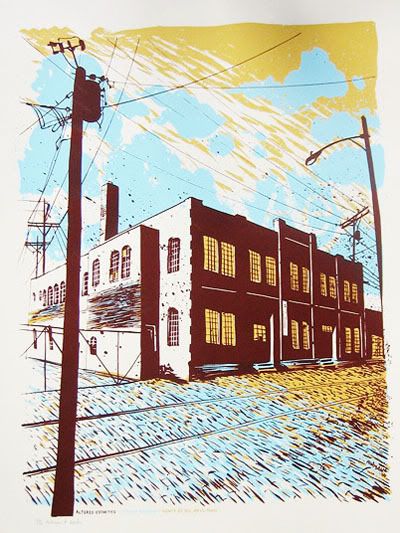 SATURDAY MAY 17TH
Fifteen Minutes of Fashion
@ Thorpe Building
1618-1620 Central Ave. NE
Northeast Minneapolis
4 pm / Free
The Fifteen Minutes of Fashion show features designs by Laura Fulk, Mindy Martell, Nancy Pohl, Ivan Idland, Greta Herman and Saira Huff. Hosted by Colleen Kruse, the event will culminate with a live photo shoot by Thorp Building photographer Josh Stokes. Stick around after the show (which uses the Thorpe Building freight elevator as it's runway) for a fashion boutique, beer and wine samples, and a chance to meet the designers. Seating is limited, so don't be late!
BONUS:
As is the yearly tradition, enjoy live music in the freight elevator all day long - not to mention tons of open studios at the birthplace of Art-A-Whirl: the Thorpe Building!
CLICK THE IMAGE FOR THE THORPE BLDG SITE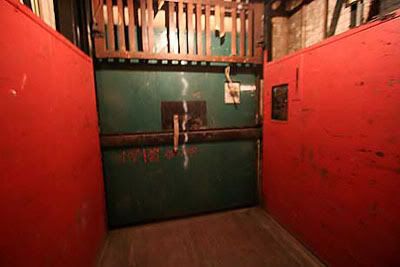 SATURDAY MAY 17TH (AND ALL WEEKEND)
Haunted by a Painters Ghost & Pieces of Italy
@
Icebox Quality Framing & Gallery
1500 Jackson St. NE Ste. 443
Northeast Minneapolis
Reception 8pm-midnight / Free
"Haunted by a Painter's Ghost" features black and white photo compositions by Dominic Rouse. The surrealistic dreamscapes are juxtaposed with Howard Christopherson's "Pieces of Italy", a photo collection aimed to capture real moments in everyday life.
CLICK FOR THIS ART EVENT AND MORE AT MPLSART.COM
SATURDAY MAY 17TH (AND ALL WEEKEND)
I Dreamed I Dream Opening Reception
@
Fox Tax Gallery
503 1st Ave. NE
Northeast Minneapolis
6-11pm / Free
The Gallery @ Fox Tax and guest curator Emma Berg of mplsart.com present a group exhibition featuring four amazing young painters: Deuce Seven, Rudy Fig, DC Ice and Keith Eric Williams. The collection represents "the places born in the moments spent drifting behind closed eyes", and from what we've seen of this show so far, that means imagination rich, candy colored works of pure delight!
BONUS:
Pop in to the Red Stag after the opening for the l'étoile and HYPE sponsored Art-A-Whirl After Party featuring Black Blondie!
CLICK FOR THIS ART EVENT AND MORE AT MPLSART.COM
Photo by Jayme Halbritter/l'étoile agency for mplsart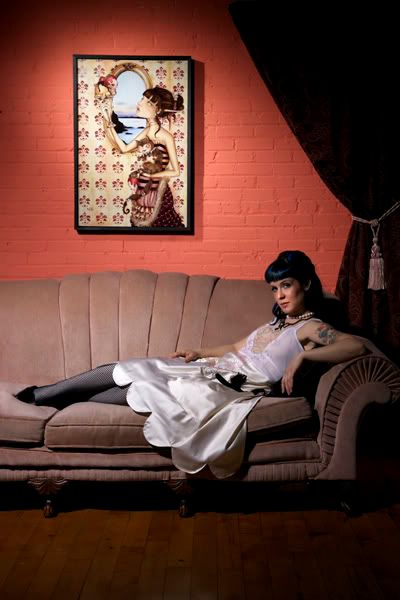 SATURDAY MAY 17TH (AND ALL WEEKEND)
Art-A-Whirl Musicfest
@ The 331 Club
331 13th Ave. NE
Northeast Minneapolis
1pm-2am / Free
This year's Musicfest is the 331's largest to date. With hostess Alexis McKinnis of Vita.mn, a visit from Dr. Sketchy's Anti Art School, and performances by Heiruspecs, Roma di Luna and Breaksea Caravel, you could easily be sucked in to spending your entire Saturday at the 331. Art vendors will be set up in the lot, giving you even more of a reason to stay.
For a complete schedule and lineup visit the link below!
CLICK THE IMAGE FOR THE 331 SITE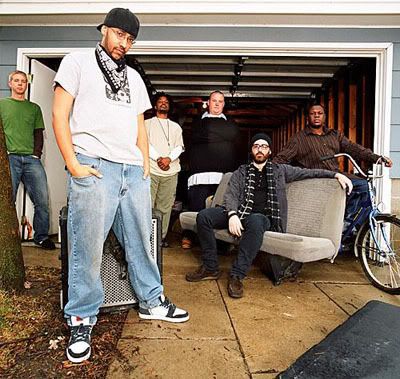 SATURDAY MAY 17TH (AND ALL WEEKEND)
Art-A-Whirl at Grumpy's
@ Grumpy's Northeast
2200 4th St. NE
Northeast Minneapolis
Noon-8pm / Free
Stop by hipster-fave dive bar Grumpy's Northeast for live music from bands including Awesome Snakes, Romantica, and Chooglin' plus BBQin' on the patio and more. Now that they have Surly on tap, this annual backyard Art-A-Whirl party is even more inviting.
CLICK THE IMAGE FOR THE GRUMPY'S SITE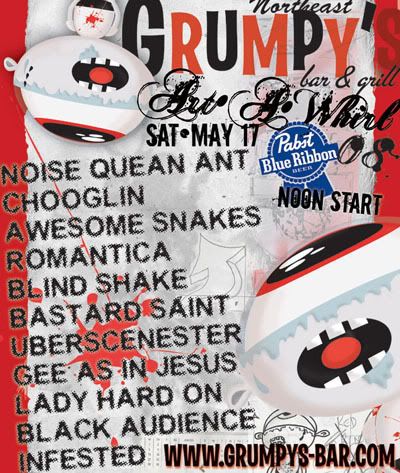 SATURDAY MAY 17TH
Art-A-Whirl After Party
@ The Red Stag
509 1st Ave NE
Northeast Mpls
10pm / 21+ / Free
After you're all whirled out from traipsing across the Art District, take a well deserved siesta at the Red Stag and close out your evening the right way. Enjoy delicious drinks and food, good company, and the sexy sounds of Black Blondie.
Sponsored by HYPE and l'étoile magazine!
CLICK THE IMAGE FOR THE RED STAG SITE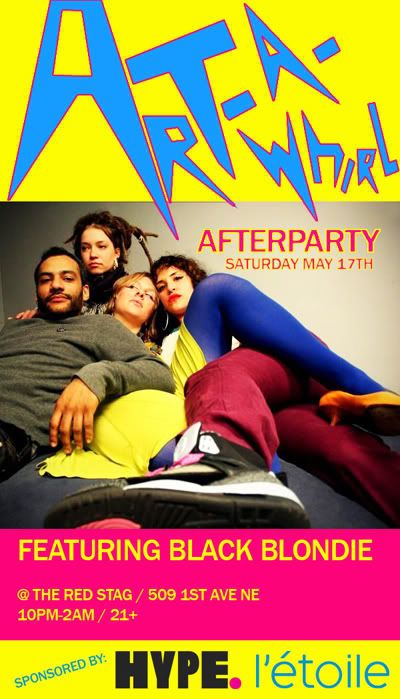 SUNDAY MUSIC PICK: STAR EYES
Hot smart chick DJ Star Eyes of Trouble & Bass (NYC) has been rocking the dance scene since she was 15 years old, and it shows. Having played alongside some of the biggest names in the DJ game, Star Eyes literally puts stars in OUR eyes with her seemingly endless resume of uber-coolness. Not only does she have a midas touch on the decks, but she also reigns supreme as Editor in Chief at the cooler-than-cool San Fran based music and culture mag,
XLR8R
.
Catch Star Eyes NEXT WEEK in the M-P-L-S at Do It To It, Friday May 23rd at First Ave - co-sponsored by l'étoile magazine!

As part of l'étoile's ongoing artist-on-artist feature we asked local Boy Mike Davis aka Mike the 2600 King to interview friend and cohort Star Eyes...
How did you get started DJing?
I was crazy into raves and techno starting around age 13. Most DJs in L.A. would only play maybe 50% of music I liked, so I started buying records for myself. When I was 15, my boyfriend at the time sold me a pair of used turntables that belonged to his uncle, who was a mobile DJ. And now look.
People come up to me while I'm DJing and ask me to play stupid songs or make bizarre requests all the time. What's the weirdest request you've ever gotten while spinning?
I find it more bizarre when people come up and ask for a specific underground remix or something good rather than "Got any M.I.A." or "Play hip-hop." But someone once gave me and the other Syrup Girl $100 to play a freestyle track (Debbie Deb, I think). We did, of course.
What are the five songs you're most excited to play next time you DJ?
MC Dynamite: What (Jack Beats Remix)
Mathhead x Passions: Turn the Music Up (AC Slater Rmx)
Rusko: Cockney Thug (Drums of Death Baltimore Thug Rmx)
Vet & RS4: Rudeboy DJ
Mr. V: Game Over
Of all the other DJs playing at next Friday's DO IT TO IT at First Avenue, who are you most excited to hear and share the turntables with?
I am excited to play with all the homies from Minneapolis. And Dave Nada. Last time we were together he poured a whole bottle of vodka on his head, so the stakes are high.
The whole bottle? That guy's crazy! Okay, so it turns out you are also the big cheese over at XLR8R Magazine. How did that come to be?
It was my dream to be a magazine editor since I was about 16. I started writing drum & bass 12" reviews for XLR8R in 1997 and I was always around in San Francisco, so when it was time to get someone new on the editorial staff, I was lucky enough to be suggested by Tomas Palermo, the former editor (who actually gave me one of my first DJ gigs). When he stepped down in late 2004, I got promoted to "big cheese."
Who's the least cooperative person you've ever had to interview?
Top two biggest dicks have been Grooverider and Map of Africa (Thomas from Rub N Tug and DJ Harvey).
What are your predictions for musical artists or fashion trends about to blow up for the rest of 2008?
After years of saying it, I think goth and industrial music and fashion is really making a comeback (Pointy shoes! Horror movie designs! Victoriana! Nitzer Ebb!). Other music trends I think will be big in the rest of 08: the whole Baltimore art-rock scene, warehouse parties are back!, this "lazer bass" movement or whatever you want to call it (Rustie. Lazer Sword. Megasoid. Glitch Mob), dubstep and nouveau dancehall is really happening, the return of shoegaze, and of course Trouble & Bass!! Grunge is coming back in fashion, but I don't know if I necessarily support that, though I like flannels. Me and Passions are really into capes and oversized Bernard Wilhelm hoodies.
See Star Eyes in Minneapolis next Friday, May 23rd as she joins a stellar lineup of the best local and national DJs at "DO IT TO IT" in the First Avenue Mainroom - co-sponsored by l'etoile magazine of course!
ABOUT THE INTERVIEWER: Starting off as a college radio DJ in St. Louis, Mike Davis released a series of funk and rare groove mixtapes, gaining him the attention of Turntable Lab and Life Sucks Die Magazine, with whom he would eventually team up to help start Burlesque of North America. You can catch Mike playing around Minneapolis, mixing funk, golden era hip hop, disco rap, and Motown oldies.
CLICK THE IMAGE FOR THE STAR EYES MYSPACE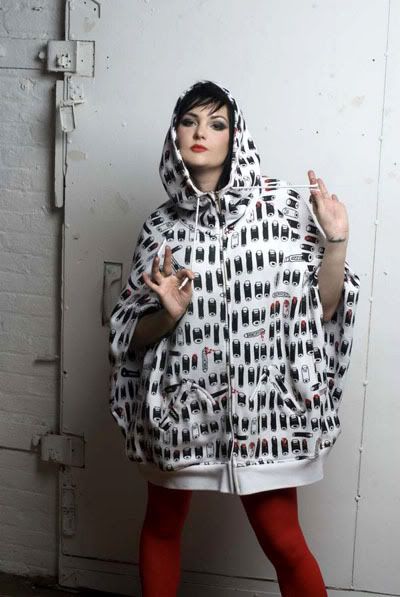 BUILDING SPOTLIGHT: CALIFORNIA BUILDING
2205 NE California Street
Make the trek over to the California Building, a Northeast staple! This 5-story building chocked full of cool artists studios will surely entice art lovers, buyers, and gawkers alike. Make sure to visit one of our faves, Doug Padilla (Featured in last week's edition of the What's What) on the 3rd floor for loads of artistic commentary as well as beautiful art! While you're there, check out Doug's fashion collages made with images from l'étoile magazine!
CLICK THE IMAGE FOR MORE STUDIO ARTS BUILDINGS
Art by Doug Padilla/photo by Digital Crush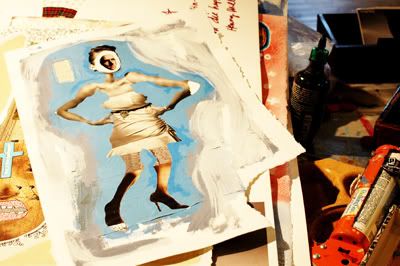 MONDAY MAY 19TH
Hot Roxx
@ The Hexagon
2600 27th Ave. S
Minneapolis
10pm / 21+ / Free
Join DJs Macku$ and Jen for their rockin' monthly installment of Hot Roxx at the Hex! Keep it "all in the family" with a line up of killer local bands including Vampire Hands, Private Dancer, and the Notorious Private Bird Brothers - all doing 1970s covers!
CLICK THE IMAGE FOR THE HOT ROXX MYSPACE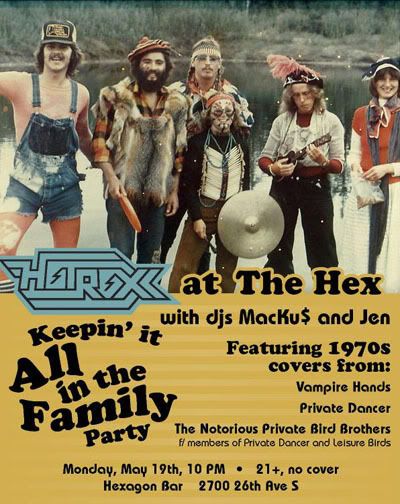 TUESDAY MAY 20TH
Silver + Gold
@ Clubhouse Jager
923 Washington Ave.
North Loop
Every Tuesday / 21+ / 10pm / Free
Join DJ Jonathan Ackerman and l'étoile magazine for an evening of sly winks and sideways glances every Tuesday at Clubhouse Jager. Create some mystery, sip 2-4-1 cocktails with pretty people, and dance the night away to electro, pop, and so much more.
BONUS:
Flirt up a storm then visit letoilemagazine.com on Wednesdays for "missed connections" from the night before!
Sponsored by l'étoile magazine & Alphasuede
CLICK THE IMAGE FOR L'ETOILE TEXT CONNECTIONS