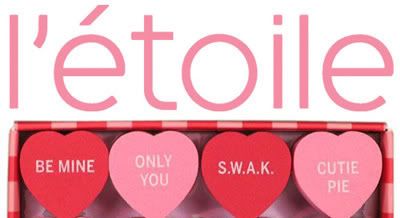 ROMANCE TALKS
In this fast-paced world we live in, true sentiment can get lost in
hurried conversations and last-minute gestures. This Valentine's Day,
remember - actions are louder than sweet nothings. Use our guide to
show someone you're walking the walk!
After you've snagged the perfect somethin'-somethin' - don't forget to make dinner reservations! Don't worry, a complete activity menu is coming soon!
hearts and hugs,
l'étoile
CRYSTALIZED
Swarovski Crystal sparkles with glitzy gifts made especially for Valentine's Day! With most pieces under $100, their collection of glittering hearts, charms, dangles and bangles will put a twinkle in her eye without maxing out your credit card. Order soon to ensure you won't show up empty handed.
CLICK THE IMAGE FOR THE SWAROVSKI SITE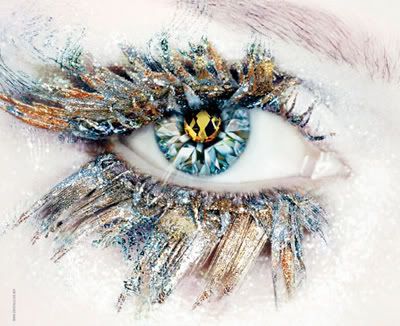 WARM HER HEART!
Women love wine. It's a fact. They also love men who can set the brewsky aside for an evening and enjoy a good glass with them. Let Solo Vino enhance the romance this February 14th with a hand-selected wine from somewhere warmer than here. Solo Vino is an independent, world-class wine shop located in St. Paul's Cathedral Hill neighborhood. They specialize in exceptional European wines under $10. The staff is well-schooled, not to mention well-heeled, so ask their advice!
l'étoile magazine Special: Mention us for 10% off Protocolo brand wines!
Located at:
Solo Vino
517 Selby Ave.
St.Paul
CLICK THE IMAGE FOR THE SOLO VINO SITE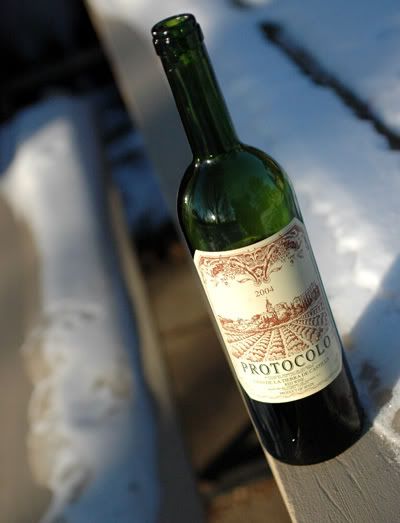 SWEETS FOR THE SWEET - CHOCOLAT CELESTE
Give a tasteful gift this Valentine's Day: Chocolates by Chocolat Celeste. Noted as "One of the Top Ten Emerging Chocolatiers in America", this Saint Paul shop features elegant boxes of grand-sized truffles and artisian bonbons sure to make the perfect gift for your favorite's sweet-tooth!
Order online or visit their shop at:
Chocolat Céleste
2506 W. University Ave.
St.Paul
CLICK THE IMAGE FOR THE CHOCOLAT CELESTE SITE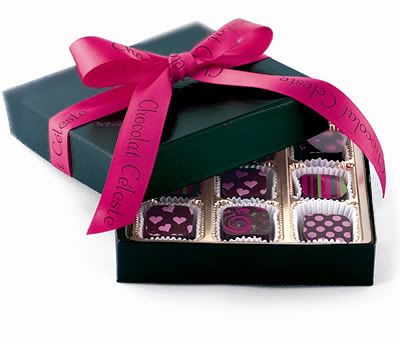 POP CHERUB by LANCÔME
Makeup artist to the stars, and Lancôme creative director Gucci Westman Neville, has created a sumptuous High-Spring collection influenced by 18th century fashion, blending classical Marie Antoinette-inspired details with modern, slightly neon shades - think fondant fancy party cakes. With their sleek, silver cases
- each donning a cherub-shaped charm, POP CHERUB combines a broad, light-infused spectrum of colors featuring fresh pastels like spearmint and classic sugar pink, plus metallic silver and bitter chocolate. "I wanted to create harmonious shades that flirt with fantasy but are not too outrageous…" says Westman. Cake-inspired cosmetics? We think the line looks good enough to eat!
Available at most major department stores.
CLICK THE IMAGE FOR THE FULL COLLECTION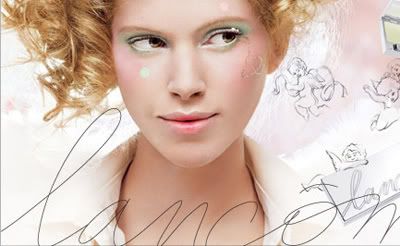 PUPPY LOVE
If you're anything like the bleeding hearts at l'étoile, you simply adore your pet. Too many treats, comely costumes, designer toys; almost anything goes for our beloved furry friends. The like-minds of Paw Palace have an endless supply of "creature comforts" for the pampered pooch on your love-list!
CLICK THE IMAGE FOR THE PAW PALACE SITE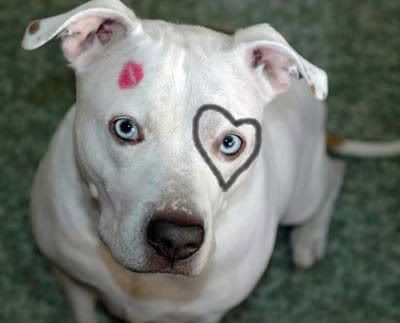 LOVE (JAIL)BIRDS
Looking for an unusual venue for your Valentine's rendevous? Well we've got the perfect "joint"! Originally the Fillmore County Jail, The Jailhouse Inn, located in Preston, MN offers visitors criminally comfy accomodations. This off-beat B & B has been restored in true Victorian fashion, but with some original cells still intact. Leave the nail file cake at home - this is one prision you'll not want to escape!
CLICK THE IMAGE FOR THE JAILHOUSE INN SITE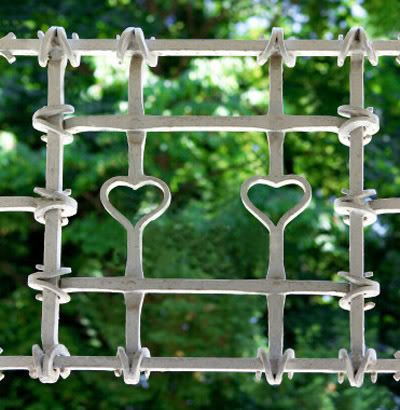 MAD-LOVES!
At a loss for words? Composing a poem for your funny Valentine is a
snap. Links to Love is a Mad-Libs style online sonnet-making machine!
CLICK THE IMAGE TO CREATE YOUR OWN POEM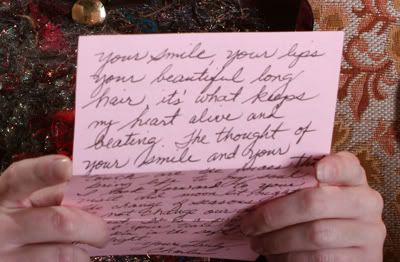 PRETTY PLEASE? (WITH A CHERRY ON TOP?)
Why not "pour some sugar" on your sweetie for v-day? Maid of Scandinavia in Edina has hundreds of opalescent dusts, glitters and glizty decorations - all edible - for you to play with. Unleash your inner pixie and sparkle...and bake a really pretty cake with the leftovers!
CLICK THE IMAGE FOR THE MAID OF SCANDINAVIA SITE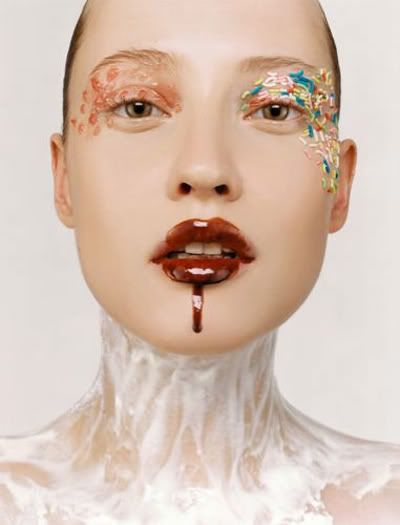 NOT SO SLOW JAMS
You've got the moves and New Wave darlings NOMATHMATICS have compiled a mix of the past year's hottest dance tracks, including The Valentinos, Uffie, Riot in Belgium, Scissor Sisters and many more. Visit their myspace page and directly download the mix for free.
CLICK THE IMAGE FOR THE NOMATHMATICS MYSPACE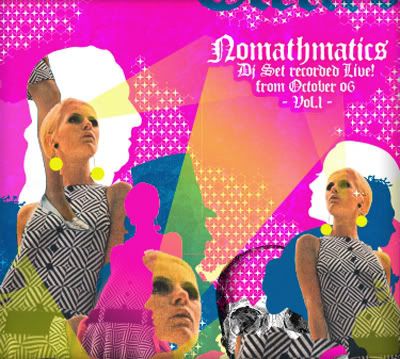 MISSED CONNECTIONS
Want to find out if your bus crush is crushing on you? Take a hapinstance chance and post a missed connection on Craigslist. You never know! Putting it out into the cosmos may even give you the boost you need to actually say hello next time, fraidy cat!
CLICK THE IMAGE FOR CRAIGSLIST MISSED CONNECTIONS
FLOWER POWER
You'll find no baby's breath here - only "oh, baby, I love it!" The greenthumb-sophisticates at Stems and Vines offer refreshing floral selections. Modern bouquets with vibrant colors and unique arrangement are the mainstay here, so set aside the red rose bucket - we know you have better taste than that!
Order online or visit one of 3 St.Paul locations.
CLICK THE IMAGE FOR THE STEMS AND VINES SITE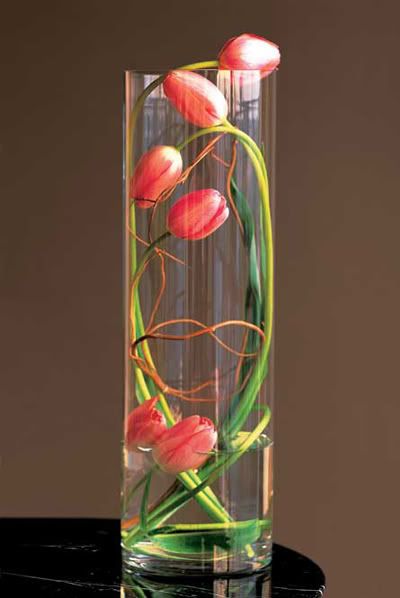 THE BRITCHES ARE COMING!
Who says the British are boring? Treat yourself to a little something from this "naughty-bits" emporium. Coco de Mer recently made the leap across the pond to sell its upscale versions of everything kinky - from vintage lace blindfolds to silk bondage rope, you'll find all you need to put that spring back in your step. But if your girl's more Marilyn Monroe than Marilyn Manson, their painfully sexy lingerie will be just the thing to let her know you're thinking of her; half-naked.
BOOTY CALLING?
With underthings that lovely, you'll want to make sure your, um....assets...are fully covered - before they're uncovered. If the recent winter chill has left you with a bad case of Baby Got Bacne, make an appointment at Extrados for a fanny facial! A blissful 45-minute massage to release pressure and tension in the lower back followed by a buff, hydration and shine to give your "cheeks" a healthy glow.
Extrados-Minneapolis
E: info@extrados.com
Ph: 612.920.0227
3100 W. 50th Street
Minneapolis, MN 55410
Hours of operation Monday - Thursday 9am-8pm Winter hours - Fridays 9am-6pm (6pm - 8pm by appointment only), Saturdays 9am-6p
An additional l'étoile love note: Looking for adult amusements a little closer to home? Check out the Smitten Kitten on Lyndale for a decidedly un-seedy walk on the wild side!
www.smittenkittenonline.com
CLICK THE IMAGE FOR THE COCO DE MER SITE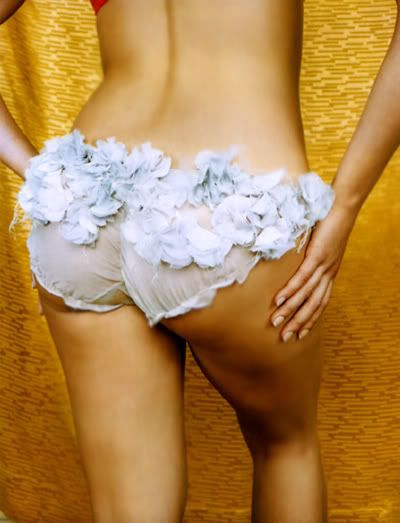 LEGGO MY MOJO!
Go above and beyond for your baby by surprising them with breakfast in bed. Break the mold with pancakes that show you really "heart" them - just don't forget the strawberries and whipped cream!
Target sells the perfect product for pouring your heart out - into a pan!
CLICK THE IMAGE FOR THE TARGET SITE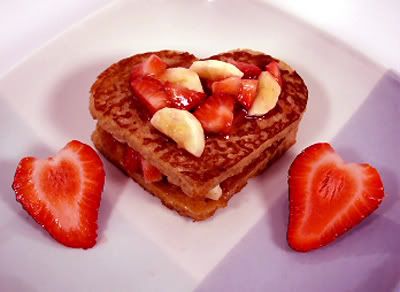 LOVE IS A MANY SPLENDORED THING
You'll find a million and one gift ideas for your friends, your lover and even your mother at Global Village on Minneapolis' West Bank. This importium swells with colorful clothing, hats and housewares, gorgeous jewelry, exotic art pieces and enough incense to keep your dwelling smelling sexy for the next 50 Valentine's days!
Love for Sale: 25% off all jewelry and clothing through February 14th!
Located at:
Global Village
406 Cedar Ave. S
Minneapolis
CLICK THE IMAGE FOR THE GLOBAL VILLAGE SITE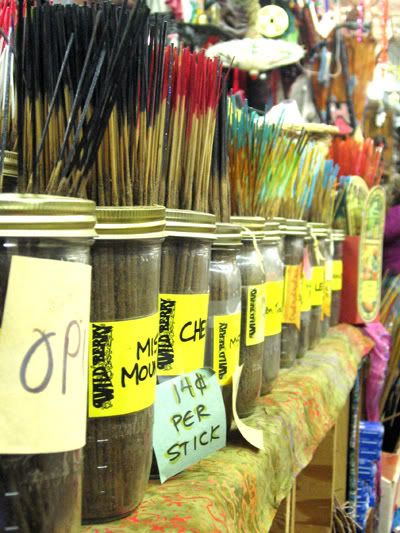 LOVE THAT DRESS
Impress your date with your exquisite taste and CHANEL your inner style icon with a visit to Unique Boutique NYC, an online shop offering perfectly preserved vintage designer dresses, outerwear and accessories.
CLICK THE IMAGE FOR THE UNIQUE BOUTIQUE SITE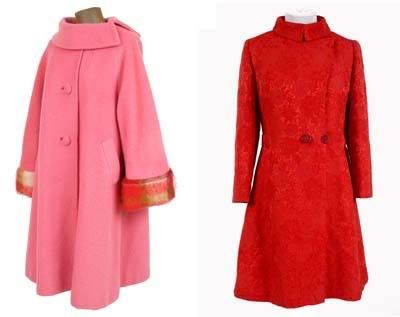 SHAKERS SHIMMY
Grab a glass, a lass and make a pass at l'étoile's Flirtini with Shakers Vodka!
1-oz. Cointreau
3/4-oz. Shakers Winter Blend
2-oz. Pineapple Juice
Champagne
Shake everything, minus champagne, with ice and strain into chilled martini glass. Top with bubbles and voila!
CLICK THE IMAGE FOR THE SHAKERS VODKA SITE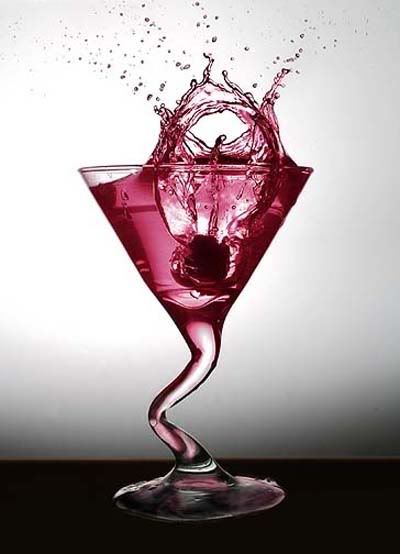 FEEL THE BEAT
My Beating Heart makes huggable heartbeats reminiscent of holding a beloved pet or a person oh-so close. Cuddle with the heart and your own will begin to slowly synch with the pillow's carefully designed rhythm. My Beating Heart will help you relax, meditate, or daydream happily until you have the real thing back in your arms. Sigh!
CLICK THE IMAGE FOR THE MY BEATING HEART SITE